I bet you're thinking I'll go on and on about the snow which fell all day long yesterday, or the current temperature of 22° which feels like 11° which means we had a hard freeze last night or the fact that our postman almost slid into my car during the storm as he tried to back up at the top of our drive leading me to run outside and move my car forward and leading gimpy Don to come outside and move some planters and the birdbath so I could move it forward some more leading the postman to shovel out around the rear wheels of his truck, which finally got him safely out of the driveway. Or the funk that both of us were in, especially Don who has been housebound for over a week, as we watched the freakish weather happening outside our cottage.
No, I'll show you this, instead: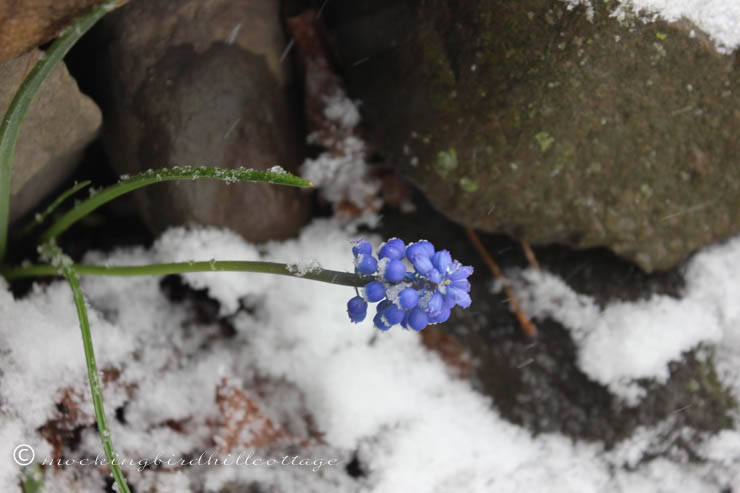 Unexpected beauty in the snow: a single grape hyacinth springing up from beneath the rocks that define one of the planting areas.
Oh, and I'll scream: Villanova won! That basketball game was incredible, right down to the wire. With 4.7 seconds left in the game, Kris Jenkins shot for 3 points. He made that shot when there was .1 second left; the ball left his hands and was in the air as the buzzer sounded. Basket. Unbelievable.
My throat is  little raw from screaming. Villanova hasn't won since 1985, when I was in graduate school in Philadelphia. They played Georgetown in that game and since every news item in Philly was about Villanova, I watched that game in my apartment in South Philadelphia. So, when I had to choose teams for the friendly competition in my brother-in-law's family, I chose Villanova – a salute to that time in my life 31 years ago. I still won't win the competition, as my other 3 teams were out of the running fairly quickly, but I don't care. Yay, Villanova!
The postman drove up our drive yesterday in order to deliver a box that contained this: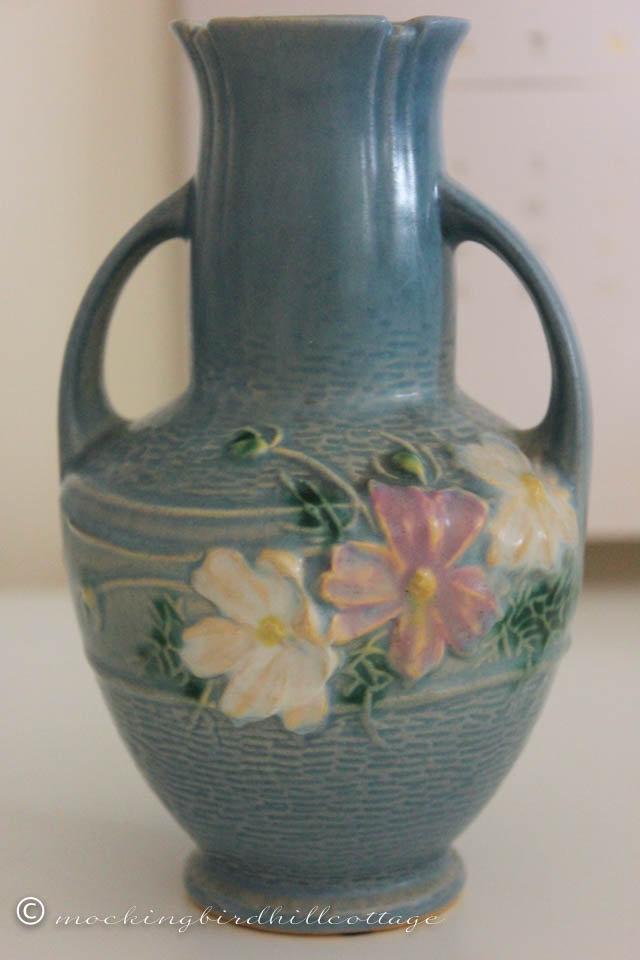 An eBay win. This Roseville pattern is Cosmos, made in the thirties.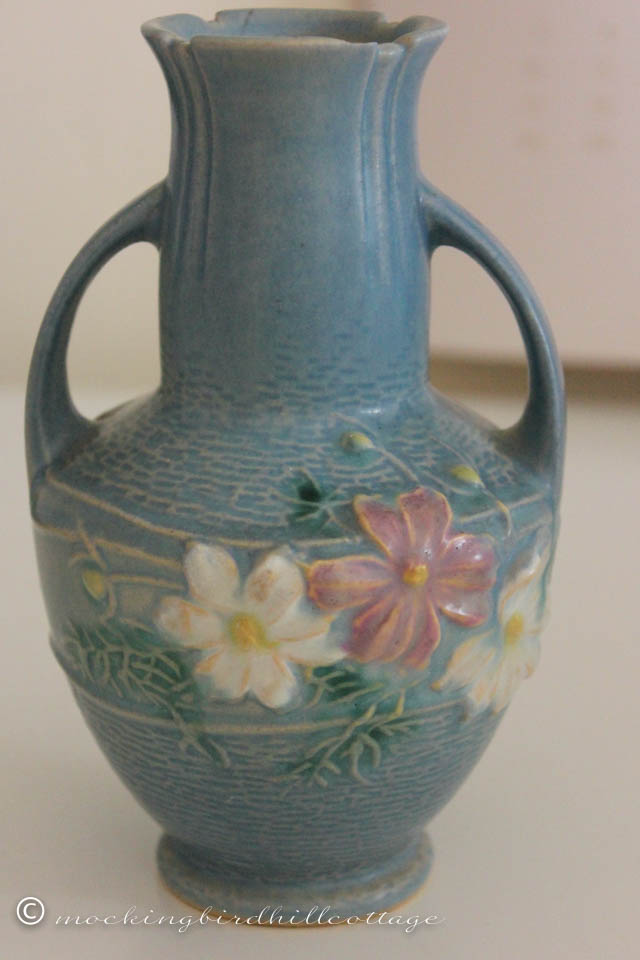 It has a little chip inside the upper rim, which is fine by me. I got it for a great price.
I'm trying to collect all of the flower patterns, though some are quite rare and undoubtedly out of my price range.
This particular vase is diminutive at 6 inches high.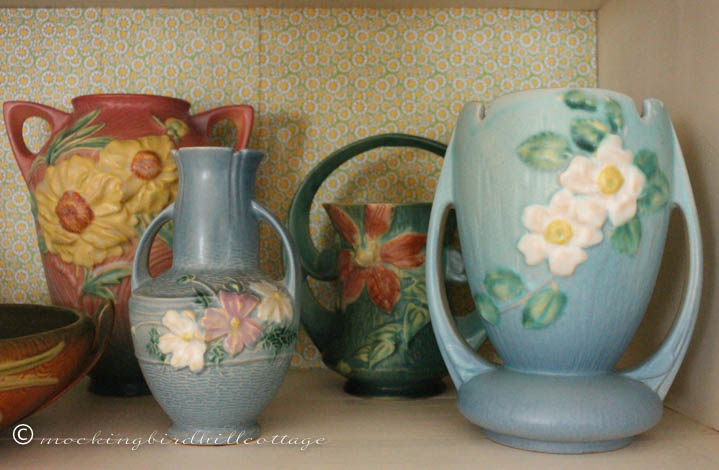 See?
As I was waiting to grab some phone time with my Russian neighbor (it ended up having to wait until this morning) I sat up in the office and created an inventory list of all my Roseville pieces. To my surprise, I now have 25. I'm going to do that with my McCoy and egg cups, as well. It's good to have on hand for all sorts of reasons. I remember what I have, what I paid and what it's actually worth. Though I've been collecting McCoy for so long that I sincerely doubt I'll remember what I paid for anything – likewise, the egg cups.
It was busy work, but fun busy work.
Today, Don goes back to the doctor. He is definitely getting better, but there's still some redness and pain, so he needs more antibiotics. I will keep prepping for Anastasia. I have to drive to Hartford on Thursday for a read-through of the musical.
Happy Tuesday.