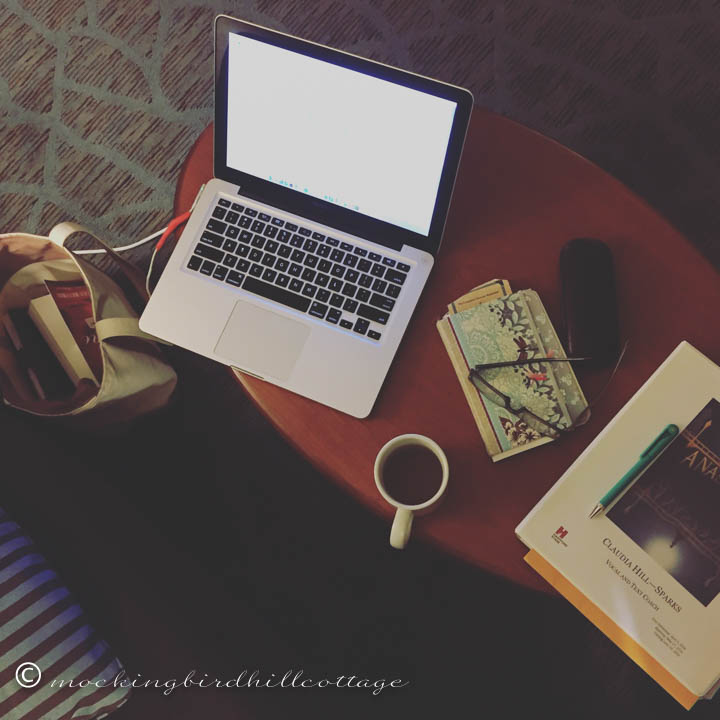 Life on the road; a shot of my hotel room coffee table this morning.
I'm staying at Homewood Suites, a place very familiar to me as I have spent a lot of time here over the years. My room is very nice. There are a wide variety of them here, some too small, some rather large. This is mid-sized and perfect.
The best thing is that it faces an inner courtyard so I don't hear the thundering bass coming from the local bars. That's been a big problem in the past. I'm going to remember this for the future. Must have room facing courtyard. Everyone here is very nice – many staff members seem like old friends.
I was so tired last night that I fell asleep before 10 pm, which was fine, but the consequence of that was waking up very  early this morning. Ah, well. Homewood Suites has a free breakfast every morning, so I trotted on down to get some food and coffee. The in-room coffee is not at all good, but the 'Robust' version of coffee available downstairs is much better. It's not Peets, but it will do.
The beds are wonderful. Firm. Good pillows. I slept like a baby.
Driving to Hartford was rather a mess because of the torrential rain that poured down for most of the two hour journey. I'm always amazed by the amount of drivers who don't put their lights on during a storm. Really? I can barely see you!
It's a state law in NY. If you are using your windshield wipers, you have to have your lights on. I don't know what the law is in Connecticut, but there were a lot of cars without their lights on.
The read-through of Anastasia was wonderful, very moving, beautifully sung – very exciting! The music is beautiful. The cast is very talented. The room was full of the cast, the writers, support staff, producers, and designers. It's going to be very fun to work on and I'm thrilled to be a small part of it.
Today, we'll do some table work – talking about the script and the characters and the language. Then I drive home at the end of the day.
See you tomorrow.
Happy Friday.