Thwarted, though we had the best of intentions.
Yesterday, Don suggested we go vote in the morning and then treat ourselves to blueberry pancakes at our local eatery. I was immediately onboard with that one!
So we got ready, headed out the door about 10 am and went to our local voting place. It wasn't open. We tried another possible location. Nothing. While we were doing all of this, we ran into a couple of people who were also doing the same thing. Finally, we checked with the guy who runs our local eatery (it's where Don has performed in the past) and who is a former Town Supervisor.
The polls don't open until noon, he said.
What??
We were shocked, to say the least. In various discussions during the course of the day, we found out that lots of people in this area were upset that the polls were open from 12 -9, effectively eliminating the possibility of voting in the morning hours.  Somehow I got it in my head that this was new. We've lived here almost 11 years and have never encountered this before. Turns out it isn't new, that primaries have weird hours for most of the counties in New York State, except for Buffalo and NYC and some counties that immediately surround the city.
Don't get me started. Why would they do something that would make it more  difficult to vote? People who work a split-shift, for example, would find it very hard to get to the polls. People who work long hours and can only vote from 6 -8 am. The list is endless. I don't know why this was put in place but it's ridiculous. I've voted in all the primaries since we moved here so I can only guess that I voted in the afternoon and had no idea there was anything strange about the hours.
So, we ate breakfast before, rather than after, voting. And then we drove around to kill some time, ending up at our local antique barn.
Ummm….that might not have been such a great idea.
I ended up coming home with these: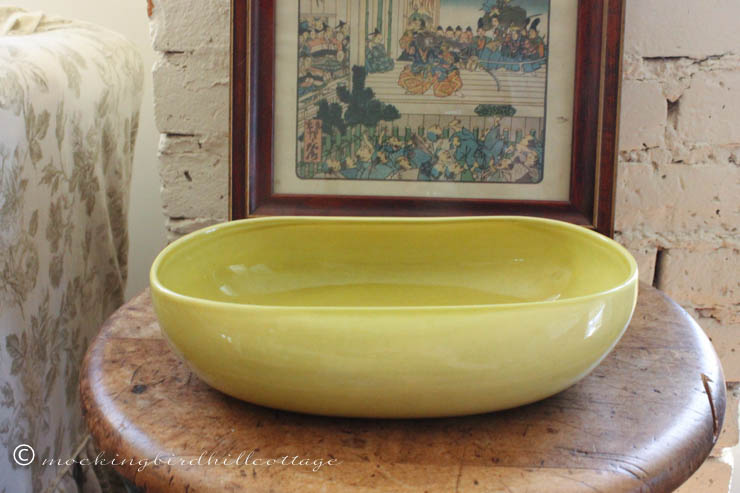 A beautiful mid-century modern bowl by Russel Wright. There was an almost-entire set of this pattern for sale, which I loved, but I could only afford one piece. This is part of his American Modern line of dinnerware. It was manufactured between 1939 and 1959 by Steubenville Pottery – based in Ohio. He also designed in Melmac. I've been to his home, Manitoga, in Garrison, NY – which is just across the river from us and very near to our former rental cottage. He was a set designer before he began industrial design and also designed furniture.
Russel Wright also has the same name as my grandfather, though he spelled it as Russell. Everyone called him Russ or Slim. So I've always felt a connection to these designs and I don't see them very often. This chartreuse color is one of my favorites. And it has my grandfather's name on the bottom!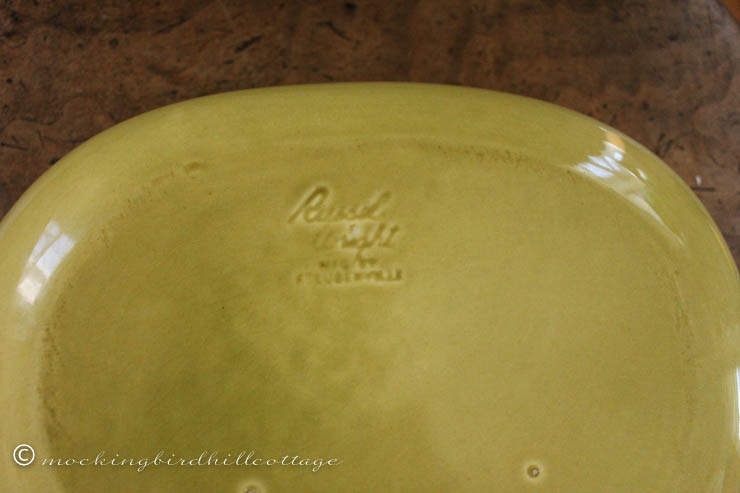 There's the mark. There's a pitcher that I would love to have and I saw two of them in the shop. Wouldn't a mini set of Russel Wright be perfect for the TSP?
I also grabbed this: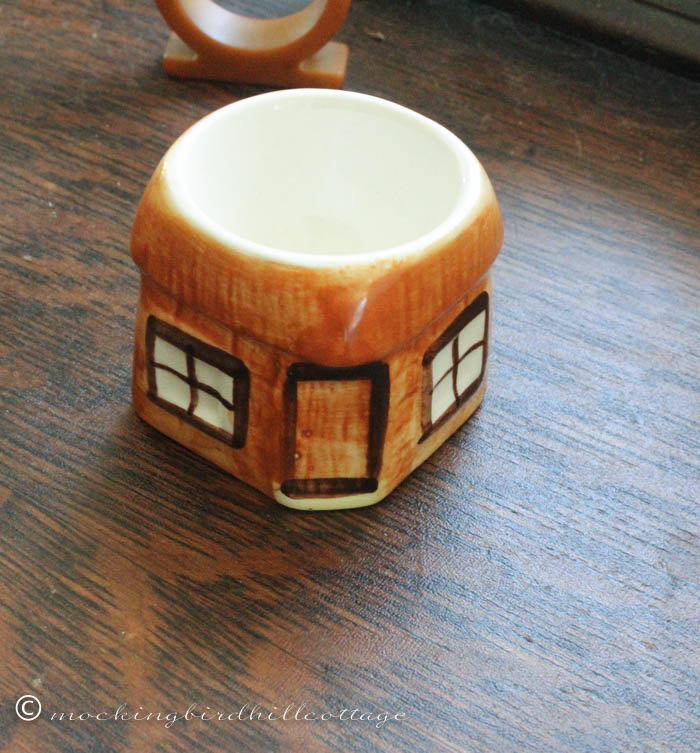 An egg cup. This is from a line called Cottage Ware made by Price Kensington Potteries in England in the 1940s. There's a photo of this egg cup in my Egg Cup reference book. I've never seen one on my antique shop visits, so I grabbed it.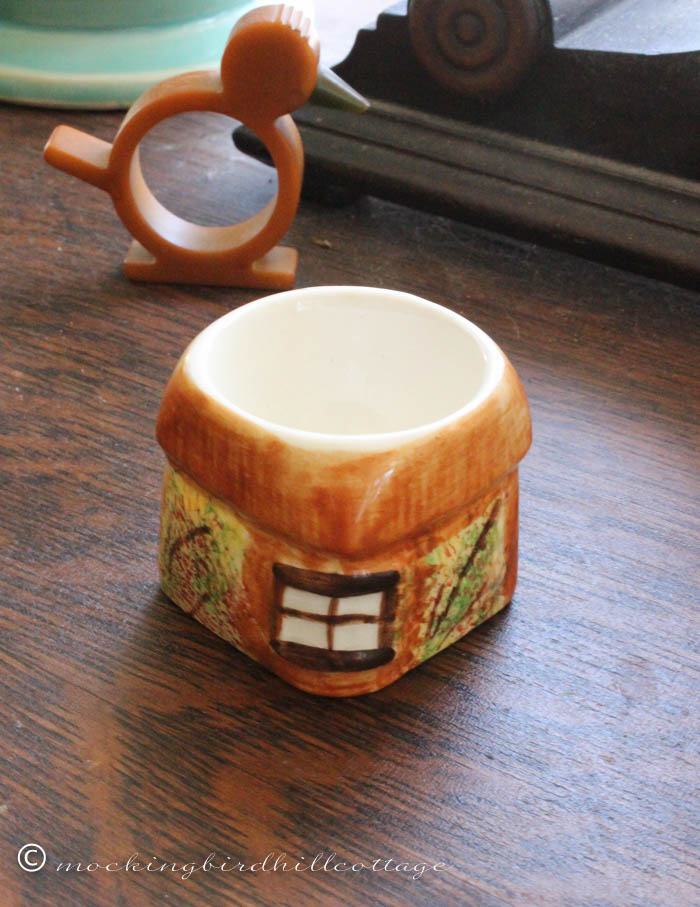 The other side, which happens to be my favorite.
After all of this shopping and eating and voting, we came home and mowed the front lawn for the first time this year. The grass was already so long that it would have been impossible to mow it if we had left it any longer.
The smell of new mown grass. Wonderful.
I have to travel to Hartford again on Friday to do some coaching on Anastasia, which as it happens, is going to Broadway sometime in the 2016-2017 season. That's good news for Darko and Hartford Stage.
Happy Wednesday.