Greetings from Hartford. I headed to the city yesterday afternoon, as I have an all-day rehearsal ahead of me and trying to get here during the morning rush hour would have been a futile and frustrating endeavor. As it was it took me longer than usual to reach Hartford due to evening rush hour traffic.
I spent most of the evening watching the news coverage of the untimely death of Prince. Shocking. Much too young. And so continues a year of untimely deaths in the music world.
Before I left, Caroline asked me to take some pictures of her newest finds. As I was packing and running around the cottage, I told her I had to do it quickly. (I don't know where her camera is, but surely she can afford one?)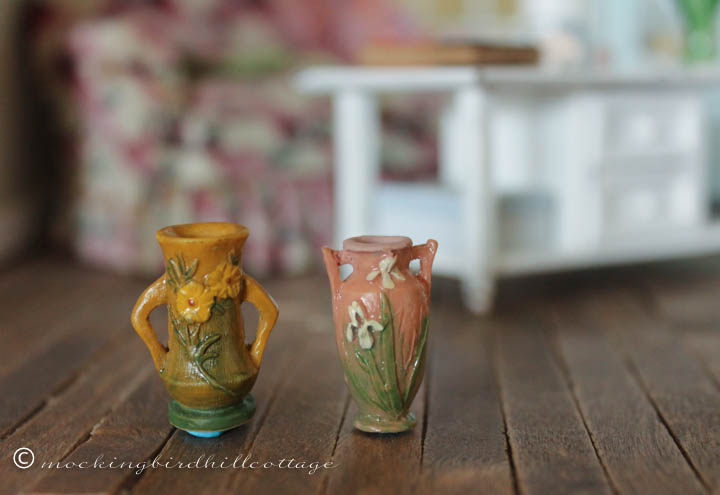 Oh my goodness!
I'm trying to curb my immediate reaction, which is pure jealousy.
On the left, Peony. On the right, Iris.
I have a few pieces of Peony, but not a one in Iris. I asked Caroline where she found them, but she refused to reveal her source. We watched the movie Spotlight  the other night – maybe she thinks she's a reporter?
Spotlight, by the way, was excellent. The Martian, on the other hand, was not. (Why, I wonder, was every astronaut, every employee of the Johnson Space Center, and every reporter impossibly young and beautiful? And that was the least absurd aspect of the movie.)
But back to the mini Roseville.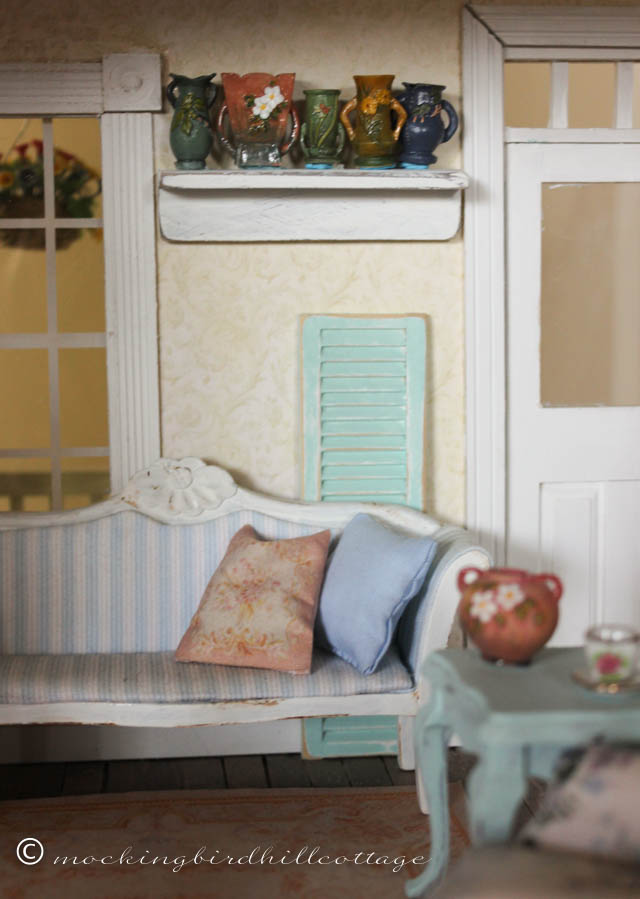 Caroline quickly rearranged her shelf to add the Peony piece to the mix. You can see the Blu Tack that secures each piece. That will have to remedied at a future date. I had no time to deal with that as I had to get on the road.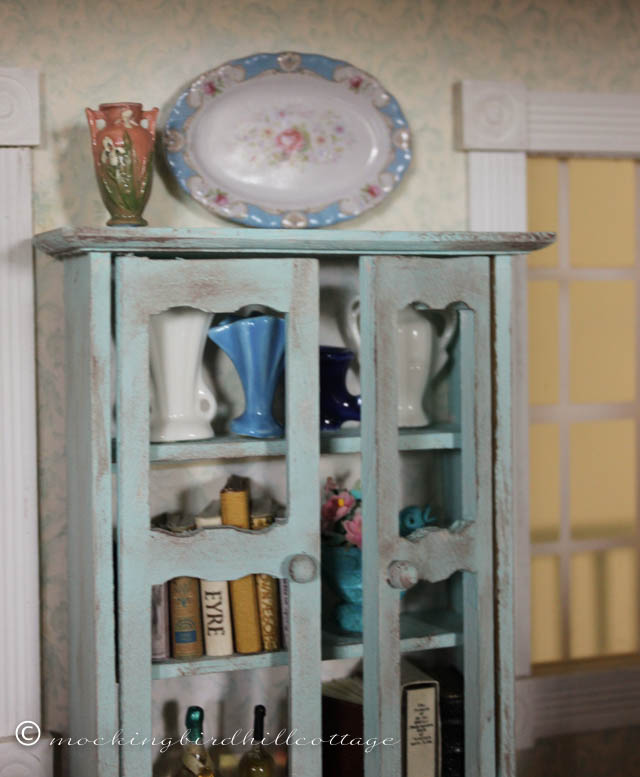 She placed the Iris vase on top of the cabinet, but didn't really like it there. She has since moved it to the mantel.
I'll get a picture of that when I get back home.
(Thanks to reader Mickey who sent me a link to this shop, SP Miniatures, where I found more of the Jeannetta Kendall miniature Roseville pottery!)
And now it's time to get ready for rehearsal. This will be the first time I've seen the cast since the announcement that Anastasia is going to go to Broadway. Very, very exciting!
Happy Friday.