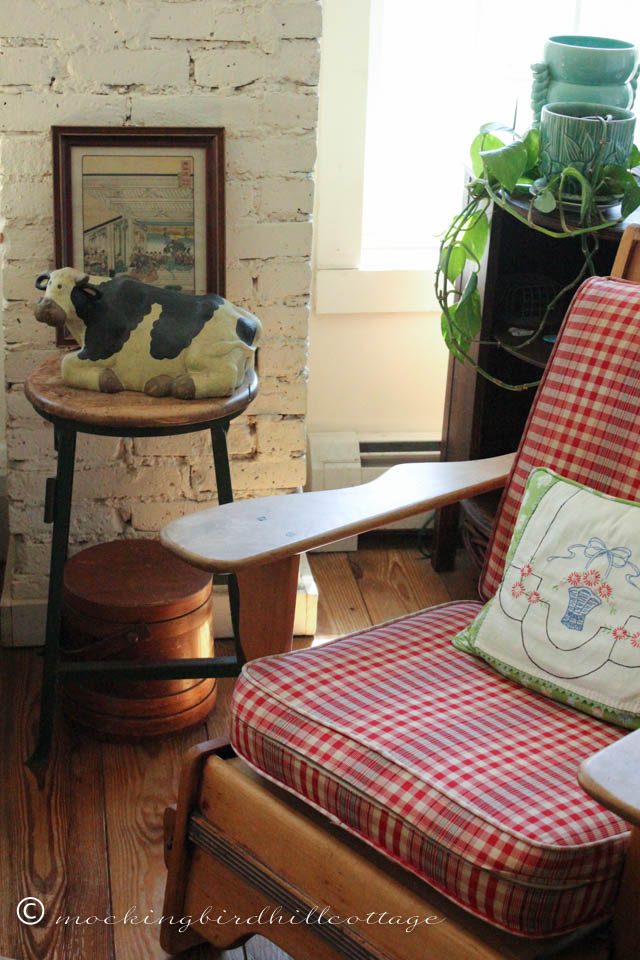 Yesterday, we watched in surprise as several orange-colored county trucks pulled up in front of the house. Our culvert had been cleaned out with an earth mover a couple of weeks ago, along with the culvert of our next door neighbor. Just the other day, we noticed two long lengths of metal pipe in the culvert, which we assumed must have been dropped off by the county.
Sure enough, they were replacing the pipe that runs under our driveway. Pipe that had apparently seen better days. We've had some problems with flooding in the culvert from time to time, as have our neighbors. After dragging on a pair of jeans, I hurriedly ran outside to make sure they were alerted to the presence of our peonies right beside the driveway. Though they look a mess at the moment, the new stalks are slowly emerging from the ground. The guys were great. They assured me they wouldn't harm one bit of the peony patch, as I call it. And they didn't.
Lots of activity, lots of machinery. But they got it all done in about 90 minutes or so.
I was more excited about all this than was my husband, who kept on reading a book of poetry. I'm afraid I'm a little bit like Gladys Kravitz of Bewitched, always watching what's happening on my little stretch of road, trying to figure out what's going on at any given moment. I think that's why I love Hitchcock's Rear Window  so much. It's an excellent thriller, but what I totally get is living in an apartment in a big city, watching the life that goes on around you, noticing when there's a light on in a window, watching people come and go – you know what I mean. I've lived in many city apartments and I was always curious about the lives of other tenants.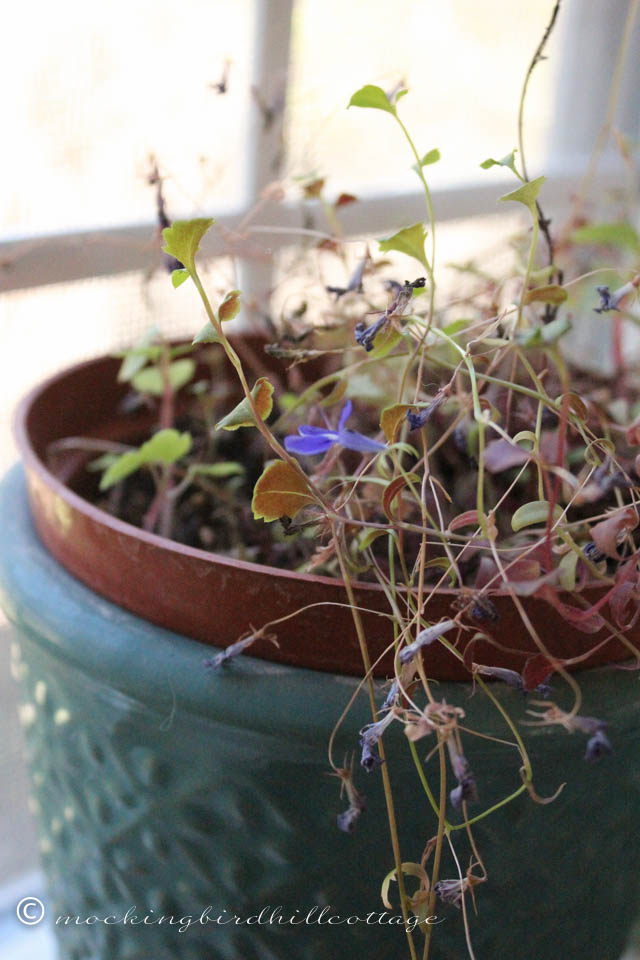 I also did a little work outside for the first time this year. Huzzah! I didn't do much, knowing that I had to take it slowly, but I cleaned up all the stray sticks and small branches that had fallen during the winter. I raked up the many bean pods that dropped from the catalpa tree. And I started to clean out a tiny section of the big garden bed. I'm doing that very slowly because the temps have gone down to near, but not quite, freezing the last couple of nights and I don't want to remove the leaf mulch yet.
Then Don and I drove to a market that sells Valencia Oranges, because he is suddenly into making fresh orange juice. (He loved those oranges we brought home from Florida.) We stopped at the bookstore because it's right across the street and he bought a couple of books of Billy Collins' poetry. I got a magazine – rare – and the first Harry Hope mystery by Jo Nesbo. I haven't read any of his books but I've heard nothing but good things about them, so I figured it was time to read one.
But first I have to finish The Girl on the Train  by Paula Hawkins. I avoided this one for a long time because of the constant comparisons to Gone Girl, which as you might remember, I disliked intensely. But one of the literary staff at Hartford Stage told me I should read it. As did Darko. (But he liked Gone Girl.) Anyway, I checked it out of my library and I'm about half-way through it. The female characters are rather hard to like, though I find myself liking them a bit more as I go on, and the story is quite compelling. I already sense it isn't as manipulative as Gone Girl, thank goodness, though there is the same sort of emotional distancing from the protagonist. I'll report back when I finish.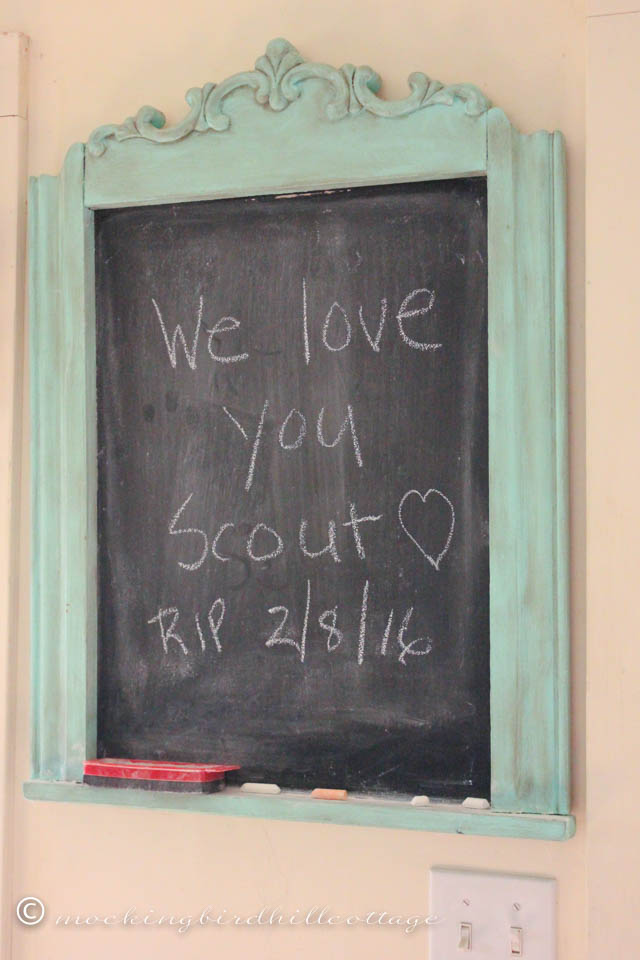 Lest you think I'm always happy, always full of gratitude, let me assure you I have my bad days. Tuesday was such a day. I woke up feeling out of sorts. My allergies were bad. I ran several errands, one of which was visiting our little library. On the way up the drive I realized it was the first time I'd been there since Scout died and I immediately flashed on the walks we took her on during the last year of her life. She loved that downward sloping driveway because it allowed her to lope on the way down, something that was increasingly hard for her to do on a flat surface. But after that time in Hartford when she galloped around the park, I wanted her to have that experience again. She was always so joyful in those moments, even though she would be very tired when we got home.
Then I walked in the door and Don wasn't here and the house was empty and she wasn't there to greet me and I was incredibly sad for the rest of the day.
We wrote that message on the chalkboard on the day Scout died. It's been there ever since.
There are good days and there are bad days.
Happy Thursday.