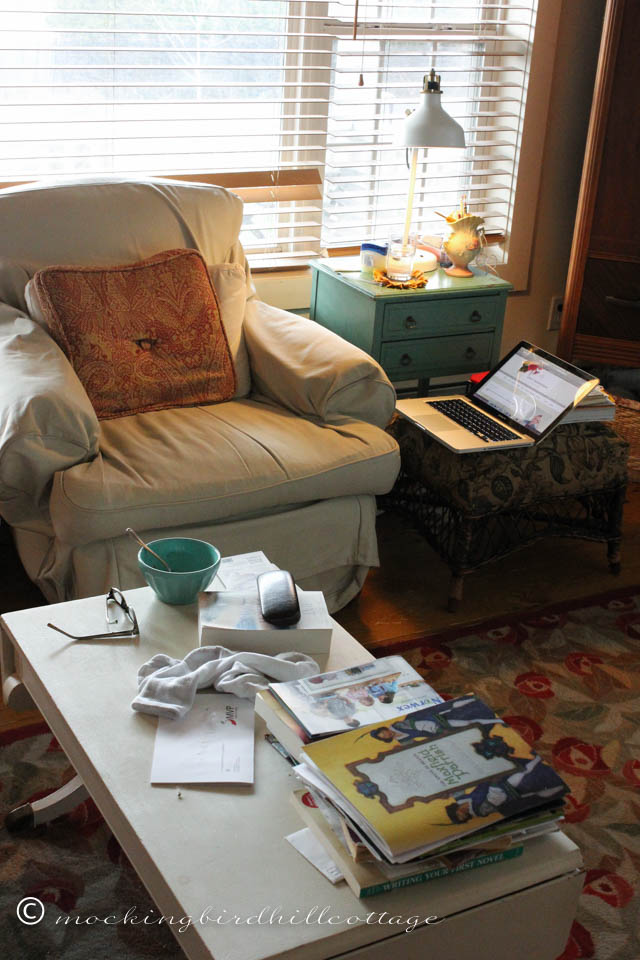 As is.
The end of a long day; heck, a long week.
Very strange happenings around MHC this past week, most of them to do with Don's ankle/leg. We took two trail walks last weekend and at the beginning of each of them, Don had to loosen the ties on his sneakers because his inner ankle was tender. He thought it strange, but really didn't think about it all that much.
By late Sunday night, after I had gone to bed, Don's ankle was swollen and an area of skin above the joint and on the leg was very red. He couldn't put any weight on his foot.
On Monday morning, Don told me what was happening and we assumed it must be some sort of sprain, so we started keeping it elevated and icing it off and on. But Don was sort of bewildered by the whole thing, as he had no memory of anything happening to that ankle.
By Wednesday, it was even redder and there was some bruising under the ankle and it hurt a lot, so we went to our local urgent care facility as Don's doctor was out of town. The doctor at urgent care, not especially skilled in bedside manner, told Don he couldn't say exactly what it was – it was either a sprain or a skin infection. They gave him a splint, ace bandages and crutches, as well as strong antibiotics and prescription strength ibuprofen. We got the prescriptions filled and went back to elevating, etc.
Later in the day, when Don was looking at the discharge papers, the doctor had entered 'cellulitis' in his notes as the diagnosis. This puzzled us, because cellulitis is very serious and the doctor had hedged about any sort of diagnosis during the appointment.
We were in strange and uncertain territory. At this point, we very much doubted it was a sprain, as the redness that extended about 5 inches up his leg was clearly some sort of inflammation and, as veterans of sprained ankles, we knew that if it had been a sprain, that area would have eventually become a bruise and it didn't. On Mere's advice, we started to mark how high the redness went on the leg with a permanent marker. Cellulitis, apparently, can lead to a blood infection if not monitored. Not good. A couple of people warned us about the seriousness of it all.
But was it cellulitis?
We tried to get hold of the doctor from the urgent care facility for some sort of clarification. No return call. Then we spent the next 24 hours or so wondering if we should go to Emergency, constantly monitoring the inflammation.
Side note: we have a large deductible on our health insurance, Don is about 3 months away from getting Medicare, and we knew that the cost of a visit to Emergency, as well as all the doctor's visits, would come out of our pocket. So we were hesitant to go to ER if it wasn't necessary.
Don called urgent care again yesterday morning and asked to have the doctor call us. When the doctor finally called us back yesterday afternoon, he was defensive about the diagnosis he gave in the examining room vs. the diagnosis on the discharge papers and was basically a jerk (my words, not Don's) but he did two good things: he prescribed that antibiotic on Wednesday and he gave us the name of a local podiatrist, who, bless him, squeezed us in late yesterday afternoon.
This doctor was great, so helpful and reassuring. He took his time and listened to both of us. He asked questions. And in the end he said, yes, it's cellulitis. No, we don't need the splint or the crutches or the ace bandages. Yes, Don will be okay, it just might take a few more days. If it gets worse, go to Emergency. But, the antibiotics should take care of it. His advice to Don: relax, elevate your leg and come back next Tuesday.
Here's the thing; it was the not knowing that stressed us out. Were the antibiotics the right choice for whatever unknown ailment he had? Were we doing the right thing? Should we have immediately gone to ER? Would it worsen? What the heck was  it?
By the time we got home yesterday, we were relieved and exhausted. I've been taking care of Don ever since this happened. Don's been worried and in pain. Now, at least, we know.
We have no idea what caused it. Maybe a bite? But we can't see any sign of a bite. That part remains a mystery.
So the above photo shows the status of the den after we got home. My socks are on the table (it was unseasonably warm and humid yesterday,) there's an empty cereal bowl because I had to have some Raisin Bran which is comfort food, there's a guide from our Health Care provider that I was studying when we were trying to determine our options, and the laptop is open for some mindless blog reading, which was about the only thing I could do at the end of the day.
Whew. Now I have to get back to my research, which had to be put on the back burner while all this was going on.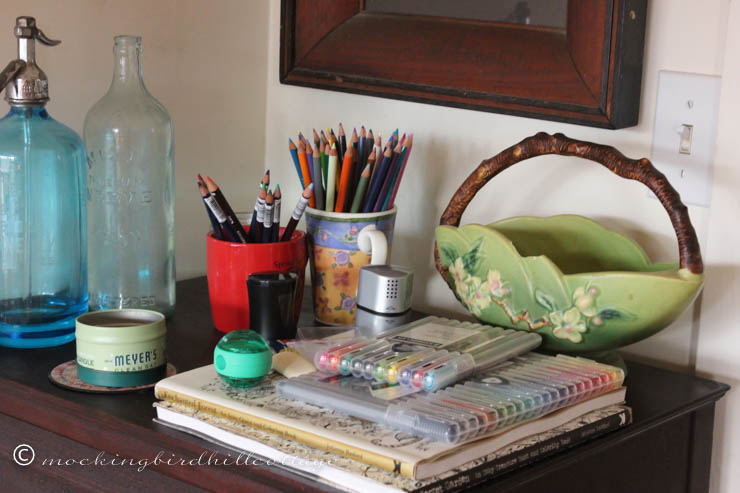 I didn't even do any coloring for the past two days.
This morning, Don's leg looks a bit better. We can finally see an improvement. Thank goodness.
Now, we're headed into more bizarre weather. It was over 70 degrees yesterday. The high tomorrow will be 38 with rain/snow and, you guessed it, high winds. (I am so sick of wind.) Monday? 1-3 inches of snow. It won't last, but the very thought of it makes me want to scream. Rain and snow showers off and on throughout the week, including the day I drive to Hartford for a rehearsal.
Oy.
Now I'm going to celebrate Don's improvement by making some French Toast. His request.
Happy Saturday.