Don: Do not read any further!! Stop here. xo
Don was out and about yesterday morning, so I took the opportunity to work on the TSP, along with cleaning out the big garden bed. Spray painting was on the docket, which has to be done outside, so I painted, then started raking out the big garden bed in between coats of paint. I managed to get it done and hide all traces of my activity before Don came home. (I even finished raking out the garden bed.)
When I went to Lowe's the other day, I was also looking for just the right color of spray paint for this: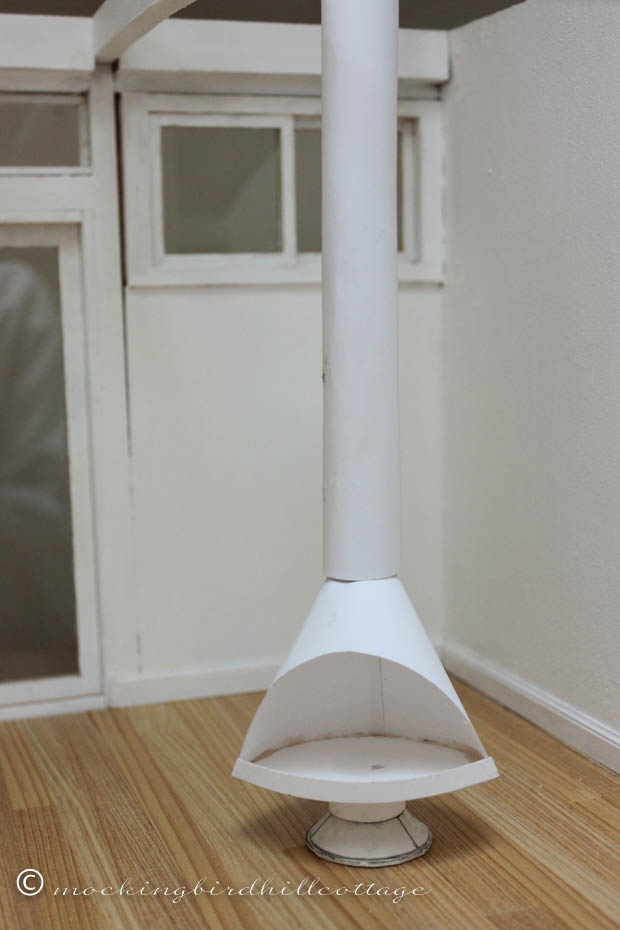 Do you remember this little project that I made last year? It's from a tutorial by Kris at 1 Inch Minis.
As I was ready to dip my toes into the TSP once again, I thought this would be a good start.
I taped off the interior of the fireplace, went outside with spray paint in hand, and sprayed two coats of orange paint. After it was all dry, I hand painted the interior.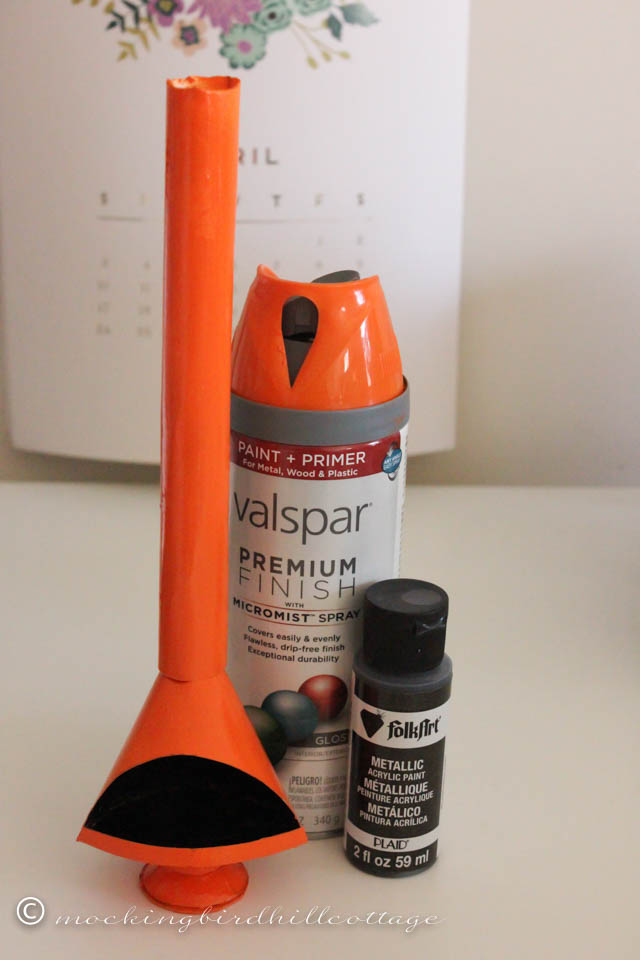 To my surprise, it worked! I love, love the way this looks!
The paint is by Valspar. It's Premium Finish Interior/Exterior High Gloss (paint and primer all in one.) The interior paint is from FolkArt – Black Metallic. I already had that on hand.
When I look at this fireplace, I see an A-Frame house built in the sixties – perhaps a ski getaway, or a house on a lake. It brings back memories, that's for sure.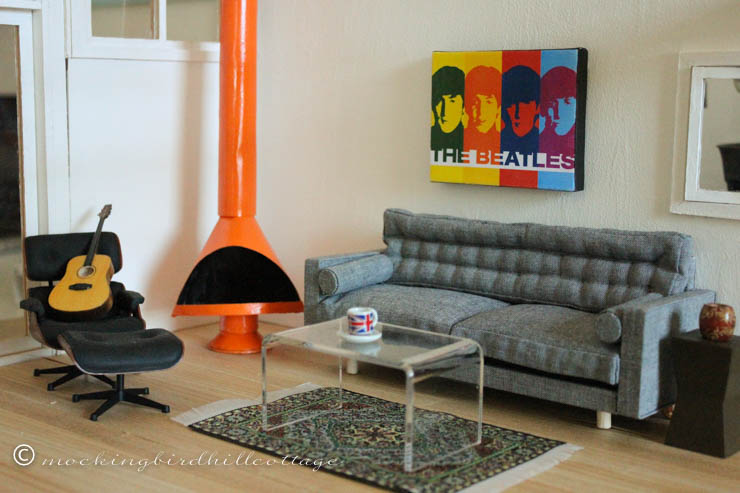 Now, doesn't that just make you smile. I love the way the orange shows up in the Beatles canvas. On Paul, of course – my young girl crush.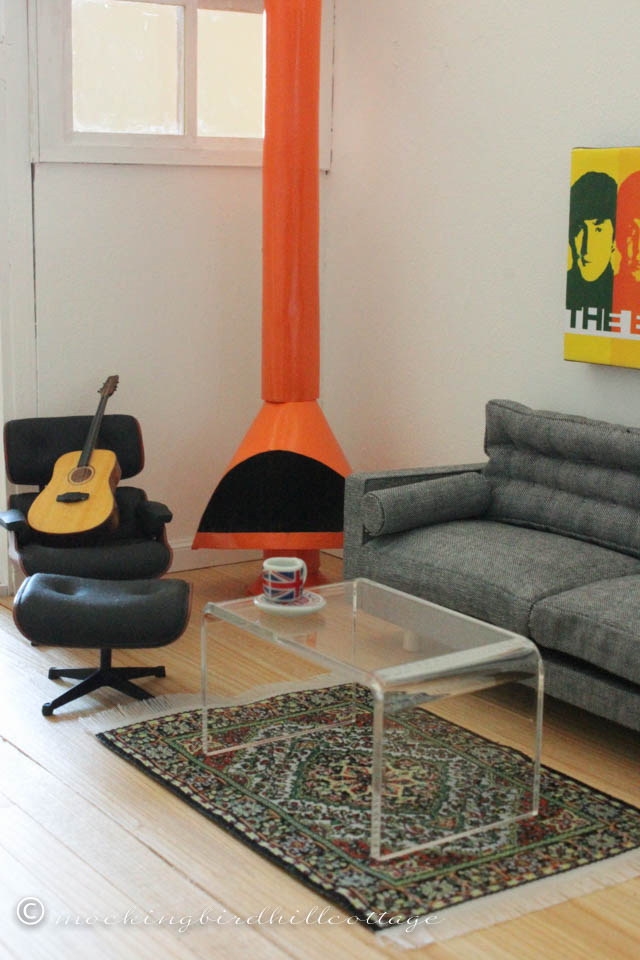 The pipe will look straighter when I can attach it to the roof, which has yet to be painted. To be honest, I love the way the light pours in the TSP without the roof. I'm not sure yet if I want to put it on! I'm pondering that one.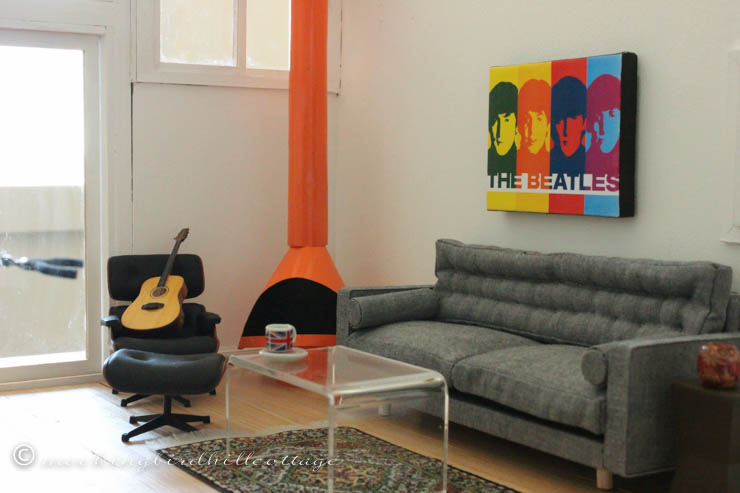 In the TSP: a mini guitar. Outside the sliding doors: Don's real-life guitar stand. Real Life meets Miniature Life.
I told Don I was real excited about 'a secret thing I worked on while you were away.' He is eager to see the finished product so we have now set a deadline. I will have it done by June 24, his birthday. I mentioned that it would look finished but that I reserved the right to tweak it as necessary.
So now I'm making lists of Must Haves.
It felt good to do something, to accomplish something. Ever since my dad died, my creative spark has been missing. It's slowly reemerging. Slowly. That makes me happy.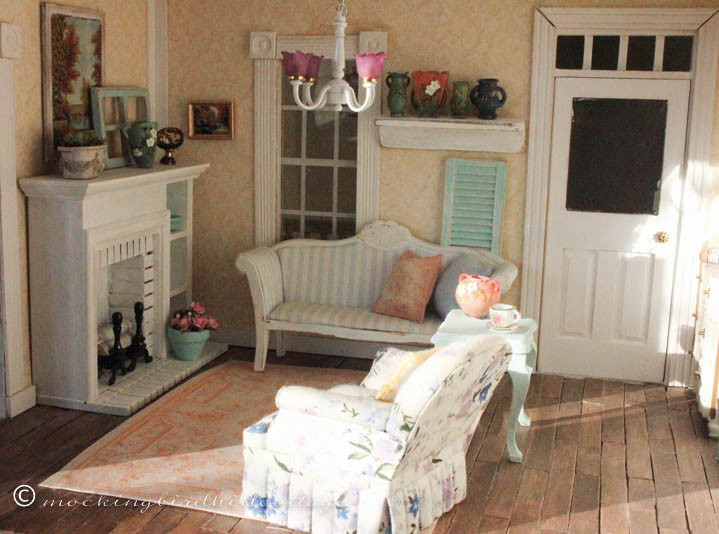 A late afternoon shot of Caroline's living room with Roseville pottery.
I have a book review up on Just Let Me Finish This Page: I Let You Go  by Claire Macintosh. I won't give away anything except to say the this is an incredible read. Stop by.
Happy Monday.