I ended up being at rehearsal for most of the afternoon yesterday. I really appreciated the opportunity to speak to the actors one-on-one because sometimes distance or lack of time means I have to email my notes to them. This was much better! I got home around 7:15 and had dinner with Don. But I was really tuckered out after too little sleep the night before, so I hit the bed early.
A couple of things came in the mail while I was away: one for the TSP, one for me. I shot some quick photos this morning but I'm going to have to wait on a photo of the addition to the TSP because it was just too dark. Hopefully, tomorrow.
For me, for a future project: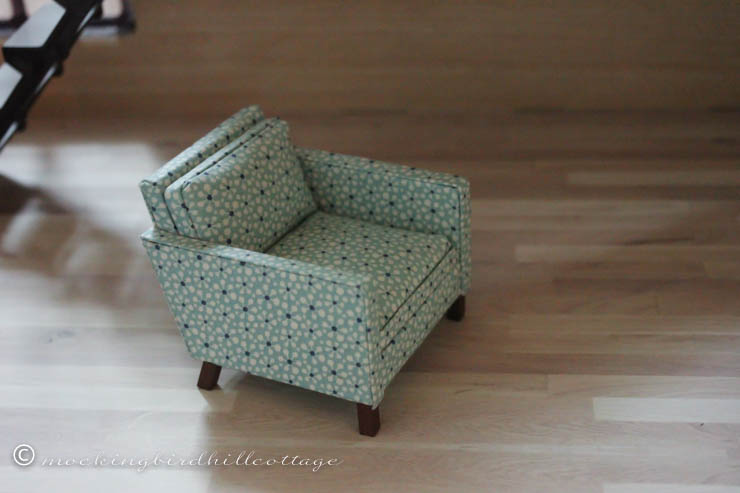 This chair.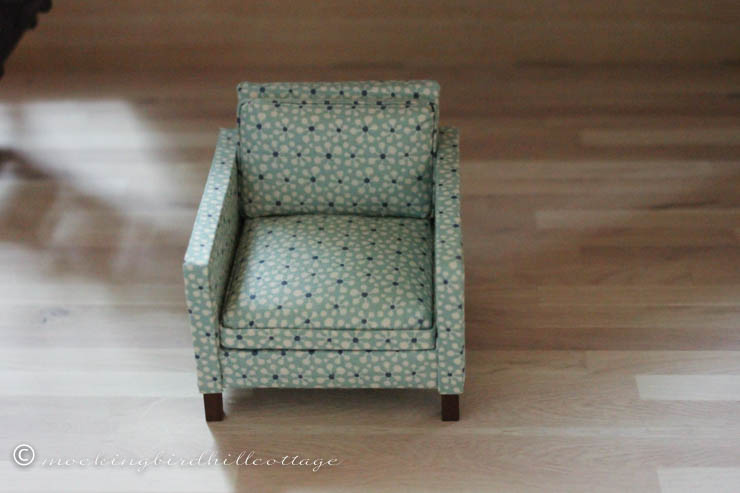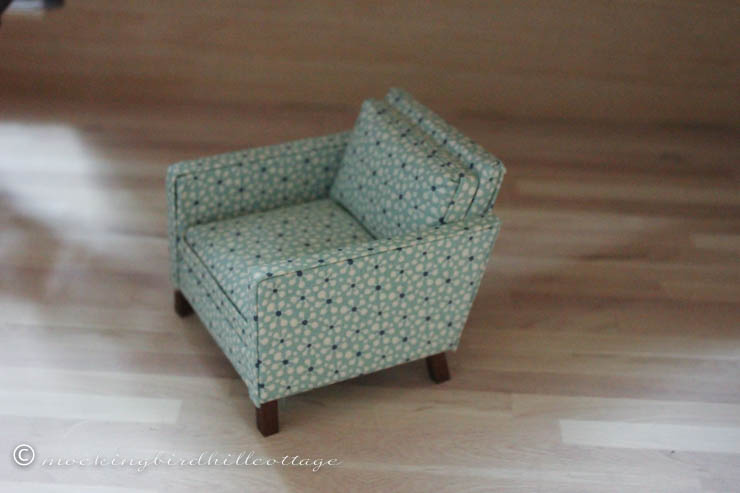 It's from the Etsy shop of Alices Miniatures. It came all the way from England. Alice makes wonderful furniture and other minis and her work is beautifully done. I hope to collect more of it in the future.
Perfect little chair in which to read a good book, don't you think? I'd like a real size version of it in our office!
Some of you have been asking me about what I'm thinking of for my next project. I have some ideas. It will be eclectic modern, I think. I'm not sure whether I will use the Loft that I got from Target – I tend to want to use that to stage photos of minis. I used it for the photos in today's post.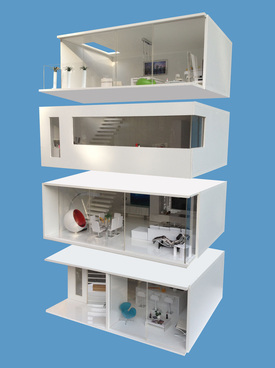 (Photo from MIAIMminiatures)
My dream is to buy one or two of the MiPads from MIAIM Miniatures in England. They are very modern in design and you can buy a floor at a time, so you can build your house slowly. Right now, Elaine Shaw, the designer, has four sections of the MiPad available. But they are expensive, so I'd have to save my pennies.
I love the idea of the MiPads and the clean white palette, which would give me all sorts of decorating options. Elaine's story is very interesting – she had the concept for these individual pads and funded it through a Kickstarter campaign. You might want to check out her site. She also sells them on Etsy.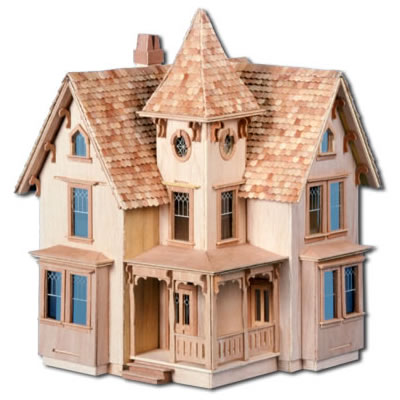 (Photo from the Greenleaf site.)
The other project I have in mind is to tackle a Greenleaf kit that I've had around here for several years. It's the Fairfield dollhouse which is in ½ scale rather than 1″ scale. I'm not especially enamored of the smaller furniture available for ½ scale – it's hard to get believable and/or intricate detail – but building the house would be a challenge, much more complicated than the TSP, and I've been looking at a lot of finished Fairfields lately. Plus, it would take up a lot less room in this small cottage! I can only have so many dollhouses. I think that's also why I like the MiPads. I can play with them and configure them and I wouldn't be locked into one finished, permanently wallpapered design, if that makes sense.
I've been doing a lot of research online because I want to start a new project soon. The TSP just needs a few additions, and it's done. Actually, it will be done well before the June 24th deadline!
Now you know what's been swirling around in my head lately.
Happy Saturday.