Don was sitting on the glider yesterday morning, playing his guitar, and I had just finished mowing the back forty. (Back pain right now for Don, so I did the mowing. He's done the same for me many times!) Anyway, he called out to me to come to the porch, where he pointed out two foxes on our neighbor across the street's driveway. By the time I got there, one had disappeared, but the remaining fox was clearly a very young kit. He was hanging out on the driveway, wandering around, and let me add right here that the section of the driveway he was on was very, very close to the street. I started to walk down our driveway thinking I would scare him into backing off from the street.
But this little one has not developed the wariness of an adult and he started heading toward me! "No," I said, "Go back!" In the meantime, my neighbor came down his driveway (it's very long) and the little one scooted across the street onto our property. My neighbor told me he'd been noticing the little one for about a week and that the kit liked to hang out by their mailbox. Again, right by the street. He thinks they're living down in the pipe in his culvert. They are used to foxes because there's a den further back on his property, but he's never seen a den so close to the street. He was worried about the little one and later in the day, he made a sign warning drivers: "Slow! Baby Foxes in the area!" (Not that any of these yahoo drivers heed the warning. I had a driver honk his horn at me because I slowed down to let a squirrel cross the street. He was apparently so important that he couldn't wait 30 seconds. What an ass. I will admit to giving him an immediately recognizable hand gesture.)
Fast forward about an hour and what do I see? Baby Fox trotting by our shed. I tracked him up into the back forty and then he came down to the area behind our kitchen.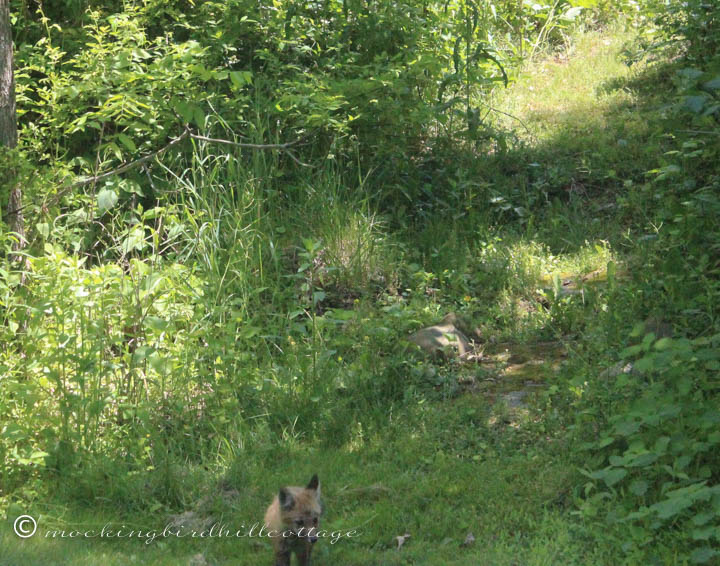 Well, my watermark is covering his face! Let's try that again.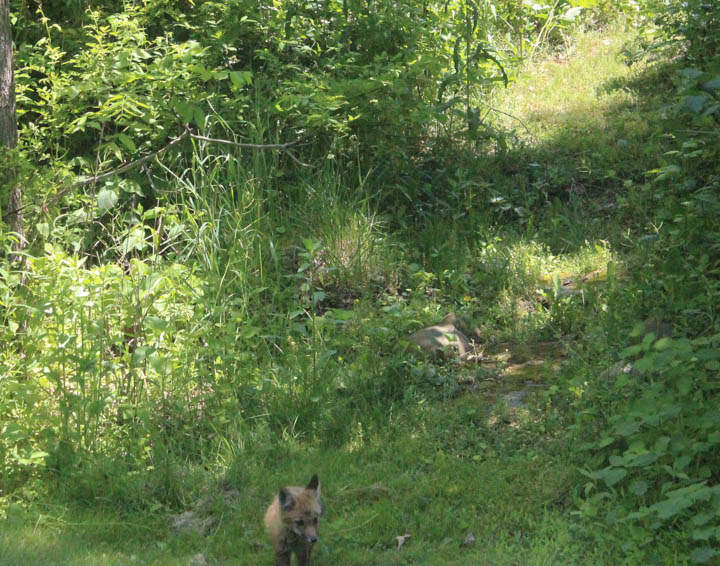 You can see how wild it looks right outside our kitchen window.
And one more: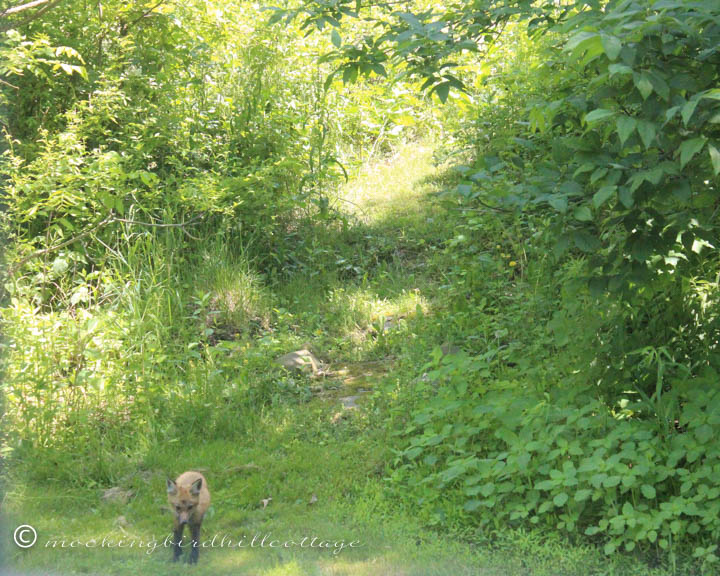 I then proceeded to watch his progress through our next door neighbor's yard, down his driveway and then I ran outside when it became clear to me he just might be about to cross the street. Luckily, a sane driver saw him and slowed down and another sane driver did the same thing and the little guy trotted across the street.
I then had to shoo him back from the edge of the street and he eventually made his way back toward his home, where I saw him sunning himself under the mailbox later in the afternoon.
And then I had to stop. I will obsess and worry about this little guy, who has no street smarts yet, and I'll drive myself and Don crazy. I can't control his every move and I can only pray he remains safe.
Where the heck is his mother? We're assuming his mother was the other, larger fox that Don saw, but we're not sure. Mom: he needs guidance, STAT.
Flower update: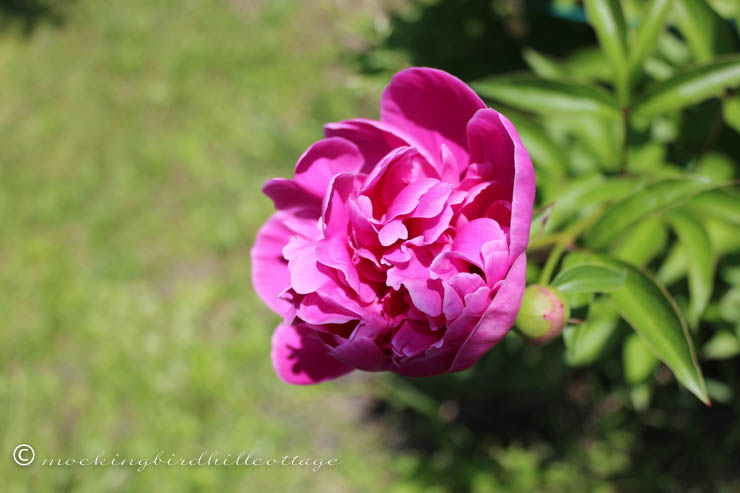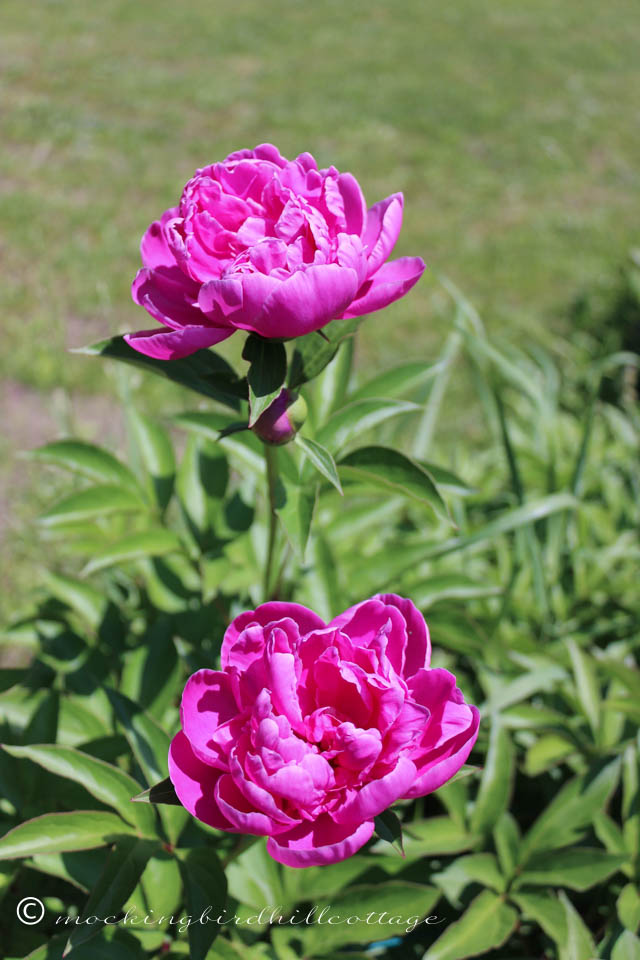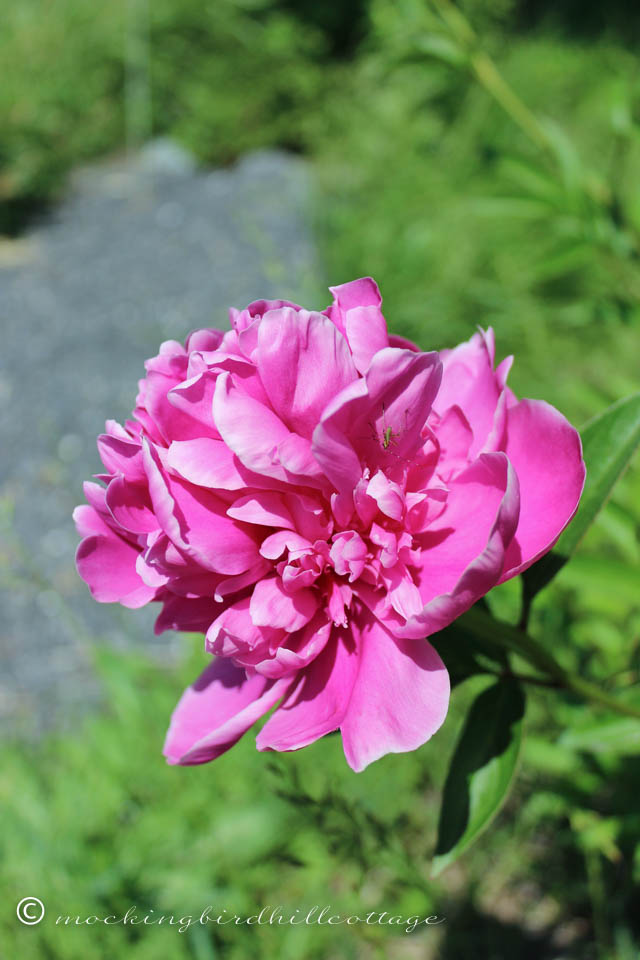 This morning found me outside at 6:30 am taking a picture of the daylilies that just opened.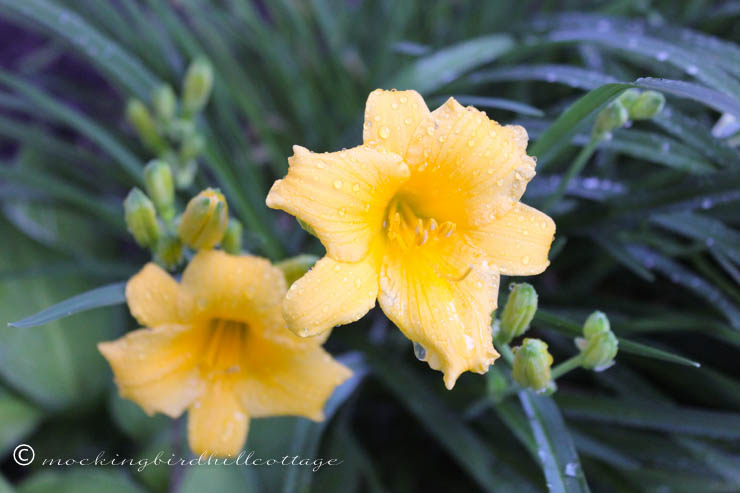 Yes, it's raining, which means I'll probably have to rescue a couple of peonies and bring them inside, though it's just raining lightly at the moment.
The Country Living Fair is this weekend – I had thought about going today and have been given a 'press pass', but I probably won't. I've been there two years in a row and I doubt there will much that I haven't seen. It's raining and my allergies are bad, so I should probably stay indoors. I'll check with Don and see if he's up for it. There is also a Miniature Show up in Sturbridge Massachusetts on Sunday. I was planning on attending both the Fair and the Mini Show. However, the weather forecast is for thunderstorms, some of which could be severe, all day Sunday. It's a two and half hour drive and bad weather would not be fun, especially since I have to go through the usual traffic tie-ups in Connecticut.
So, it looks like my efforts to get to a mini show might be foiled again. Darn it.
Happy Friday.