A love letter to the Theater:
On Sunday, after a day of shock and despair and grief, we watched the Tony Awards. I've watched them since I was very young.
I'm in the theater.
If we needed anything life-affirming on Sunday, and we did, the Tony Awards did that. The pitch-perfect opening where James Corden stood on an empty stage, facing the back wall of the stage with the audience behind him, and spoke about the events in Orlando:
All we can say is you are not on your own right now. Your tragedy is our tragedy. Theater is a place where every race, creed, sexuality and gender is equal, is embraced and loved. Hate will never win. Together, we have to make sure of that. Tonight's show stands as a symbol and a celebration of that principle.
I'm in the theater.
I have been blessed since I first started acting and working in the theater to work in an environment that is inclusive, that is multi-cultural, that celebrates diversity in every form. For me, because of my upbringing and because I was embraced by the theater at a young age, none of these – race, creed, sexuality, or gender – has ever been an issue. Ever.
Oh, how lucky I am, how lucky we are, to work in the theater. And I have never been prouder to be part of that community than I was on Sunday night, when the love, compassion, acceptance and tolerance I see everywhere in the theater, wherever I work, be it in a big city or a small town, filled the Beacon Theater, reverberated throughout the room.
From Frank Langella's acceptance speech for Best Performance by a Lead Actor in a Play:
…I urge you, Orlando, to be strong. Because I'm standing in a room of the most generous human beings on Earth, and we will be with you every step of the way.
From Lin-Manuel Miranda, the brilliant, brilliant creator of Hamilton, who wrote a sonnet as his acceptance speech:
…We chase the melodies that seem to find us
Until they're finished songs and start to play
When senseless acts of tragedy remind us
That nothing here is promised, not one day.
This show is proof that history remembers
We lived through times when hate and fear seemed stronger;
We rise and fall and light from dying embers, remembrances that hope and love last longer
And love is love is love is love is love is love is love cannot be killed or swept aside.
I sing Vanessa's symphony, Eliza tells her story
Now fill the world with music, love, and pride.
(Vanessa is Miranda's wife.)
"And love is love is love is love is love is love is love."
I'm in the theater.
I've been in the theater for over forty years. So has Don. Those who work in the theater are my 'tribe.' I read something yesterday from one of my friends who is an actress. She used the word 'tribe.' And she's right. This community, this everyone-is-welcome-and-equal, loving, and caring group of artists has sustained me throughout my adult life.
I'm so proud to be 'in the theater.' I'm so blessed. Thank you for teaching me that everyone is equal, no matter their sexuality, creed, ethnicity or gender. Thank you for allowing me to work in an environment that speaks tolerance, that speaks inclusivity, that speaks love and not hate.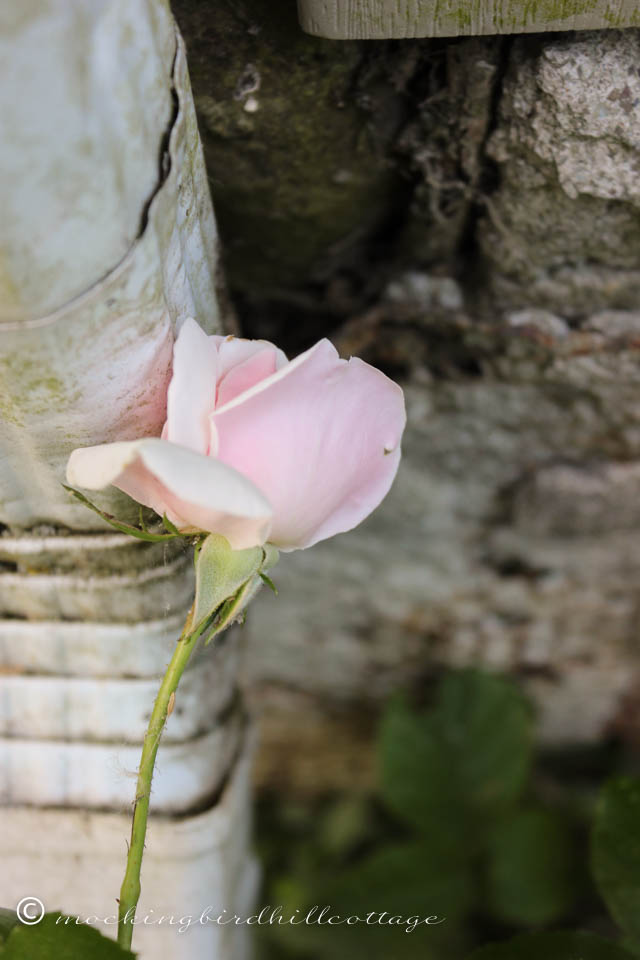 Your pretty picture for the day. The first New Dawn Rose to open.
Happy Tuesday.