Curses! Foiled again.
As we were drifting off to sleep last night, one of our smoke detectors went off. But it was just a quick beep-beep. Don got up and disconnected the one he thought was making the sound. (We've had trouble before with moths and bugs flying in the detector and setting it off.)
We went back to bed, now wide awake. About ten minutes later, another beep-beep, beep-beep. So Don got up, as did I, and we took the cover off the detector that is right outside our bedroom door. We couldn't smell any smoke. None of the detectors downstairs were going off.
Back to bed. Ten minutes later…you guessed it. So we got up and went to the detector that is over the stairs. It had to be this one. (There are three detectors rather close together. One is wired into our security system, the other two aren't.) This one was wired into the system. Cover off. This time we went downstairs and checked everything out. Nothing. We got back into bed. Neither of us could sleep. I got up and checked out the office, just to make sure. Nothing. No more beeps. But sleep was a long time coming.
You understand why I say I really don't feel like driving 2½ hours to the Miniature Show. In stormy weather, no less.
Someday, I guess. Someday I'll get to one.
Late yesterday afternoon, I  saw something on the kitchen screen.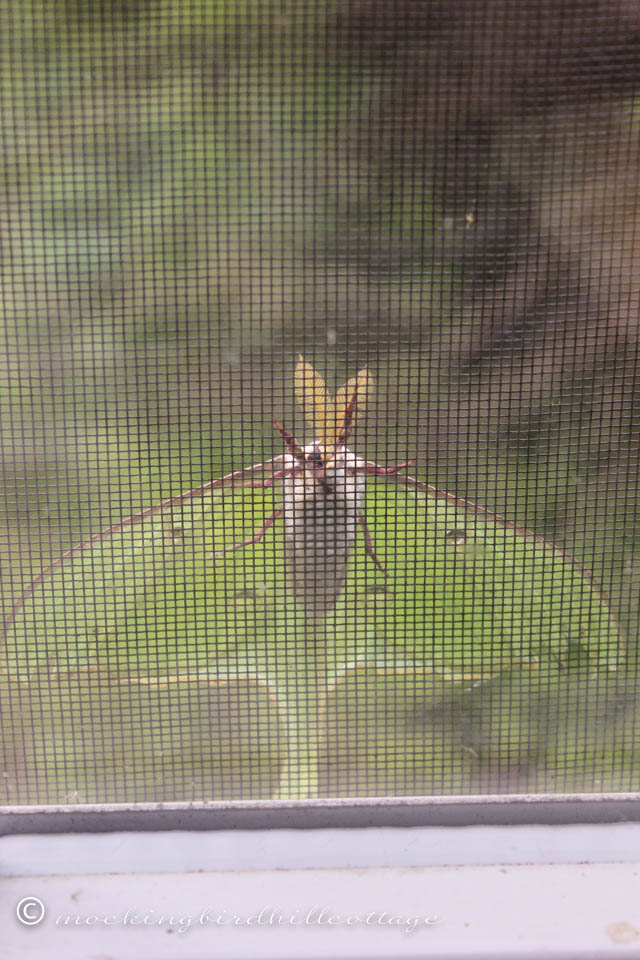 I grabbed my camera, intercepted Don as he arrived home, and went to investigate.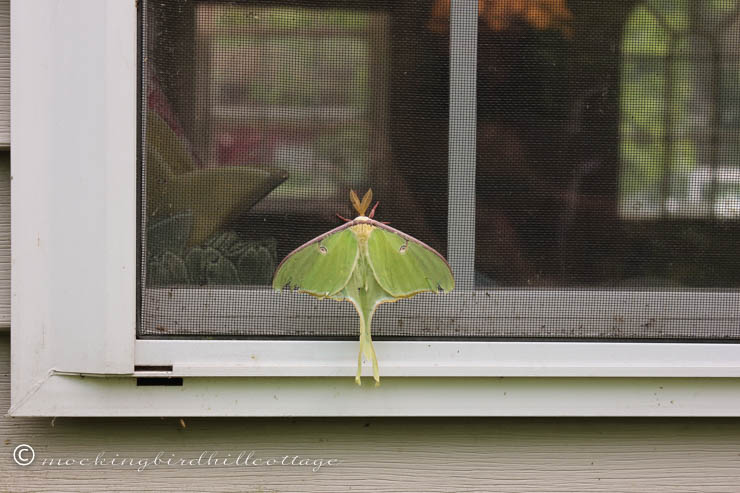 Oh my heavens! We gasped when we saw this moth. The wings look like leaves. It has a swallowtail. The top edge of the wings looks like a twig. And the antennae look like feathers.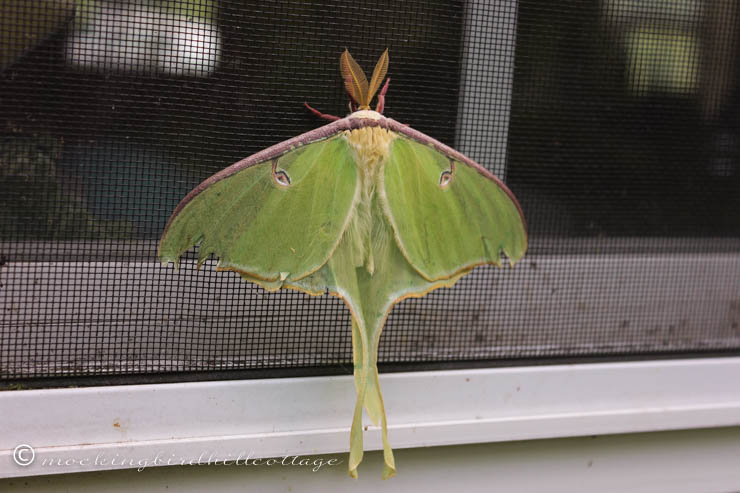 There's a ruffled edge on the wings as well as 'eyes.' I ran inside to look it up and discovered it is a Luna Moth. I've heard of them, but sightings are rare, as they only fly at night. They live for one week, in which they mate, lay their eggs on the underside of a Black Walnut leaf, and die. We have several Black Walnut trees on the property.
We were entranced by this beautiful being. I've never seen one in person, only in photos.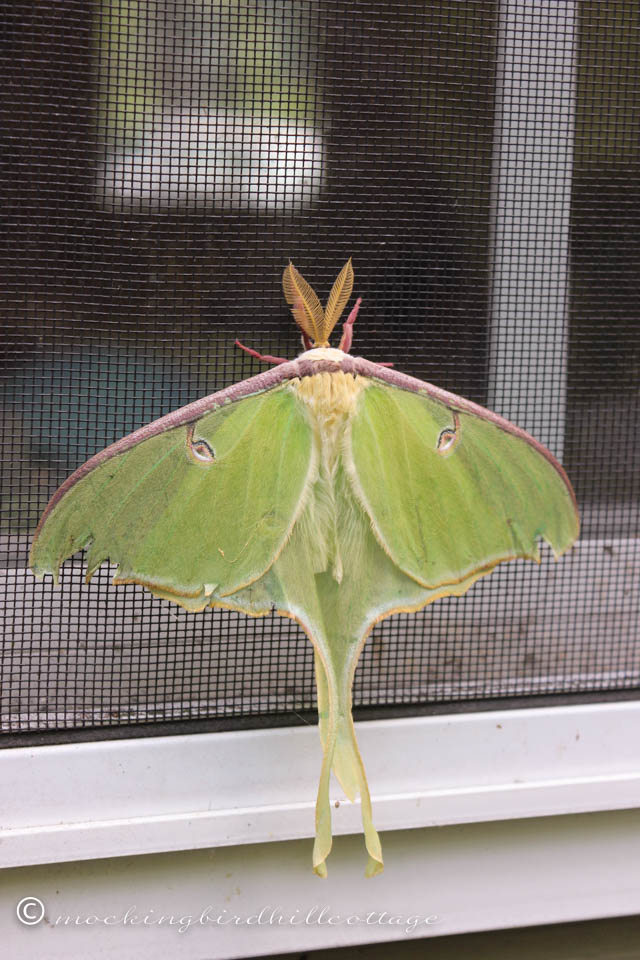 It's one of the largest moths in North America.
Seeing it there felt like a blessing, an amazing sight that was witnessed by only Don and me. Sure enough, as soon as it was dark, it was gone.
Aren't we lucky?
My Julia Child roses are blooming. I originally chose the bush because the flowers were yellow. Over the course of the years, they've turned dark red. That happens sometimes with roses that are grafted onto another bush. I miss the yellow, but I'll take the red, especially since it didn't bloom last summer after the harsh winter we had. I thought it was gone, remember? I was even considering digging it out and removing it. But it surprised me this year.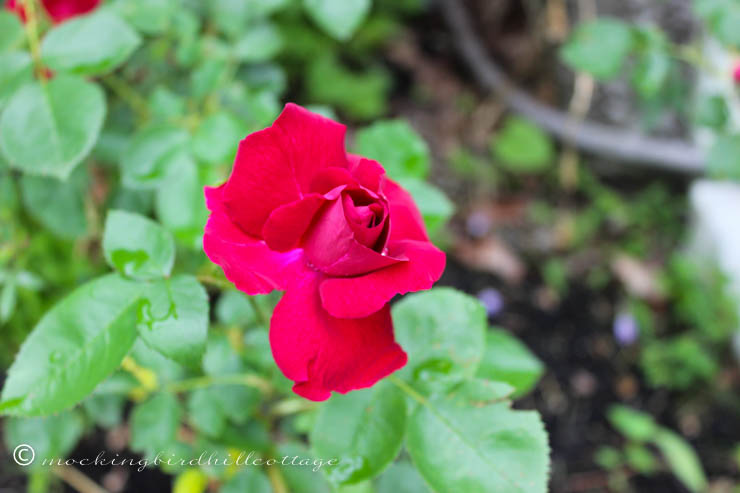 Some of the leaves have been chomped on by some creature or other. But I won't use pesticides, so that's the way it's going to be.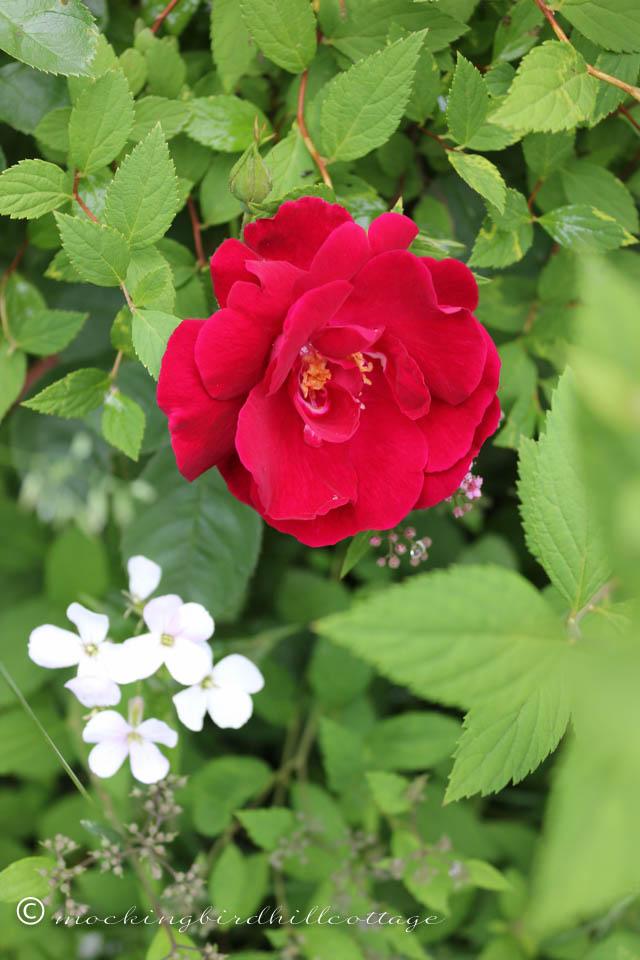 Pretty!
So we'll try to figure out the mystery of the smoke detector today. Perhaps the battery needs replacing.
I have a book review scheduled for tomorrow. It's for Keep You Close, an incredibly well-written mystery with a twist in the plot that will shock you. I'll be giving away a copy, so be sure to stop by.
Happy Sunday.