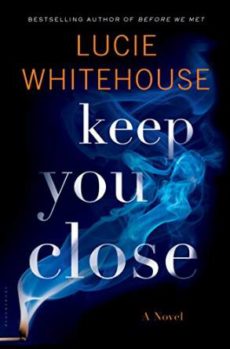 Today I am reviewing Keep You Close by Lucie Whitehouse for TLC Book Tours. As always, I am provided with a copy of the book in exchange for my honest review.
About the book (from the publisher): When artist Marianne Glass falls to her death, everyone insists it was a tragic accident. Yet Rowan Winter, once her closest friend, suspects there is more to the story. Ever since she was young, Marianne had paralyzing vertigo. She would never have gone to the roof's edge.
Marianne – and the whole Glass family – once meant everything to Rowan. For a teenage girl, motherless with a much-absent father, this lively, intellectual household represented a world of glamour and opportunity.
But since their estrangement, Rowan knows only what the papers reported about Marianne's life: her swift ascent in the London art world, her much scrutinized romance with her gallerist. If she wants to discover the truth about her death, Rowan needs to know more. Was Marianne in distress? And so she begins to seek clues – in Marianne's latest work, her closest relationships, and her new friendship with an iconoclastic fellow artist.
But the deeper Rowan goes, the more sinister everything seems. And a secret in the past only she knows makes her worry about her own fate…
My review: Author Lucie Whitehouse is new to this reader and what a pleasure it is to get to know her work. She writes beautifully and know how to craft a story that is complex and multi-layered, slowly building suspense until the reader simply can't put the book down until the final page. This is a psychological thriller that gets the reader in its grip and doesn't let go.
The story takes place in Oxford and London – mostly in Oxford – and the author clearly knows Oxford intimately. It's painted with such detail, with descriptions that are so evocative, that the reader can't help but feel they are walking the streets of the famous university town.
The characters are written with great depth, all of them richly drawn. One gets a real sense of who they are and of their complexity of their relationships to each other, to Rowan, and to the late Marianne – who, by the way, is also a 'living' character in this story as we learn about her life, her passions and her talent.
What impresses me about this book is the author's sure-footed skill in writing a plot that is compelling, complicated, and mysterious. She slowly unveils clue after clue, revealing only what needs to be revealed at any given point, gradually adding layer after layer until – and this is what blew my mind – there is a plot twist that is unexpected and shocking. I literally gasped out loud.
I never recap the plot or reveal any telling details because that, my friends, would ruin the experience for you. I will say that this is one of the best books I've read in quite some time. It stayed with me long after the final page. Haunting, suspenseful, a character study that is beautifully written – I recommend it highly.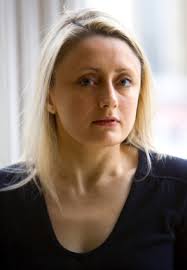 About the author: Lucie Whitehouse grew up in Warwickshire, England, studied classics at the University of Oxford, and now lives in Brooklyn, New York, with her husband and daughter. She is the author of The House at Midnight, The Bed I Made, and Before We Met.
One of you will be the winner of a copy of Keep You Close. Just leave a comment on this post. I'll choose the winner on Wednesday evening. Good luck!
New post on Just Let Me Finish This Page today.
Happy Monday.