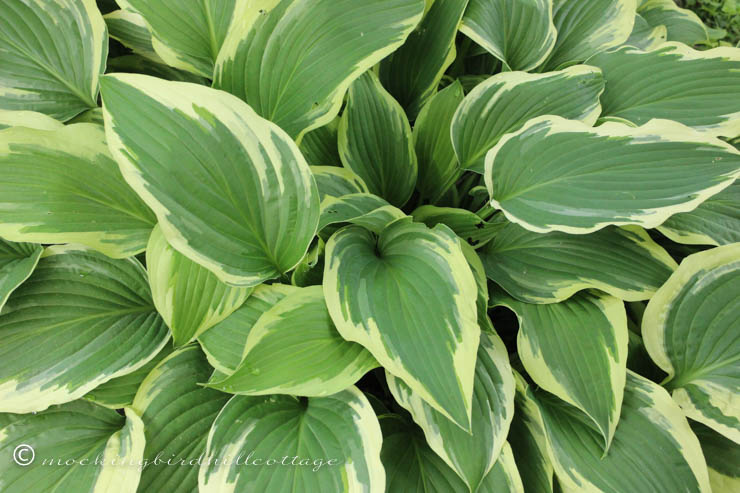 This morning found me running around outside, quickly taking some pictures. Since I was working outside all day yesterday – a bit too much, actually – I didn't do my usual camera thing.  I yanked weeds in the big garden bed, which led to yanking weeds elsewhere, which led to pruning the now-giant bush in the big garden bed and that took a long time.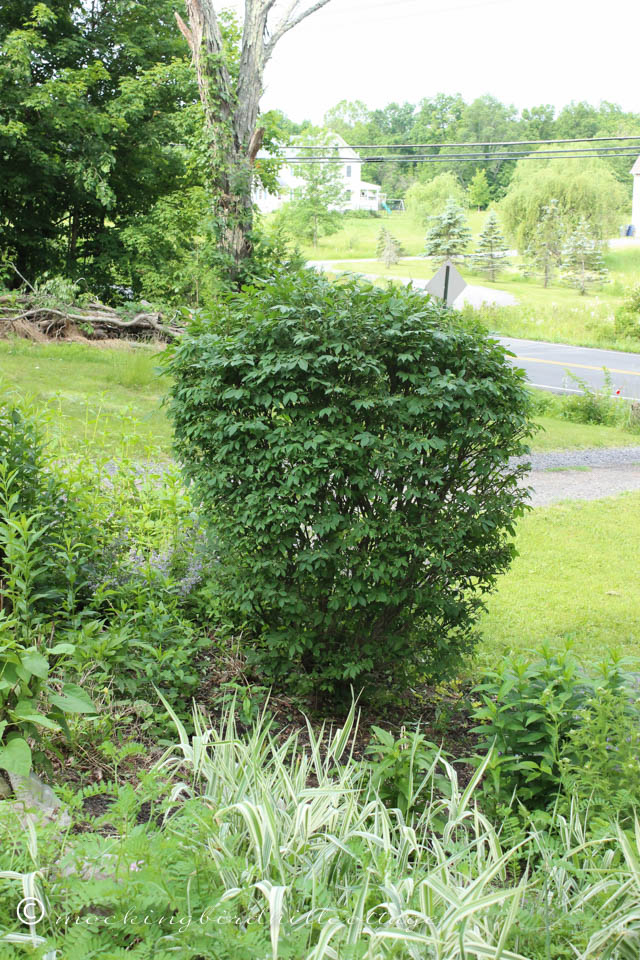 This bush has been here since before we moved in – but at that time, it was half the size it is now. Every couple of years I cut it back mercilessly because it creates too much shade in that part of the bed. That's what I did yesterday. In the fall, I'm going to take a few more inches off the top. It looks much better in this photo than it did at the start of the day. I don't even know what kind of bush it is, though we have a couple of more on the property. It has teeny, tiny little white flowers in early spring.
I've thought of removing it, but that would be a mega job that would disturb the perennials nearby and I rather like having something tall in that bed.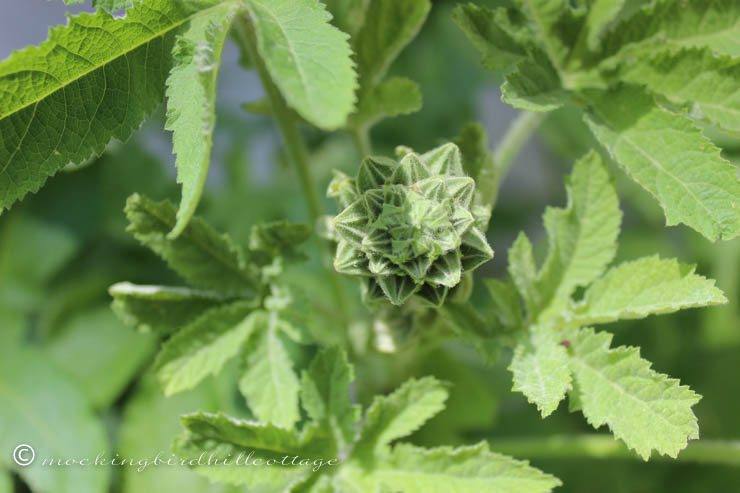 Have you ever seen the way hollyhock leaves form? This intricate little design will unfurl into several leaves. I'm fascinated by its geometric precision.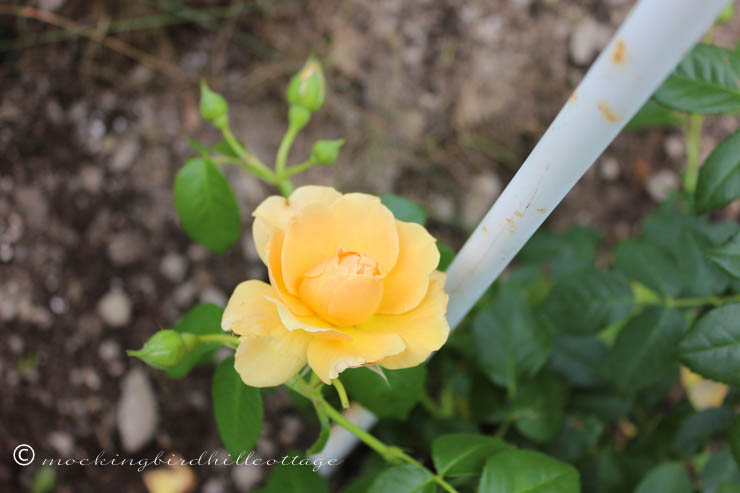 One of the new roses in the Memorial Garden has opened this morning. Gorgeous. I'm keeping these stakes here for a few more days. The weather forecast tells me its going to be 'Windy' tomorrow. Sigh. I'm so sick of wind.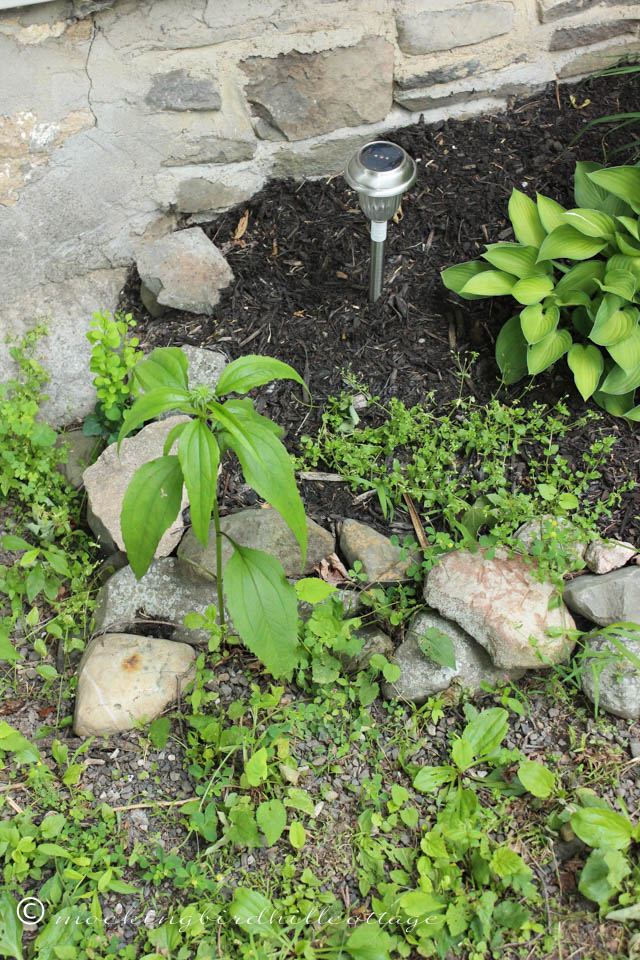 Oh purple coneflower! Look where you valiantly self-seeded. Right outside the garden bed, springing out of the stony ground. Coneflowers are great self-seeders. I've had them in the garden beds for 9 or 10 years and they have worked their way into funky little corners, along fence lines, and have multiplied in the garden beds. I love a cottage garden and, to me, there's nothing more cottagey than coneflowers. They are forming little baby flowers right now and soon will be blooming
On a much more serious note:
In the midst of good news this week, I've also witnessed the sorrow of friends. A lovely young man, an actor, whom I have worked with – in fact, I've worked with his wife, as well – lost his father in the terrible tragedy that happened in Kalamazoo, Michigan this week. His father was one of the five bicyclists who were killed when they were hit by a pick-up truck. A truck driven by someone who was high.
And many of us who know each other from my years at Boston University heard about a terrible loss suffered by one of our own. A former student, Shannon, lost her mentally ill brother, who was homeless, when he was beaten to death by guards in a Santa Clara County jail. This happened last September and Shannon has since testified in a pre-trial hearing – the guards have been charged with murder.  Shannon alerted us to a petition that has just been started over at Change.org. It asks for an increase in funding for Santa Clara County correctional facilities in order to increase staff and the training of that staff so that nothing like this can ever happen again. Shannon tells me you don't have to be a resident of California to sign. Here's the link, if you are so inclined.
Such heartbreaking and tragic losses for my friends.
The winner of a copy of Keep You Close  is Liza Kirschner. Liza, I'll be sending you an email shortly. Congratulations!
Happy Saturday.