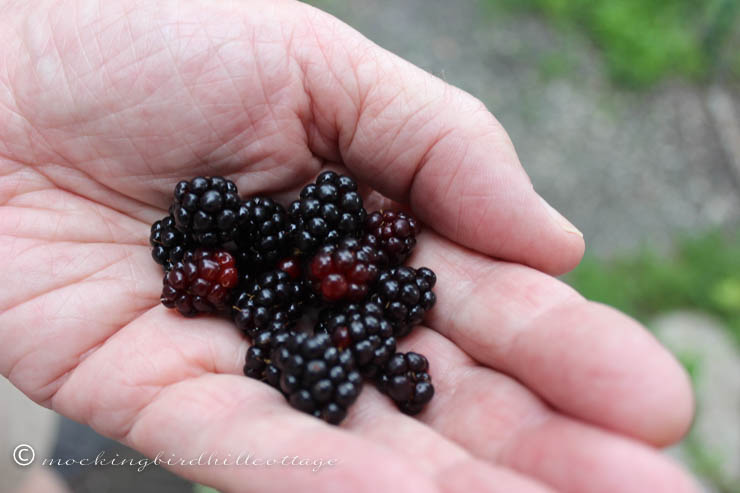 We have a bumper crop of black raspberries this year. They grow wild all over the back forty. Some years, we're busy and we forget to pick them, but this year we've been on top of it. Don went up there yesterday and came back with a bowlful.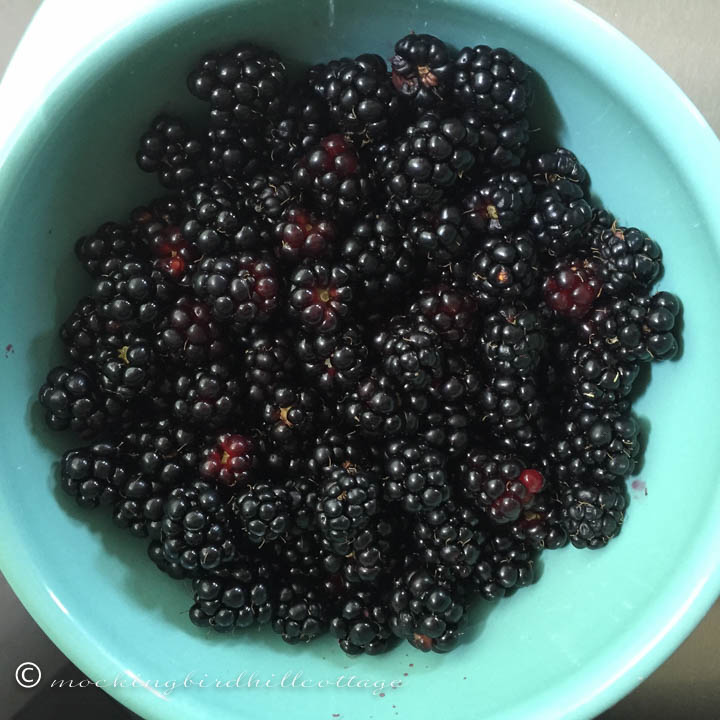 Oh my goodness! They are so good!
I managed to capture (digitally) this catbird in the birdbath this morning: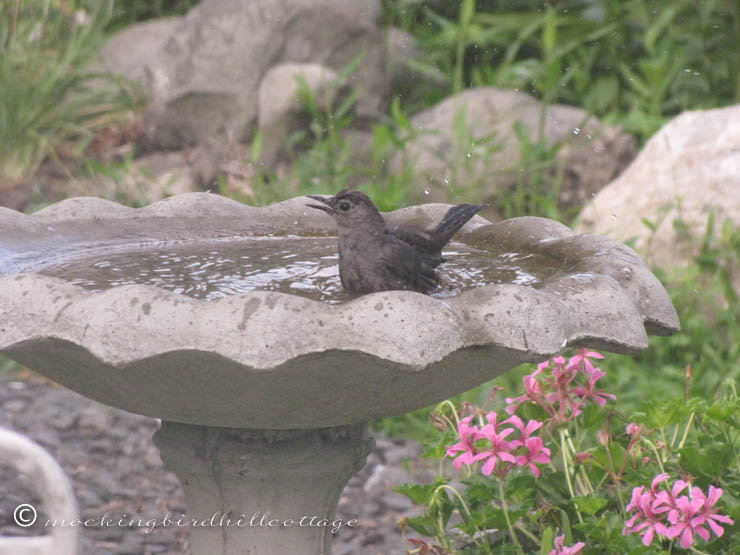 You can see the water splashing as he dunks himself in the water over and over again. Catbirds are known for loving baths, but it's been so hot here that we've had a constant line for a dip in the pool. I see finches, robins, catbirds and mourning doves. Finches are polite, they share the bath. Robins take up all of the pool space and don't want to share. Catbirds are a little less territorial, but since their bath rituals are so exuberant, no one can get in there anyway. Mourning Doves, like the classy birds they are, sit on the edge of the bath for quite a while, then take a dip. Then they sit on the edge again and rest.
All of them are very careful; they check for any possible predators several times before they jump into the water. Then they check again when they hop up onto the rim.
Post dip.
Birds, bunnies, groundhogs – often they're all out there at the same time, just outside our window.
Speaking of creatures…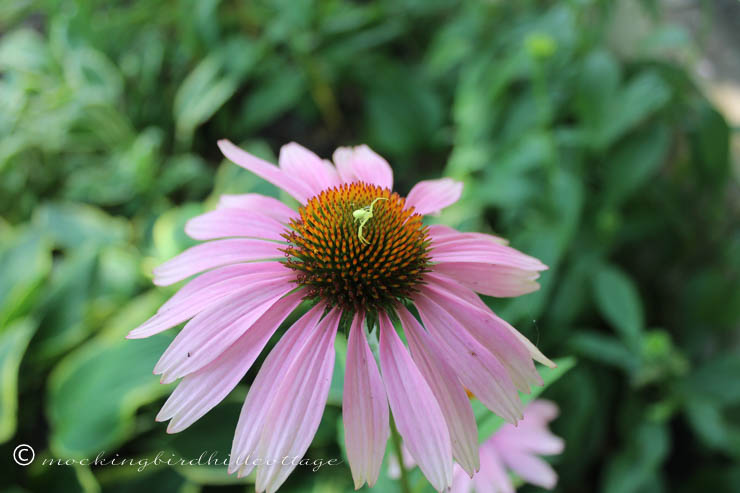 What kind of bug do we think this guy is? I saw him on this coneflower the other day. The next day, he was on another coneflower. There was no damage that I could see. He is incredibly tiny (this was taken on Macro) and I'm fascinated by him.
As I said, it's been very hot and humid here, so apart from watering the baby plants in the chicken wire fence garden and the memorial garden, adding water to the birdbath several times a day and watering the potted plants, I've stayed inside. I've been restless, though. I don't do too well in humidity and I'm having trouble concentrating on anything for any length of time. I did finish my third Jo Nesbø mystery and I made a special trip to the bookstore to get the next one in the series. I'm reading them in chronological order.
He is a wonderful writer who hails from Norway and his protagonist, Harry Hole, is flawed and human and fascinating. These police procedurals are so well crafted! I recommend them highly. I knew of Nesbø, but hadn't read any of his books until I overheard a conversation at The Mysterious Bookshop in Manhattan. A young woman who is a book blogger (I don't know her name) was talking to another customer and she raved about this series, even going so far as to say it was her favorite series.
"Hmmmm," I thought. "Perhaps I should check him out." The Mysterious Bookshop conveniently shelves books in chronological order (but if you're unsure, they are a fount of knowledge) so I grabbed the very first one and now I'm hooked.
I love those overheard conversations in bookshops. At The Mysterious Bookshop, they are often between staff and customers, with the staff recommending some author or another. I learn a lot that way.
Another hot one ahead.
Happy Saturday.