Greetings from the hot and humid zone! Actually, this might be the last day of this stuff. Tomorrow we have rain on the horizon and then the temps will drop to the eighties. Still hot, but not nearly as miserable as it is now. The skies have been a vivid blue, with big, fluffy clouds.
It's just too hot to really enjoy it.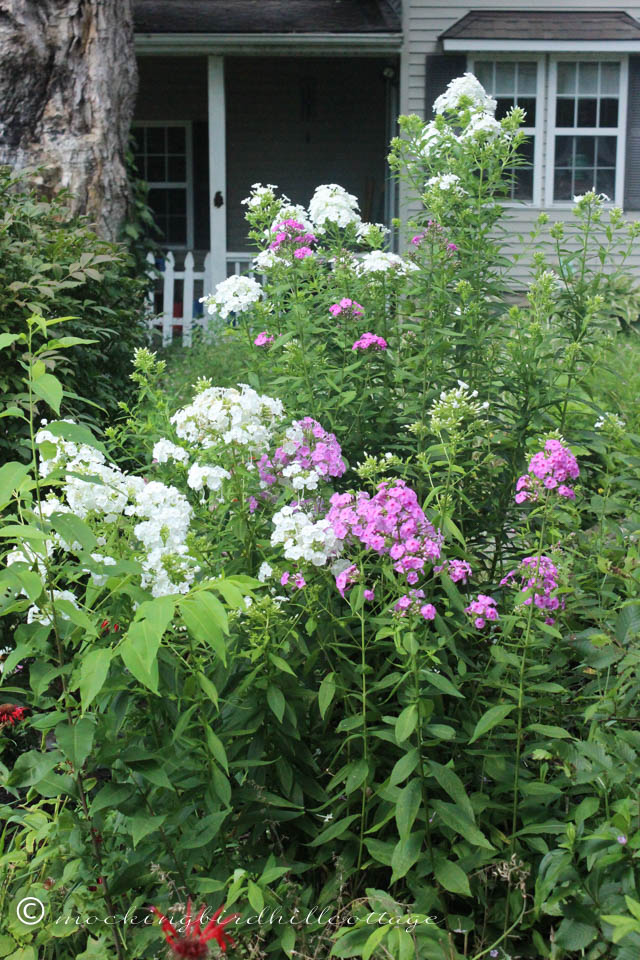 The phlox has really taken off. It smells heavenly around here.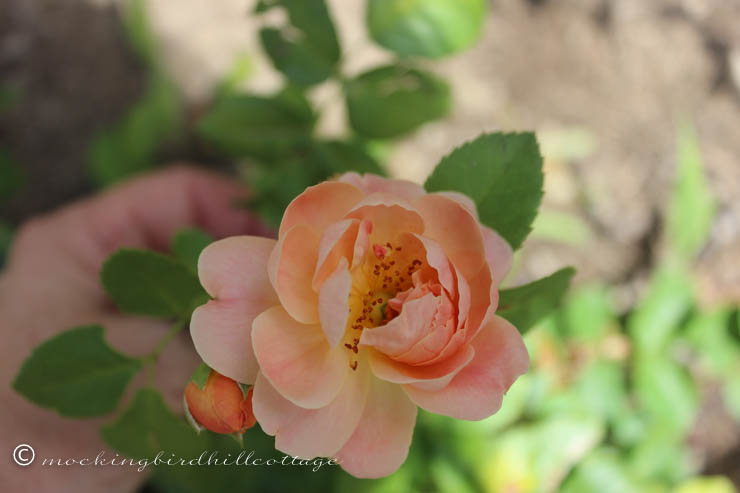 The new rose bushes are blooming again.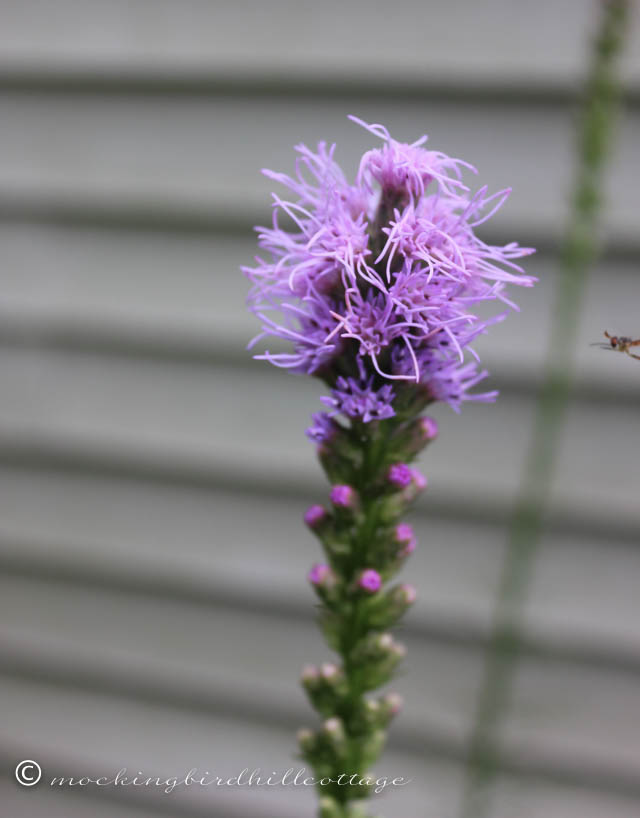 The liatris is starting to bloom. See the bug flying in from the right?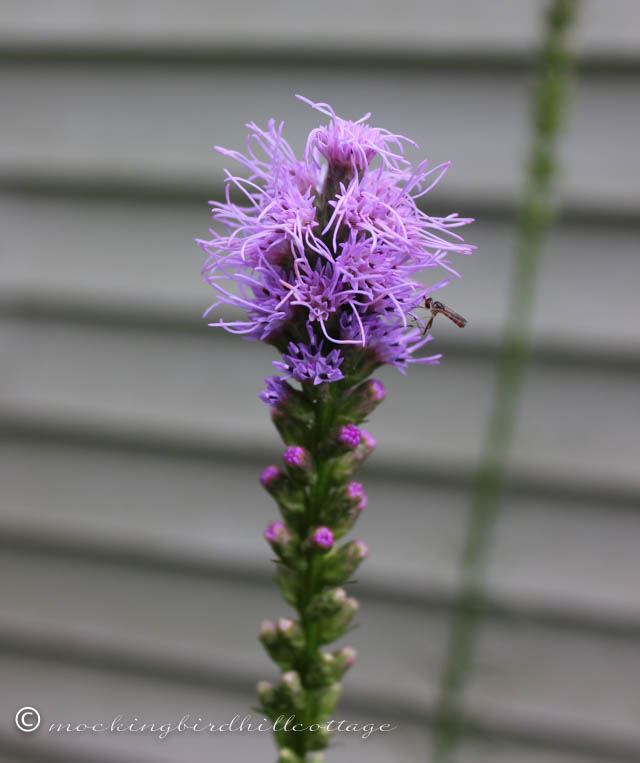 He's landed.
I'm going to extend the book giveaway one more day. If you didn't read Monday's book review, be sure to visit this post. I'm giving away a copy of The Branson Beauty, a really neat mystery I am sure you will enjoy. Leave a comment by the end of the day today and I'll reveal the winner tomorrow.
A confession: As you know, I have a long association with BlogHer/SheKnows Media. Through this wonderful group that supports bloggers, I also have a couple of ads that run on this blog. Occasionally, I am chosen for a sponsored post. (I'm not in the young demographic, which means it has to be for a specific sort of product that works for my age group and this blog.) These posts are always for a product I support and believe in. Quite frankly, I wish I had these opportunities more often, but I am so grateful when they do occur because I get to share something I believe in with you and I get compensated for them.
I don't want to go through the whole rigmarole again, but I will say, briefly, that without ads and the occasional sponsored post, I wouldn't be able to maintain this blog. Period. It costs several hundred dollars a year to keep this little space of mine going and, since we freelance and never know how much money is coming in during any given month, the only way I can pay for it all is through ad income and sponsored posts.
However, if you knew how many requests I get on a daily basis to write sponsored posts for companies that I don't know or have any connection with, to put sponsored links in a post, to let someone write a guest post – all of which I turn down – you'd be stunned. I don't want this blog to become about that sort of thing. But the occasional sponsored post through BlogHer/SheKnows, a company with integrity that I believe in? Yes, I will certainly do that.
Yesterday, I had a comment on the post from a reader who wasn't particularly happy with this kind of post. To be fair, she's a newer reader, and since the last time I did a sponsored post was over a year ago, is most likely not used to seeing this sort of thing. She certainly has a right to respond to a post but I had to delete the comment because this kind of post, which has a giveaway that is connected to the number of responses to the question I ask at the end of the post and where I will eventually have to count those comments when the contest closes, can't have comments in the mix that are unconnected to that question.
Here's where I screwed up. It was a tough day for me yesterday for all sorts of reasons, and I wrote this reader to tell her why I deleted the comment. What I should have done was to take a big breath before I wrote her, because I responded in a defensive tone. To be honest, I was  feeling defensive, wondering why I had to defend yet again a subject matter on my blog. My skin was a bit thin yesterday. And yes, it is  my blog. But I most certainly could have handled it better than I did and when the reader wrote me back, I realized that, and I responded with an apology.
I'm only human. I spend hours and hours on this blog every day, seven days a week. I'm always thinking about what I can share with you. I'm taking pictures for a good portion of the day on an expensive (for me) camera that I bought just for this blog.
The fact is, it's a part-time job for which I get no compensation. Nothing. Everything goes back into the blog. If I can get a little extra money for all my time, you can be damned sure (if it's the right thing for this blog) I'm going to take advantage of it.
Keeping all of this in perspective, I've had exactly two sponsored posts in about 14 months. Given the fact that I write a post every day of the year, I think that's just fine. And I hope to have more opportunities in the year ahead. But they might not come my way.
Anyway, I sincerely regret my tone, which was that of a reprimand, and therefore felt the need to explain, once again, this sort of thing to you. Here's where I sigh. (I'm not exaggerating, I just sighed for the umpteenth time since yesterday.) If you have a problem with this sort of post, that's fine; just click off the blog and come back the next day. The same thing goes for any post that doesn't meet with your approval. I surely understand that not every post is a gem or is what you want to read on any given day. I'm not that  interesting!
Anything else I could say would merely be a repeat of things I've said in the past.
You get to read this blog for free. But it isn't free for me. It takes time and money.
I love you all and I usually meet this sort of thing with more grace than I did yesterday. For that, I apologize. I'll do better next time.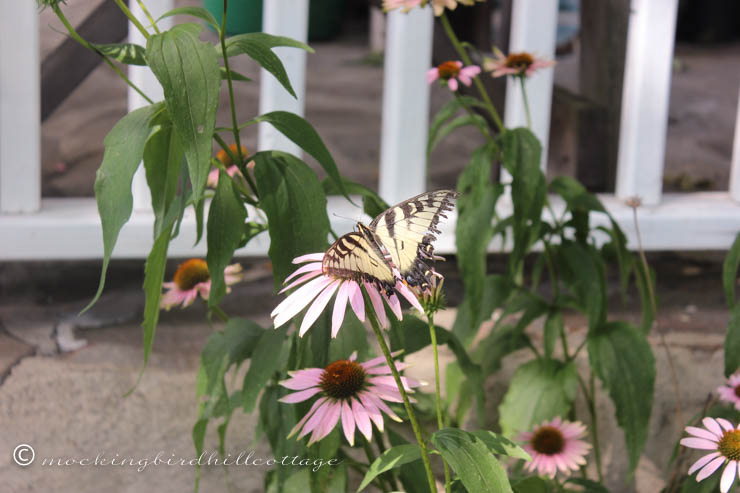 Let's close with this eastern swallowtail butterfly. He was hanging around the garden for a quite a while yesterday.
He's looks a bit worse for wear. He's lost part of his swallowtail. But it didn't stop him.
He's beautiful.
(I have a book review up on Just Let Me Finish This Page. Just click here.)
Happy Thursday.