What a treat! I slept in today and it wasn't because I was up too late. I just slept. I wonder if it was because we had a gentle rain all night long? I don't know. I'm just grateful – sleeping in is rare for me nowadays.
We mowed yesterday. I weed chomped. It's looking pretty good out there, though I have some cleaning up to do on the porch, which also functions as my garden tool/potting center. And, of course, cleaning on the inside of the house, as well.
Don pointed out these two yesterday and I ran for my camera: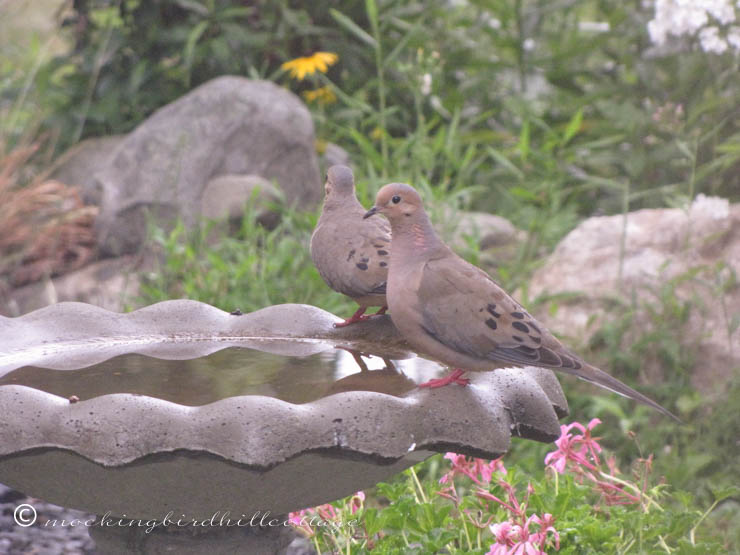 As far as I can tell, there's a single mourning dove who lives on the property and this pair. The pair does everything together; I'll see them on the driveway looking for food, they come to the birdbath together, they depart at exactly the same time and fly up into the catalpa tree.
I love them. Mourning Doves are my favorite birds.
I received my July Squint Box in the mail yesterday after it somehow went to Birmingham, Alabama from White Plains, NY, then traveled back to NY and finally arrived here.
This month's theme was Summer Love.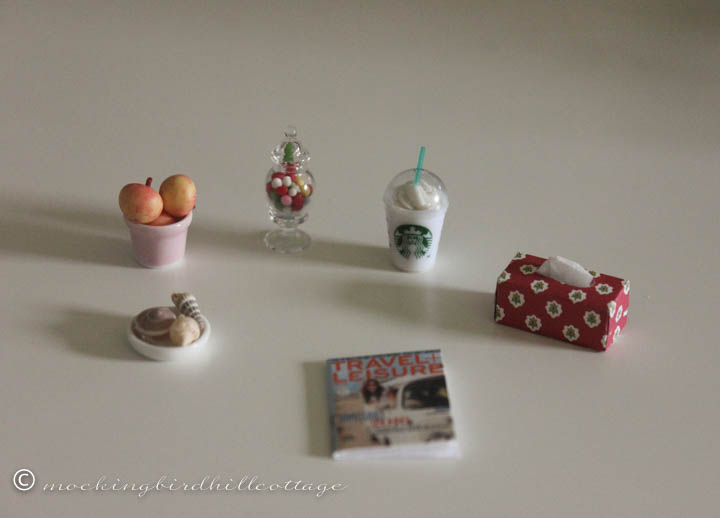 It's gloomy out there, so this is the best I can do, photo-wise.
A ceramic dish with real seashells, a hand painted clay pot with apples,  a glass apothecary jar with gumballs, an iced coffee, a box of tissues, and a copy of Travel & Leisure magazine.
Isn't this little group of minis just the coolest?
Today, we're headed out to an event this afternoon and then I have errands to run and then more cleaning.
I've started to keep a tally of the lies I'm hearing on a daily basis from the Orange Man. In each case, the statement can be proven to be a lie in an instant. Truly, the mind boggles.
My new hero is Khizr Khan.
(As always, if you don't like my political commentary, you are free to move on. I'm not going to shut up.)
Happy Sunday.