Simply this:
When this arrived in the mail yesterday, we were both home. We stood together, opened the box, pulled this out, and gasped. Then I cried. Then we found ourselves touching it, almost as if we could pet Riley and have him come back to life. We miss him so.
Isn't this incredible? Shanna has captured the beauty of our boy. Those ears that I loved to stroke. His beautiful coloring. And his incredibly soft and gentle brown eyes. I could lose myself in those eyes and often did.
Did you notice the bit of butterfly bush and the Eastern Swallowtail butterfly in the upper left hand corner? Heavenly.
We may not have human children, but we are  parents. We were/are the mother and father of our three beloved dogs and there's not a day that goes by where we don't mourn their loss. Riley, who was rescued from the streets of Paterson, NJ. Who had never had any love or socialization. Who was difficult and scared for a long time but so worth it. Who had heartworm, but survived when we caught it in time. Scoutie, who was rescued from the desert in California, with a tail that had been docked for some reason. Lively and loving from the moment we met her. Winston, who had been given up by his family because of allergies and who was scared and bewildered when we found him at the Humane Society in San Diego. Who was our first child.
As I sit here at my desk and write about them, I find myself crying once again. Rescuing – for us – is the only way to go. Giving a home and a second chance to a dog is rewarding beyond measure.
Shanna has been most generous in these gifts, these treasured portraits of our babies. But now I'm going to pay her: I've commissioned a portrait of our boy Winston, because even though we lost him about 14 years ago, before my blogging days and a fancy camera, I think I can find enough photos of him for Shanna to create his portrait, as well. Riley and Scout lived fairly long lives; Winston was taken from us at the age of eight, when we discovered he had a tumor on his heart. He was gone far too soon and I fell into a depression after we lost him. We had Scout, thank goodness, but oh how I mourned him. And I didn't yet have the outlet of a blog where I could write about him.
All of these portraits will be on our living room wall.
I'm not sure where I will put this photograph, but I just had it enlarged. It used to be the wallpaper on my phone: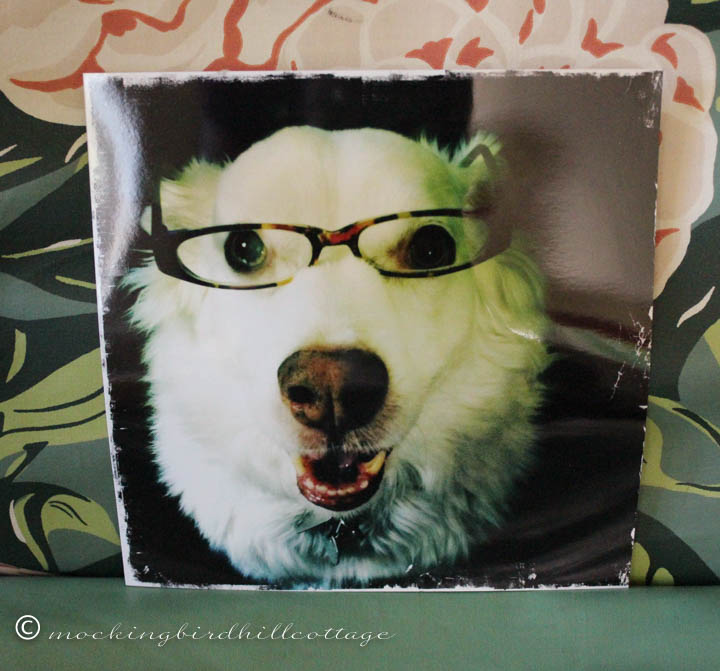 Scoutie wearing my glasses.
I'm off to Michael's today to buy some frames.
Shanna, I can never, never thank you enough. I dreamed of finding someone to paint our children, and you were the answer to my prayer. Bless you.
Happy Tuesday.