The heat index hit 109 degrees yesterday. Heck, it might have hit 110, but I can only vouch for the temp when I clicked on the weather app on my phone. The same today.
I will be so happy to see the last of this – maybe tomorrow or Tuesday? I'm not sure, but I do know that the grass is too long, the weeds are too many, and we're sick of staying inside because there is an "excessive heat warning."
We did decide on the placement for the watercolor of Scout, as well as the pencil sketch. Don and I tend to make these decisions together as the placement of beloved items, whether we're talking about furniture or wall art, is important to both of us. We decided we wanted her in the living room, a room we spend a fair amount of time in. As it turns out, she's looking down on her favorite place to sleep, which seems fitting.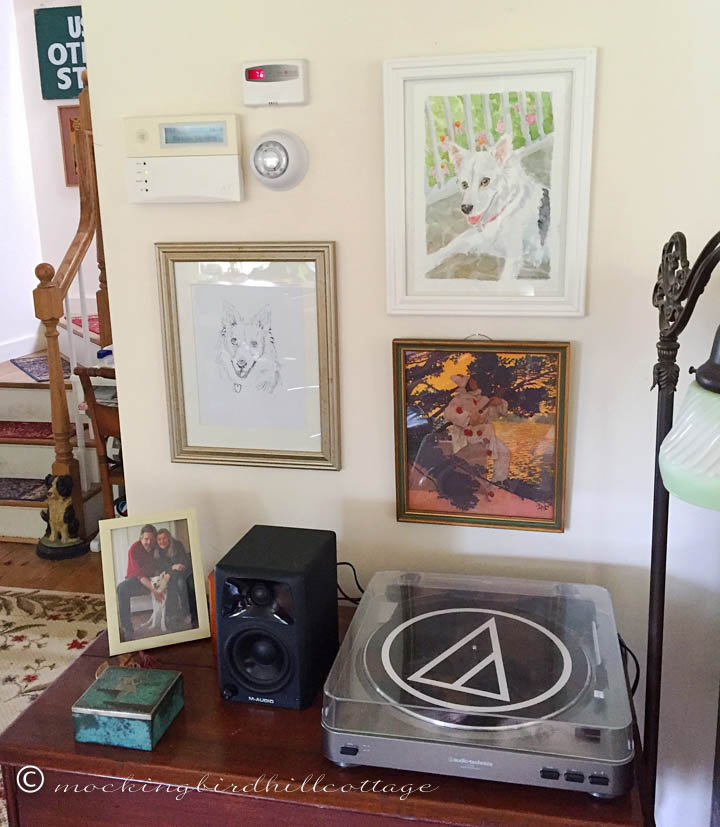 As Don said, she's protecting us.
Looking at her, we think one word: Joy. I also love the fact that the turntable, the albums, the name of the Parrish, which is "Pierrot's Serenade," not to mention the piano to the right – all represent music which is so important to us and was a big part of our life with Scout. When she was younger, every time we put on some music and started dancing, she would want to join in. She'd get up on her hind legs and we'd hold her paws and all three of us would dance.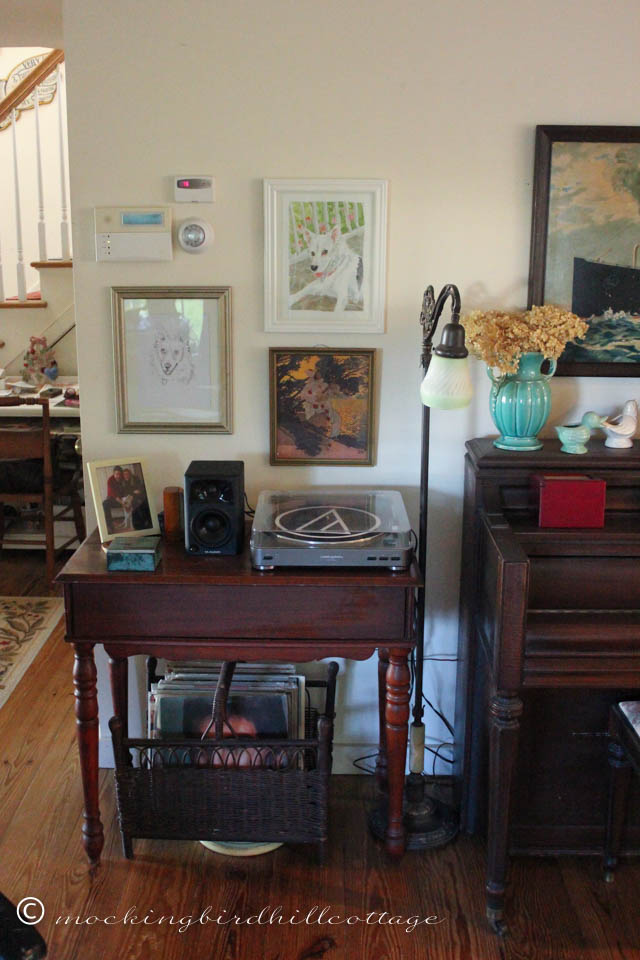 (We love the light streaming in these windows, but it does make taking pictures a somewhat frustrating task!)
Previously, the Maxfield Parrish was the only piece hanging here. We thought we'd hang the watercolor here, move the Parrish, and maybe hang the pencil sketch on the stairway gallery wall. But then we played around with possibilities for the Parrish, which is very special to me and not something I want to hide away, so we went with the Parrish and the watercolor. That seemed a bit off, so I grabbed the pencil sketch and then we knew we had a winner. The arrangement also takes the focus off the alarm pad and the thermostat, which is just fine with me.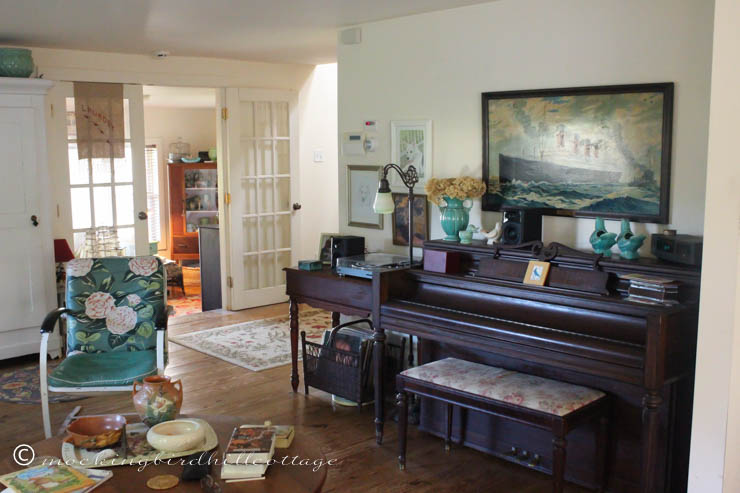 We also played with hanging the Parrish next to the Aquitania, but that gorgeous lithograph shouldn't have any competition in its place above the piano. It needs to be the star.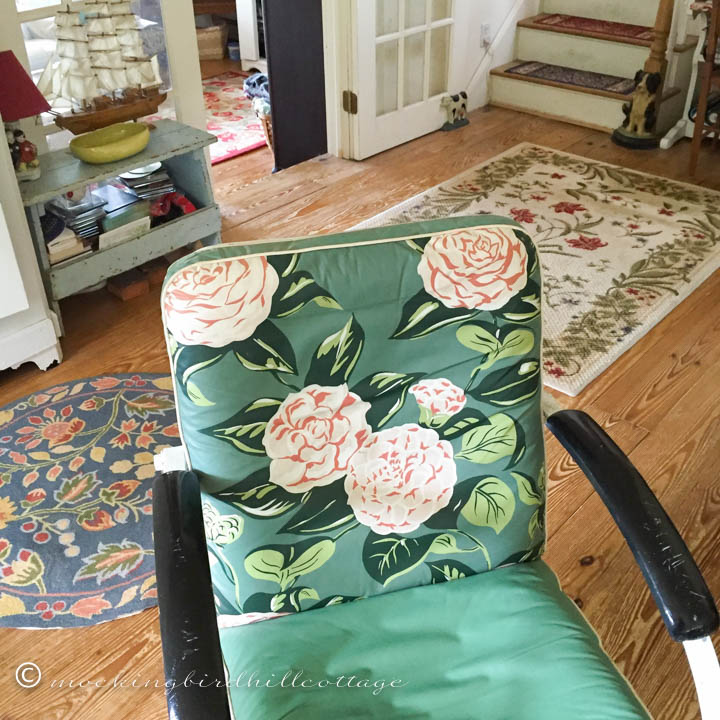 Just had to get a shot of our newest find. I love, love, love this chair. And it's so comfortable!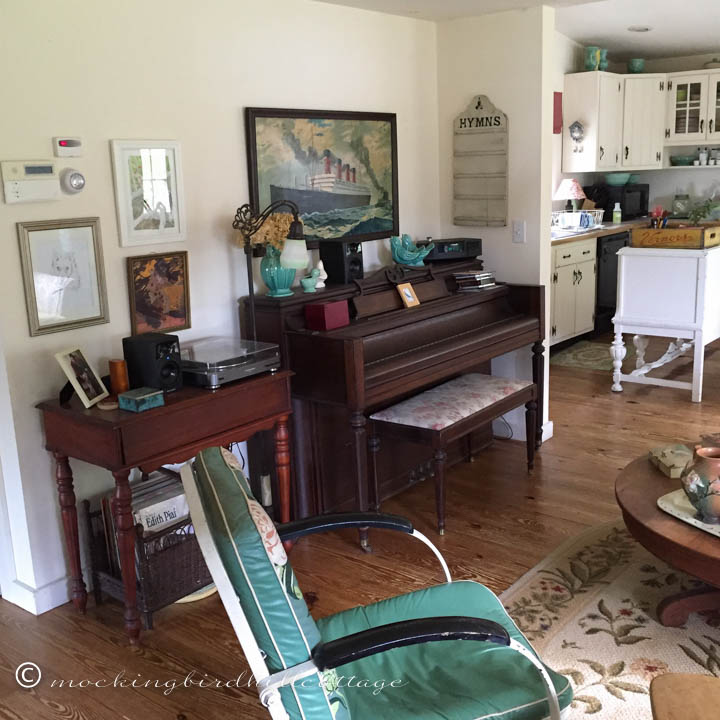 I wish a magazine photographer would come in here and take some pictures. Not so much because I'm craving a magazine feature (I sincerely doubt that this house is 'magazine-worthy') but it would be so great to have some photos that were taken by someone who knows what he/she is doing! Wouldn't that be nice?
What were we doing while all of this was going on?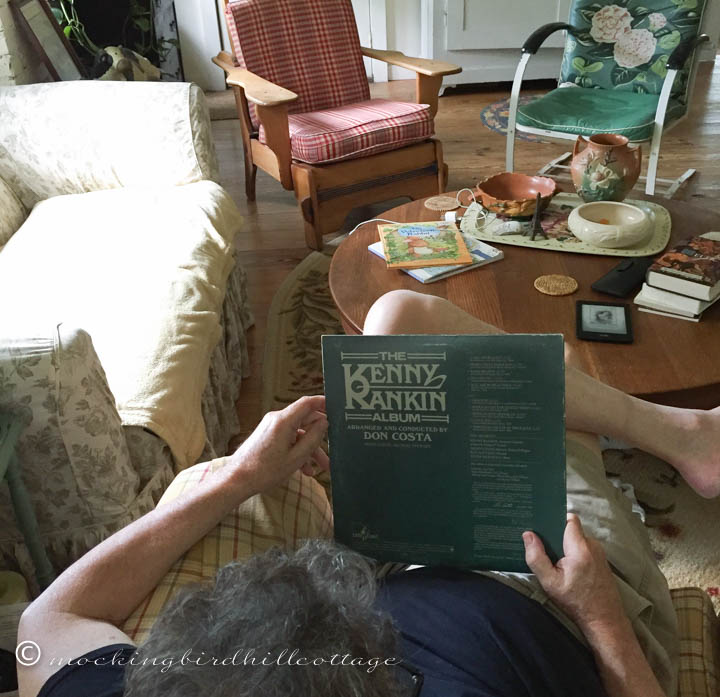 Listening to some Kenny Rankin – one of our favorite albums.
I know there's a lot of focus on Scout, because we lost her most recently. But I'd love to get a good photo of Winston to enlarge and hang; difficult because he had a black coat and I didn't have a good camera then, so our photos aren't the best. And I'm going to find a place for this photo – my favorite one of Riley and Scout: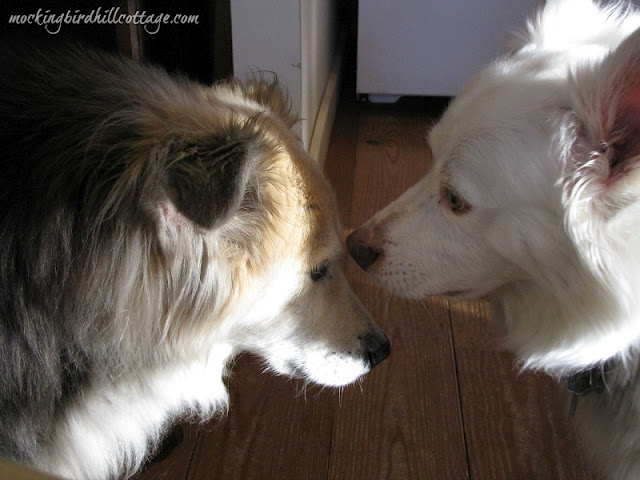 I framed this and it's in our bedroom. But I'd also like it down here in the living room. We need Riley with us, too. Dear Riley, who also loved music. Whenever I played the piano, he would come over and plop himself down. It soothed him. And both Riley and Winston loved it when Don played the guitar.
I'll work on that.
Oh, by the way, I woke up early this morning and after I snuggled up to Don, I went back to sleep whereupon I dreamed I was Michael Phelp's girlfriend.
Happy Sunday.