This is why we wanted the table in front of the window: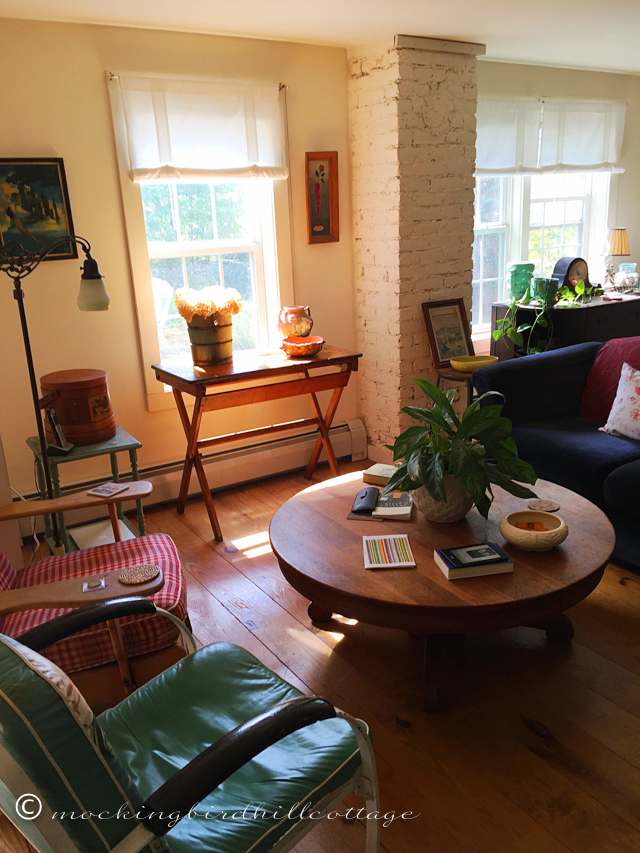 The afternoon sun covers everything with its golden glow – especially the vintage table.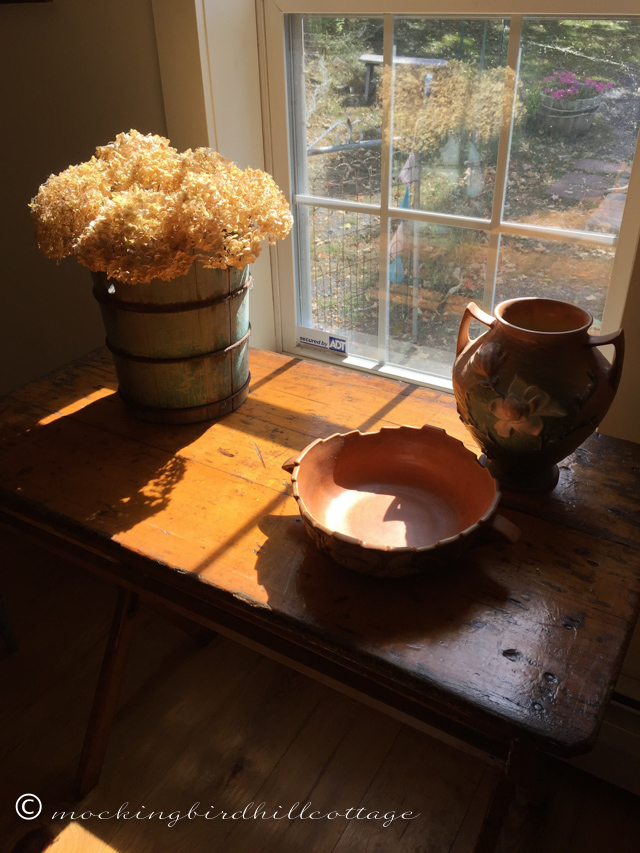 I have to stop in my tracks when I see this. It's so beautiful.
We really love this new look in our living room.
I've always loved to decorate, starting with my Barbie case and various shoeboxes when I was quite young. I still love to decorate. I just don't feel the need to constantly  decorate. I have a good eye and, thankfully, so does my husband, which enables us to create spaces that we truly love on a very tight budget; often on no budget at all.
Usually that means that once a room seems finished, we're fine with it for any number of years. Yes, a piece of pottery or two is added. Or a basket. Or, my favorite, bookshelves filled with books. It's really only when a new piece knocks our socks off, like the vintage table, and we know that we have to reconfigure everything in order to have it in our home, that we do a major rearrange like we did on Sunday afternoon. Or when we repurpose a room, like we did when we changed the guest room to an office/studio. Otherwise, we tweak here and there, but that's about it.
So, I love decorating, but I'm not thinking about it all the time, not by a longshot, and I choose not to talk about it all the time on this blog, even though I know that kind of post is very popular. My eyes would begin to glaze over and then what good would I be?
I don't decorate for the seasons. I can see the seasonal change right outside our windows. Creating new vignettes is not my thing. Once I have settled on an arrangement it usually stays that way for a while. (Although I am currently drying some hydrangeas from the garden to replace the ones in the vintage ice cream maker which have been there a long time and are quite dusty.)
I will say that we have become 'experts' in dealing with a small space. After all, I've lived in three studio apartments, one of which was so tiny that I could barely move. Frankly, I've never lived in a large home. Never. I've only resided in studios and one bedroom apartments and homes that are less than 1000 square feet.
My childhood home? Two tiny bedrooms downstairs, an attic bedroom upstairs, a microscopic kitchen and dining room and a living room that was not much bigger. Only one bathroom for many, many years. Filled with two adults and four children and a dog. I learned at a very young age how to  cope with very little space.
I am getting the urge to shed some of the stuff I have stashed here and there in the cottage. No, not my pottery or my beloved collections or my books. But closets need to be sorted and those spaces need to be used more effectively. Containers need to be purchased and filled with things we want to keep and put in our storage space. I'm getting geared up to begin that process.
Starting with the dreaded closet in my office. I need to be ruthless. And then I'll move on to the closet in the den. I'm looking forward to it!
Okay. Flowers.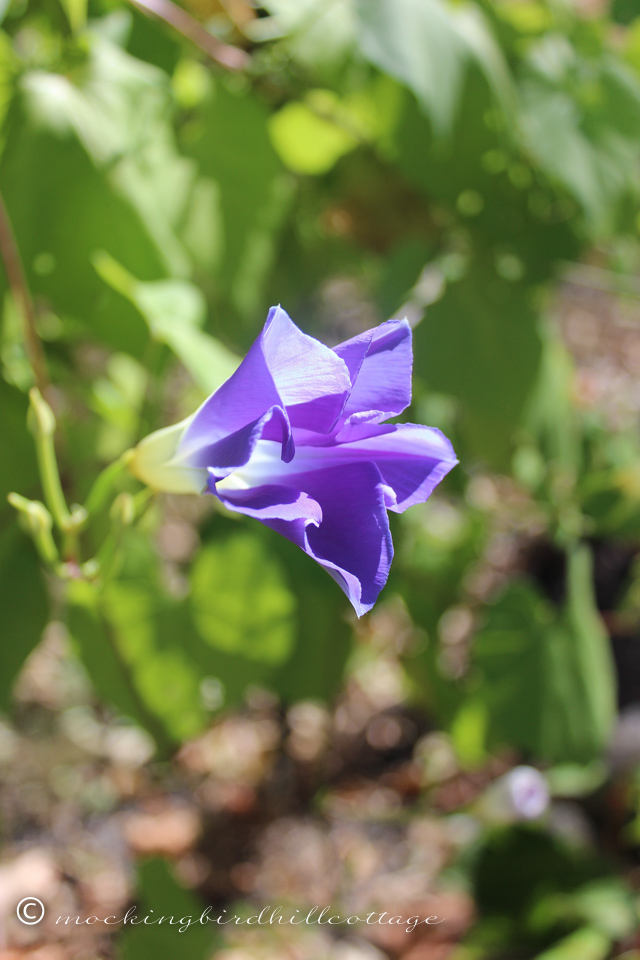 Hello, beautiful morning glory, slowing opening on a cold morning.
Zinnias that have just opened: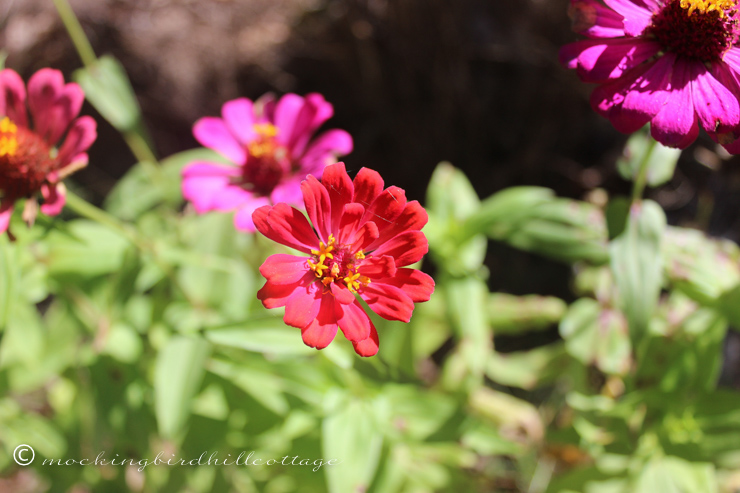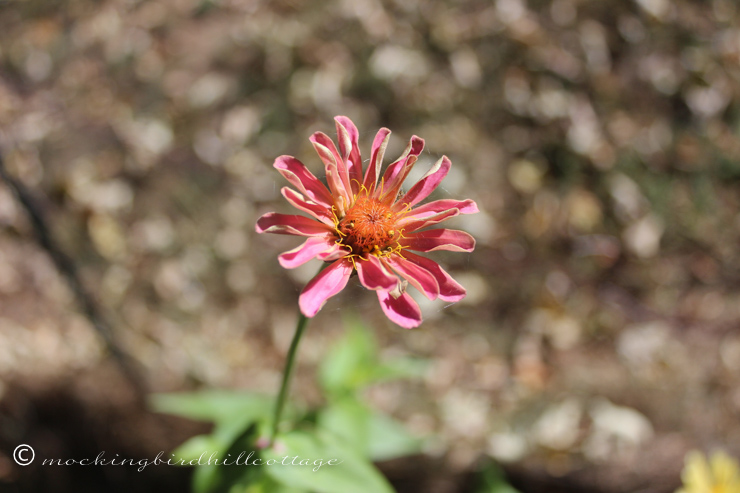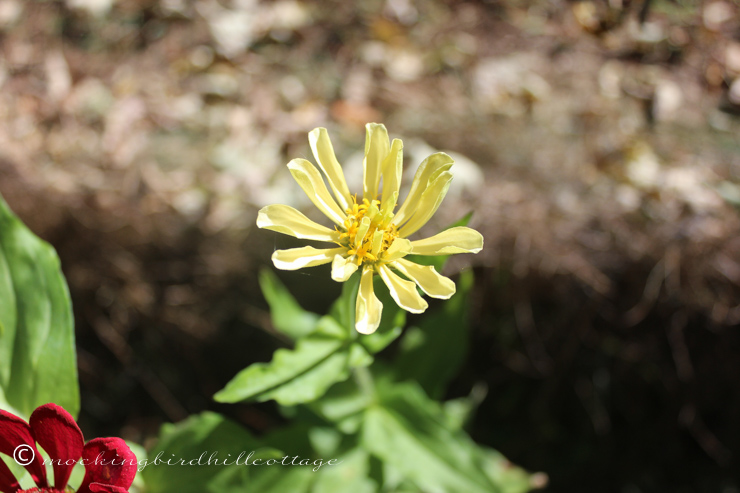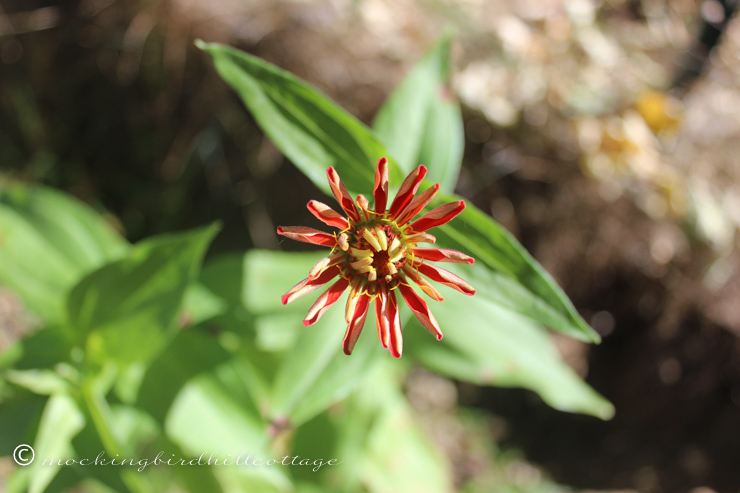 I love observing them as they start to open. Thank goodness for zinnias and morning glories!
Happy Tuesday.