Long time, no see! Well, truthfully, I've been here, but I haven't been able to blog as I usually do. First a book review and then a sponsored post. But, like the proverbial bad penny, I'm back!
About that book review, today is the last day to leave a comment. I pick a winner this evening. Just scroll down two posts – it's worth it. I really loved this one.
Oh friends, I'm in the middle of morning glory nirvana. Monday: 9 blooms. Tuesday: 16 blooms. Today: 16 blooms. This particular batch of seeds has been stellar – a bumper crop of morning glories. May I share some photos with you?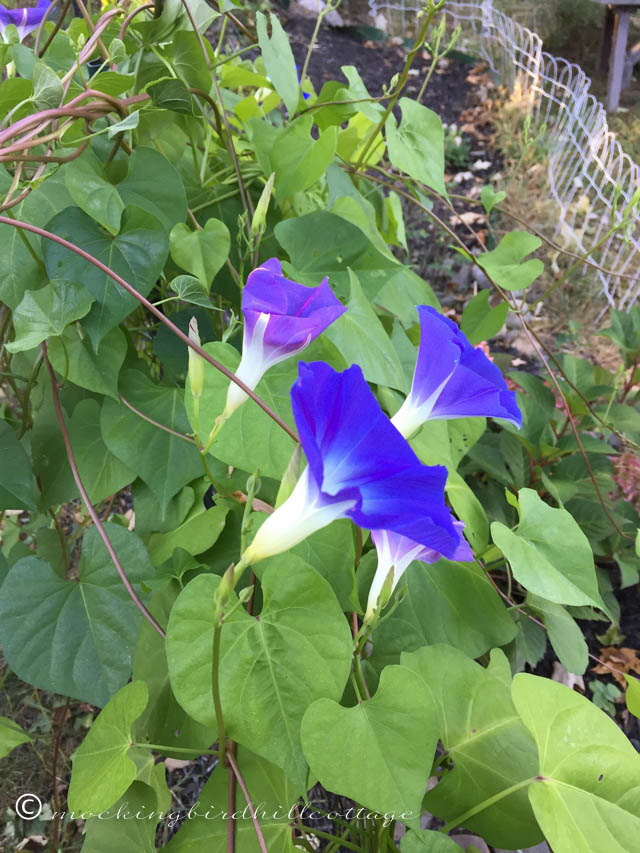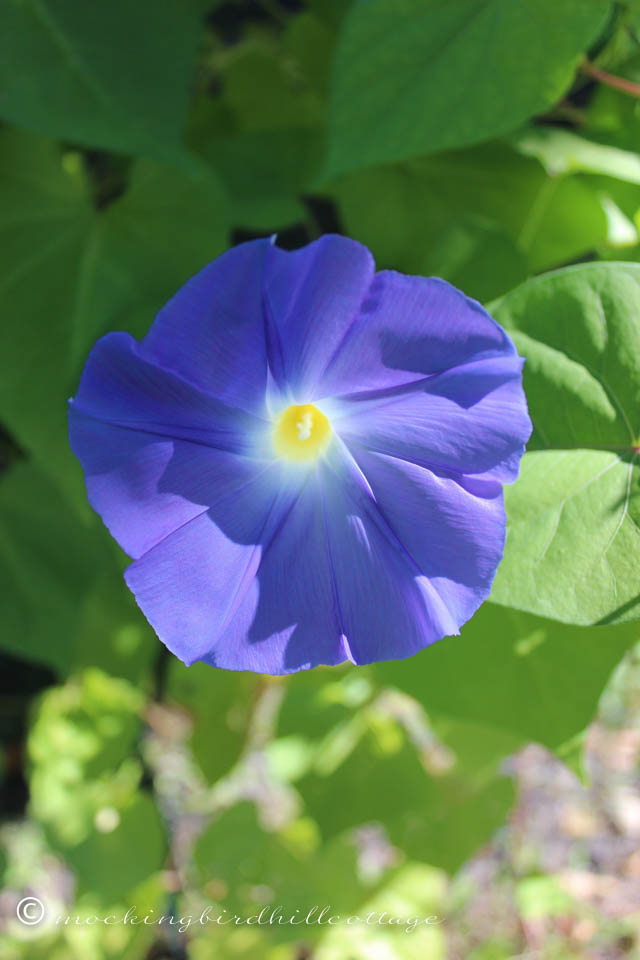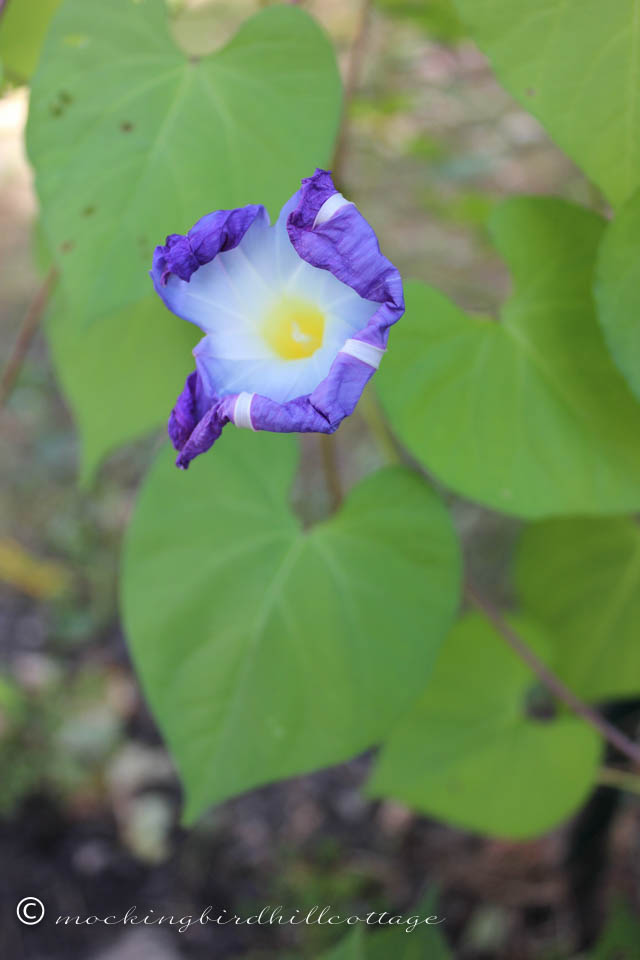 I love all the stages of a morning glory.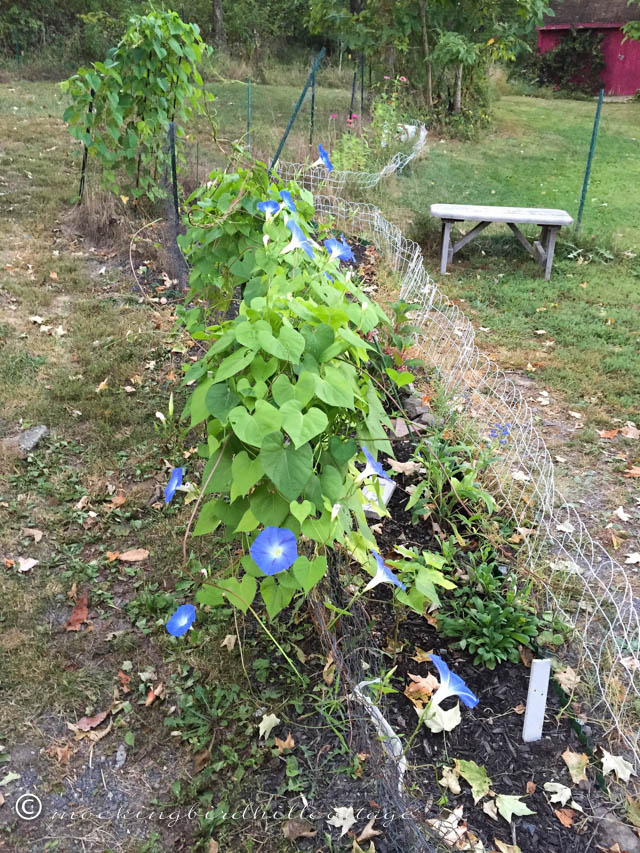 This was my view this morning. In the early hours of the day, they're almost purple. As the day goes on, they morph into that beautiful Heavenly Blue color.
Goodness, it's a lovely way to start the day.
On the porch, everything is still going strong. All the hanging plants are full and lush. And on the bench, six different pots of impatiens have come together to form this: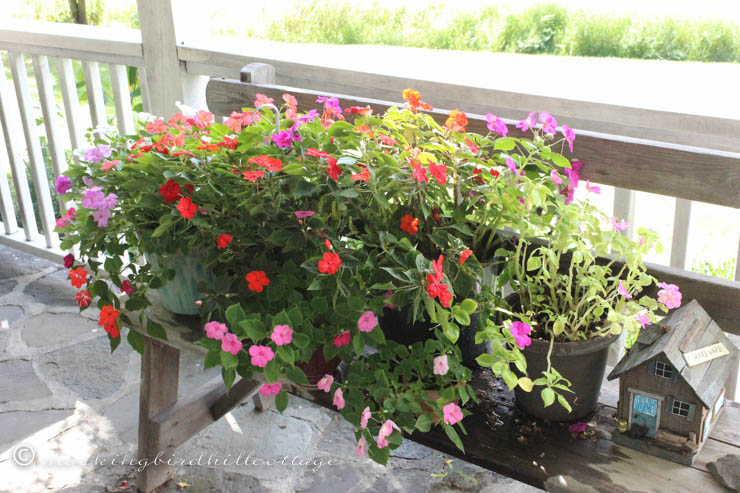 A giant mass of beautiful blooms.
The miniature rose plant that Don gave me on Mother's Day is still blooming: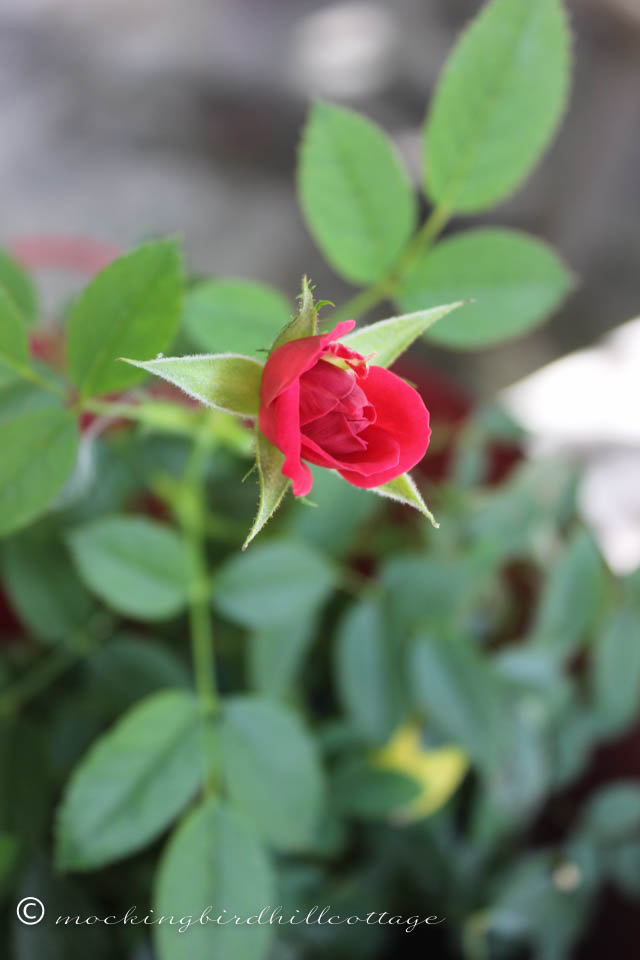 All in all, a very satisfying scenario here at the cottage, even though many plants in the garden beds are now fading. We've had gorgeous weather, although today is supposed to be humid and very warm. But it's only for a day. The light is turning into that golden light that Fall seems to do so well.
I'm back to trail walking, after some rain and hot temps and computer issues (and three round trips to Danbury, CT) kept me off the trail for a few days. Yesterday, I mowed, which was the equivalent in miles of a trail walk. In effort? A whole lot more.
And the new computer? Lighter-weight than my older one. The retina display is incredible. Everything is so crystal clear, it's really amazing. It's also much faster. I guess you can say it's been a high tech month here at the Hill/Sparks house. Don got an upgraded iPhone, I got an iPad (though I find I don't use it all that much) and we both got new computers. Let me assure you, this is it for a long time! We're grateful and all of it – except maybe the iPad – was desperately needed.
What else? I'm reading Martha's Vineyard – Isle of Dreams  by Susan Branch and am thoroughly enjoying it. I'm about to put Little Z's dollhouse from IKEA together and I'm searching for some sturdy, basic furniture for it. (He's only five, after all.) Hopefully, we are going to head back down to Florida next month for a visit, because, as of December I am booked through May. We need to spend some time with family and walk on the beach and watch Little Z in the pool and hug my furry nephew Max. My other nephews will be away at school.
The morning glories gave us an unexpected extra: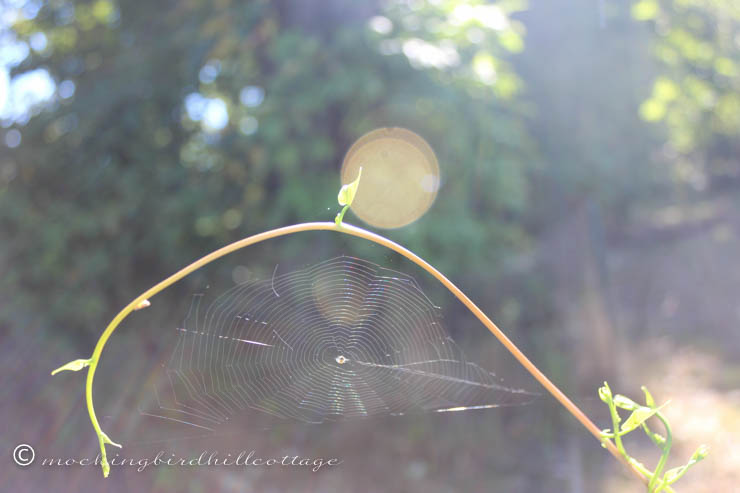 Incredibly intricate.
Oh, and birds! I saw a robin – just one – about a week ago. A catbird was taking a bath the other day. The doves are all still here, as are the finches. This morning I could see that a bird had recently been in the birdbath, getting a good splash of water. So, many of them are still around. That makes me happy.
Happy Wednesday.