Let's start with one of my favorite beings – Henry.
I've spotted him several times over the past few days. He comes out of his underground home, eats, stops, listens, gets scared, and retreats. Meals must be so stressful for him.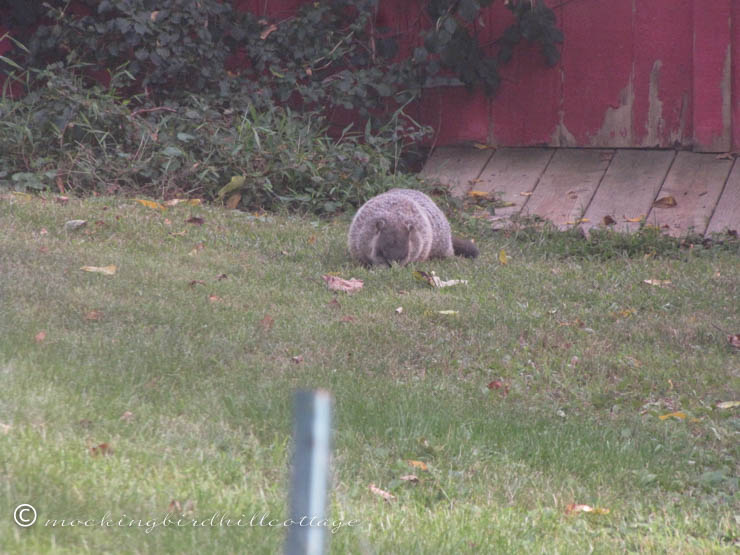 These photos are taken from my hiding place inside the kitchen, of course. If I tried to move outside, he'd immediately retreat.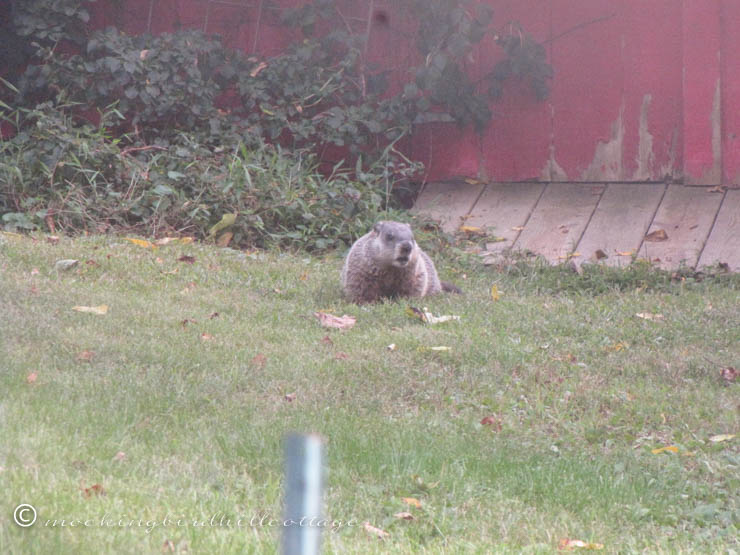 He's getting gray. He's moving a bit more slowly. (Just like us.)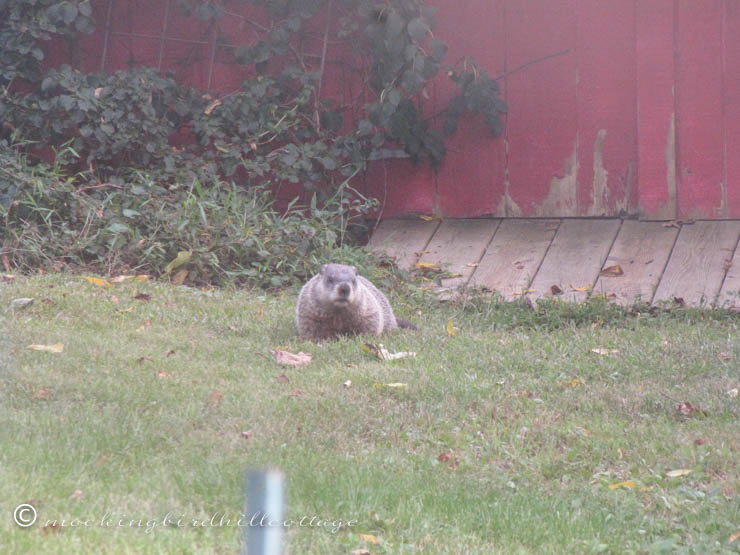 He's always alone. I worry about him being lonely, just like I worry about the single mourning dove. I wish they knew I think of them as my friends and that I'm right here, watching them. Love you, Henry.
Spotted yesterday: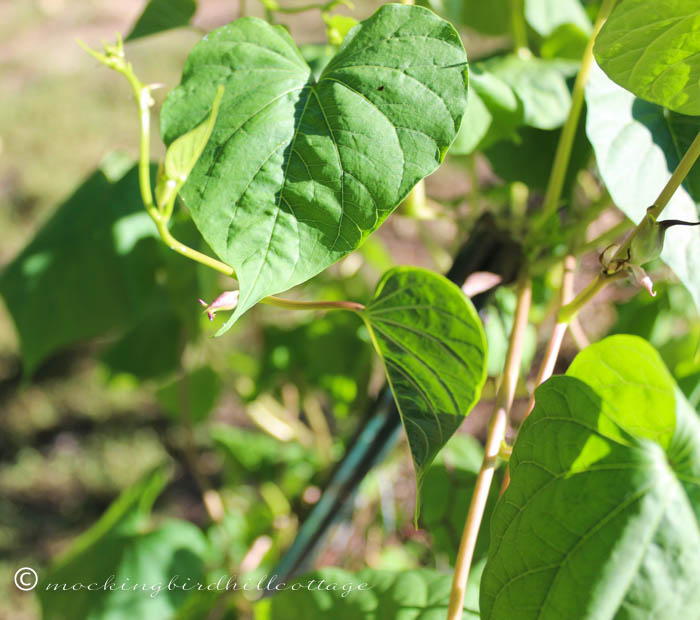 Moonflower buds. They're tiny, but they're there.
Don and I took off for the town of Saugerties yesterday. We ate a yummy vegetarian lunch at a Mexican restaurant, and spent time in two different bookshops. I bought Felicity, Mary Oliver's latest book of poetry, and a used copy of The Lyre of Orpheus  by Robertson Davies, one of my very favorite authors. I own most of his books, but – you guessed it – they're in the dreaded shed. So I'm slowly rebuilding my collection.
We arrived back home to see a box waiting for me. I knew what was in it.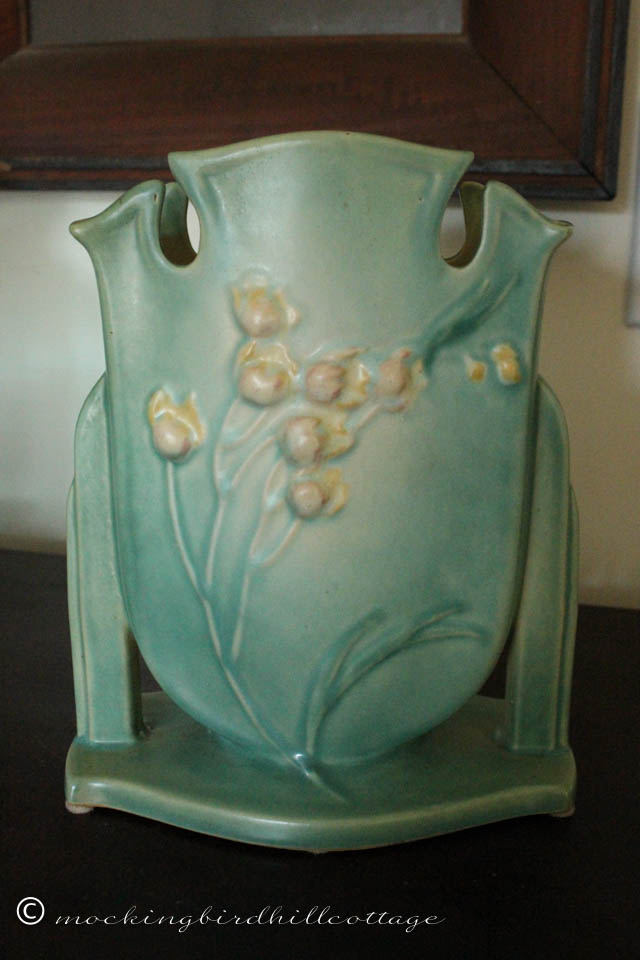 Hello, gorgeous Roseville in the Ixia pattern!
You might remember that I purchased a vase in this pattern several months ago. It just might be my favorite pattern – at least for now. I especially love it in this soft green (it comes in other color combinations) and the art deco styling of those handles. You're looking at the front.
Here is the back.
I haven't been bidding on any Roseville for a long time, partly because I was putting any funds I could spare into Don's mini studio, but also because prices, especially starting bid prices, on eBay had risen and I wasn't about to pay that much. But I occasionally stop in and check out what's new. This vase was listed at a very fair price, but the shipping costs were way too high. So, after learning my lesson the last time I bid without checking the cost of shipping, I emailed the seller. He kindly checked into it and (this is the second seller who has told me this) said that eBay had estimated that cost – why, he didn't know – and he promptly revised it. So I bid on it. And no one else did. What??
It's in perfect condition.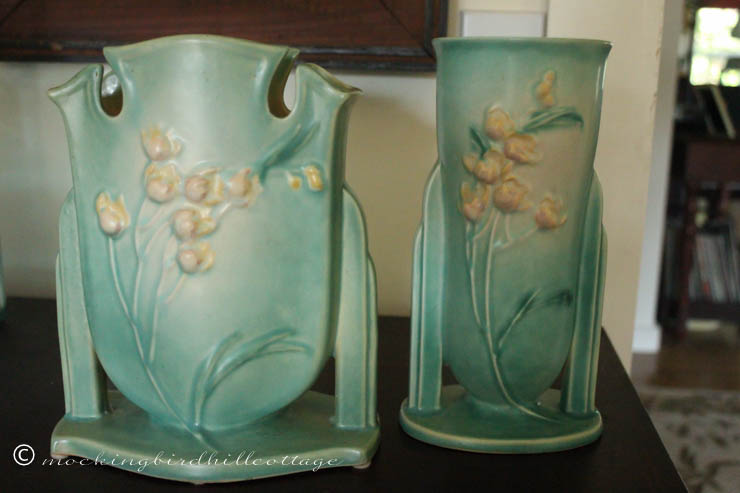 Here are my two Ixias.
We've been having absolutely gorgeous weather; mid-seventies, no humidity, blue skies with big fluffy clouds. Grateful.
Happy Sunday.