We fell in love with a table.
Let me backtrack. I was restless yesterday afternoon, so Don and I went for a drive. Not sure which way to go, Don said, "Do you want to see your bookstore friends?" And I said yes. So we drove along the back roads on a brilliant autumn day to Rosendale.  We stopped at the bookshop and chatted with Jesse and Maggie and looked at books. Interestingly, I actually didn't buy anything.
As we walked down the street, we started to pass our friend Elizabeth's vintage shop. And then we stopped in our tracks. There it was, on the sidewalk in front of the shop. (I'd seen it when she posted it on FB, so had Don, but I'd forgotten about it.)
It was a vintage wooden French Bistro/Café table – the type that folds up when not in use. Elizabeth found it at Brimfield and brought it back to her shop.
We stared at it. Elizabeth said we could open it up, so we did. It  was 36 inches by 20 inches. We were smitten. But where the heck would we put it? It had a gorgeous patina, with nicks and scratches and aged edges. It also had writing on both ends of the table. Advertising? The maker of the table? Not sure. We stood there. We asked Elizabeth the price of this gorgeous antique. It was very reasonable.
We decided to go for it. We knew we would regret it if we didn't snap it up; most likely, we wouldn't see one like it again.
On the way home, we discovered we had both been thinking the same thing. Why not put it where the loveseat was in the living room? We wanted it to be highlighted in some way and in our cozy and crowded cottage, that can be difficult. Maybe we'd put the loveseat in storage.
First, let me show you the table. Then I'll describe what happened in the next 3 hours!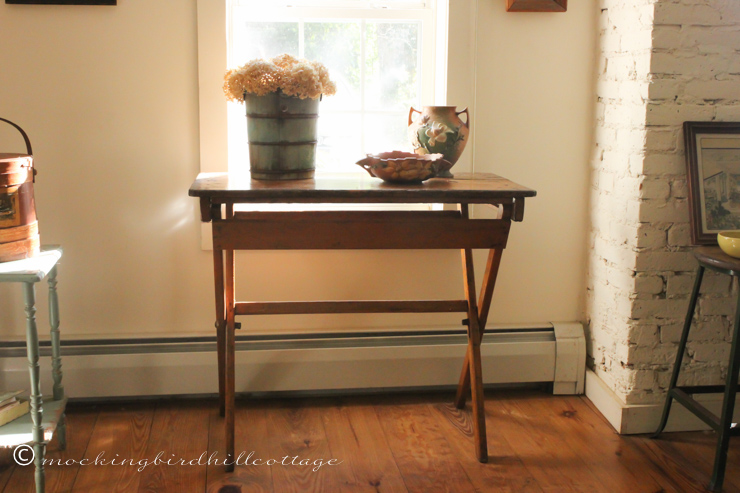 Here it is right after we set it up, in the late afternoon sun.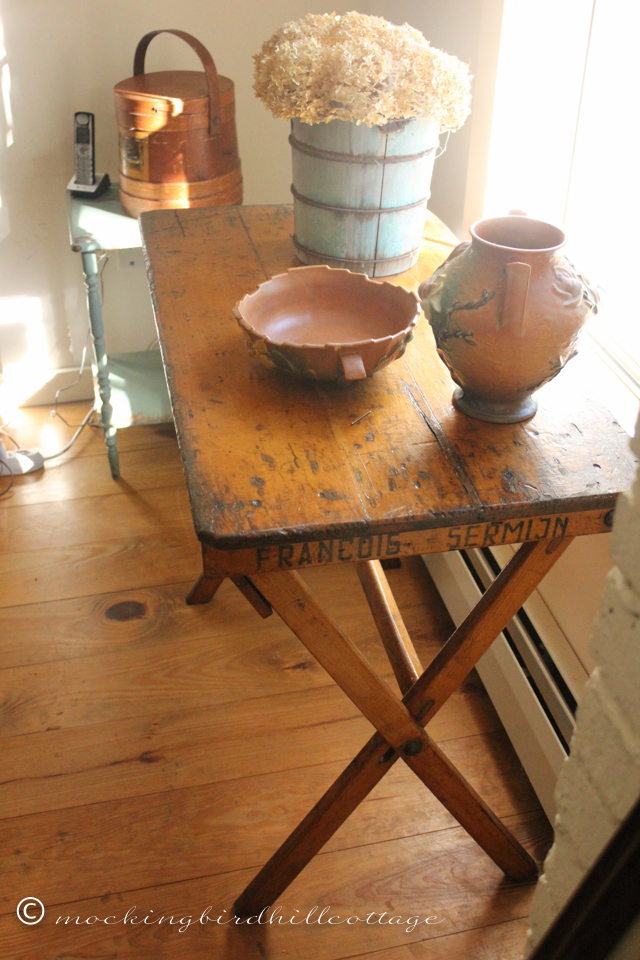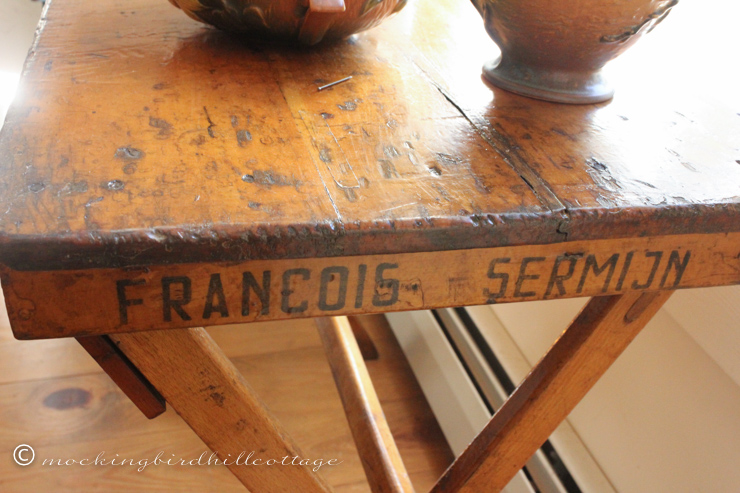 This text is at both ends of the table.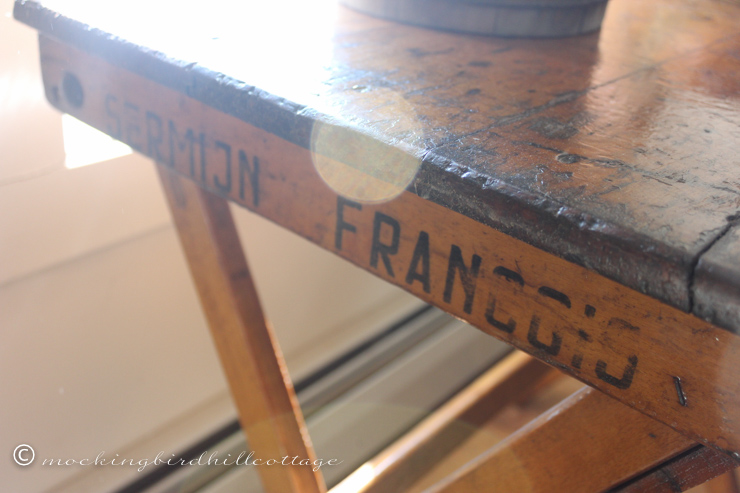 The other end. Can you see that gorgeous patina? Can you see French men and women sitting there, cigarettes in hand, café au lait in front of them? If this table could talk, what stories it could tell!
Now, our dilemma. After the loveseat had been pulled out of this niche, what to do? Should we put the loveseat in storage? After all, I'd had it since my Boston days and I'd developed a love/hate relationship with it.
Just chairs around the coffee table?
We tried it but it didn't seem to work. I insisted there needed to be more balance, especially after we pulled up the rugs (more on that later). I don't mind telling you, there were a few good natured arguments about what to store and what to keep. At one point, we felt like we'd reached an impasse and weren't sure what to do.
We live in a small space, as you well know, and we needed to rethink things so that the  bistro table had space around it and the room didn't become over-crammed. Don expressed a desire for a slightly more minimal look.
I get it. I'm about to do a big purge anyway.
After trying every possible combination; vintage porch chair upstairs in the office, measuring the office to see if the loveseat could fit in that space comfortably, moving red chair to den (no and no and no) we decided to put the yellow chair in storage. It's big and bulky and it's looking a bit worse for the wear. To tell you the truth, I'd grown to dislike it intensely. Don decided he wanted to use the red chair as his chair.
But I wanted the vintage porch chair in the room as well, because as much as I'd love it upstairs in the office/studio, when I'm there, I sit at the desk. So it would be wasted there. And it's my favorite chair!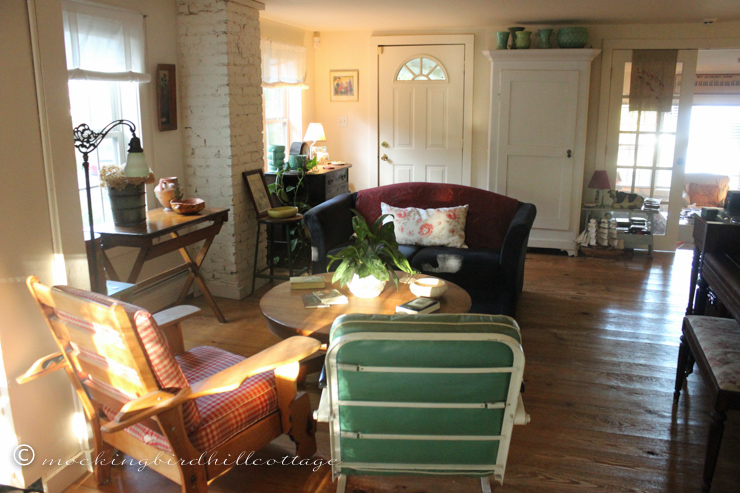 This is what we ended up with. (Ignore the mess by the white cupboard, that's still 'in process.')
We rolled all the rugs up except for the small, blue circular rug. It's in the area near the stairs. The rugs were necessary when we had the dogs, but we found we were craving an expanse of wide-plank pine floors. And they really chopped up the space, which suited us for a while, but doesn't suit us any longer.
We took the slipcover off the loveseat. It was falling apart, anyway, so it was time to scrap it. I vacuumed the heck out of the cushions. I ran upstairs and grabbed an old throw that was a rich, deep red and threw it over the back of the sofa.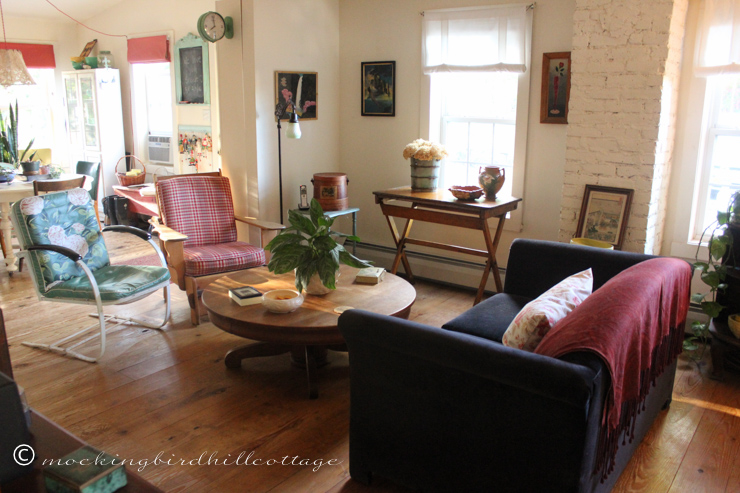 It seems much more spacious in here! The floor lamp that was next to the piano moved over to its new home next to Don's chair.
Don (he has a good eye, that one) felt that the Maxfield Parrish, Dinky Bird, should be moved downstairs to the wall behind the table. He was right. And the canvas of The Lamb With The Party Hat moved upstairs to my office, which is only fitting, as it's the symbol of this blog.
The Roseville that was on the coffee table moved over to this table. And then I grabbed the old ice cream maker filled with dried hydrangeas from the top of the white cabinet in the kitchen and it all worked.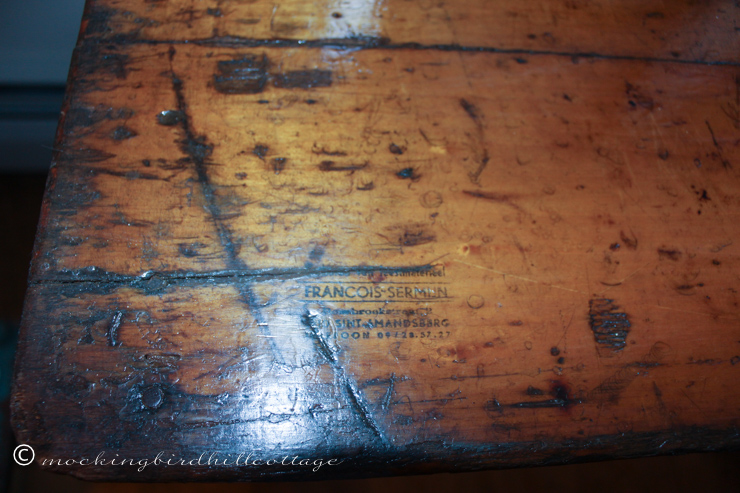 Stamped on the top left edge of the table.
Be still my heart.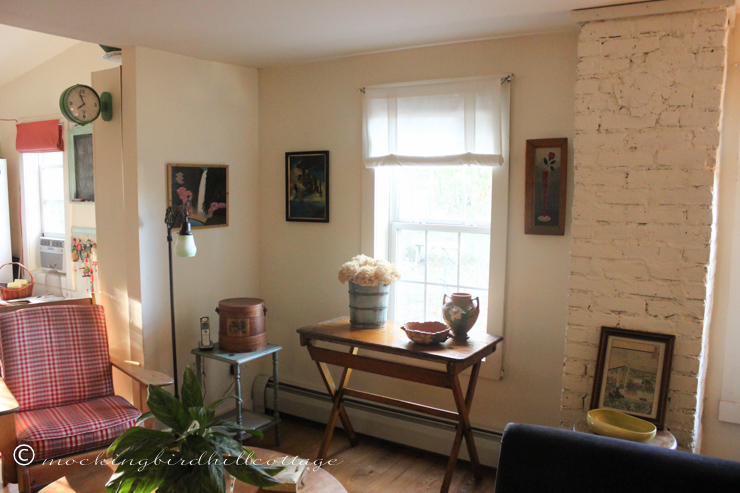 The firkin on the blue table was my grandmother's.
I moved the plant that lives in the McCoy jardiniere from the den to the center of the coffee table.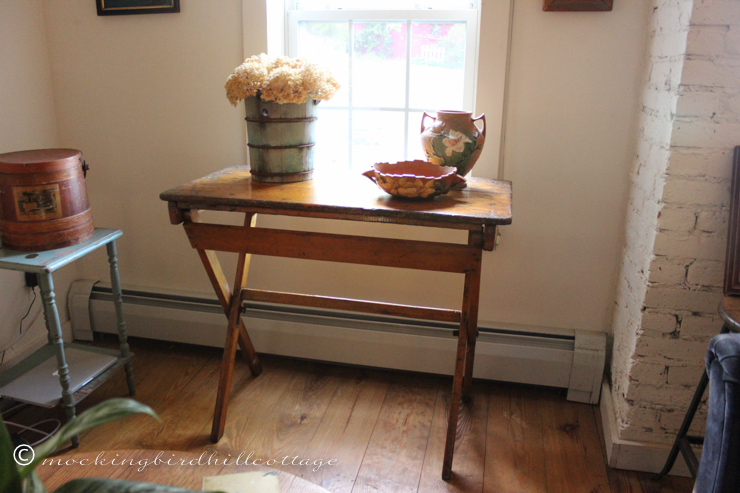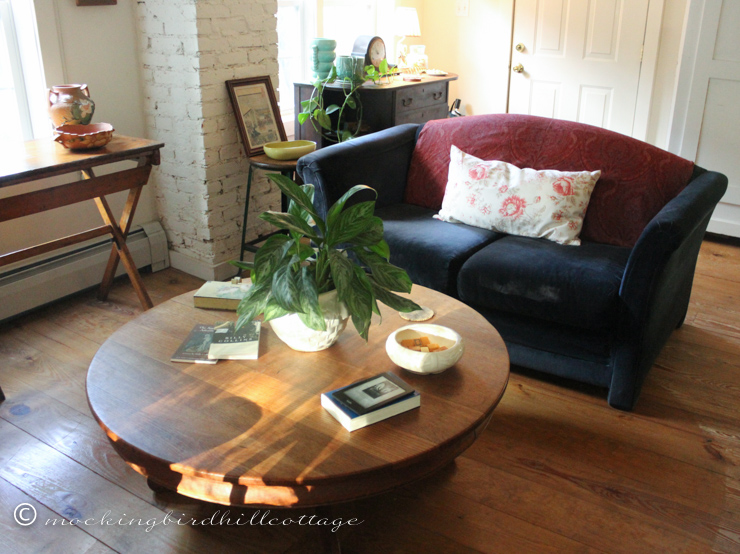 This room, more than any other room in the house, is completely transformed by the changes of light during the course of a day. This was taken about an hour ago. I'll take more photos as the day goes on and share them with you during the week.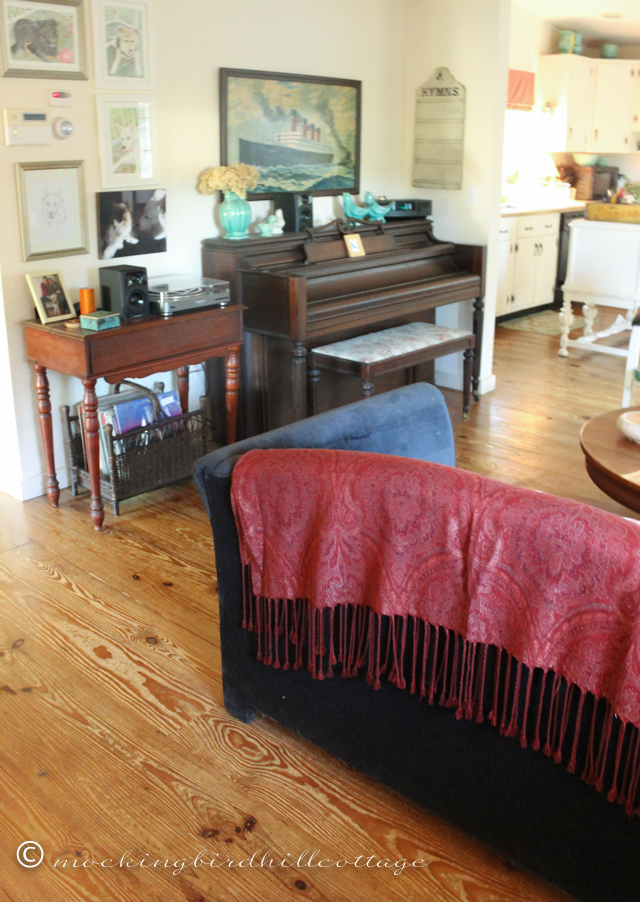 The back of the sofa.
Photos were quickly taken yesterday afternoon and this morning. After all, we spent hours reconfiguring this space and, let me tell you, moving furniture around in here is no easy feat. Then Don had to leave for a meeting and it was dark out. I'll get out my tripod this week and take better photos.
You know how it is? You buy one new thing, which means something else has to go, and suddenly you're in the midst of a puzzle. One thing moves and everything else has to move.
The yellow chair will go in our storage space.
We like the change a lot. Actually, we love it.
Happy Monday.