Feast your eyes: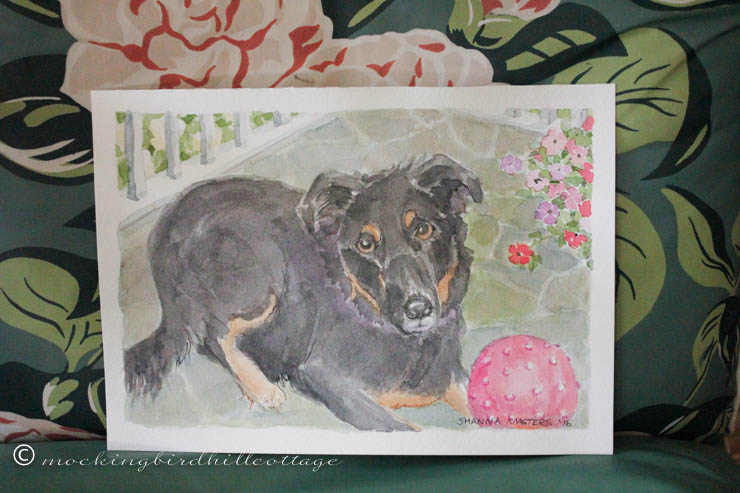 Our first baby. Winston.
He left us at the very young age of eight years old. Too soon and devastatingly so.
Right after Don and I moved in together in San Diego, we repaired the fence so we could adopt a dog. Within a week of moving in, we were at the Humane Society. The very first dog we saw was scared, bewildered and broke our hearts. As we read his tag, we learned his name was Winston and, at the age of eighteen months, he had been given up by his family due to 'allergies.' (We won't go into how I feel about that.) We thought he was beautiful. He was listed as an Aussie Shepherd Mix.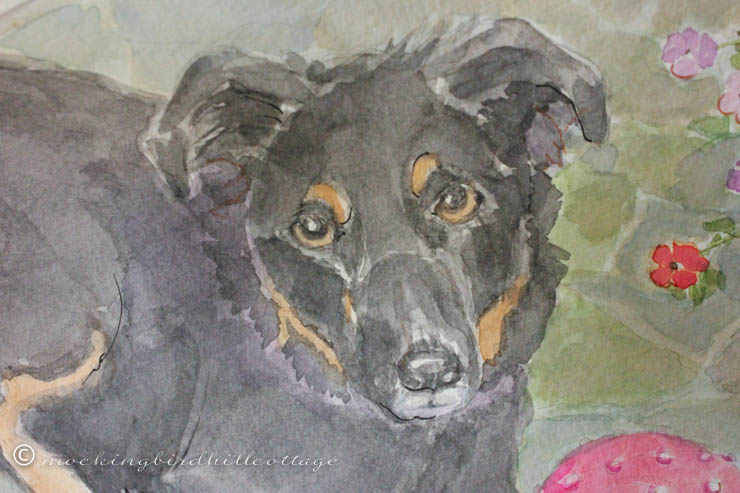 But we made ourself look at many other dogs that day. The trouble was, we kept circling back to Winston. He had stolen our hearts. So we made our desire to spend some time with him known to the volunteers and they took us to a special enclosure where we could get to know each other. Winston and Don and I went inside. I set my handbag down. Whereupon Winston promptly lifted his leg and peed in it.
He had indeed claimed us. In the end, we had to wait a few days because they needed to do a fecal test. But he wouldn't poop. I kept calling them, anxious to bring him home. Finally, they gave up on the fecal test and our new family member came to our house. We parked in the garage and escorted him to the back yard. Whereupon he promptly pooped.
That boy was all about marking his territory.
If you've seen his picture on my sidebar, you've noticed the pink ball. I asked Shanna to put the ball in the portrait. Winston was the only one of our dogs who always had a favorite toy and took it from room to room. If I went back to the den from the living room, he would pick that ball up in his mouth, walk to the den, and drop it at my feet. He loved his toys. One Christmas Eve, he sat facing the fireplace for hours (I have a picture) staring at his stocking. He wouldn't move. Why? Because that boy smelled the vinyl toys.
A few years later, he became very ill, vomiting and losing weight. We went through all kinds of tests before we had a diagnosis. His pancreas no longer functioned. We had to give him a powdered supplement with his food from that day on so he could digest it and get the sorely needed nutrients. Until the day we discovered that he had a tumor on his heart, a year after we had moved East, he was happy and healthy and everything we had dreamed of in a companion.
Oh, he was a wonderful boy. He welcomed Scout into our home, after making clear who was boss. They were great companions. (And Scout welcomed Riley into our home, after making clear who was boss, as well!)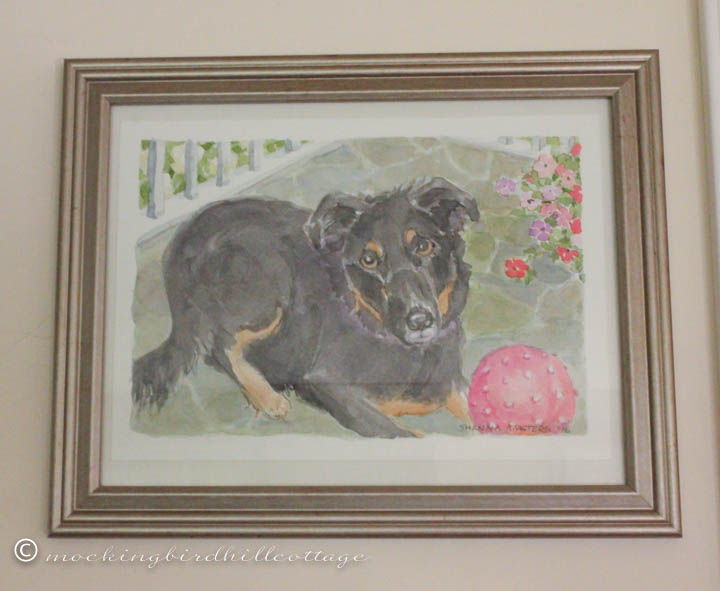 So, I wanted that ball in the painting. I also wanted him on the porch, even though he never lived here in the cottage. I like to think he made the move with us, unseen. And both Shanna and I had the same idea; to paint this one horizontally on the paper, rather than vertically.
The photos I submitted to Shanna were taken long ago, with a not so great camera and the dark background of our Craftsman home in San Diego. And Winston was black, which made it even harder to see details. Somehow she has managed to capture him beautifully. She is masterful with the eyes, isn't she?
I can't believe how accurate this is. This is the boy we have been mourning for 14 years. And now he is with his sister and his brother.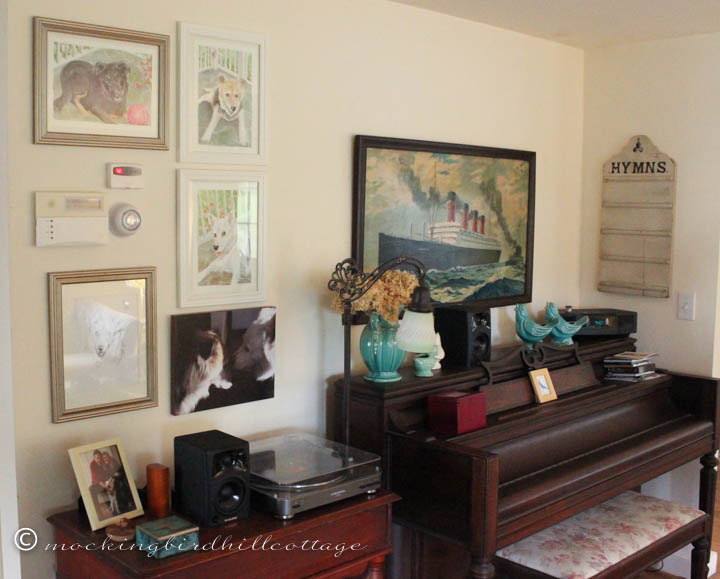 Someday I'll show you the view from Don's chair, but this is the view from where I often sit. As Don said this morning while he was sipping on his coffee and looking at the paintings, "Our kids."
I can never express in words how seeing these paintings, along with the sketch of Scout (also by Shanna) and my photograph of Riley and Scout – all of them together in their own special place – makes me feel. I can only say that it just feels right. They are our children, forever, and they're still with us.
Thank you, Shanna.
Happy Saturday.