Since that horrible dream left me feeling rather melancholy yesterday, I took control and sought refuge in photography. I find that if I can get outside and take photos, I see the world differently. I see my own situation differently. I captured lots of lovely images yesterday which I will be sharing with you over the next several days, including a treasure trove of birds at the birdbath. Goodness, they were active!
Also contributing to my mood change was a package that arrived in the mail for Little Z's dollhouse. As you know, I've been contemplating what furniture – and it needed to be sturdy wooden furniture – to buy. Z is five years old, smart as a whip, and as determined as can be. He also walks with canes because of his disability and is working on using both hands equally. I wanted the furniture to be effortless for him, nothing that can break.
One day, I searched on Etsy and found this shop: upperairs. It's David DiBenedetto's shop and he handcrafts this dollhouse furniture. It was reasonably priced and was just what I wanted. And I love to support small businesses.
I was thrilled when I opened the package.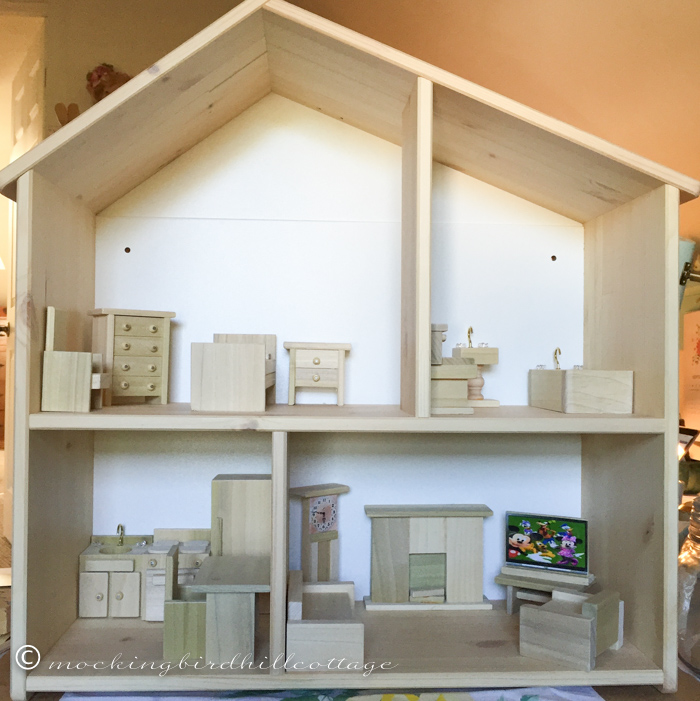 It's as if it were designed by IKEA for this house.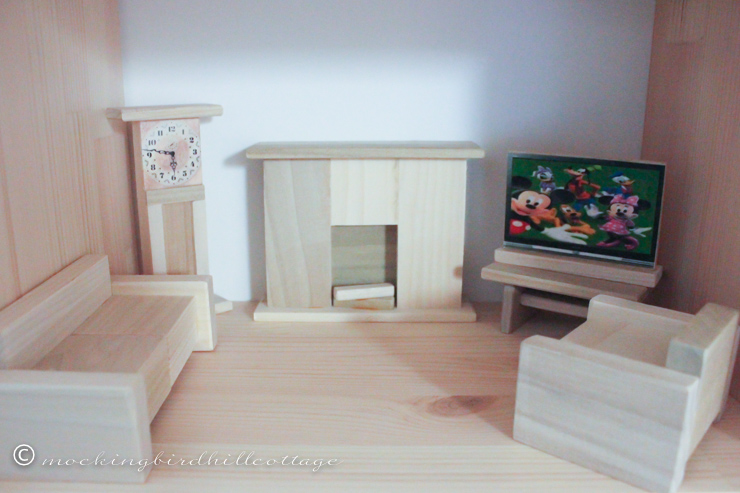 The living room. Sofa, chair, fireplace, table, grandfather clock and television. I laughed out loud when I saw what was playing on the television! That's Z's favorite. He loves, loves, loves Mickey.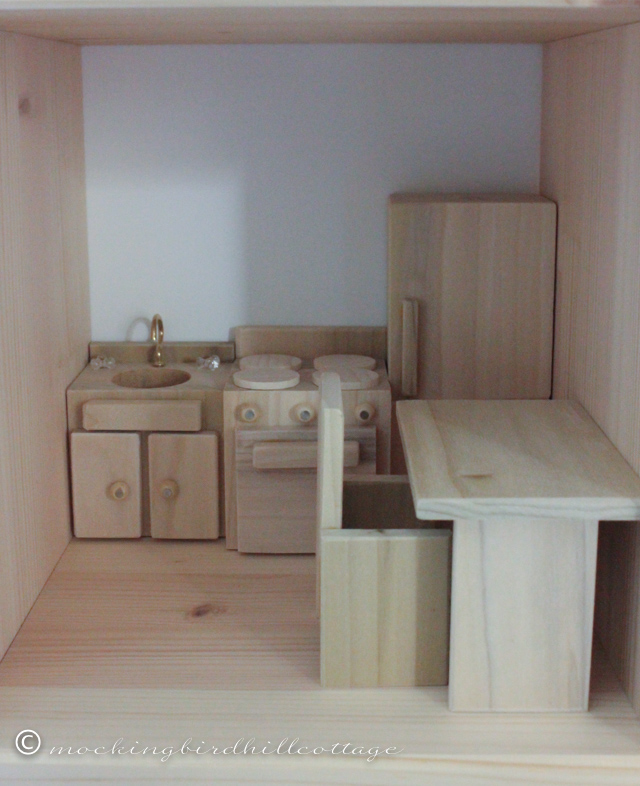 Kitchen: None of the doors open. Did you notice the faucet? It's a cup hook. The table might be a bit too tall, I'll have to think about that one.
Just like the kitchen in my dollhouse – the hardest room to photograph.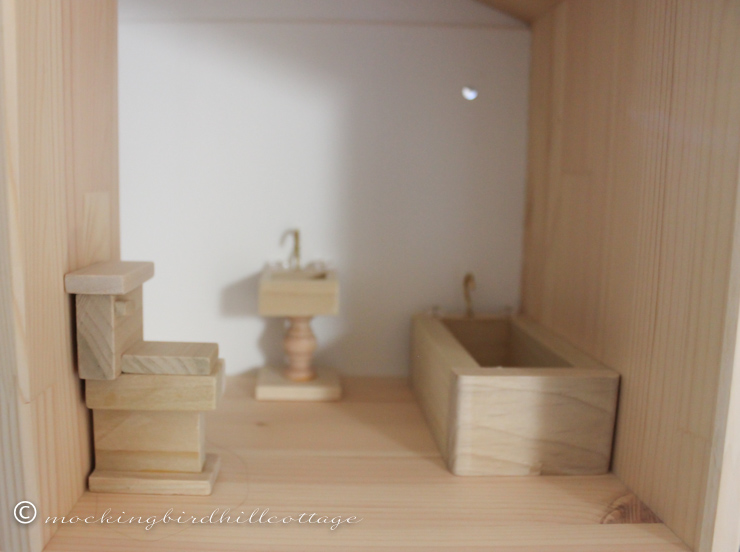 Bathroom.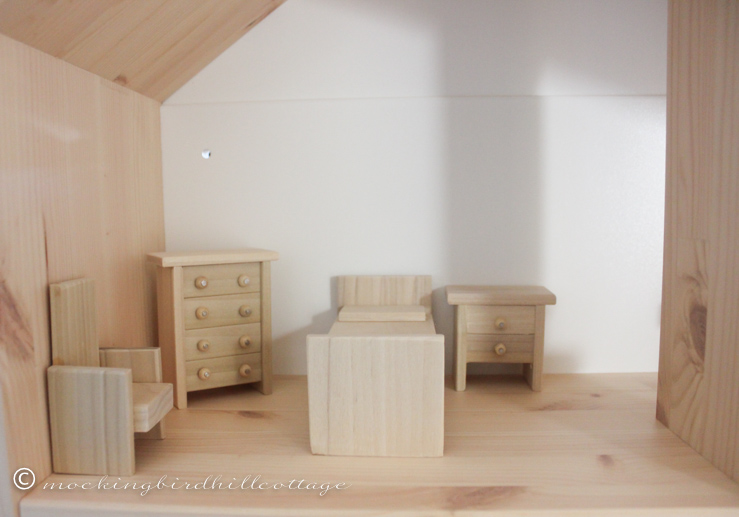 Bedroom.
Don thinks I should leave the furniture unpainted because it goes so well with the house. I must confess, I'm not sure what to do. I am planning on making some cushions for the furniture and the bed.
Do I paint the furniture? Do I leave it as is until he decides what he wants? Do I put temporary wallpaper up that he could pull down if he wants to?
Meredith says that either way would be great, but she suspects I'd have more fun painting the furniture.
I'm going to think about it for a day or two and then I have to make a decision.
This furniture is so well made and it's sturdy. Z can handle it, knock it around, move it in and out of the house without any worries about breakage. I want him to be able to do whatever he wants with the house.
Your thoughts?
I have one bird photo to share with you today – I saw this guy looking for food at the entrance to the big corral: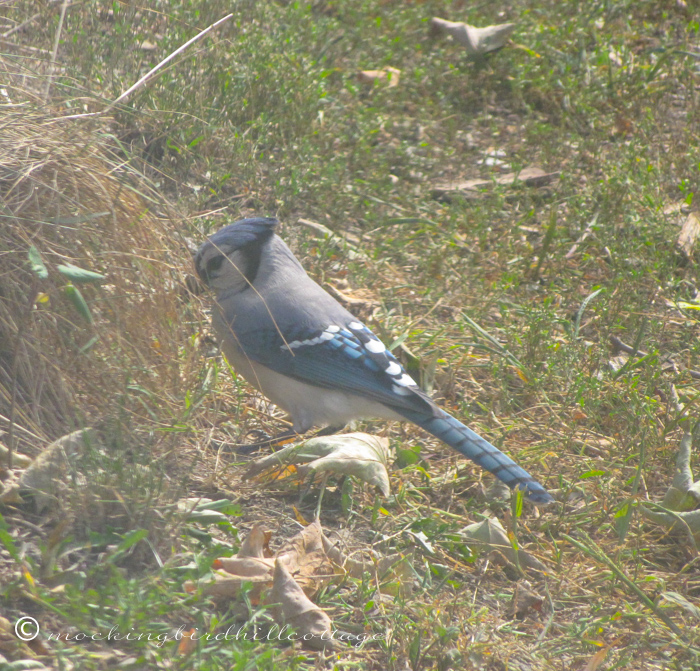 What a beauty!
Happy Saturday.