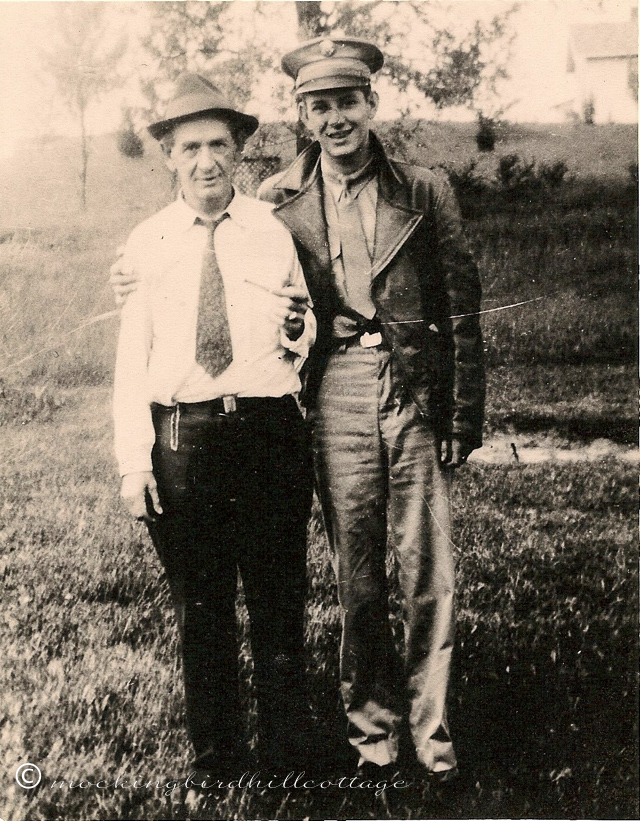 (My dad and my grandfather.)
We got up this morning and lit a candle on this, the first anniversary of my dad's transition. That it's been a year seems impossible, yet the calendar tells me it has.
There are days in which I relive the last 24 hours of his life. Like a film, each frame passing in front of my eyes, I see it all. Yesterday I was acutely aware that on that day a year ago, I was throwing clothes into my suitcase and flying down to Tampa, where my nephew picked me up at the airport and took me directly to the hospital. Today, I will be thinking about that day in ICU, the moment when we had a sliver of hope that he might be doing a bit better, and then the moment when it became clear that the end was coming. So much in one day.
That my sister was by my side, that we shared Dad's last moments on Earth, that we told him we loved him and thanked him for everything, that, when we knew what was coming, we told him – together – that it was okay to leave us, that we would be okay, and that mom needed him, that it was our turn to take care of him the same way he took care of us when we were dependent on him, holding his hands, soothing his brow, that it all plays back as vividly today as it did then – I am so grateful for all of it. Being with him as he made his transition was the most profound experience of my life.
My father was a complicated and often troubled man. He was an alcoholic who became sober later in life. He had his demons. He tested my patience and I often failed that test. Both my sister and brother and I had to work hard to come to terms with the person Dad was when we were growing up and how it impacted us.
But, this is the most important thing to remember about my dad: he loved us fiercely and absolutely. He was always there for us. He was devoted to his children and to his wife. He was a good man, compassionate and kind, generous and giving.
He was the kind of man who helped out those in need. I remember neighbors coming to him for help in rather dire and sometimes dangerous circumstances. He never backed off. He took over, made decisions, and protected them. One of my neighbors wrote to me about one of those instances when Dad passed away. He is remembered, my dad.
He was a Scoutmaster who is still remembered by the guys in his scout troupe so many, many years later. He loved the outdoors. Camping and fishing in the woods of Northern Michigan was the perfect vacation for him and we did a lot of that when I was a kid. He was athletic. He was an excellent golfer; in fact, was invited to become a Pro Golfer, but at that time it didn't pay very well and he had a family to raise.
He came to every play and musical in which I performed in junior high school, high school, summer theater, college – all of it. He always gave me a rose on opening night, with a card inscribed: "To a star always in my heart."
He was proud of his children. He thought we were beautiful. Even in our adult years, he was there for us. He was there, along with my mother, as my brother battled the Lymphoma that eventually took his life. He was there for me as I made the decision to go back to school and get my Master's Degree. He was there for Don and I when times got tough. He was there for Meredith and her husband and children. And for his beloved pets over the years, especially the two cats who kept him company in those years without my mother by his side.
He loved my mom from the day he met her that first time for a soda at the local drug store (just home from the war) after having written to her when she was given his name and address as part of a neighborhood program to support our boys in uniform. He told her that day he was going to marry her. And they were married six months later. Over sixty years later, when she was in the nursing home and no longer by his side in the home they shared, he visited her every day, often several times a day.
These are the things I choose to remember now. In those final hours in the hospital, everything else fell away. The anger, the tears, the complicated and, at times, tempestuous relationship I had with him, that Meredith had with him – none of it mattered. In those hours, only love mattered. The love my father had for us, the love we had, have, for him.
What a gift that was. A gift from God. Cleansing, healing, being born anew in the only thing that matters: Love.
I wish I could go back in time and react differently, more compassionately, to the dad I knew as a teenager and young adult. If I could do it over again, I'd try my best to do it better. But, truthfully, I had to grow and learn, just as my dad had to. We do the best we can and then try to do better the next time. I'm convinced that we come together in this life to help each other grow. To face the world together and learn together. The conflicts, the fears, the anger, and impatience are there to, in the end, show us that their opposite – love – is the only thing that is real.
My dad knew he was loved. We grew up in a family that freely and often said "I love you."
I miss you every day, Dad. Thank you for being my father. I love you.
Happy Saturday,