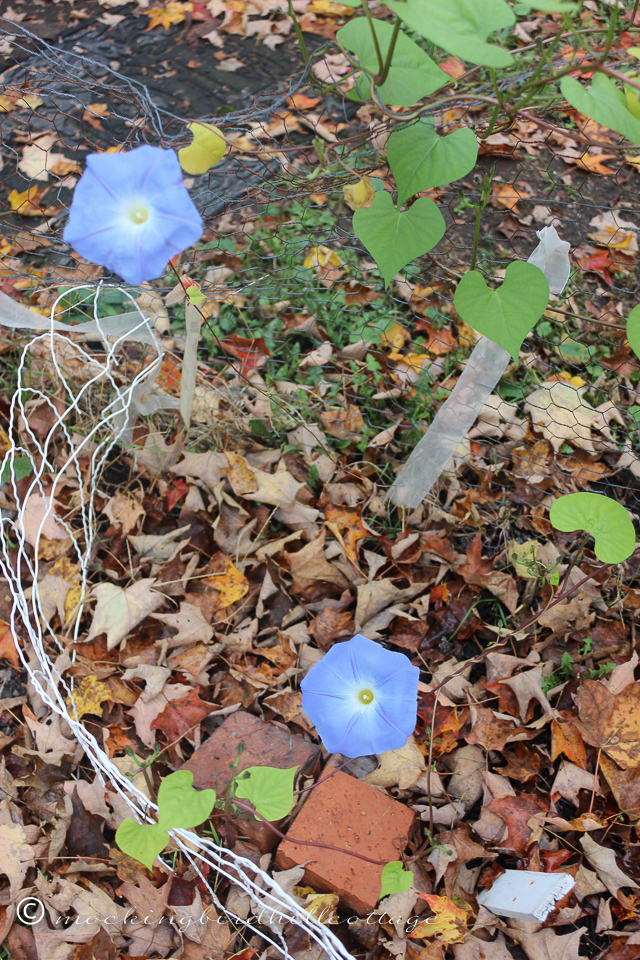 I want to take a moment to apologize. Not for my posts about this election – I stand by them – but for my response to some of the commenters. This election has made me angry in a deeply despairing part of my heart. You know how I feel, so I don't have to re-state it here. But I am  angry and afraid and that, I fear, had an effect on a few of my replies. Instead of responding as I usually do, I lost some of the grace that I hope normally infuses this blog and my writing. I got defensive. That is never a good place to come from when responding to someone.
I am someone who will fight for what I believe is right and speak out. In this particular election year, I wouldn't be able to live with myself if I didn't speak out. But I'm also someone who is a 'people pleaser' (both Don and I suffer from that syndrome) and am conflict-averse. How do I balance all of that? Sometimes gracefully, sometimes not.
I went back into the comments last evening and edited some of those replies. You as readers certainly have a right to disagree; we've had many lively discussions on this blog during the past 8½ years. (I hope you receive updated comment replies in your email? I'm not sure if you do.) I've always kept comments open and have replied to each and every one of them. I'm proud of that, especially considering there are many bloggers who don't reply and/or don't allow comments – particularly on a post that might be controversial.
If I turned off comments for a certain post, readers would be upset. If I, as I did only once in the history of this blog, say that I don't want to read any negative comments on that particular day (which certainly is my right) then some readers get upset about that. I can't please everyone, nor will I try. But I certainly can make amends for a less than graceful response.
I'm sorry if I hurt anyone's feelings or appeared uncaring. I can assure you, I am not. Don knows these things stay with me and bother me for days, and sure enough, I was awake before 5 am this morning…worrying. He always offers wise counsel, my husband. I don't know what I'd do without him.
I've said what I have to say about that man who is running for President. I don't think I need to say more.
I'm moving on.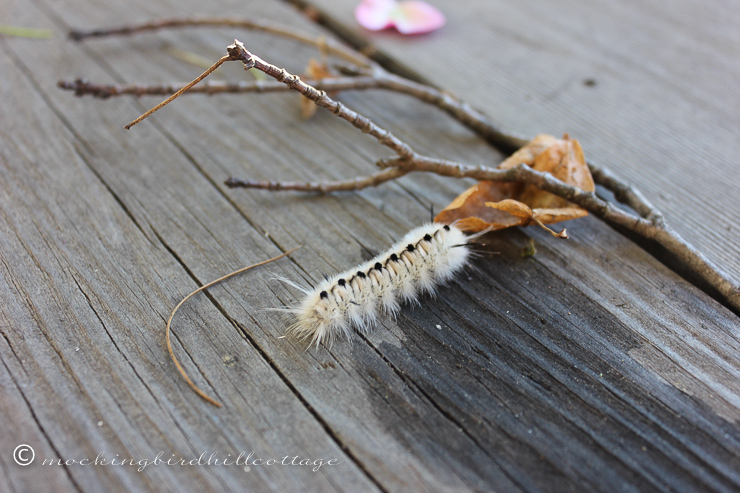 Look who I found on the picnic table yesterday.
This is a White Hickory Tussock Moth Caterpillar. There have been quite a few rumors floating around that these guys are poisonous. They're not, but touching them can cause a physical reaction. Most everyone who touches them gets a rash that itches and stings. Others experience a more severe reaction and have to see a doctor. The hairs are connected to poison glands (according to Snopes, who debunked the more extreme claims about this caterpillar) and release a venom when touched.
Of course, I knew nothing about this until I researched it. Luckily, I didn't touch him, just the leaf behind him.
They like nut trees and we have a young shag hickory on the property, as well as a couple of black walnut trees.
I wonder if he's still out there this morning?
Oh goodness, it got very cold overnight and we had a frost warning. I was, of course, worried about the plants that are still blooming. When I woke up, I saw that the water in the birdbath had frozen and immediately looked at the morning glory and moonflower vines. They seem to be okay, which is a relief, especially since it isn't going to remain this cold.
We took a long trail walk yesterday. There are two horses along the way that belong to a man who lives along the rail trail. Don called him the other day to ask if it was okay for us to feed them an apple and some carrots when we see them. Yes, he said.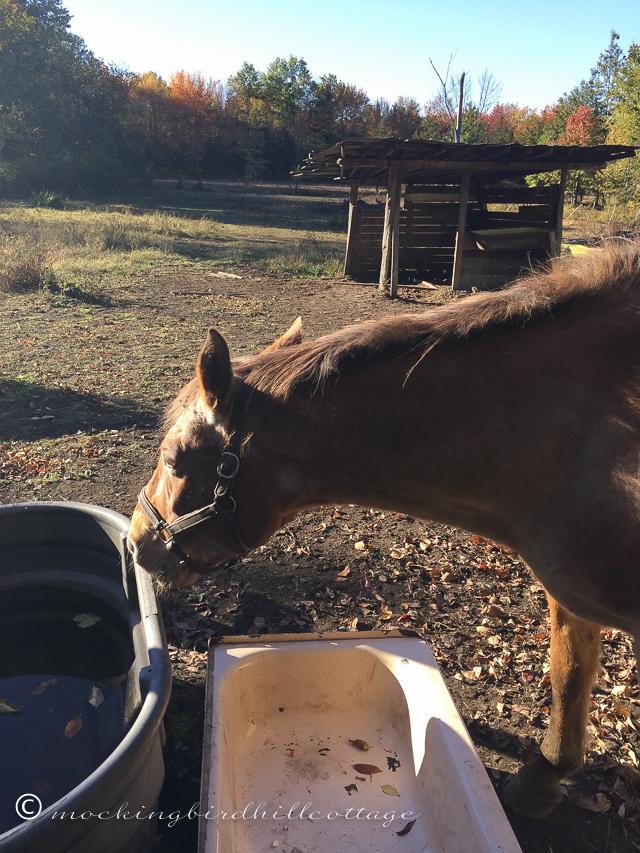 This is Ashley. She's the elder of the two. Pliers, the other horse, is her son.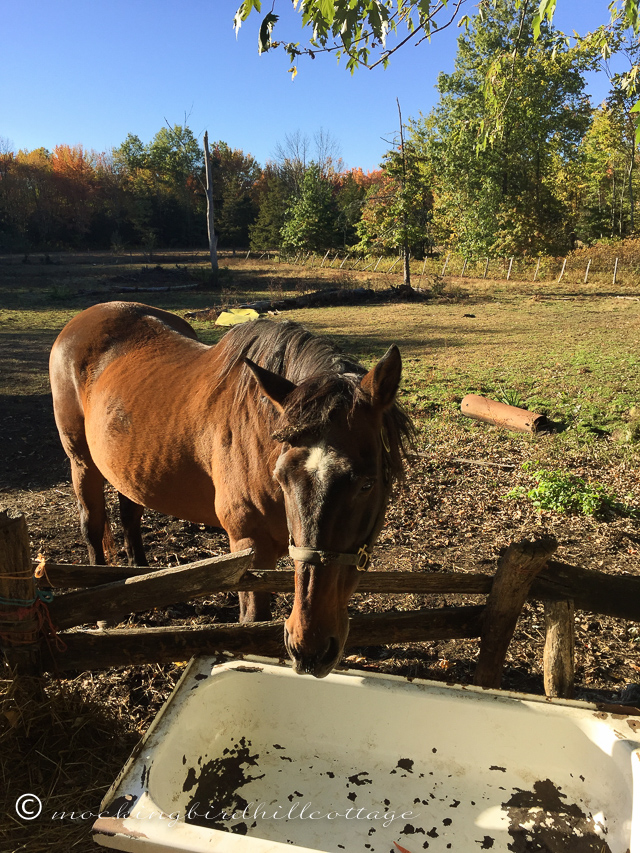 This is Pliers. I fed Ashley yesterday and Don fed Pliers.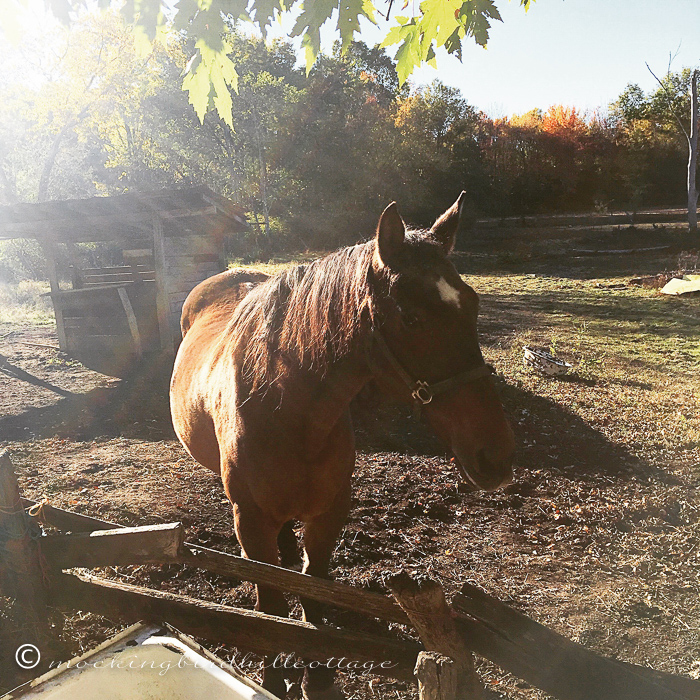 They need a good grooming, but it's not our place to do that.
When I was a kid, my grandfather had horses. I've always loved them, though I would never claim to be an equestrian or a horsewoman. There are a couple of other horses along the trail, as well, but they are usually so far back in their paddock that we can only see them from a distance. There are also locals who ride their horses on the trail and we love seeing them. Such beauties they are!
Sob. My Red Sox were swept by the Cleveland Indians.
But we're also cheering for the Cubs. Come on Cubs!
Happy Tuesday.