I did lots of raking yesterday and I'm pooped today. Ah, the joys of autumn. And, by the way, it's going to be 81 degrees today and yet we had two frosts a week ago and all my vines and zinnias are dead. What's wrong with this picture?
I love autumn, but I often get into a funk this time of year. The seasonal change leaves me feeling a little melancholy. Add to that an election campaign that has sunk to lows that are slimier than I would have ever believed possible and yours truly has had it.
Oh, and our taxes were filed yesterday (we always file an extension) and we owe a big chunk of money. Whoo hoo! It's a wonder I'm not dancing on the rooftop!
Now to the heart of this post: Ever since the 'off mic' tape was aired, I've been wrestling with my own memories and those of others who are close to me. It's generated a lot of discussion with my husband and my sister and other friends – some of it here on this blog.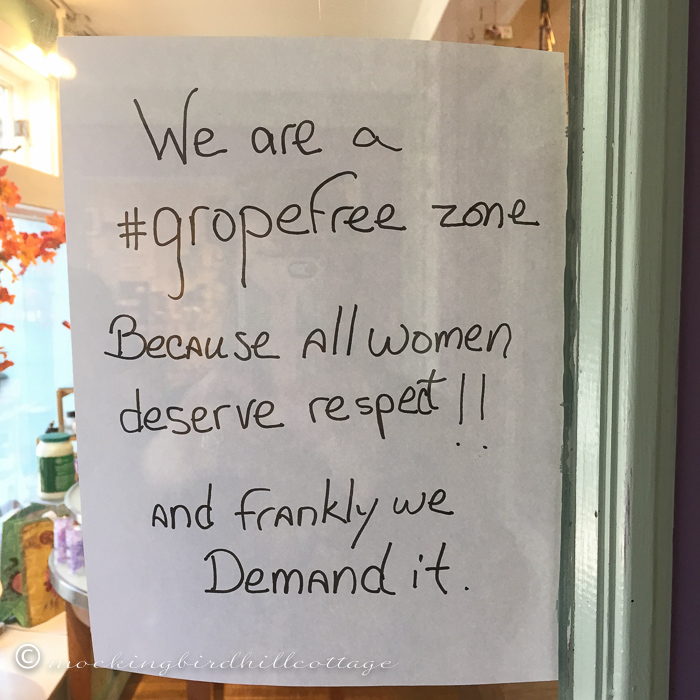 Do you remember this sign from last week's post about our anniversary?
It's had more likes than any other post I've done on Instagram. I find that heartening. One of the more alarming realizations during this campaign is that there are people that don't seem to think touching someone without permission is a big deal. Or think it's something 'guys do.' Or say that it's okay because it's 'locker room talk'. Never mind the fact that most men I know assure me that men do not talk that way in locker rooms, saying that about it is an attempt to brush it aside as something inconsequential. It isn't.
I've heard people say that we're getting upset about a word (you know what it is). Again, trying to minimize it. No, we're upset about an action, not a word, as distasteful as that word is.
This isn't political. It's about basic decency. No one should be able to grab or grope or touch or kiss a woman without consent. Period. Or, I am reminded, a man.
Men, boys; whether you're rich, poor, entitled, middle-class, handsome, not-so-handsome, charming, not-so charming, a boss, an employee, a relative, or someone who holds power of some kind: You don't have that right.
I've been groped without my permission. I've been kissed without my permission. I've been touched without my permission. I've had men press up against me on the subway. I've had bosses say inappropriate things to me, things they never should have said. I've been in a darkened movie theater where a man sat down next to me and proceeded pull out his penis and masturbate. That occurred in graduate school and in true Claudia fashion, after a day or two had passed I told the story to my friends and transformed it into a darkly humorous monologue.
Because I'm funny and I know how to entertain a crowd.
That's the way I dealt with it.
But it isn't a joke. Make no mistake, it was an assault. I can still visualize it to this day, over 30 years later.
I still remember someone grabbing my breasts without my permission.
None of this is as horrendous as rape, and thankfully, I haven't been subjected to that experience. But all of it is  sexual assault and it leaves a scar and it's wrong. The assumption that someone has the 'right' to do that to anyone is horribly wrong. And because it isn't rape, many people (men and  women, sadly) try to write it off as something women should just 'get over' because it isn't such a big deal.
You know what? When a woman reports something like this, it should be taken seriously. And when several women come forward, all of them reporting much the same modus operandi? They aren't doing it for 'fame' as I've heard several people assert. Are you kidding me? Who in their right mind would welcome the shaming and derogatory remarks that are being directed toward them – to cheering audiences, I might add?  The smearing, over and over and over again? It's all a part of an attack to lessen them, to say that their experiences have no merit, no validity. To take their bravery and whittle it down to 'fifteen minutes of fame.'
I'll say it again: This isn't political. This holds true for anyone, anywhere, anytime.
That we're having a dialogue about this is a good thing. That we even have to have this dialogue in 2016 is sad beyond belief. Much work needs to be done.
It is the perfect opportunity to educate men and boys and women and girls about what is right and what is wrong, and I imagine there are a lot of conversations going on about just that. A positive in the midst of a negative. So, we speak out against the negative and turn it into an opportunity for growth and awareness.
But, oh how sad and troubling this is.
Time to turn things around so that this doesn't happen again.
Happy Tuesday.