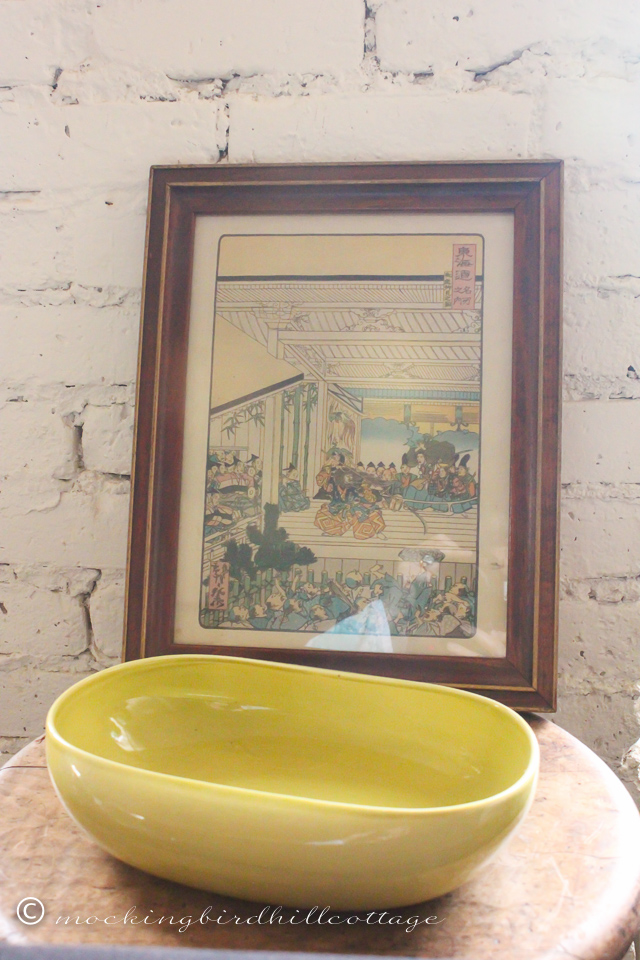 It's a cloudy, gray morning. Here's hoping the sun will make an appearance later in the day. This industrial stool has made an appearance in countless photos on this blog. I will often use it to stage a photo of a new piece of pottery. I suppose I love the combination of the worn wood and the bricks on the chimney.
Right now, with the move of the loveseat into the middle of the room, it's functioning as a side table. The pottery is Russel Wright, the wood block print is vintage. I can't remember where we found it, but we've had it for many years.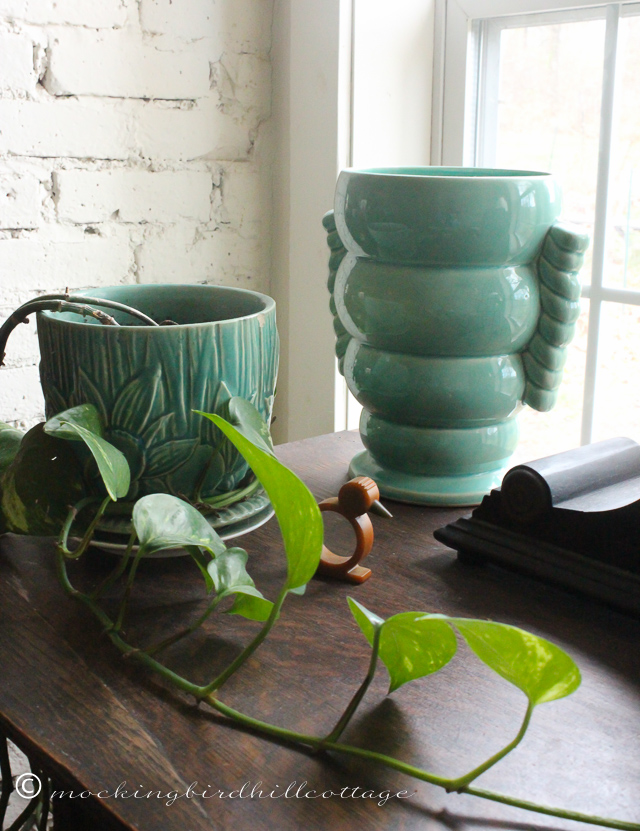 A familiar sight around these parts: McCoy pottery and bakelite.
I was sitting in the den this morning talking to Don and I noticed that one of the braces for the bookshelves was askew. After investigating, Don and I realized that the wood shelf is slightly bowed. That happens with pine, with any wood, actually. So we took the books off that shelf and rearranged things so the distribution of weight was more even.
And then I started sorting through the books. Which, after I'm finished with this post, will lead me into the bedroom, where I will continue to sort books and put aside any that I don't need. I was wondering what I would do with the day – now I know.
Yesterday was unbelievably windy – all day long. And now the leaves are off most of the trees. It's shocking. Yes, there are trees around here that are still in full color mode, but many are bare. In our case, our sugar maples seem to shed their leaves first, and the catalpa leaves shrivel up when we have frost of any kind, the trees surrounding the house are now bare. Sob.
I really, really, really hate to say goodbye to the leaves. The positive is that we have very little to rake at this point and we won't need to clean out the gutters.
My feeble attempt at The Glad Game. Remember Pollyanna? I think I'm going to be on the lookout for a vintage copy of Pollyanna. I love that story.
Happy Monday.