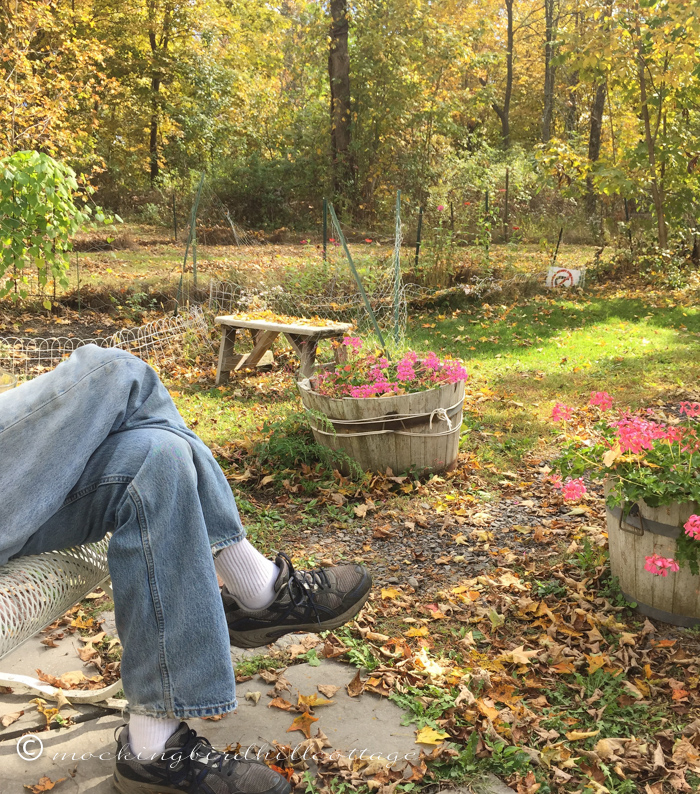 Gosh, it was a beautiful day yesterday. The sun came out, it was warm, but not too warm, and we found ourselves outdoors for a big chunk of the day. I'm feeling much better, so we did some raking. We also took a nice long trail walk.
As to the raking, we have far too many trees that are close to the house, which means we have to rake. We leave the back forty as is. I don't rake the garden beds because the leaves serve as mulch during the winter, protecting the plants. But the area around the house? Has to be raked. There are large and very old trees surrounding the house that drop tons of leaves. If I don't rake them, many of them will not  decompose, and I'll just have to rake them in the Spring. We're not anal about it, but we do keep up with it as best we can.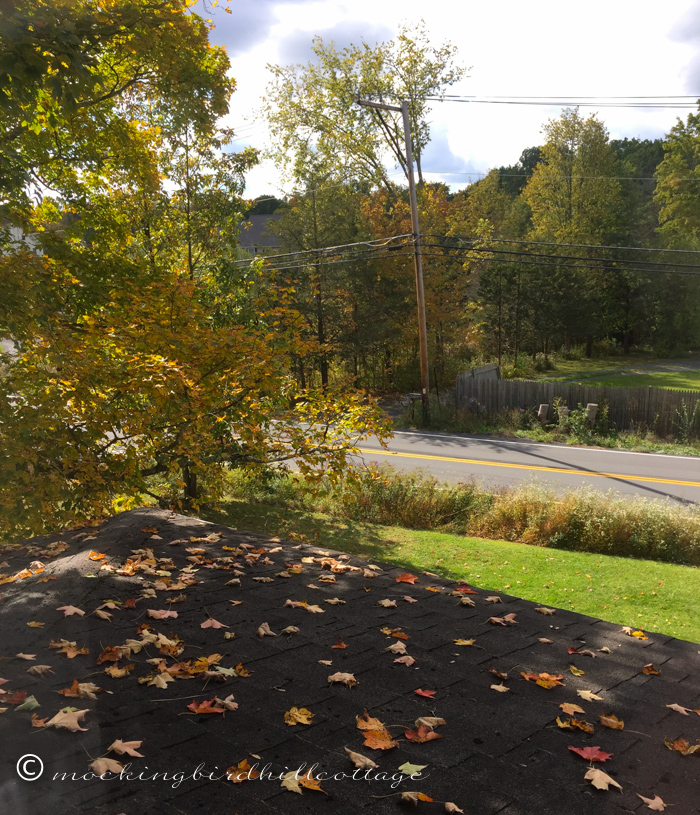 The view out my office/studio window.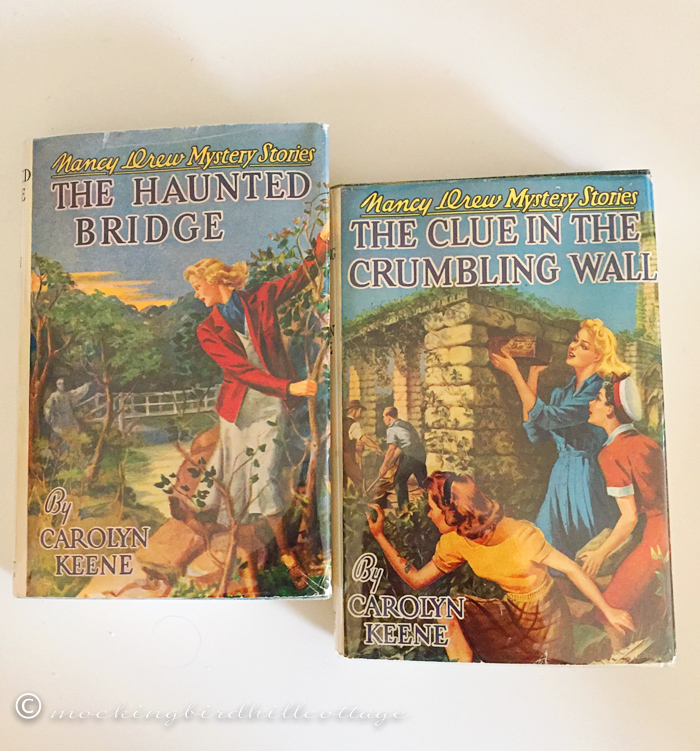 I found two more Nancy Drews with covers illustrated by Russell Tandy on eBay. They arrived yesterday. I can't get enough of these period illustrations – the colors are so vivid, the hairstyles fabulous, the fonts swoon-worthy. I now have five in my collection and I'm going to keep looking for them. They make me happy!
Someone appeared on the shed ramp the other day: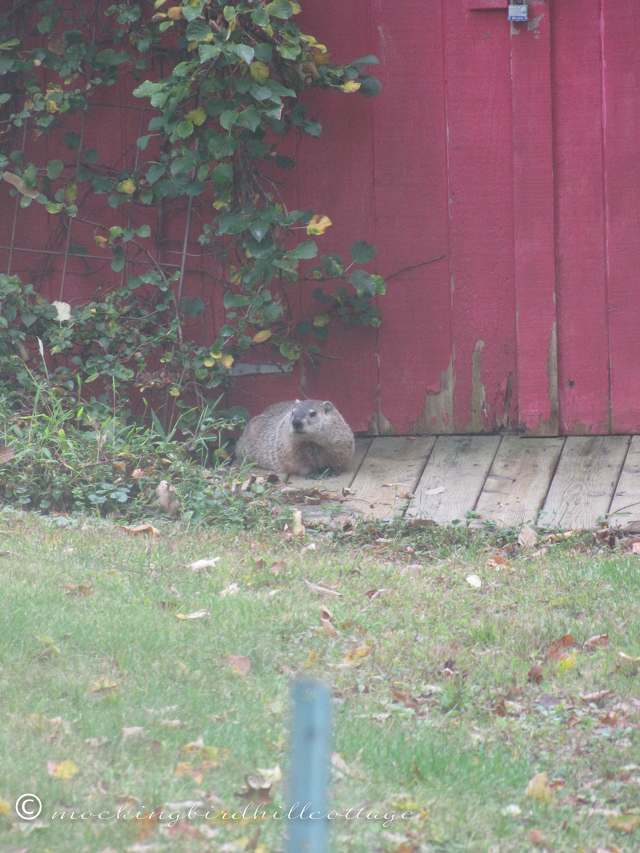 I happened to see him from the living room window, so I ran for my camera.
Dear, sweet Henry looks rather elegant, doesn't he?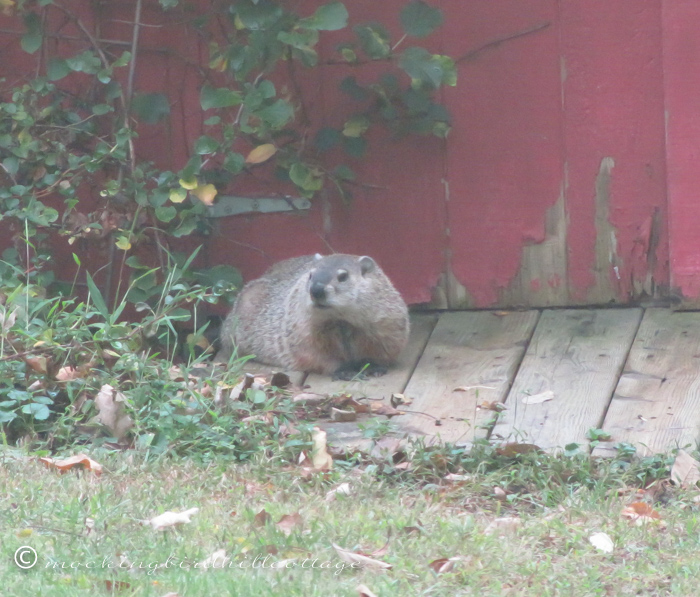 He deserves a closeup. I'd love nothing more than to walk up to him and pet him, but he's far too shy. It will never happen. I just keep telling him that I love him. And if I'm about to go outside and I see him, I'll stay inside until he's gone. Same with the birds in the birdbath. I don't like to disturb them, and I want them to get a drink of water, or a bath, or some food, in peace.
Don can tell you how many times I have given him the 'Halt' hand gesture when we've been just about to go out the door. After years of living with me, he calmly accepts it and waits.
On a sad note: I've recently learned of the death of a fellow blogger, Pat Freymuth of Back Porch Musings. I've known Pat since the very beginning of my blogging days. She was gracious and talented. She had a gift for making a house a home and was an excellent photographer. Always kind and simply lovely, she had been battling illness. My sympathies to all who knew her, especially to her dearly loved family. She will be missed. Rest in Peace, Pat.
Happy Tuesday.