Though I am definitely in nesting mode here at the cottage, the title of this post refers to two other forms of nesting. First up, I looked out the window of my studio the other day. To my left, I can see a few of the branches of the Sugar Maple.
Now that they're bare, I saw this (taken with my zoom lens):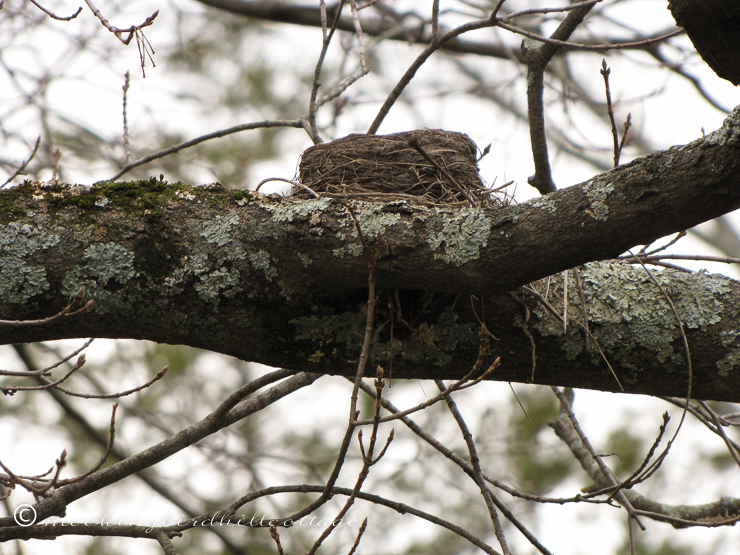 A perfectly beautiful and well constructed bird nest  It's always amazing to me how these nests stay up there in wind and rain. We've seen a few more nests on the property – way up in the trees – as well as on our trail walks. One or two are, I think, squirrel nests.
Thought I hate seeing the trees bare before the end of October, I do love seeing what was once hidden revealed. By the way, not all of our trees are bare. There are still leaves on all of the oaks, which spurred me on to take a walk through our woods the other day to count them. We have eight! A few of them are rather young in age, but there are also several stately and grand oaks.
The other 'nesting' reference? My Squint Box arrived in the mail the other day and the theme is Nesting.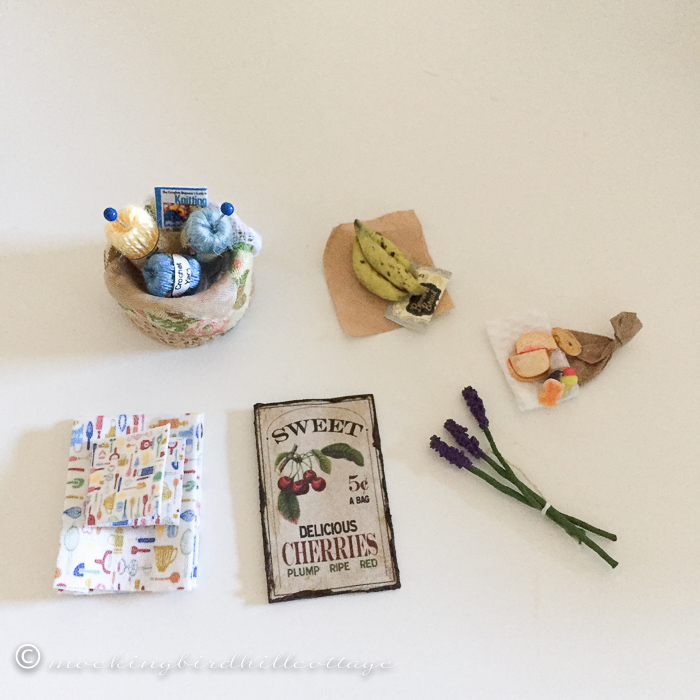 Starting from the lower left: a kitchen towel set, a rustic sign, dried lavender, a lunch bag snack with a sandwich, cookies, and fruit, ripened bananas with a recipe for banana bread, and a knitting basket.
Adorable and thoughtfully chosen by Darren. Thank you!
The best way to start the day today was a text from my sister with photos of my nephew, Little Z, in his Halloween costume. Oh my heavens, he is simply scrumptious! I could eat him up. I won't give it away since I think Meredith will be posting about it tomorrow.
And a Happy 23rd Birthday to Meredith's oldest son, who is away at school in Ohio! He's a great guy, that one. I miss him!
Wait, I forgot: Happy Birthday, as well, to my brother-in-law Ron, Don's little brother!
Today may bring some mowing. Maybe the last time? The grass is rather long, so I'm thinking we should tackle it.
Today marks the first day of what will be a daily reminder: VOTE.
Some of you are fortunate enough to have early voting in your states and I know you've already fulfilled your obligation and right as a citizen of this country. I have been eligible to vote in Presidential elections for over 45 years and I have never missed one. When I was away from home I voted using an absentee ballot. Your vote matters. The enemy of our collective power in the voting booth is talk of 'rigged' elections, or the belief that your state will automatically go blue or red, so why bother? Or using a false equivalency when comparing candidates. Do your research. Make a choice. Stand up for your rights.
This has been an unbelievably difficult and stressful campaign, I know. All the more reason to not  become complacent, to not give in to voter exhaustion.
Not voting is unthinkable to me. I'm not exaggerating when I say I couldn't live with myself if I didn't vote. And I will.
Happy Monday!