Thank you for wishing us a Happy Anniversary yesterday!
It turned out to be a lovely, picture-perfect Autumn day and we decided to drive to Woodstock to celebrate with a meal at one of our favorite vegetarian restaurants.
Hop in the car and we'll take you along with us. (All photos captured on my iPhone.)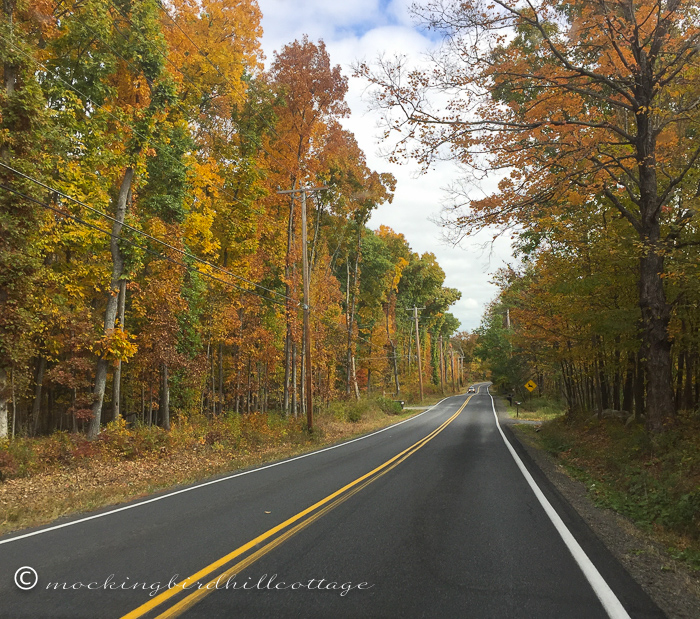 Further down the road from us – fall colors on display.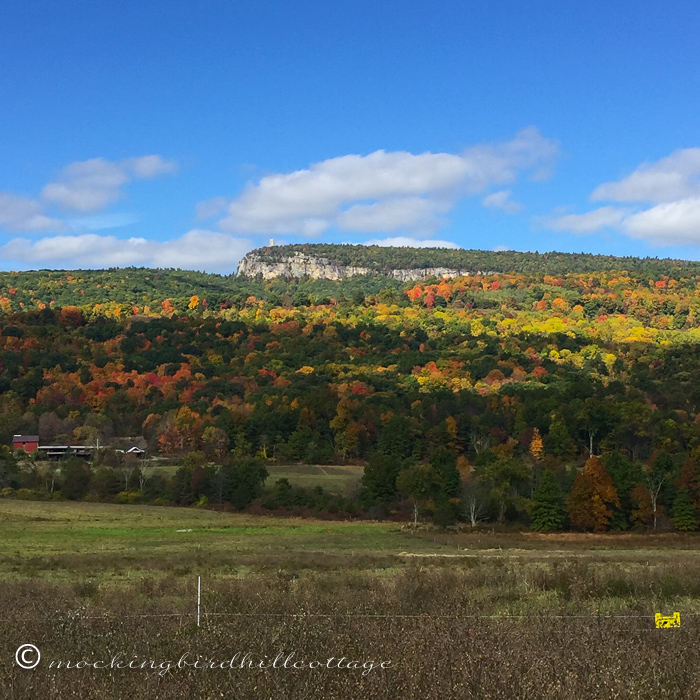 The mountains we can see from our front porch. This, however, is the best view – so good that we stopped the car so I could take this picture.
We took the back roads all the way to Woodstock; a leisurely drive that brought more than a few gasps at the beauty surrounding us.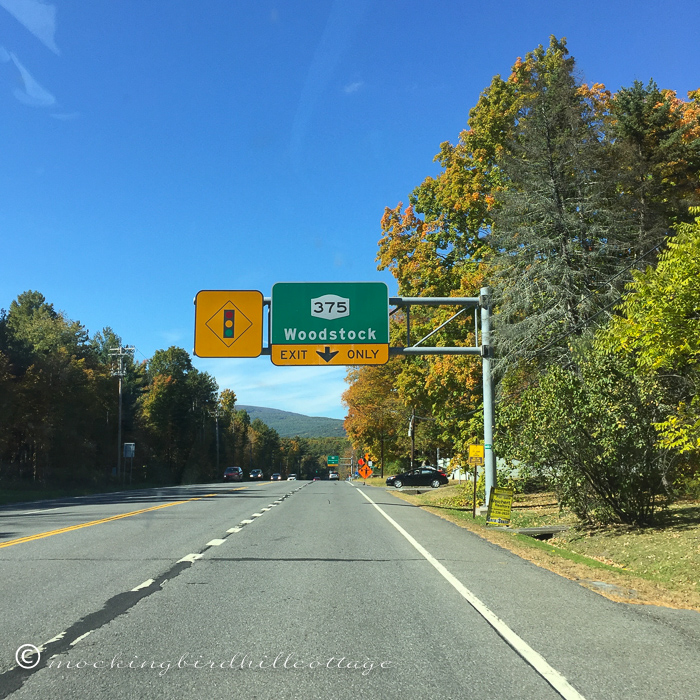 Those are the Catskill mountains in the distance.
A Little Free Library around the corner from the restaurant.
We love The Garden Café, but we hadn't been there for a while. They've expanded into the adjoining space and the whole place has been redecorated and I fell in love with the new look.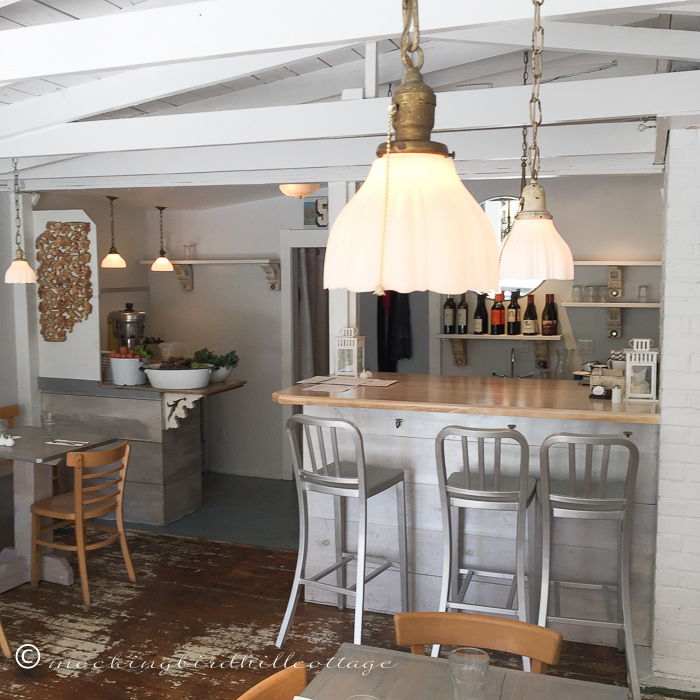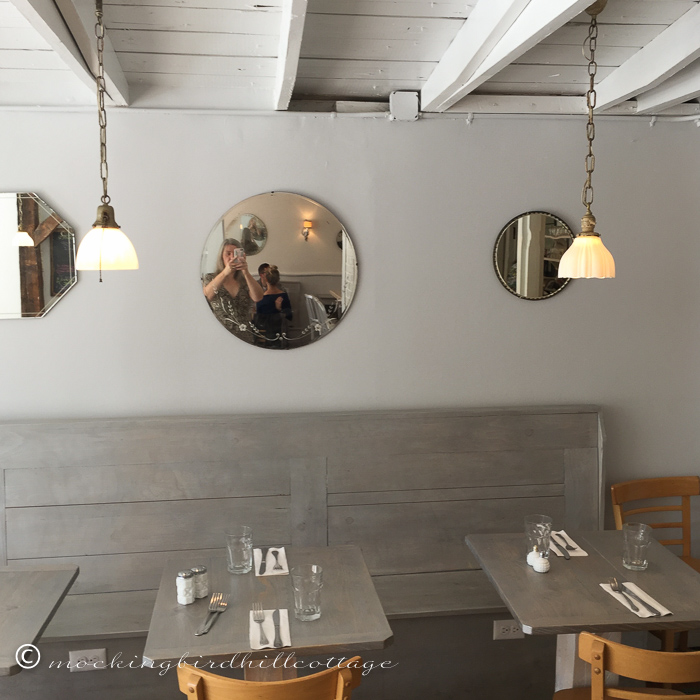 There are vintage mirrors, almost all of them round in shape, on all the walls. I'm now inspired to start collecting small round mirrors for the bathroom walls. I also loved the hanging lights.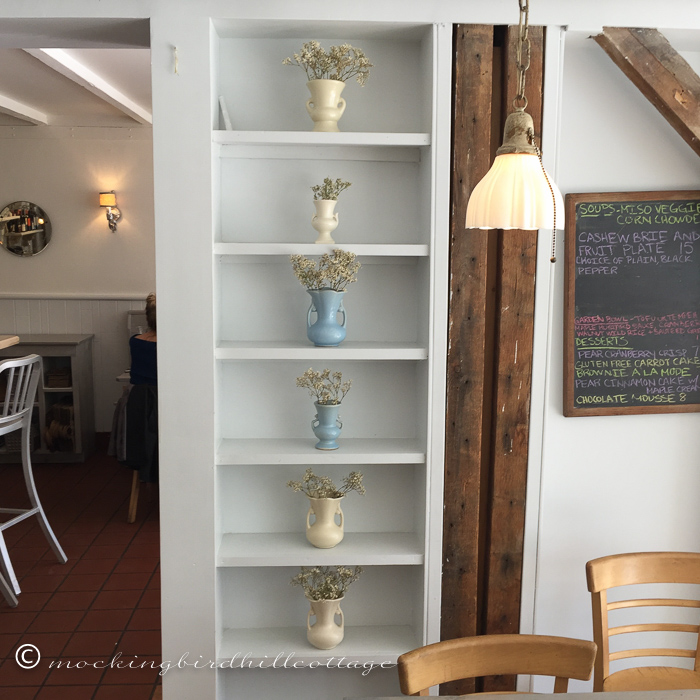 Can you imagine how thrilled I was to see this niche? Vintage pottery with dried flowers. Perfect.
I have to show you the bathroom.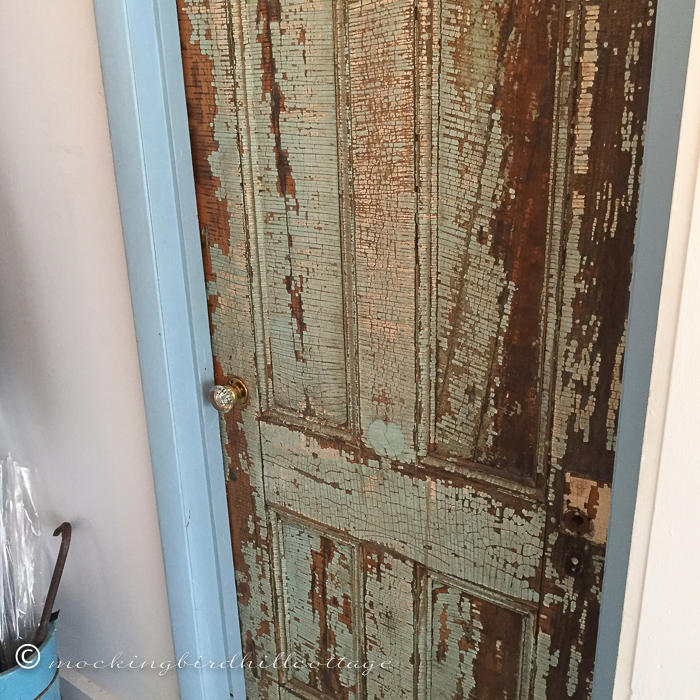 The bathroom door, which made me swoon a little. I would like this in my house, please.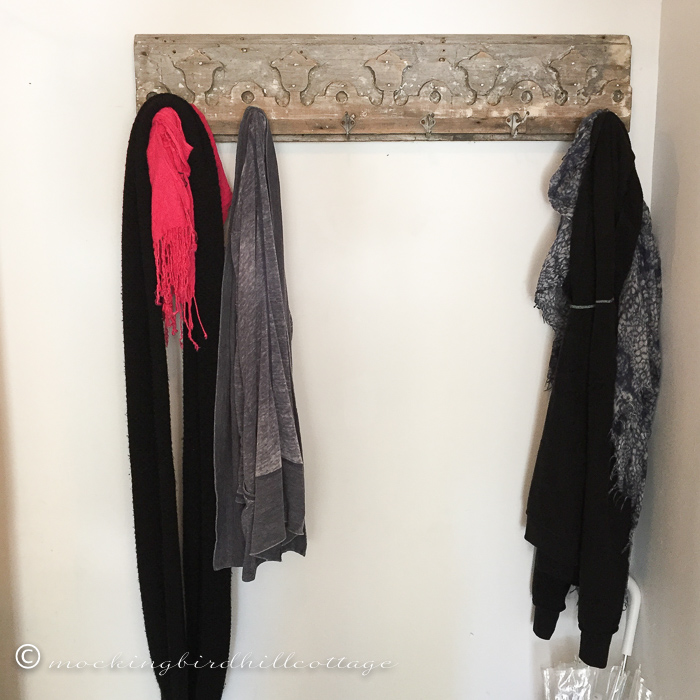 The coatrack right outside the bathroom door. Yes, of course, I'll take it. (I wish.)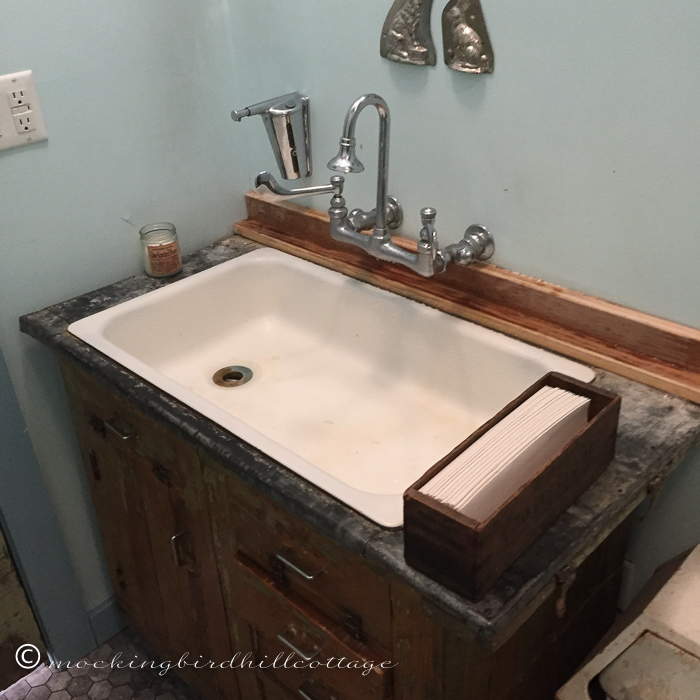 Love, love this sink. Reusing these vintage porcelain sinks is such a great idea. And then there's the vintage looking faucet and handles.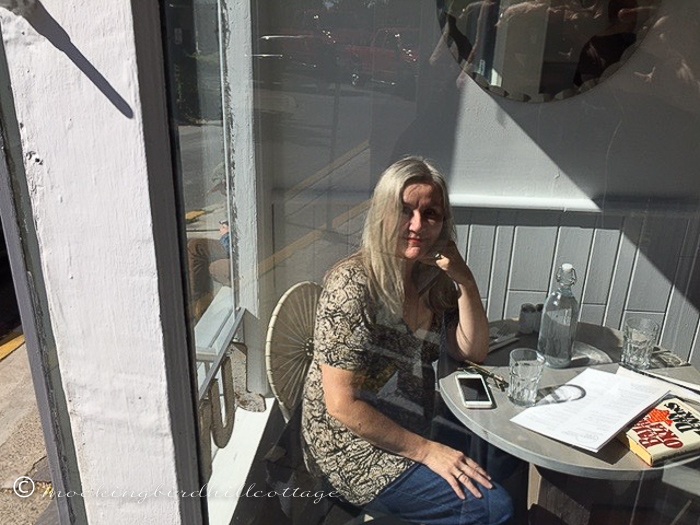 Don went outside to take this picture.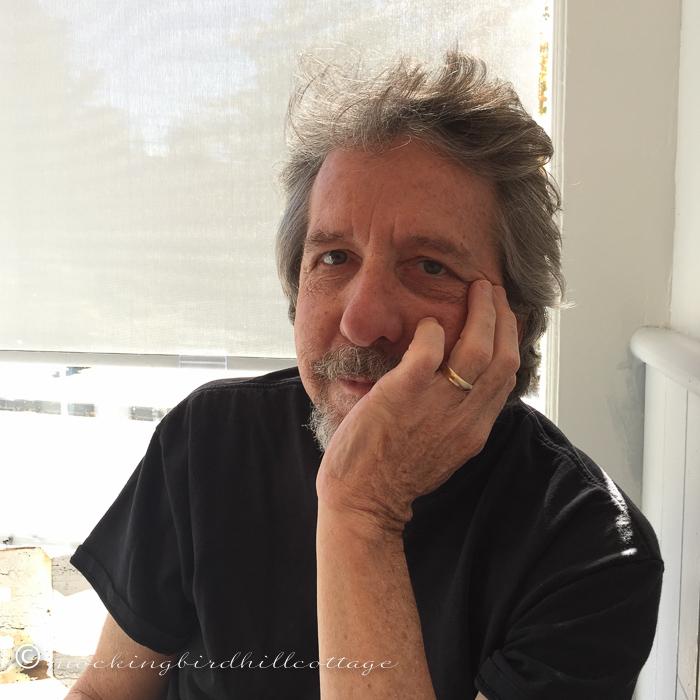 I love this man.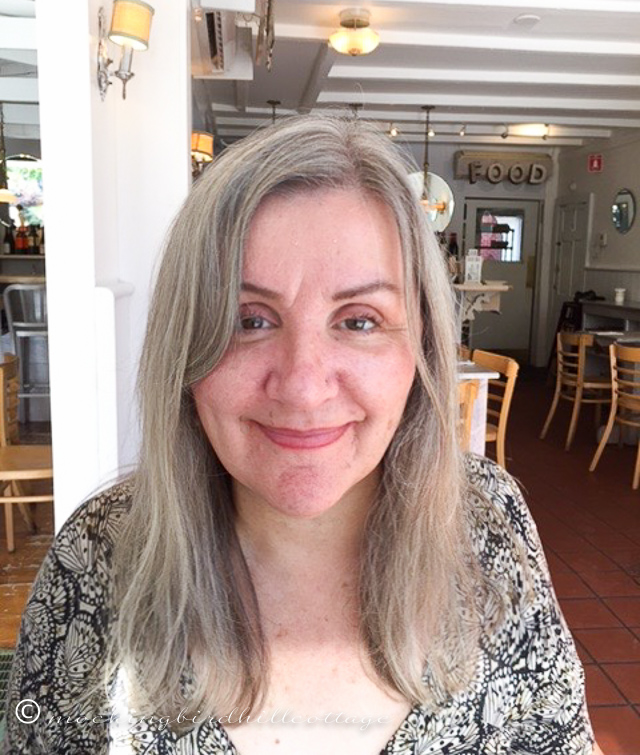 Yours truly. My freckles are back.
Lunch was scrumptious. We met a couple visiting from England (Eleanor and Mike) and had a delightful conversation with them. They told us that after observing us at our table, they thought we were on a date. (Love that!) I guess we were  on a date.
We exchanged email addresses and we're going meet for tea when we go to London.
After lunch we took a walk and Don, who was carrying a mysterious bag, steered me toward one of our favorite places in Woodstock – this covered bridge: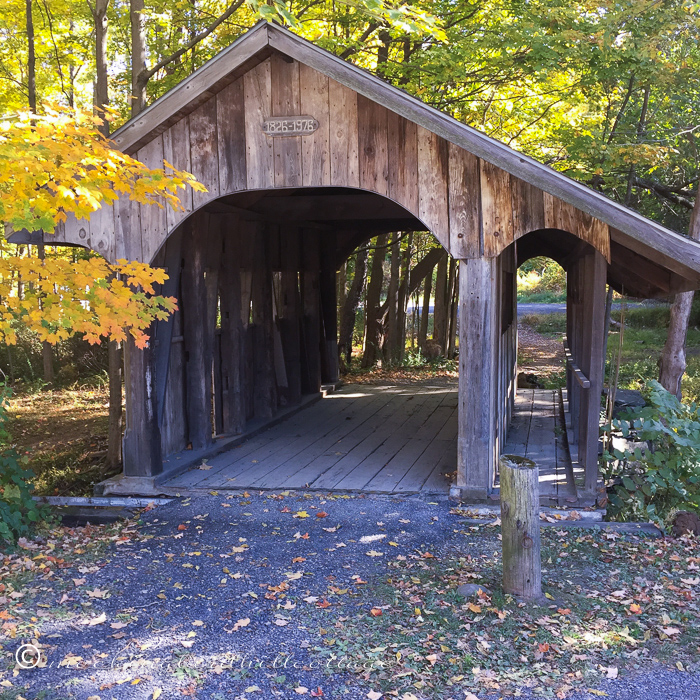 He pulled out two long-stemmed white roses. Back story: the man who married us eighteen years ago included the exchange of two white roses in the ceremony, and he urged us to do the same thing on every anniversary. We haven't always been able to do that – sometimes we just plain forget to – but Don snuck out yesterday morning and bought two roses. So we stood on the bridge and gave each other a white rose, taking a moment to share our feelings and renew our vow to love and support each other.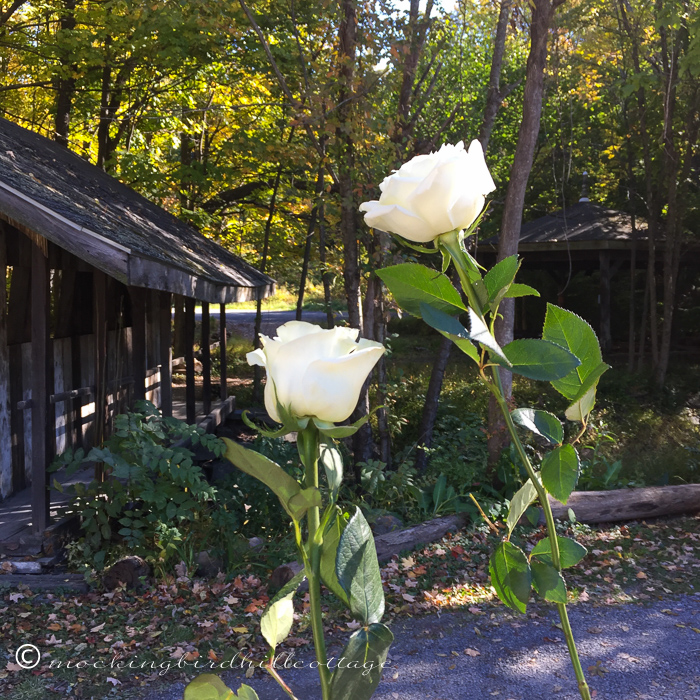 See? There they are.
We did a little window shopping (I actually bought a dress!)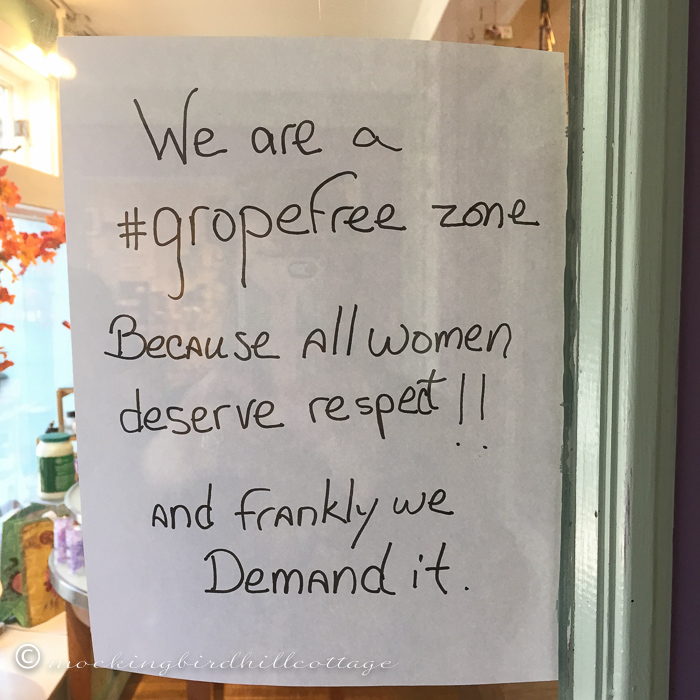 Thought you'd get a kick out of this sign in a shop window.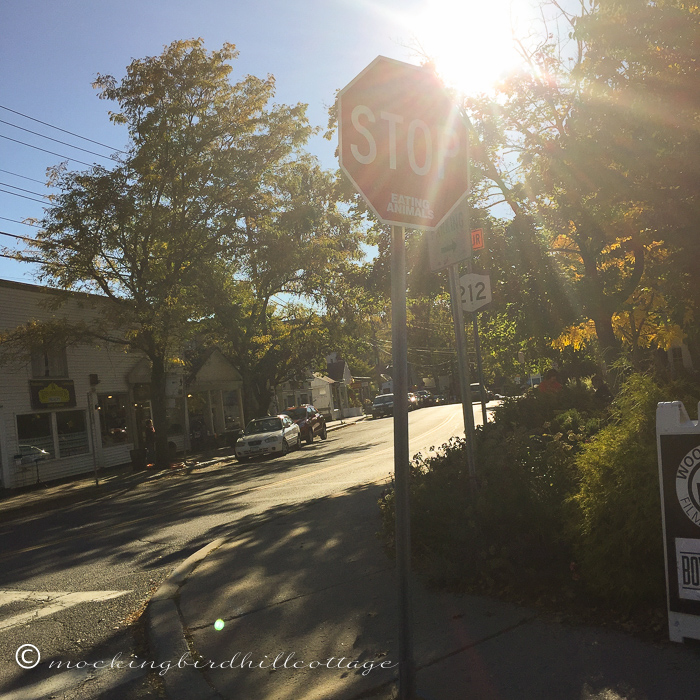 And this addition to the stop sign made me happy.
It was a perfect day. Slow, meaningful, beautiful, and full of laughter.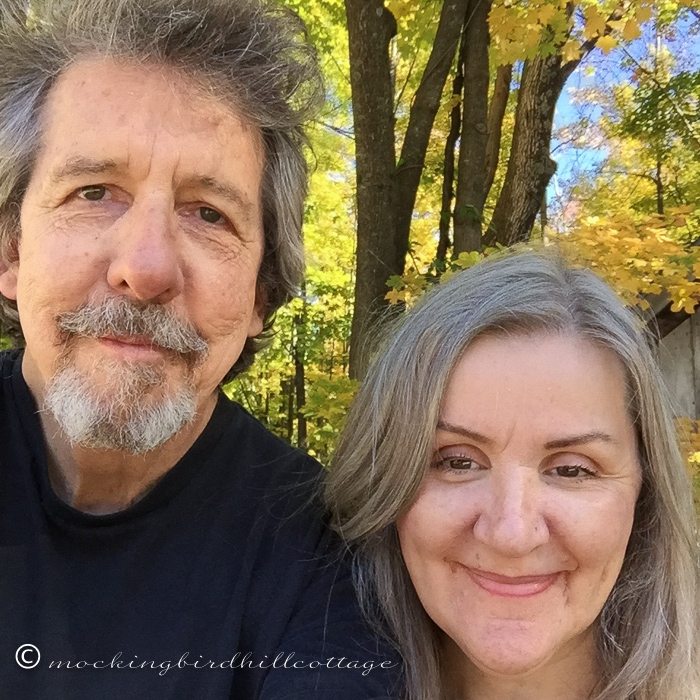 The obligatory selfie, taken by the bridge.
Thank you again. We love being married to each other and we are blessed by your friendship.
Happy Thursday.