Where is the rain that was predicted for yesterday and today? We've been going through this for a while now; weather predictions of rain and thunderstorms and showers….and nothing. Normally, I would love that, but we really need rain. I've never seen the rivers so low.
Today? More 'rain' predicted and I just looked outside and the sun has come out.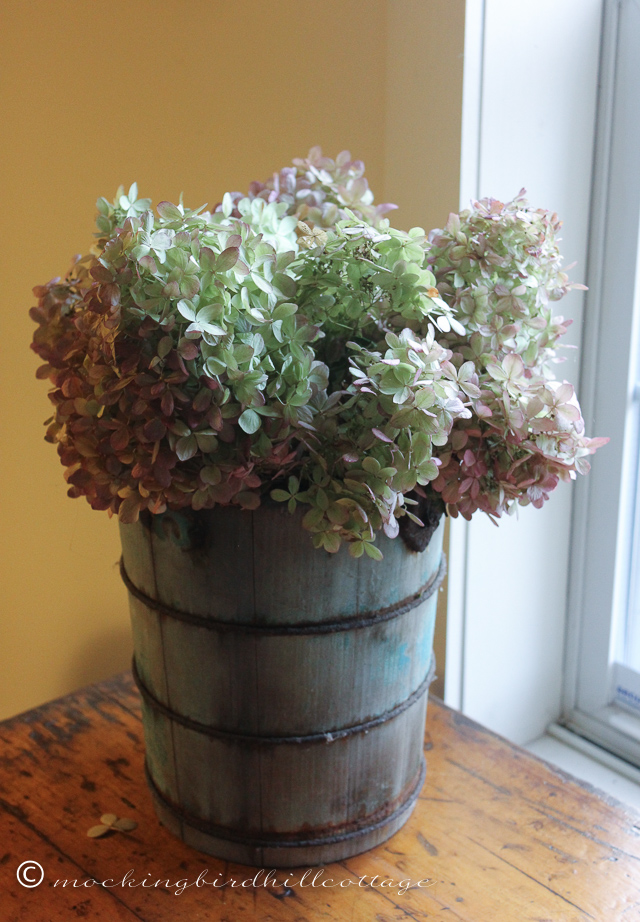 I added some more of the limelight hydrangeas. I think that's enough.
We're entering a new period here on the blog – that transition that happens every year when we move inside, with more indoor photos. Why? Because there aren't many flowers left, I say with a sob. And inevitably I panic, thinking what the heck will I write about?
After eight years, you'd think I would trust that I'll find something post-worthy. But then again, eight years is a long time and after writing this blog for so many years, how interesting can the daily minutia of my life be? Especially when I'm posting every day?
I truly love writing this blog but sometimes I have the urge to chuck it all. (Don't worry, I'm not.) Today for example, the email that connects to the blog wasn't working. When I signed onto the blog, I was unable to upload photos. (Both of these issues have been resolved.) There are attempts to hack into this blog (and every blog and website out there in cyberspace) on a daily basis. Technical glitches happen.
And some days I just don't know what the heck to write about.
Then I think (just for a second, mind you): Everything would be easier if I just deleted the blog(s). But immediately after that thought, another thought follows: If I did that, I wouldn't be able to write and post photos and have a conversation with all of you. I wouldn't have contact with all the friends I have made through this blog. I would no longer have the daily discipline of sitting at my desk in the morning, gathering my thoughts, uploading and editing my photos, editing and re-editing my post, and responding to your comments throughout the day. And I can't imagine that at all. I can  imagine, however, how sad not doing all of that would make me.
Silly, but true. Every blogger wrestles with these thoughts, especially after they've been at it for several years.
But the fact is, this blog has made an enormous difference in my life. Frankly, though Don is the most supportive partner I could ever hope to have, if I ever thought seriously of not blogging anymore, he'd sit me down and talk some sense into me. Because he knows what a powerful thing this blog is for me, the many ways in which it has enriched my life. And his life, as well.
Transitions are definitely not easy for me. The change of seasons, winter on the horizon, my flowers dying – a touch of melancholy is in the air surrounding me. The first anniversary of my dad's death is at the end of this month. I'm sure all of this is part and parcel of my mood today.
Oy. I don't want to sound too morose! I have lots to do, I just have to get motivated to do it.
Maybe, however, we need these periods in life where we move slowly, think and read, knowing there's lots to do yet knowing we are not ready to do any of it. I'm thinking now as I write this that, like grieving, this is something we should just allow ourselves to feel, to experience. Not to hurry it, not to deny it, but let it be, if we have the luxury of letting it be. And I do right now. So I will.
Happy Friday.