Warning: Picture heavy post. And I'm only posting a few of the hundreds of photos I took at the Vintage Car event.
We had the best time! The event itself was a lot larger than we expected and it was a glorious day. There were cars everywhere. It all took place on the grounds of this estate on the Hudson River: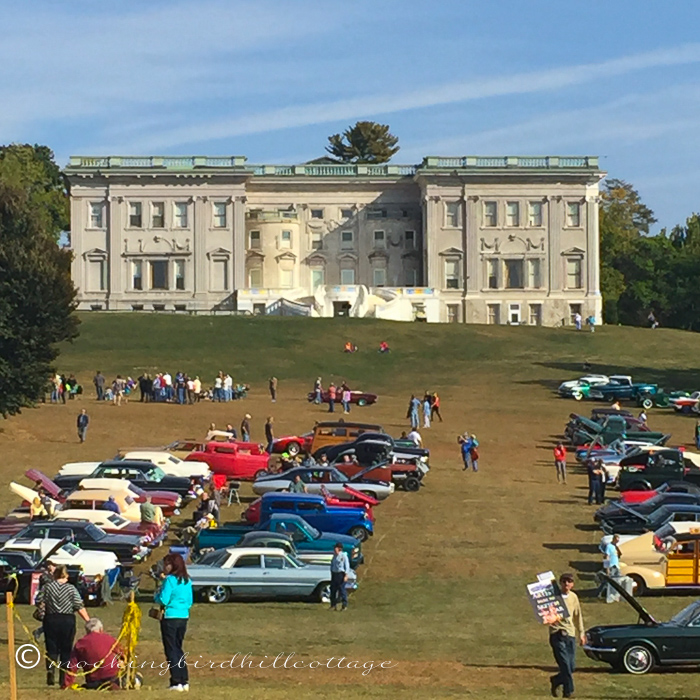 That's the back of the estate.
You know me, I loved all of the cars – and there were many – in this particular shade of turquoise/aqua/whatever you want to call it.
Hello! A gorgeous car with what look like teeth, don't you think?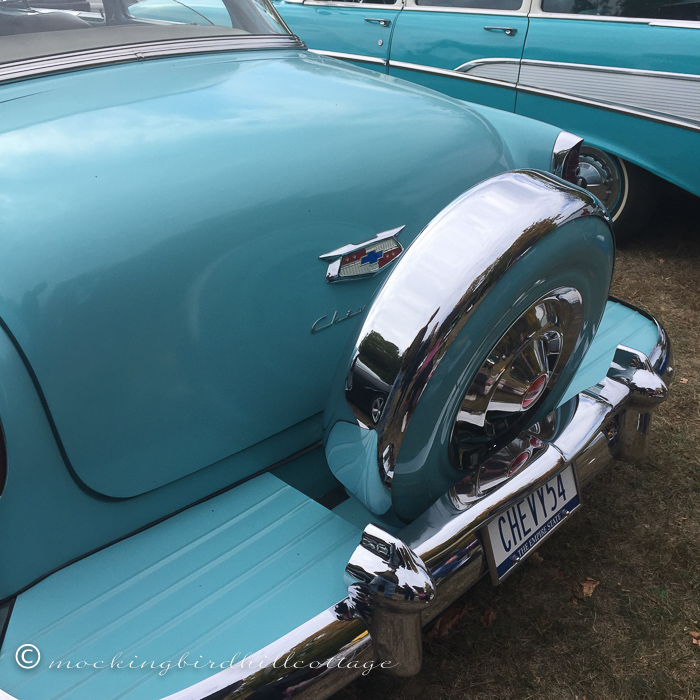 If we said "They don't make them like that anymore" once, we said it a thousand times. Check out the wagon next to this car. I was in heaven.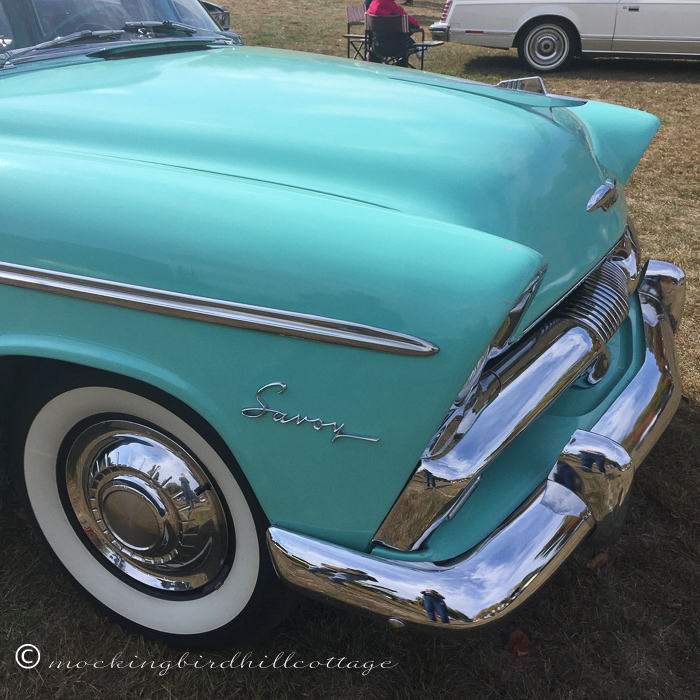 And another. I love that the model is the Plymouth 'Savoy' as in Stompin' at the Savoy by Benny Goodman, or the Savoy Hotel in London. And why the heck have auto manufacturers stopped using whitewall tires? I absolutely loved that look.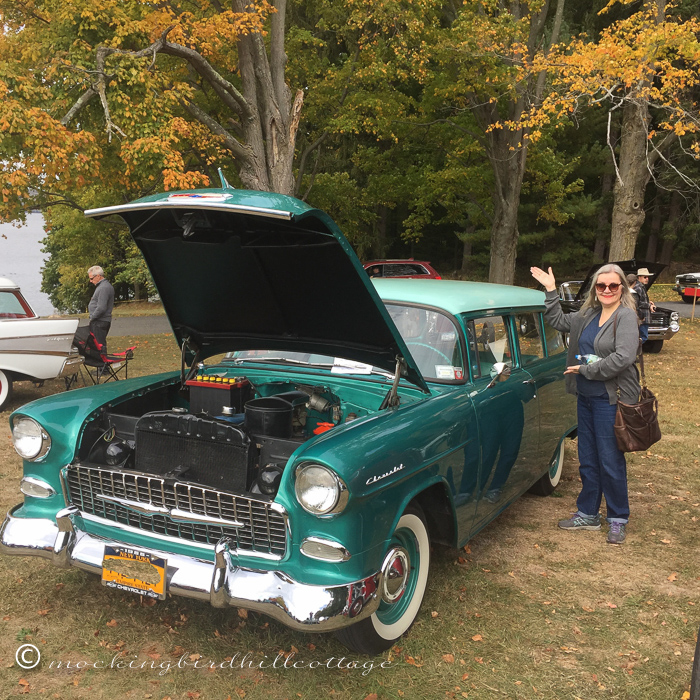 I really, really loved this 1954 Chevy 150 wagon, which the owner said was the basic model with no frills. Basic, but so cool! I'd take in a second. It was one of my top picks for the day – I'm indulging in a fantasy that it's mine and I could use it to run errands and load in antiques and generally look cool.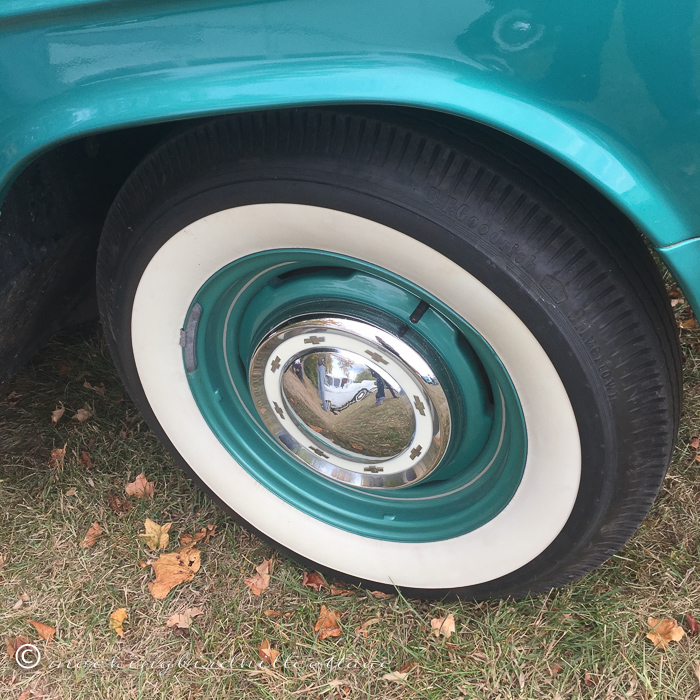 I mean, look at the detail on the hubcap! I'm extremely covetous of this model.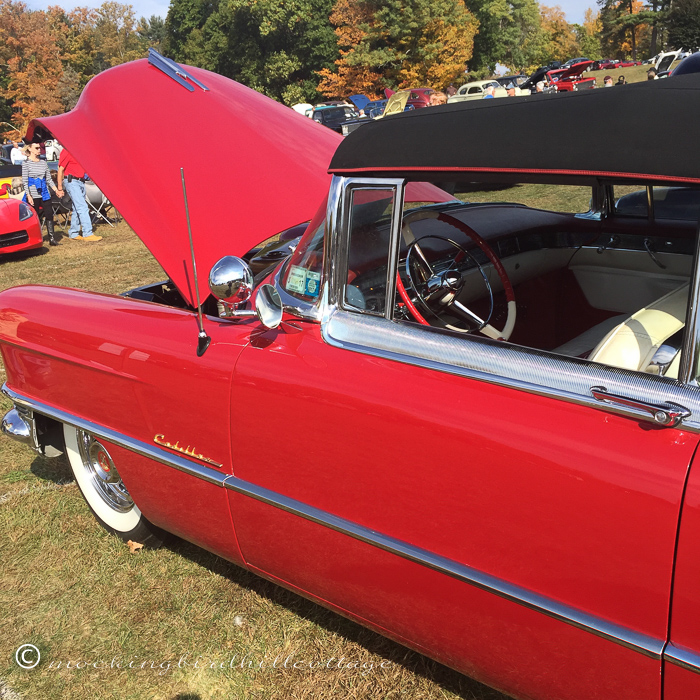 A vintage Cadillac Eldorado.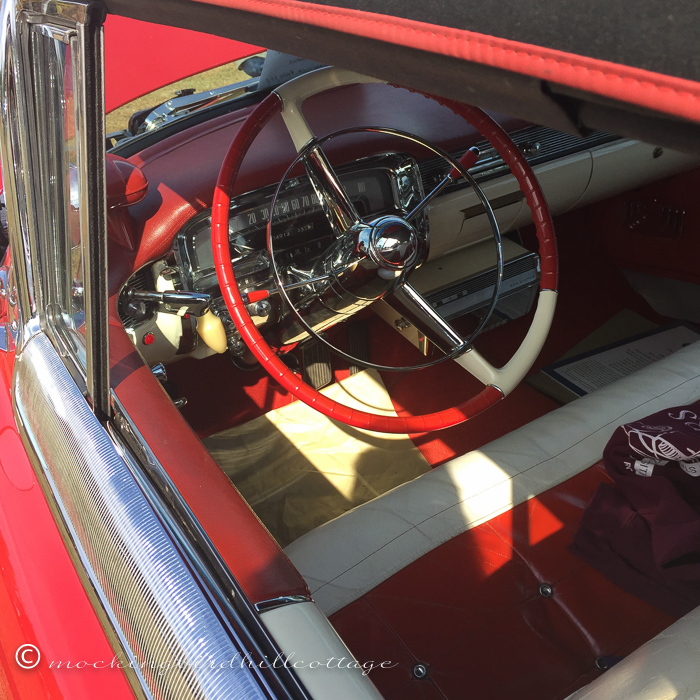 The interiors were just as fascinating as the exteriors, if not more so. Everything matched. The same two-toned look on the steering wheel, dashboard, and seats. We really don't see that anymore.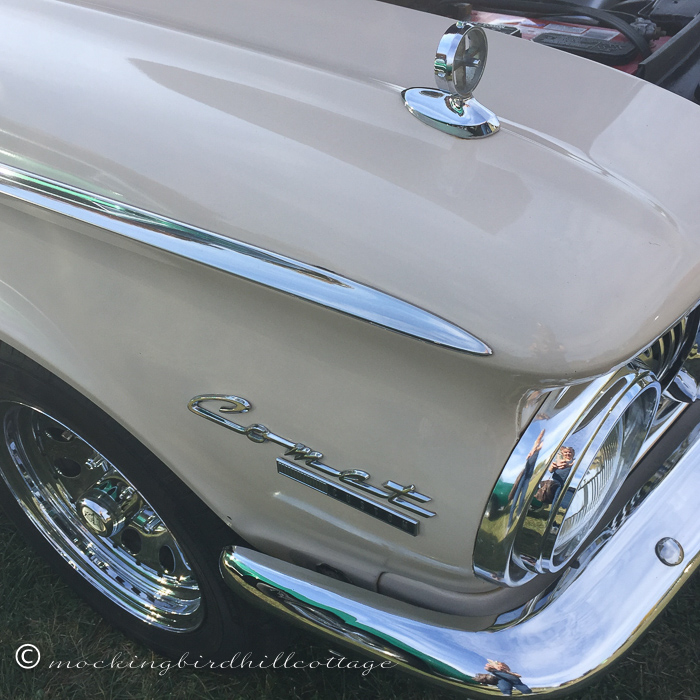 A Mercury Comet.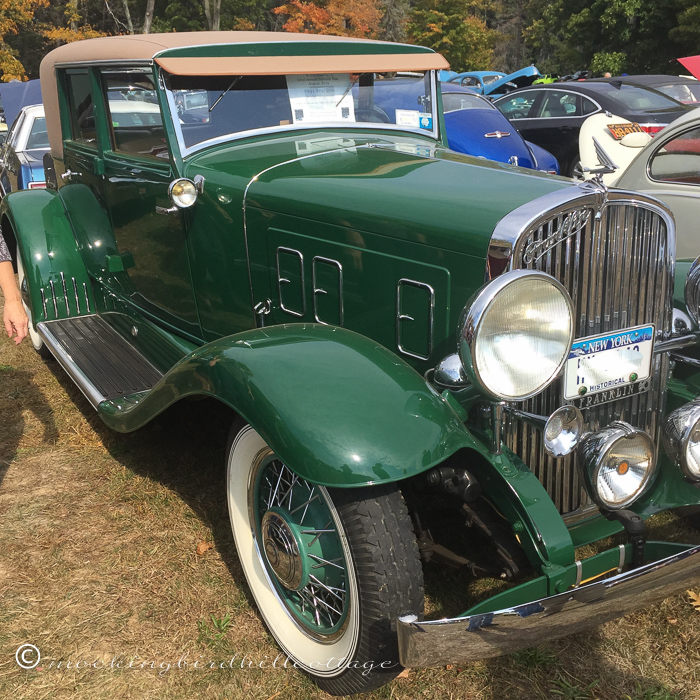 This is a Franklin. We had the most fascinating conversation with the owner. His son's Franklin was also on display. They were made in Syracuse, NY and had all sorts innovations – the engine was built like the engine on a plane. In fact, Charles Lindbergh owned several Franklins for just that reason. The owner took us on a tour of the car. Amazing. The company is still in existence, under another name nowadays, and they make aircraft engines.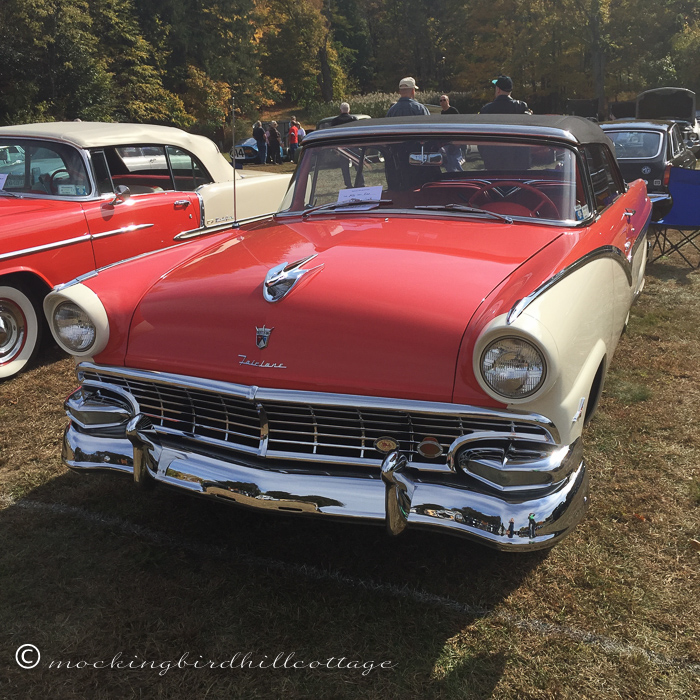 This 1956 Ford Fairlane convertible was one of our favorites. In fact, it is  Don's favorite for the day. Isn't it gorgeous?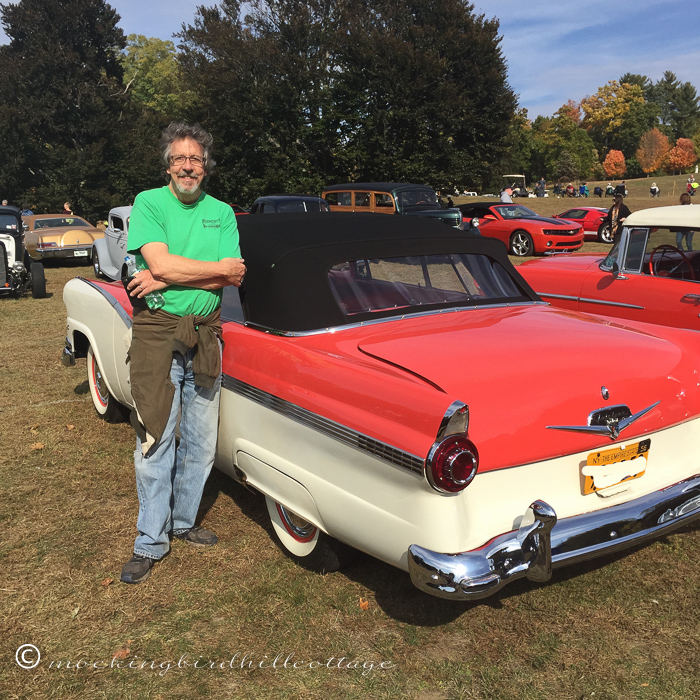 Don with the car he would like to own someday. Heavens, it was gorgeous.
I grew up in Dearborn, Michigan, the home of the Ford Motor Company. The world headquarters was just a half mile from my house. Most of my friends had parents who worked for Ford. Or General Motors or Chrysler – as we lived right next to Detroit. Cars were everything in my hometown.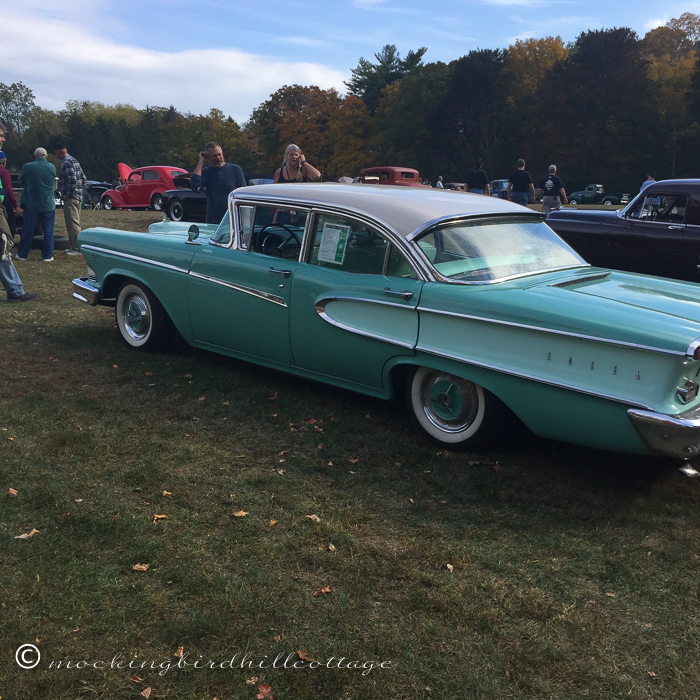 So imagine my delight when I saw this Edsel! This short-lived Ford model is a rare find. My brother's first car was an Edsel. And my high school was named after Edsel Ford, the son of Henry Ford.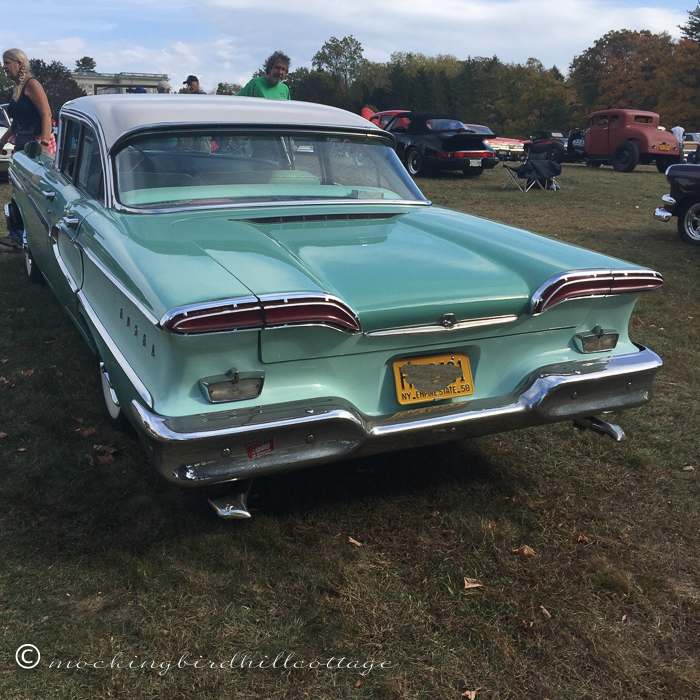 This Edsel was gorgeous. My brother's was black.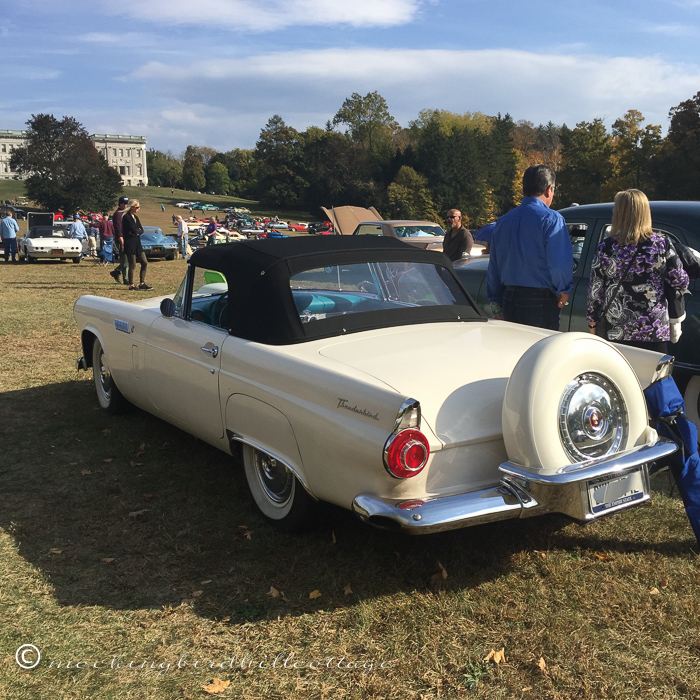 Oh my goodness. A Thunderbird. I've always loved vintage Thunderbirds and, I have to add, my high school team was called The Thunderbirds.  Or T-Birds. Oh yes. Cars are in my Michigander blood.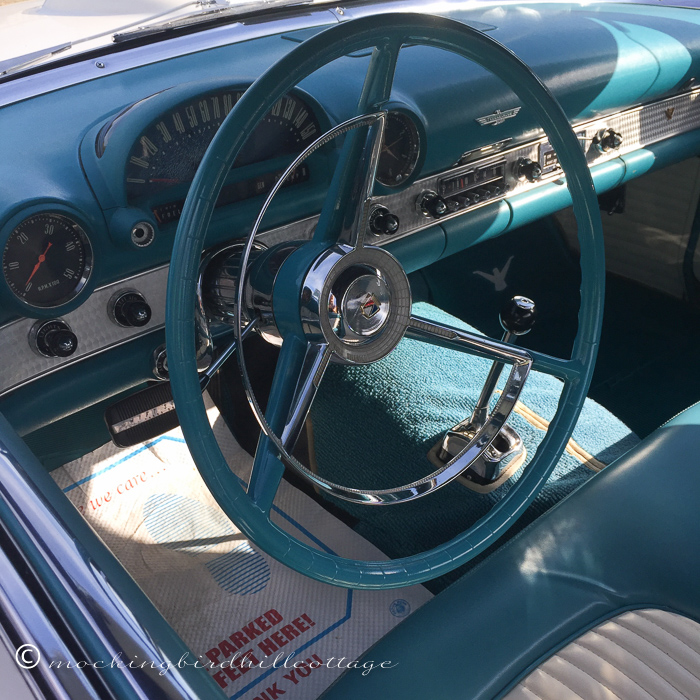 The interior of the T-Bird.
Just stop. I want it.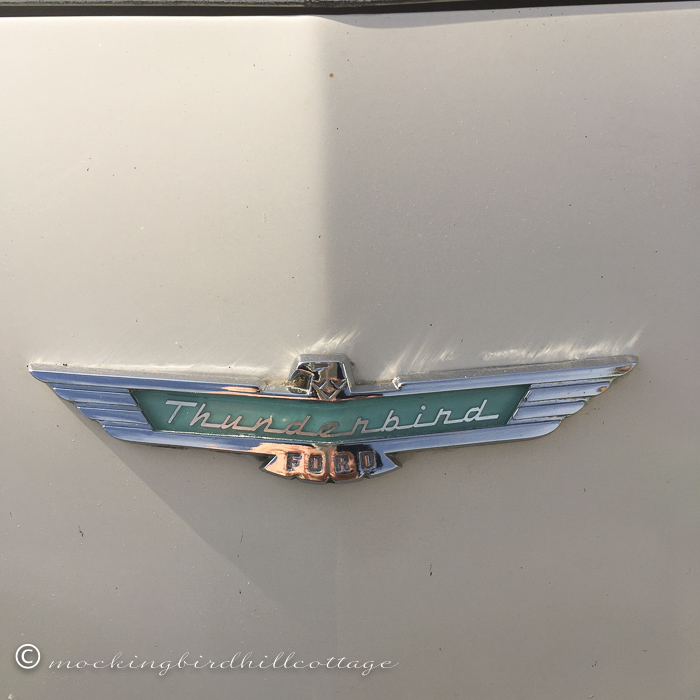 I'd be happy with just the logo, in this shade of blue, please.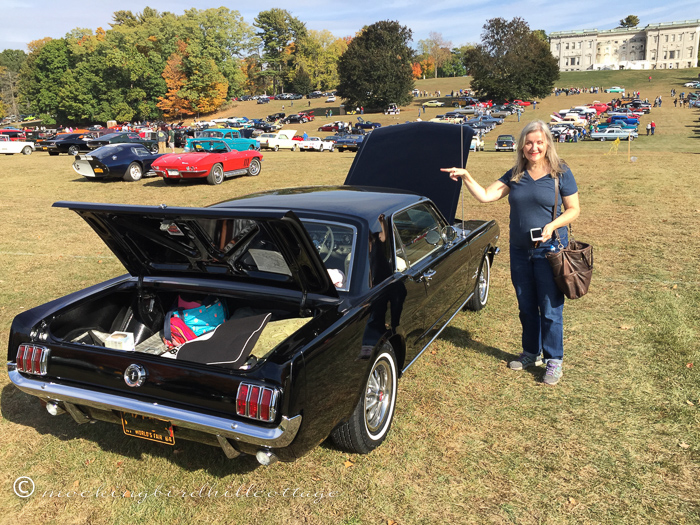 But if I could have anything it would be a Ford Mustang, circa 1964, 1965, or 1966. I love them. Love, love, love them. In this picture, I'm telling Don that I would like this for my birthday.
In my dreams.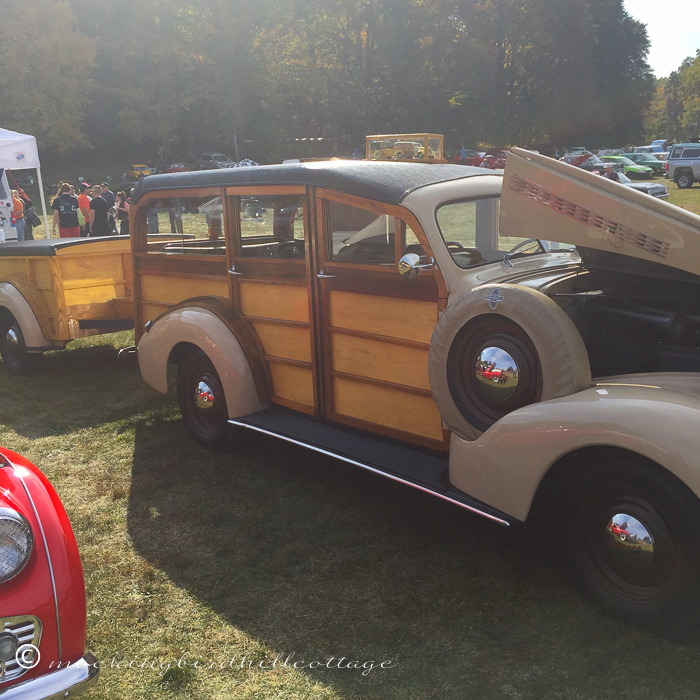 A 1939 Chevrolet Woody wagon. The interior, including the roof, was all wood.
And finally, our friend Al was there with his vintage 1964 Volvo.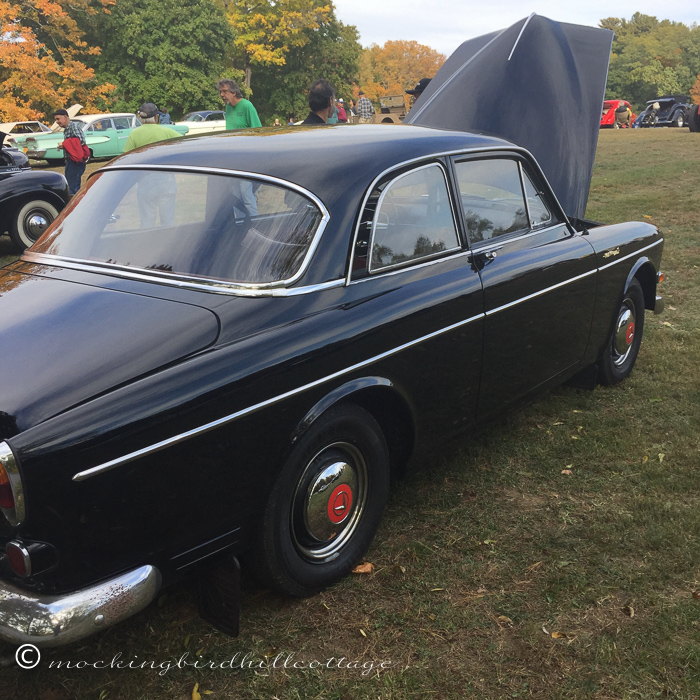 It is so cool. He bought it from Tom of Tom's of Maine (they make natural products, like the toothpaste we use every day.)
And here is the view from the show: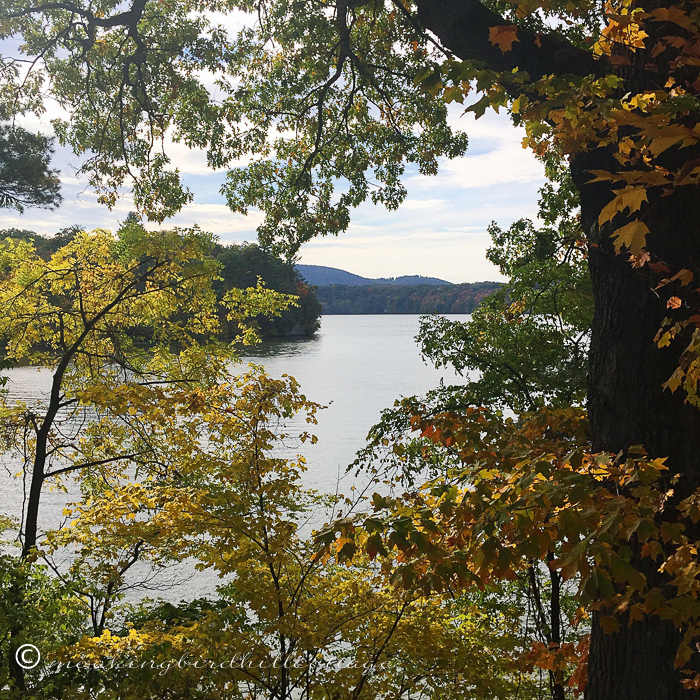 Not bad, right? The beautiful Hudson River.
Such gorgeous designs. Now, every car looks like every other car. An Accord looks like a Ford looks like a Chevy looks like a…
I have a few more photos that I'll share with you in the next few days. I hope you enjoyed coming along on our little journey!
Happy Monday.