Yesterday, we went to the Woodstock Invitational Luthiers Showcase and it was simply incredible. This is a yearly event in which luthiers (makers of handmade guitars, mandolins, banjos, dulcimers and fiddles) can showcase their creations. There are also performances on the stage all day long, with musicians playing the instruments so the audience can hear how they sound. Along with that, there are workshops by renowned musicians.
It was held in three different buildings in Bearsville, which is really part of Woodstock. It's a historic area (Don has played there before) where musicians have played for years, including Bob Dylan and Levon Helm. The building next door was the house of legendary manager and producer Albert Grossman. The Bearsville Theater, which was the main venue for this showcase, was Grossman's idea, finally opened after years of construction by Grossman's widow. Grossman, by the way, was a visionary, with a stable of artists that included Dylan, Peter, Paul & Mary, Janis Joplin, The Band, and Todd Rundgren. In fact, the other building – Utopia – was originally Rundgren's video studio.
That's some of the history surrounding this complex of buildings.
Here are some photos: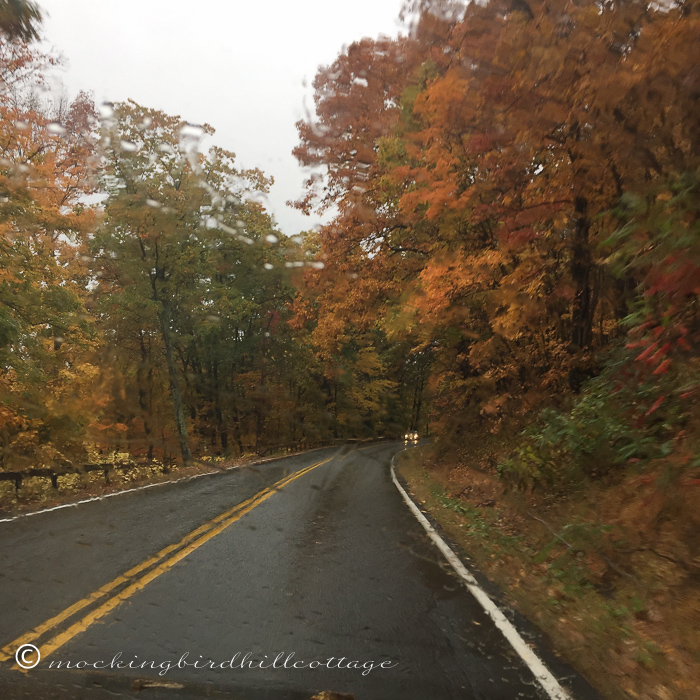 The rainy road to Woodstock.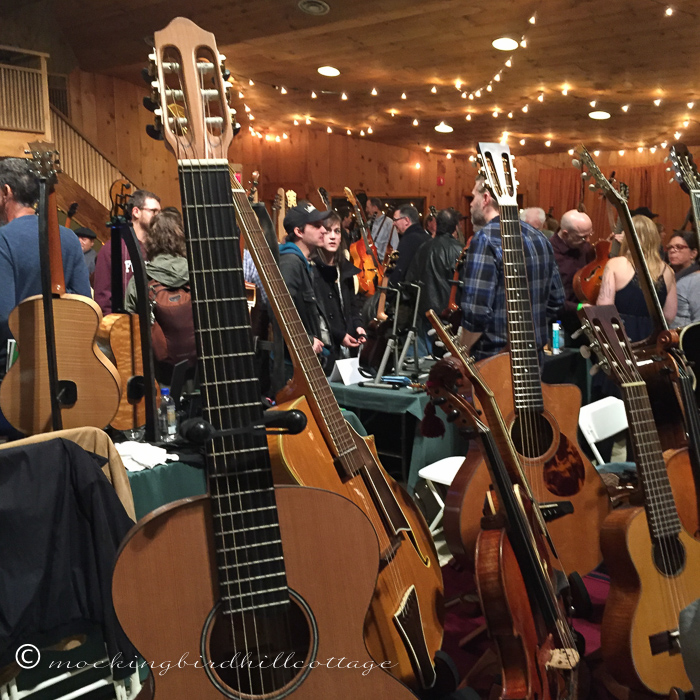 Right inside the entrance.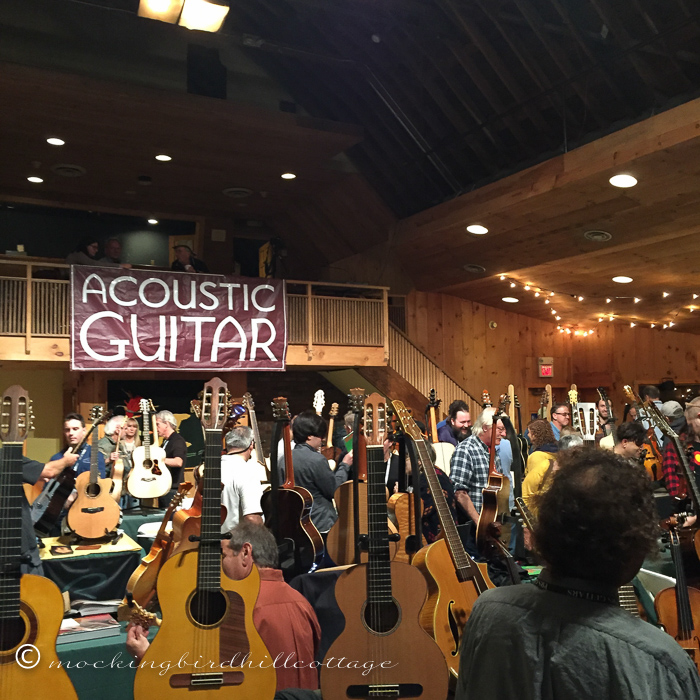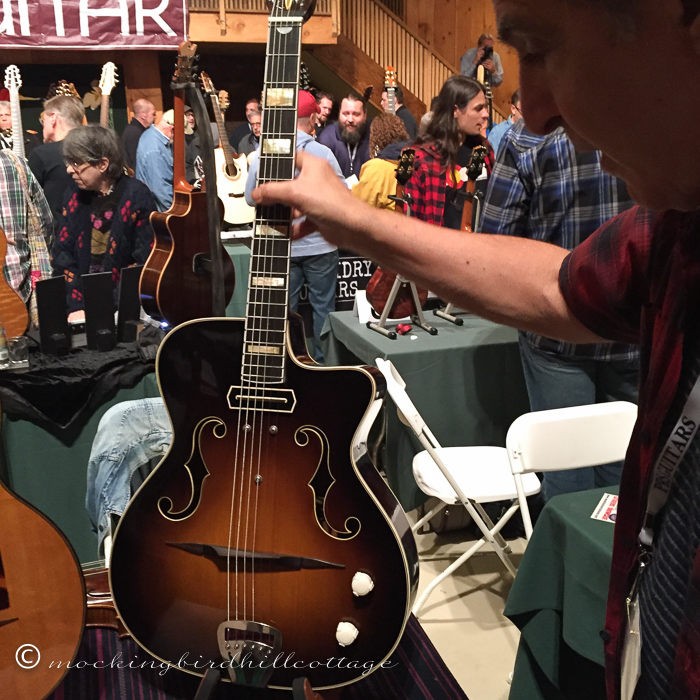 This is a guitar made by Rodrigo Shopis, who lives in NYC. He is inspired by the music and guitars of the legendary Django Reinhart.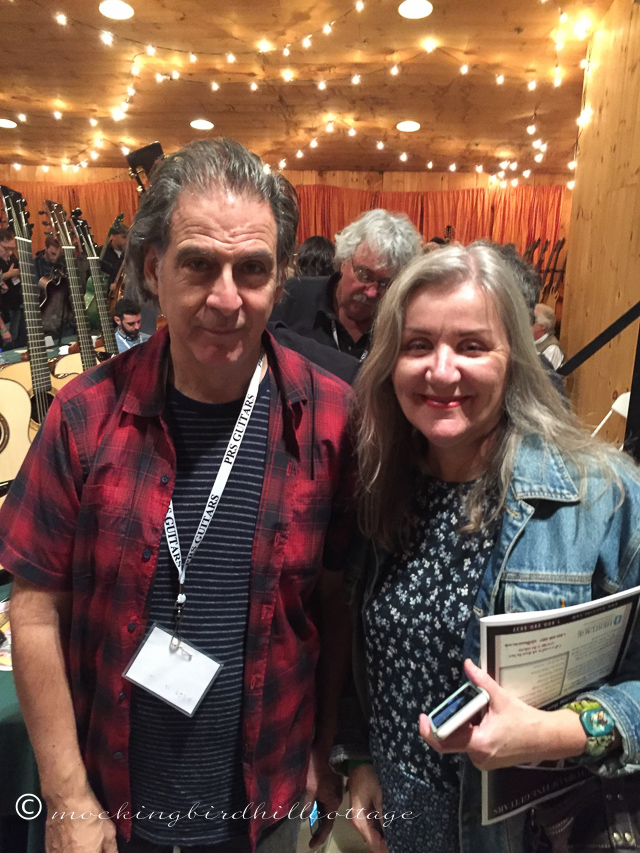 Rodrigo and yours truly.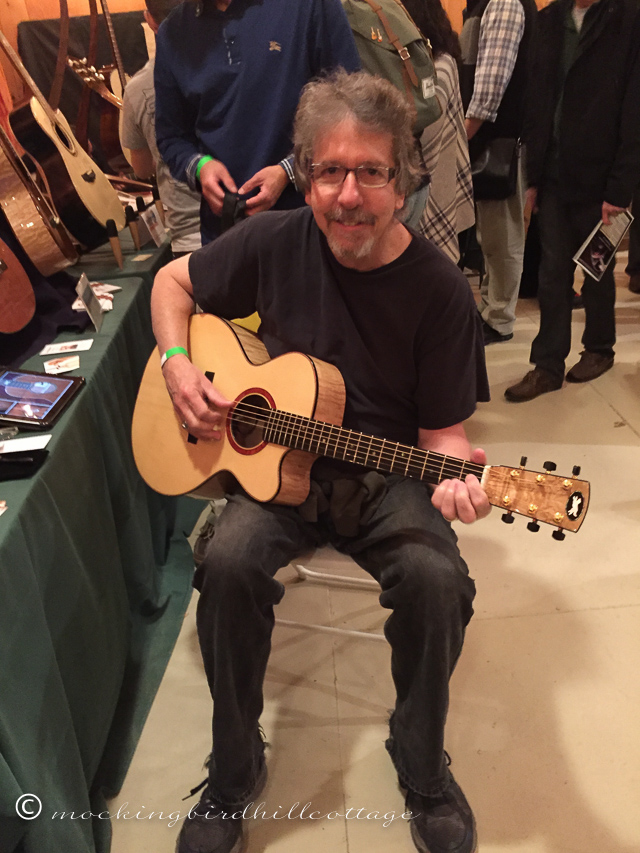 Don playing a guitar made by Rick of Running Dog Guitars, based in Seattle. I fell in love with these beauties and we had the opportunity to listen to a demonstration of their beautiful sound later in the day.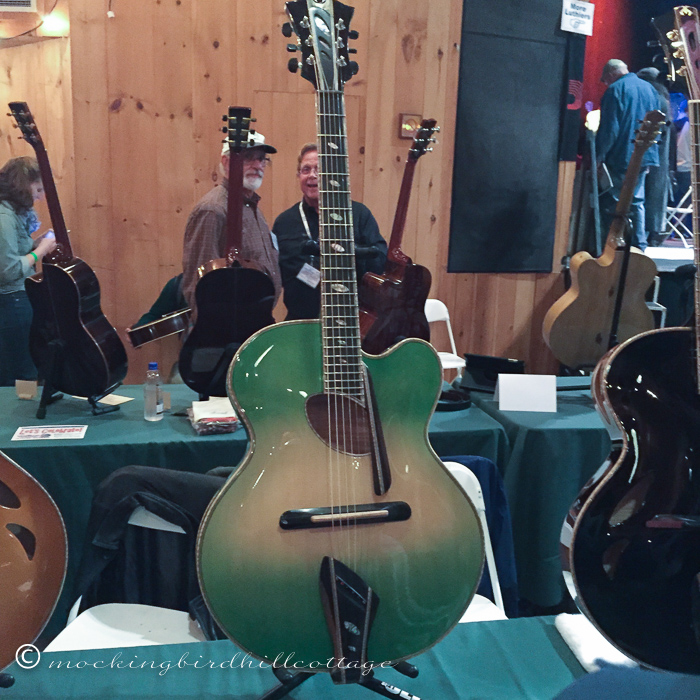 I'm sure you understand why I fell in love with this one. If I could have this, I'd take up the guitar – I promise!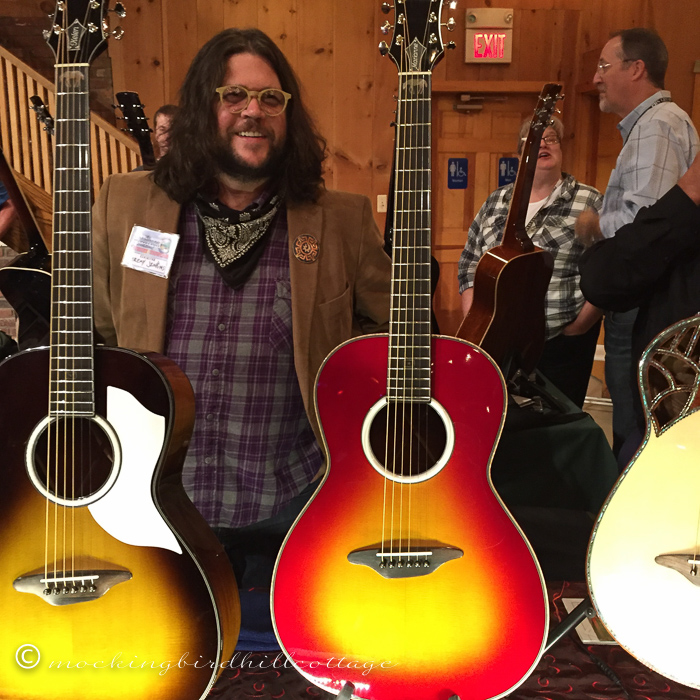 Lame Horse guitars – a father/son enterprise (Chris and Jeremiah Jenkins) out of Austin and Dallas. Jeremiah has a pin on his lapel that is almost exactly the same as a vintage pin I own.
We bonded, of course.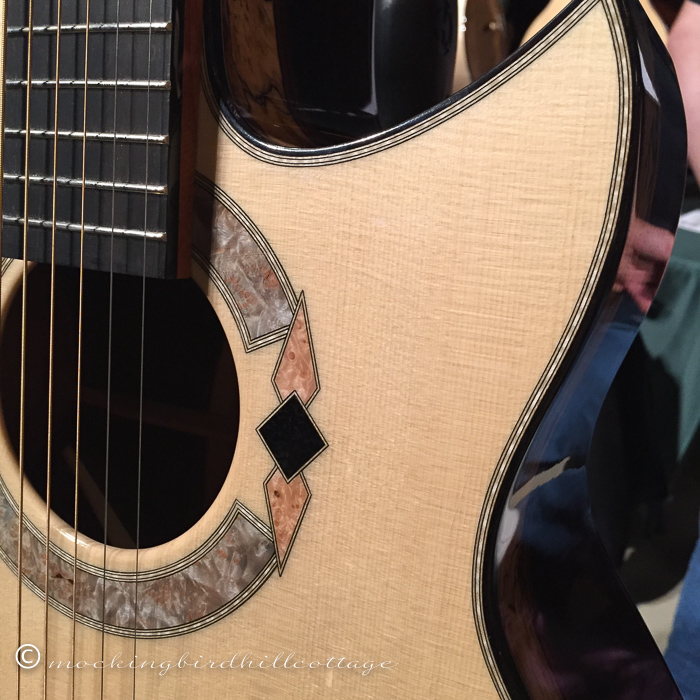 I particularly loved the handmade guitars of Sam Guidry, who lives in Michigan. Of course, I'm more drawn to the artistic embellishments. Don, while appreciating all of that, is also drawn to the sound and how it feels to play each instrument. This guitar had this lovely design around the hole.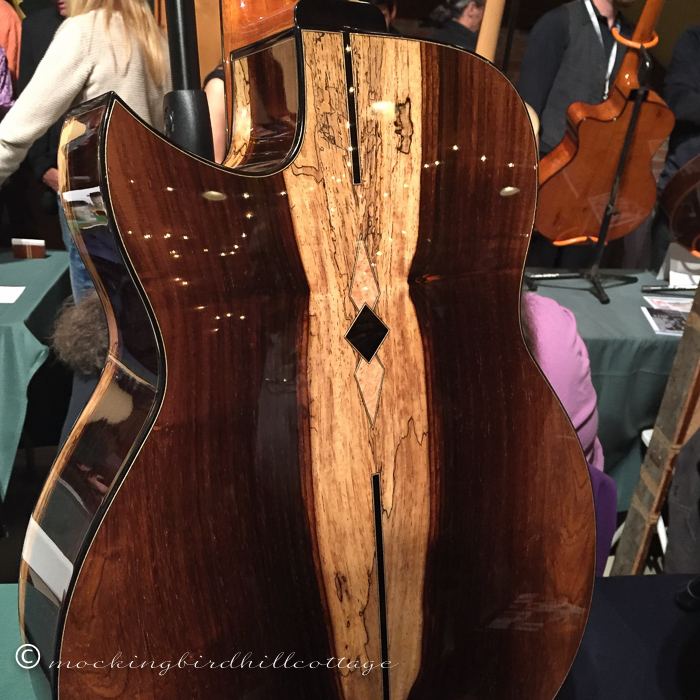 Same guitar, sides and back. Gorgeous.
Sam also made my favorite of the day: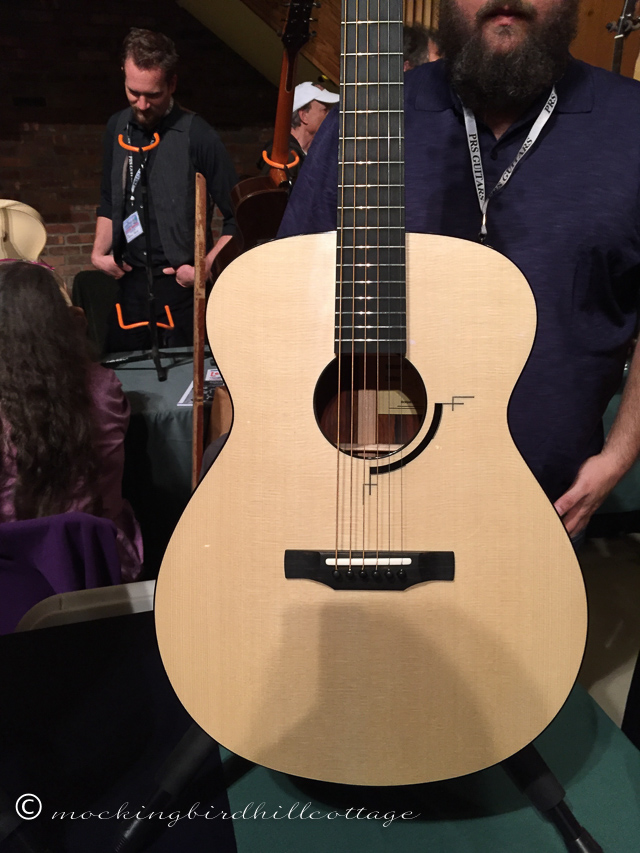 This one, inspired by the designs of Frank Lloyd Wright. The back of the guitar, though I don't seem to have a photo of it, subtly repeated the design.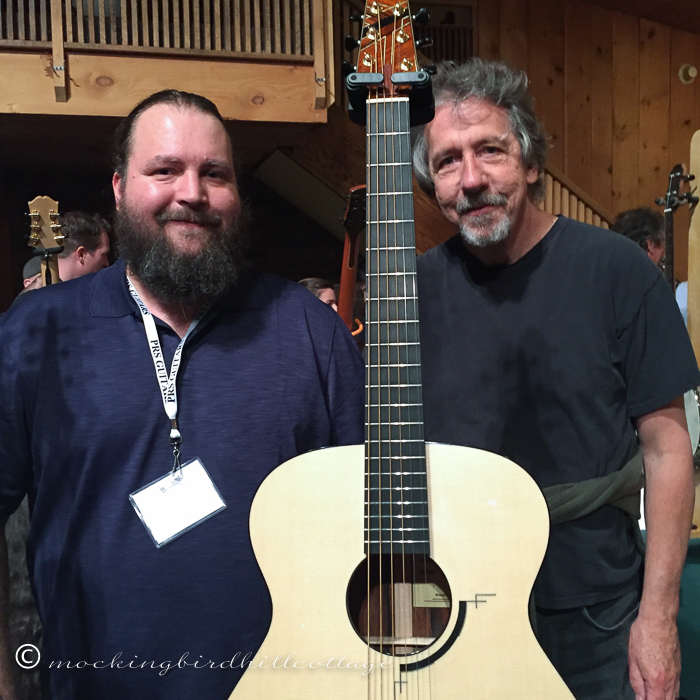 Don and Sam.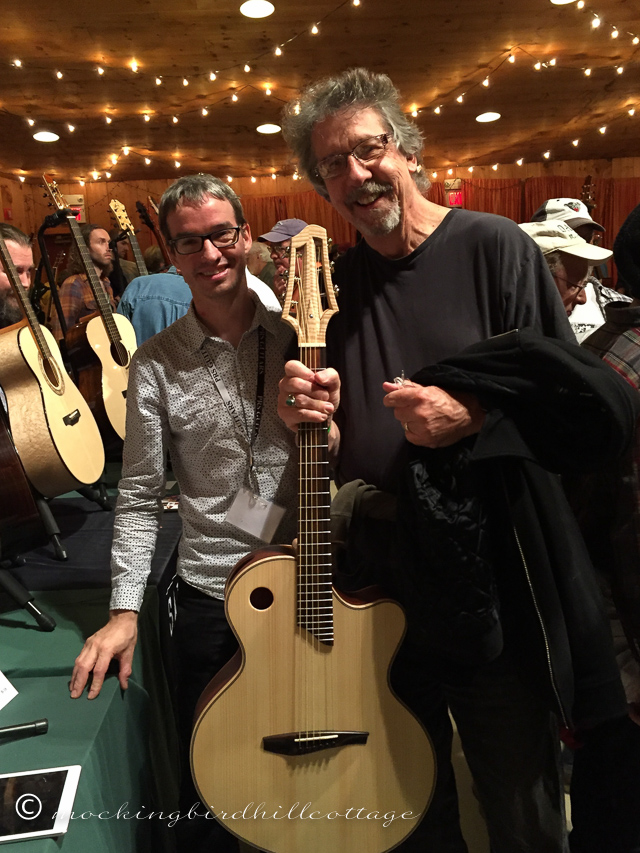 Don absolutely loved playing this guitar, made by Benoît Lavoie, who lives and works in Quebec. Ben was passionate about his work and such fun to talk to.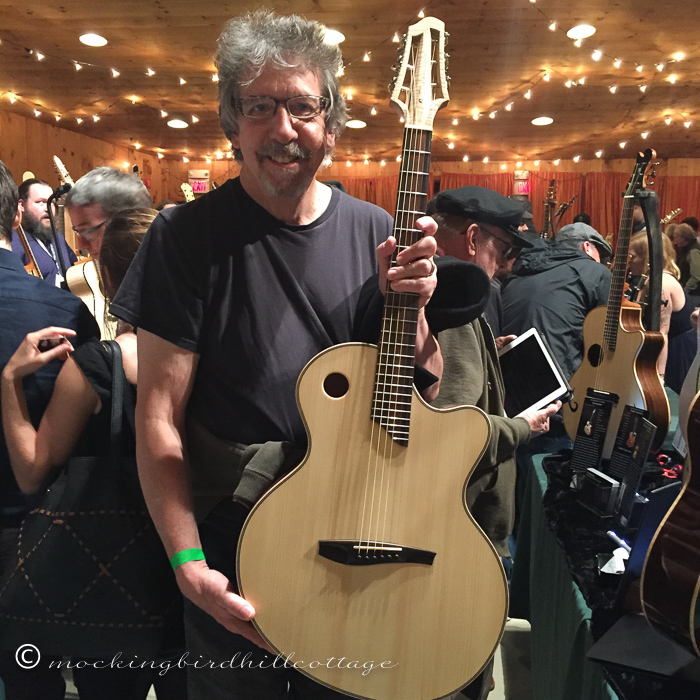 Don holding the guitar right after playing it. He looks happy, doesn't he?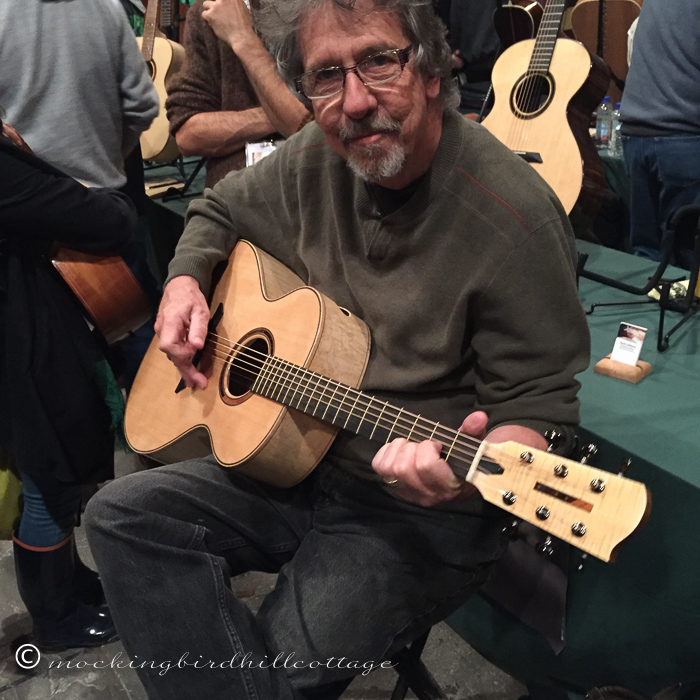 He also loved this guitar made by Nick Lenski of Brier Road Guitars in North Adams, MA.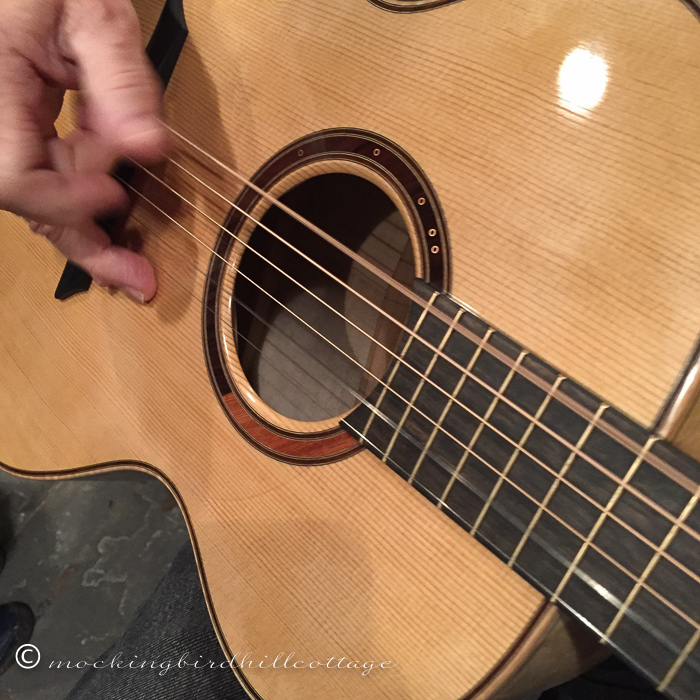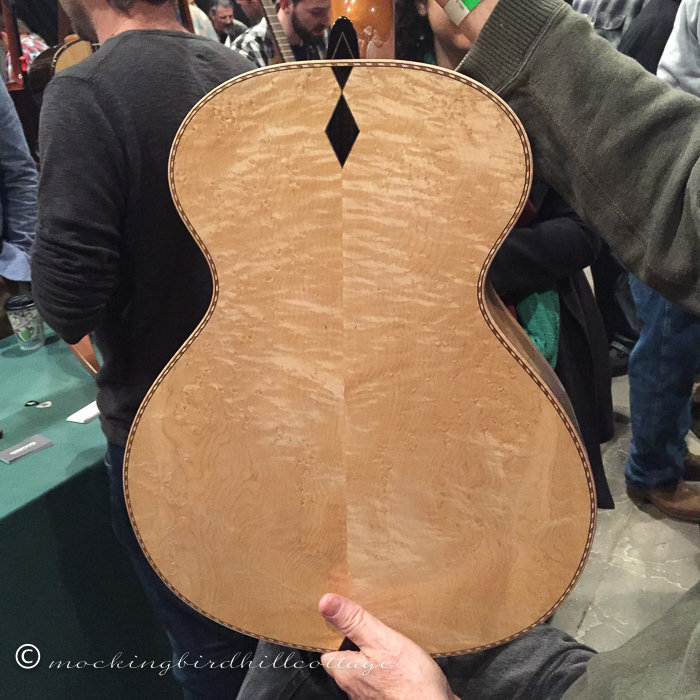 Check out the back of the guitar. I can't believe how beautiful these instruments are!
And finally, I fell in love with the work of Zach Lefebvre of TreeHouse Guitars in Ontario, Canada.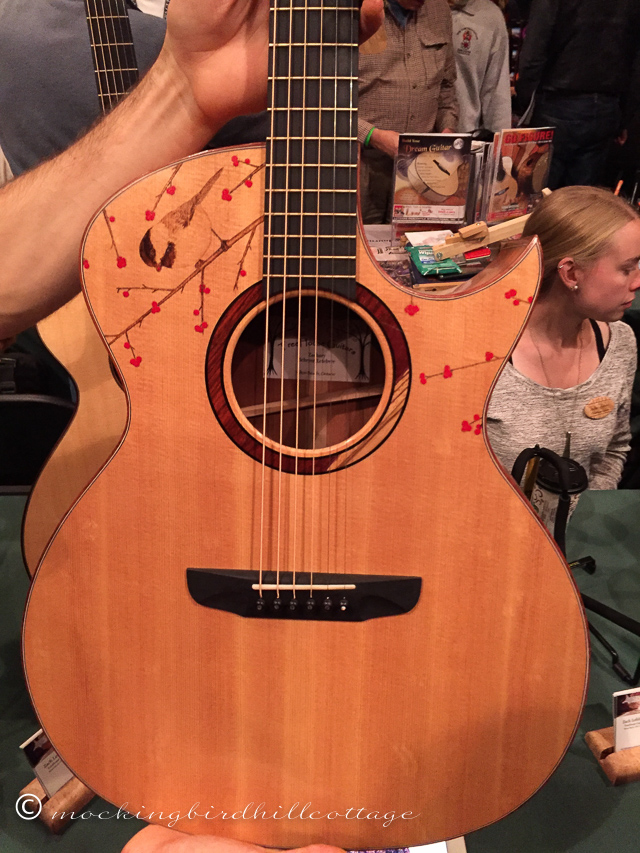 The bird, the branches, all done by Zach.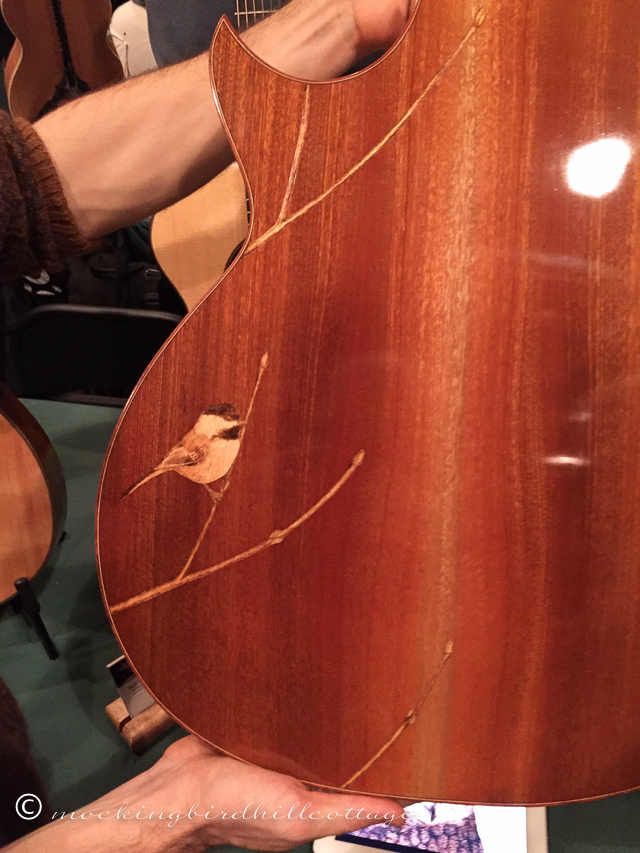 And on the back. Be still my heart. Really…I'll learn to play! Please, pretty please?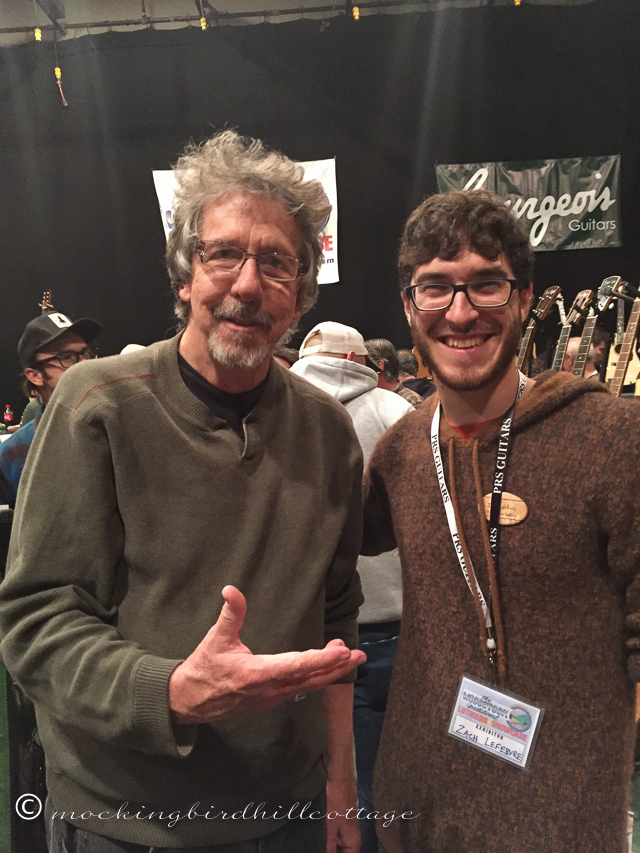 Don and Zach.
This is a three-day event, and I can see why. It's truly amazing and full of such incredible talent and artistry. Don had long conversations with so many of the artisans, often trying our their guitars.
I checked in with him this morning. His favorite: the one made by Benoît. Next favorite: the one made by Nick.
Of course, these guitars take time to make. Everything is handmade by each individual artisan. So they often cost several thousand dollars. Gulp. But it's all relative. So does a good piano. And if you're a musician and you fall in love with a guitar, one that no one else will have, made just for you? You find a way to make that dream come true.
I really loved the show and we will definitely be going next year, as well.
And hurrah for the Cubs! Watching that game was a great way to end the day!
Happy Sunday.