I'm afraid you're going to get on-the-spot photos today. Yours truly was up late watching the World Series – about two and a half hours later than my usual bedtime. More on that later!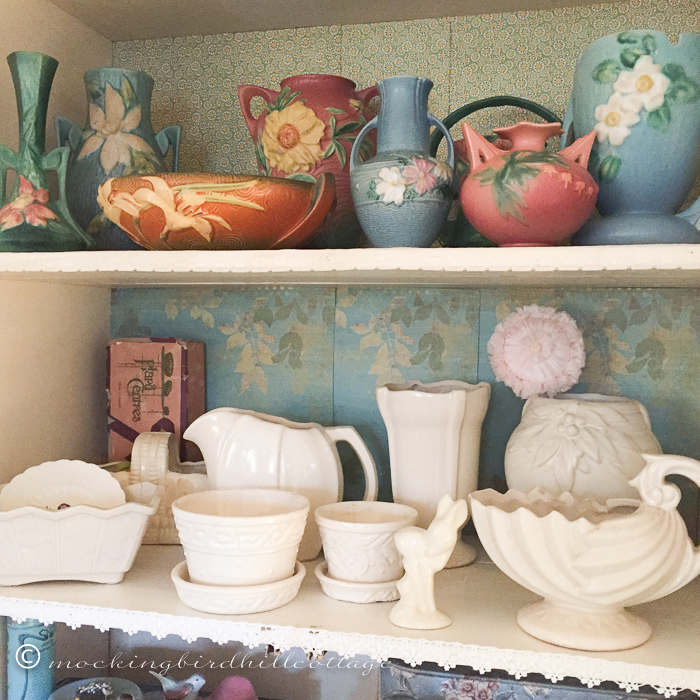 Since the cabinet is immediately to my left, my iPhone on my right – here you go! Actually, I never get tired of seeing the cream colored McCoy pottery and the Roseville pottery. Uh oh. This gives me the urge to check out the listings for Roseville on eBay.
Let's move on.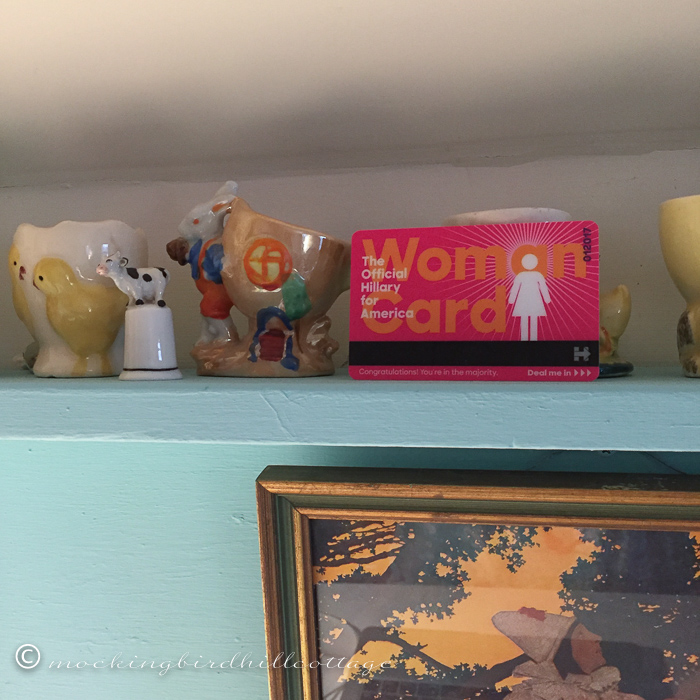 Right in front of me as I type this post: egg cups, Maxfield Parrish, a little thimble from Amsterdam, and my Woman Card. Deal me in.
I cleaned windows yesterday. Since it isn't sunny today and it's going to rain, I can't tell how much streaking there is, but trust me, they were so dirty that I'm sure they're breathing a collective sigh of relief.
Then I finally boxed up my books to donate to my local library. Now I just have to get them there. When there are boxes and/or stacks of books on the floor in this little cottage, space is at a premium, so it's time to load up the car.
Game Seven was the best baseball game I've ever seen. Never boring, with more twists and turns than a cracking good mystery, this game had it all. The Indians and the Cubs were very evenly matched and both teams played with passion. As always in this sort of thing, the game changes and morphs because of a call from the umpire, an error in the field, a pitcher who makes mistakes or has been overused and suddenly the bases are loaded.  And there was even a rain delay!
I can't tell you how many times I said to Don, "I have to go to bed." And then, "If it goes to extra innings, I'm going to bed."
Well, I did go to bed, but I turned on the television in the bedroom! I couldn't stay away. Incredible game, stellar work on the part of both teams. My heart aches for the Indians because they came from behind, never gave up, and were within one run of winning it all. And they lost at home. At the same time, I'm thrilled for the Cubs, who played their hearts out and who haven't won a World Series since 1908. I mean, come on! Who can deny them this glorious moment?
As you know, we are longtime Red Sox fans and we know what it is to cheer on a team that supposedly has a 'curse' and finally, finally, see them win a World Series. It was time, more than time, for the Cubs.
Still can't stop thinking about it this morning. And I'll say the obvious: How lovely and healing to watch something like the World Series in the midst of an election that gets more stressful by the second! The pure joy of seeing these guys play was much needed. Thank you to the Cleveland Indians and the Chicago Cubs.
Now to get through the next 6 days.
Happy Thursday.