I had a little surge of mini-energy yesterday. Still in my flannel pajamas, I remembered some scrapbook/wallpaper that Barbara had sent my way, and then I thought about the Loft and suddenly, I was playing dollhouse.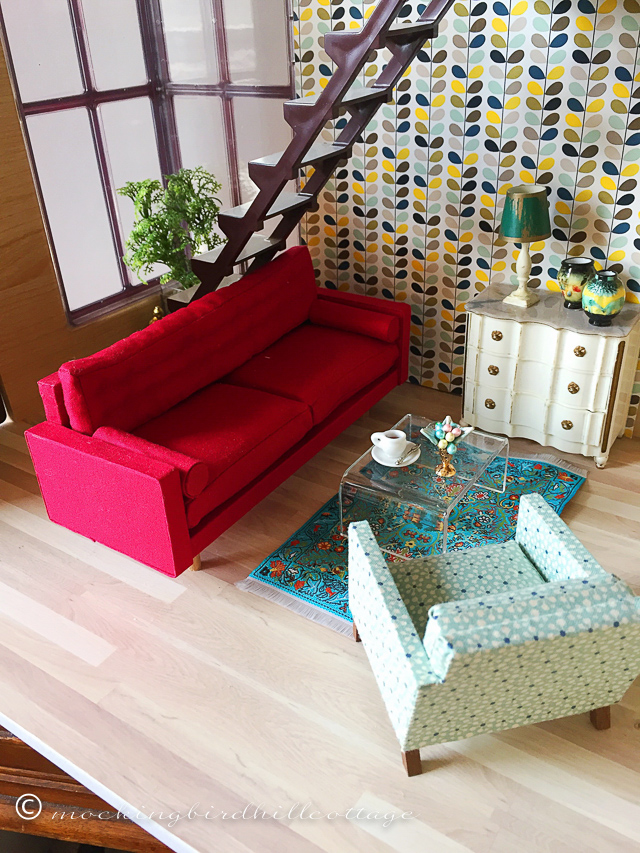 There wasn't enough paper to cover the entire wall, so I concentrated on the living area.
The sofa was made by Gabrielle of InTheTwelfthScale (Australia), the chair was made by AlicesMiniatures (England). The chest, lamp, and bowl of beads are Petite Princess (a gift from Denise). The pottery, acrylic table, rug and wallpaper were gifts from Barbara.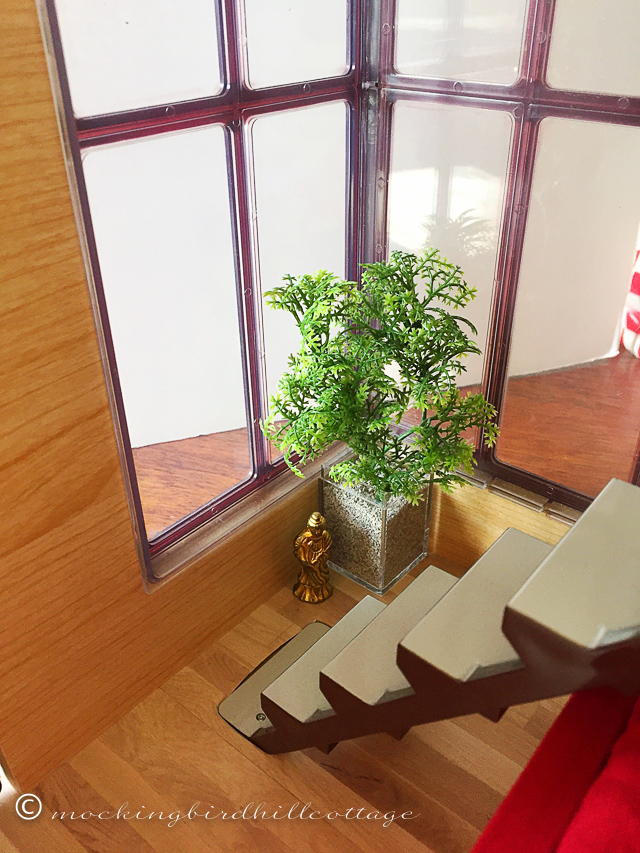 I made the plant from some pieces I had in my stash. The base is one of the plastic containers that held a piece of the mini Roseville Pottery. I filled it with the some of the medium ballast I used for the roof garden on Hummingbird Cottage. The gold statue is from the Petite Princess line, courtesy of Denise.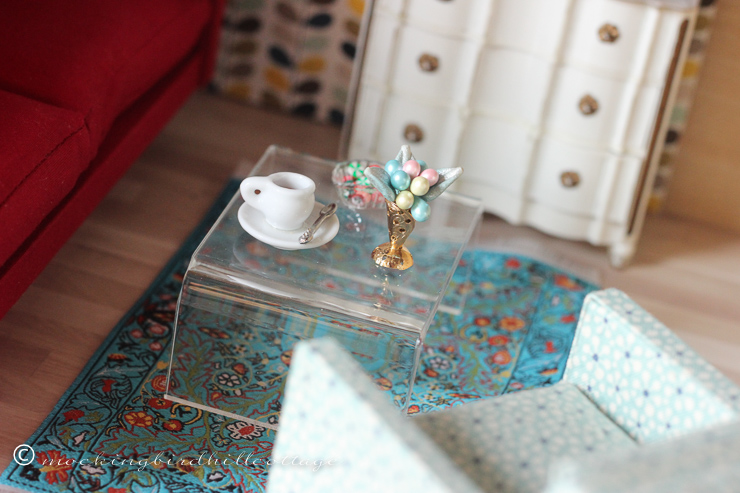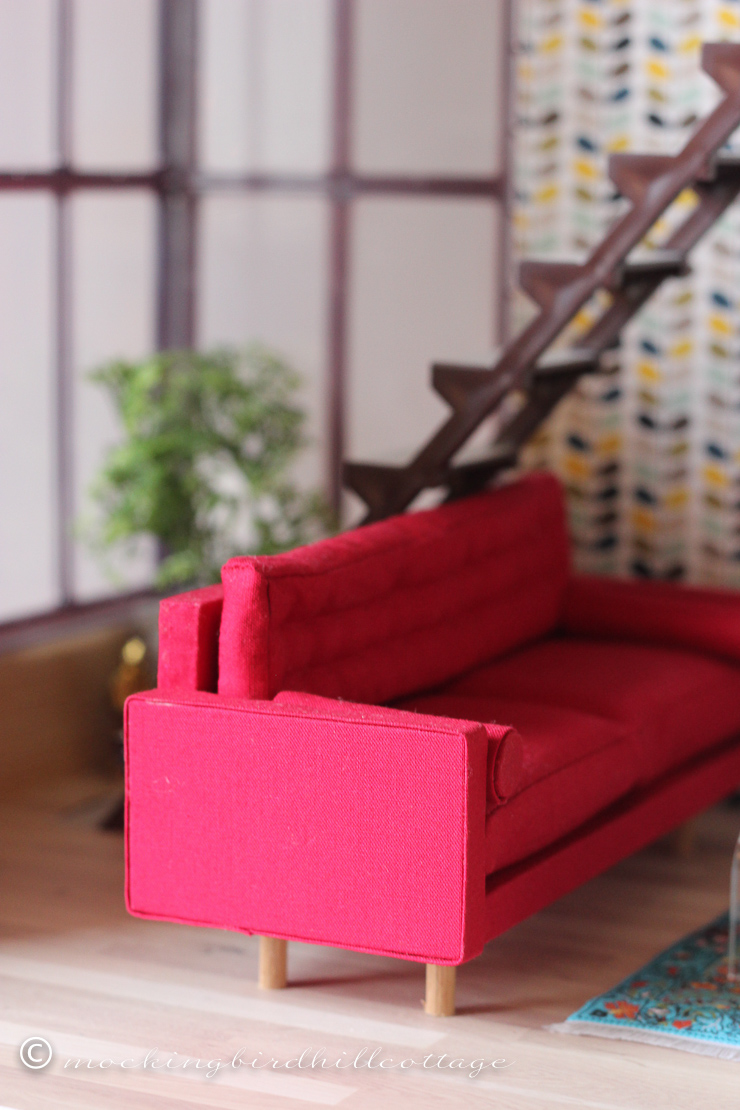 The loft is fun, but tricky to realistically configure. I got rid of the kitchen pieces that came with it because the scale was bigger than the furniture I wanted to use and it was plastic. Eventually, I'd like to get some sleek cupboards and appliances that would line up on the far wall, making the downstairs an open living/cooking/eating space.
Upstairs, in the tiny, tiny loft, I think I'll go for a modern, low-to-the-ground bed.
Scurrying around, looking through my stash, looking for things in the drawers in my little storage cabinet, pulling out bigger storage bins from the now-sorted craft closet – it was just how I had envisioned things when I started to organize this office/studio.
And because I had done all that sorting and purging on Thanksgiving day, I knew where the Christmas Tree was. I made it a couple of years ago, but didn't use it last year – it was just after my dad died.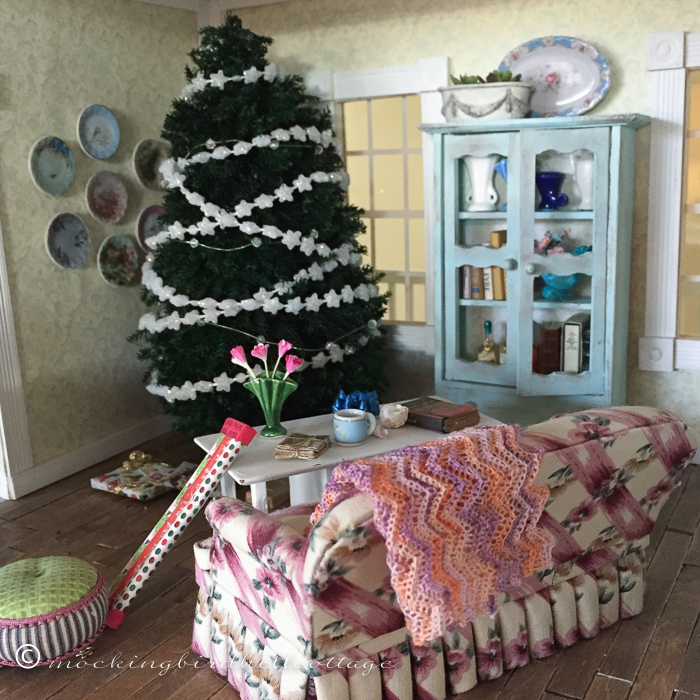 I suppose I could have put it in the Loft, but I made it for Hummingbird Cottage and there it should stay. Besides, Caroline would have a fit if I used it elsewhere. She, unlike me, likes to decorate right after Thanksgiving.
The wrapping paper and bows were a gift from Judy, the presents were part of this month's SquintBox (made by DogMa creations), the garlands on the tree were part of a gift from a reader and I'm darned if I can remember her name! I'm so sorry! If it was you, please let me know so I can give you credit!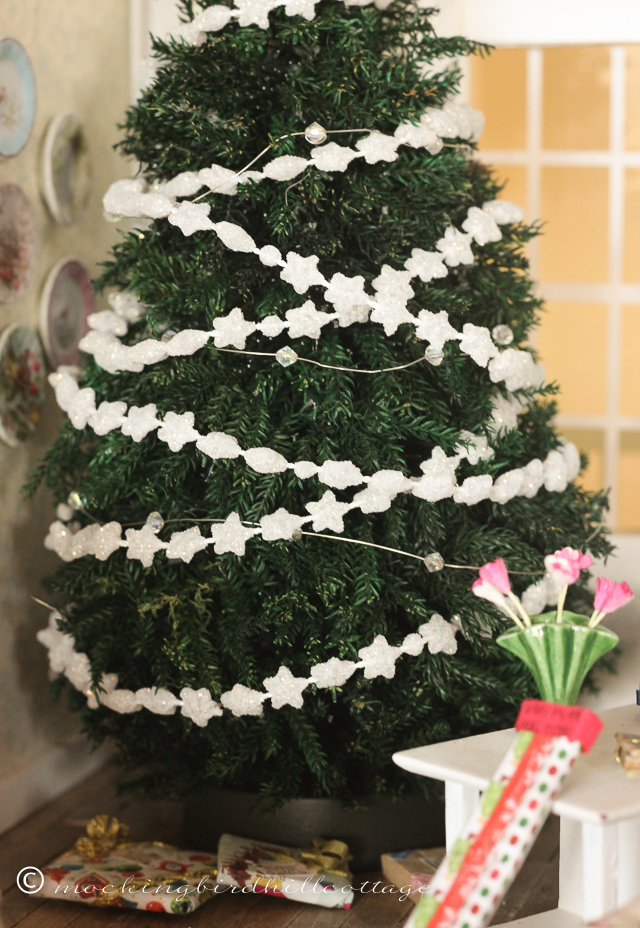 There's a post – After the Glue Dries: A Mini Christmas Tree – about the construction of this tree and the amount of glue that stuck to my fingers while making it. If you're interested in making one yourself, you need a bottle brush tree for the base and a product called lycopodium, which you can get online.
Now that I look at that post, I see a picture of my mini Shiny Brites and have no idea where they are. I guess you know what I'll be doing today.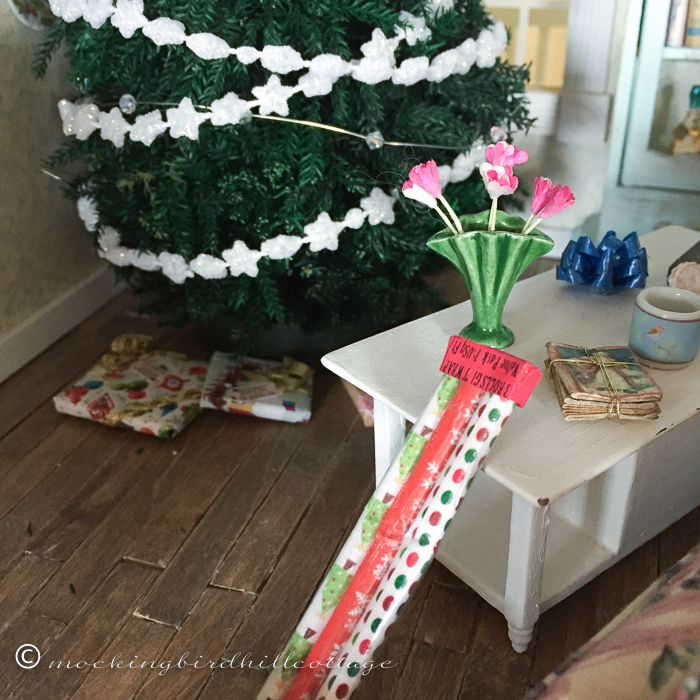 I have to make a tree topper of some kind.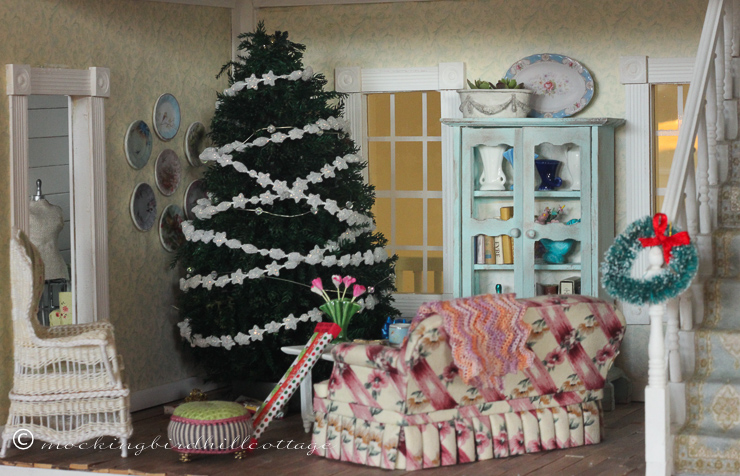 I stored the tree very carefully in a box that was sealed and I'm thrilled that it held up beautifully!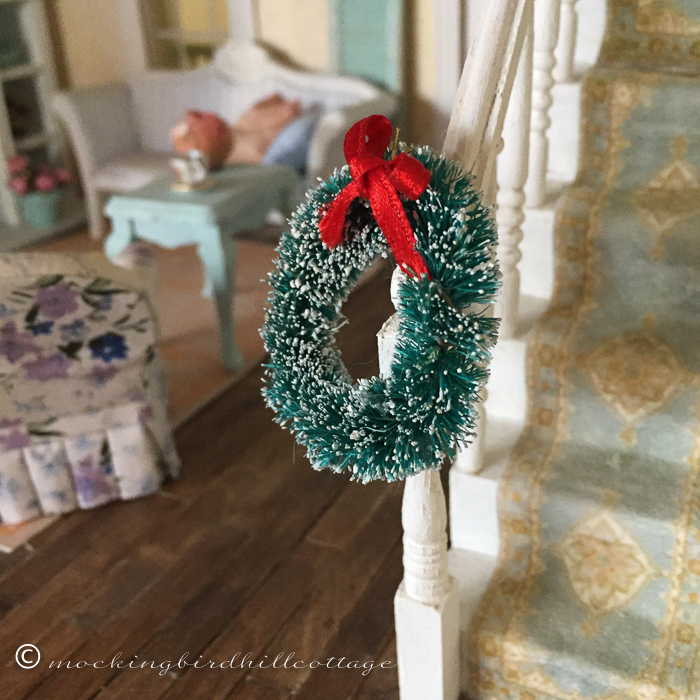 So far, the living room simply sports a wreath hanging from the newel post. I may add a garland to the fireplace.
Of course, I have no interest in decorating my life-sized cottage at the moment. We'll do something during the second week of December, but I think it will be pretty minimal this year, as I'll be in Hartford most of the holiday season with a couple of days off for Christmas and the New Year.
I haven't felt very mini-inspired lately, so this was a nice change.
Now, where are those Shiny Brites?
Happy Monday.