Has anyone else found their sleep to be somewhat erratic lately? I'm betting that's the case. This morning I woke up at 4 am and never went back to sleep. And for some reason, I keep thinking it's Saturday.
As I was sipping my much needed coffee this morning, I saw a gnat flying by my mug and the next thing I knew, there he was floating on the surface. I rescued him with my finger tip and placed him on a piece of paper, but I thought he was a goner. Then I dumped my coffee and brewed a fresh cup. To my amazement, the gnat survived and walked off the paper and is presumably somewhere around here. I've also rescued two flies in the last two days, which is an ongoing thing around here. They don't live long and I don't like to see them spend that time trapped in the house vainly trying to get outside where they belong. So this year, I turned over a new leaf and stopped ignoring them. Now, I rescue them and deposit them back outside.
Speaking of all creatures great and small: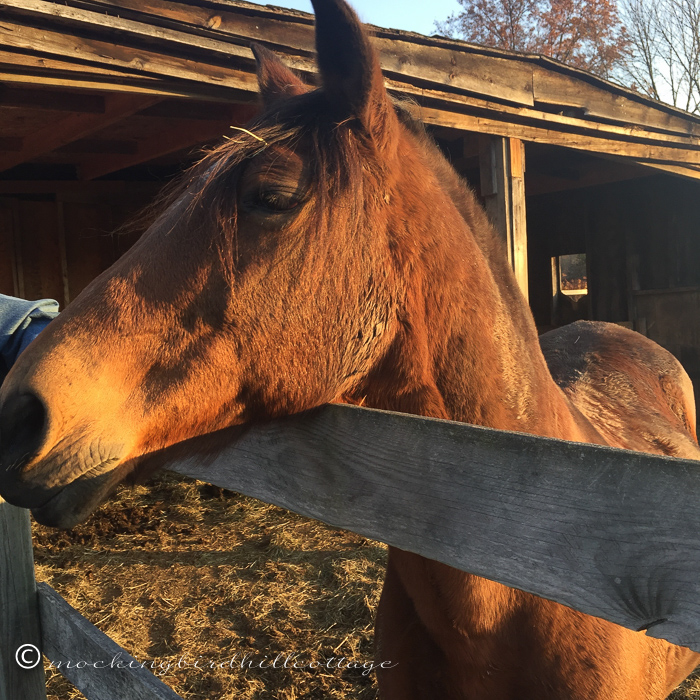 We visited our friends at the boarding farm yesterday. Very, very affectionate boy.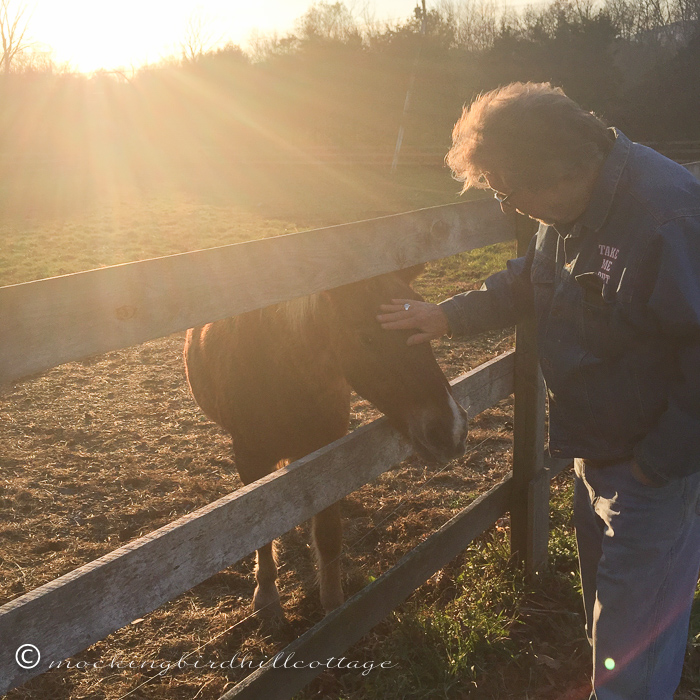 This little girl is so sweet. She eats out of my hand.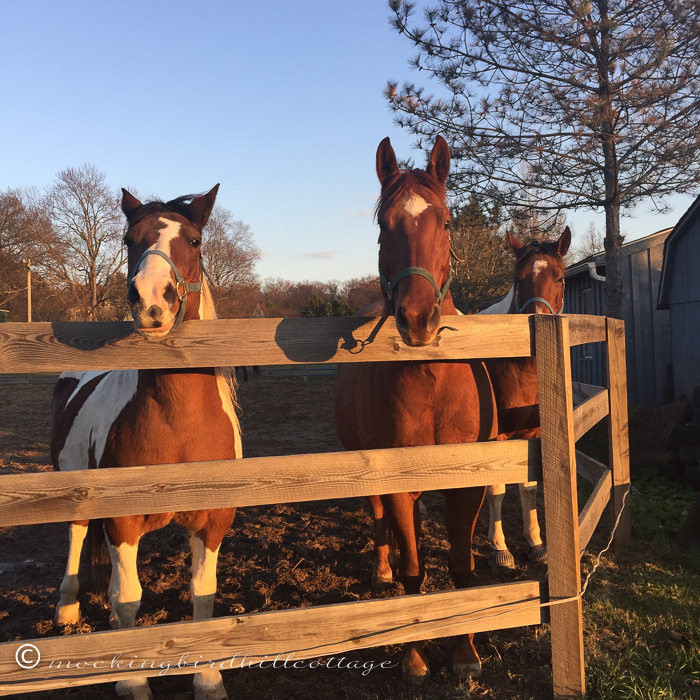 As soon as I walked in the direction of this corral, these three guys trotted on over.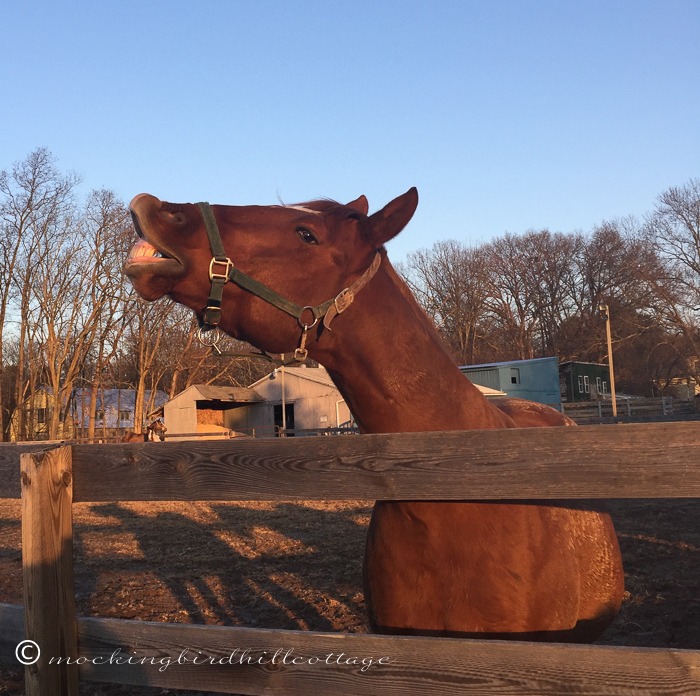 He cracked me up. Reminds me of Mr. Ed. He is also a sweetie pie.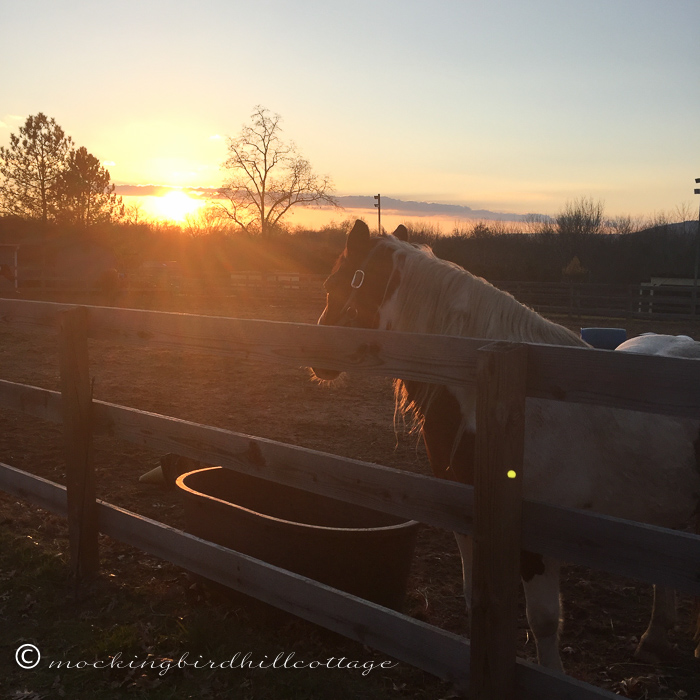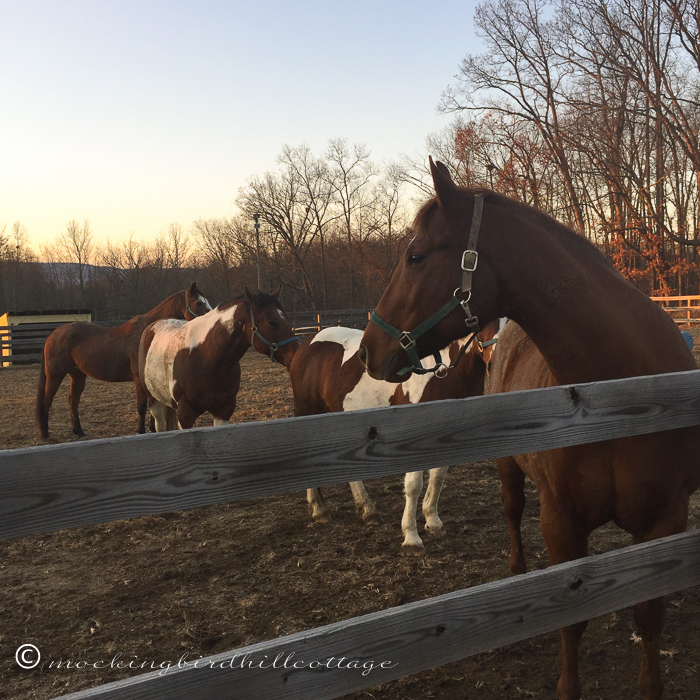 These guys are all rescues. Isn't that wonderful? The were impatiently waiting to be led into their stalls, which means dinner time.
The two horses in the first two photos belong to a local woman who boards them at the farm.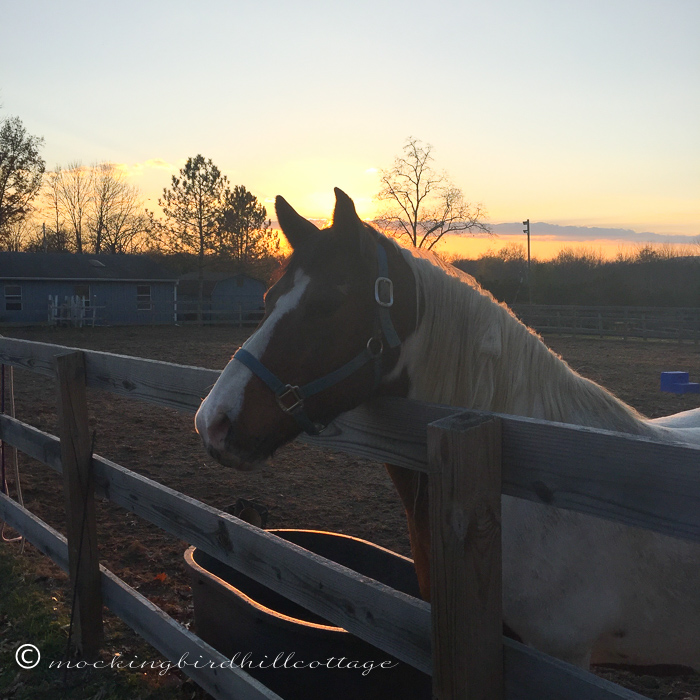 We gave them treats and chatted with the owners who love telling us about each horse; the personalities, the hierarchy, the rescue stories.
We are trying to contact the rescue group who took in our two elderly horse friends. They're doing well, we know that much, and their previous owner has traveled up to see them. If they allow us to, we'd like to make an appointment to visit them.
I just finished a wonderful mystery by a new author, Emily Littlejohn. It's called Inherit the Bones. I'll review it next week on the other blog. It's the first in a series, which is exciting.
We're watching episodes of The Dick Van Dyke Show on Netflix. It makes us happy, and we can use a big dash of happy right now. I forgot what a brilliant physical comedian Van Dyke was/is. There have been a few episodes where we have laughed so hard we had tears rolling down our faces. Brilliant work. Ann Morgan Guilbert, who played next-door neighbor Millie, died recently. I had the good fortune of working with her on a show when I was living in California. She was a talented, lovely, and very funny woman.
Some thoughts on Susan Branch and her post yesterday. I'm a person who tends to respond emotionally to a situation. My heart is on my sleeve, more often than not. That's good and it's also bad, depending on the situation because there are times I regret responding immediately. I wish I could be a little more, not detached, but analytical? Is that the word? What Susan wrote was so well thought out, so logical and so heartfelt that it really made me think. She comes at it from another angle and it makes so much sense! I'm going to read the whole thing again today.
Happy Thursday.