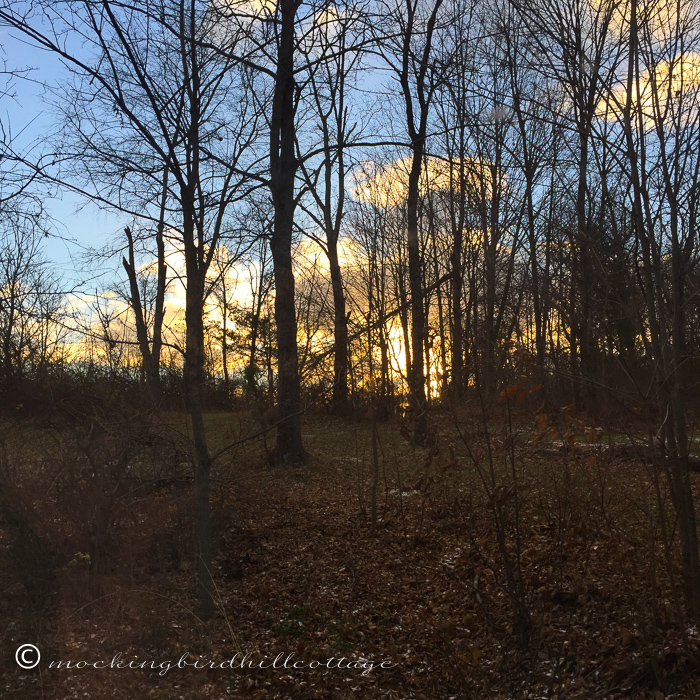 Sunrise this morning.
Lovely, lovely day yesterday.
Aside from getting something from the IRS in the mail which indicated we owed a huge chunk of money, even though I had sent in our tax payment in early November, which led to me panicking, running upstairs to the office and then remaining on hold for 45 minutes until I could speak to someone. I was hoping against hope there was a simple explanation; that our payment hadn't been processed yet when the letter was printed and that the discrepancy in the amount due was just an additional late fee.
Whew. That's exactly what it was. We owe a mere $21.00. Major sigh of relief.
As all this happened right before we were due to leave for dinner, I wanted to get it out of the way so I could relax!
Don took me to a local restaurant that I knew of but hadn't been to yet. It's called the Gunk Haus. Gunk is a word used freely around here, a shorthand for the local mountain range, the Shawangunk Mountains. Gunk Haus opened a few years back and they have a great menu which includes some vegetarian and vegan dishes, along with their meat entrees.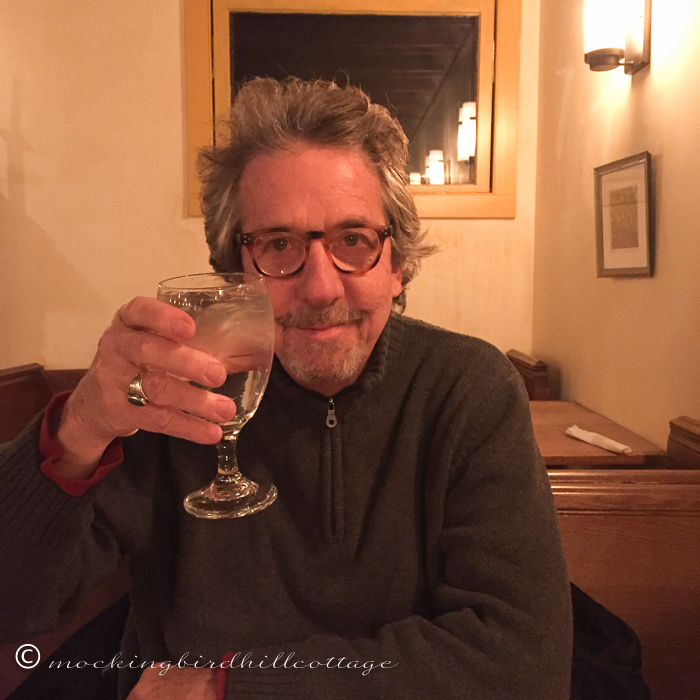 (Photos will be dark as everything celebratory happened after the sun went down.)
Here's my adorable husband.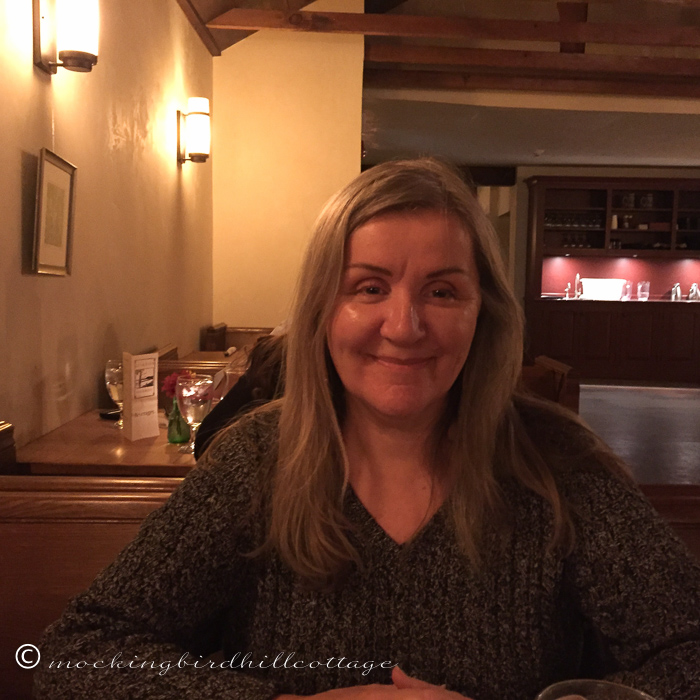 And me.
The food was delicious and we'll definitely be going back. It's in an old house/barn, which has been beautifully restored.
We came back to the house and Don made me go upstairs while he 'arranged' everything: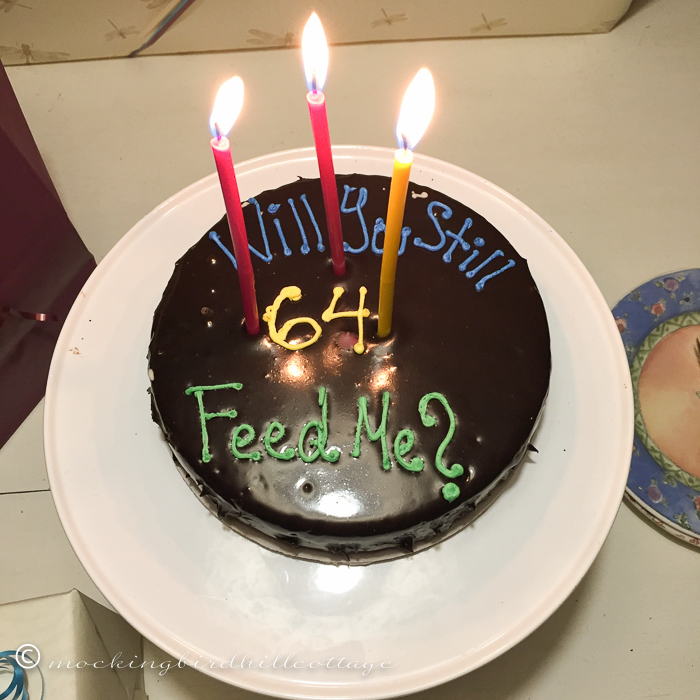 The cake. Don't you love the sentiment? It was made and decorated by a local bakery. It's a flourless chocolate cake that is unbelievably swoon-worthy. Oh. My. Heavens.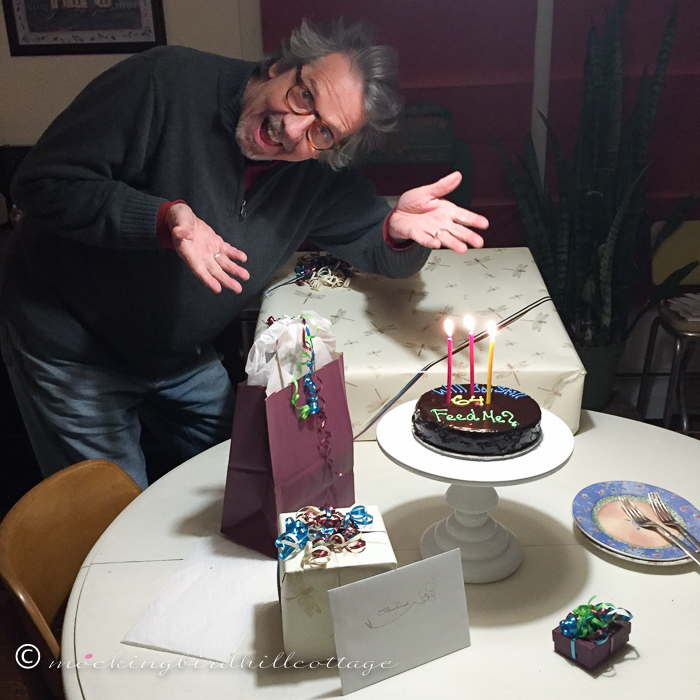 The maestro with his birthday extravaganza.
I made a wish, blew out the candles and we gathered up the presents and retired to the den.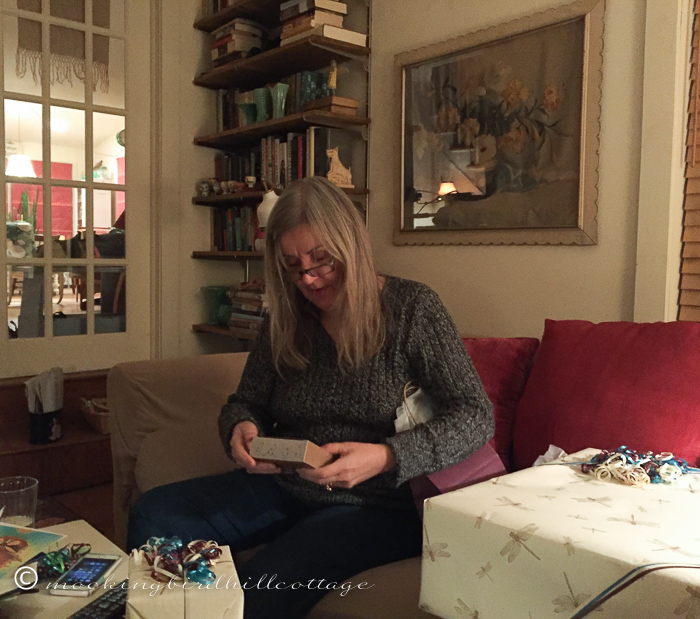 A box of caramels, some Crabtree and Evelyn hand cream and some foot balm (all set for winter!) I also received some earrings in a pretty leaf shape –  as Don kept saying, "I know you love plants" – and the most beautiful snow globe I've ever seen (photos tomorrow). Neither of us is normally into snow globes but this one is incredibly well made and very striking. The scene is a large cardinal surrounded by snow. Don said it reminded him of winter life around our cottage. It's really beautiful.
The large package you see there? When Don asked me what I wanted, I mentioned a certain something and he came through: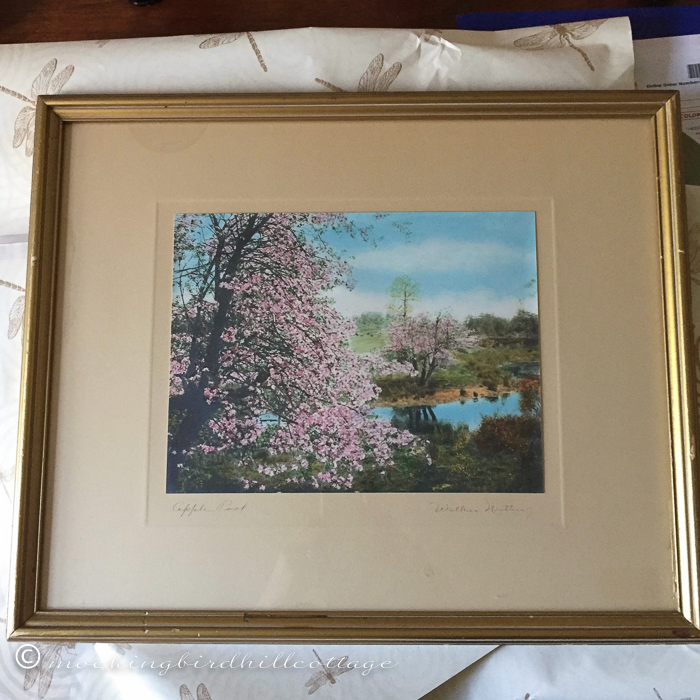 Another Wallace Nutting. This one is much larger than my other Nutting. It's called "Apple Pool." Don told me he spent a long time at the antique emporium, looking at one, than another, but he kept coming back to this one. It's gorgeous.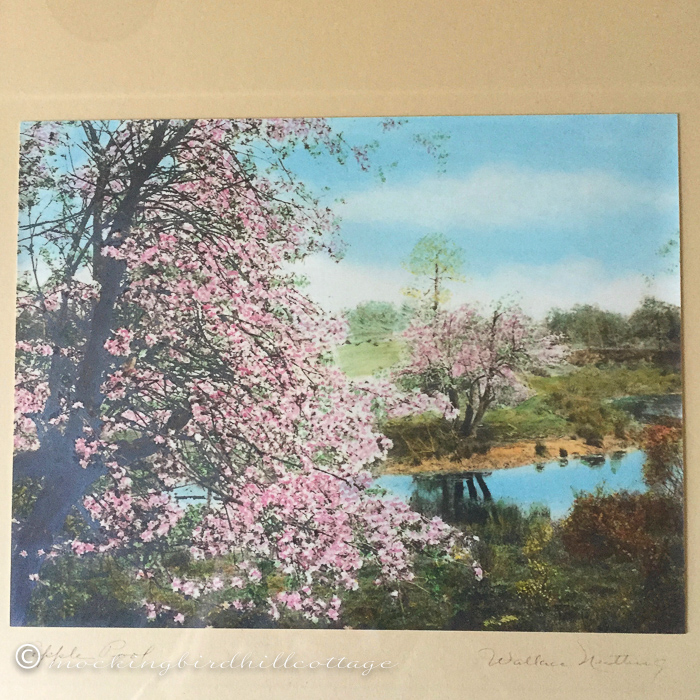 A closer look.
On the back: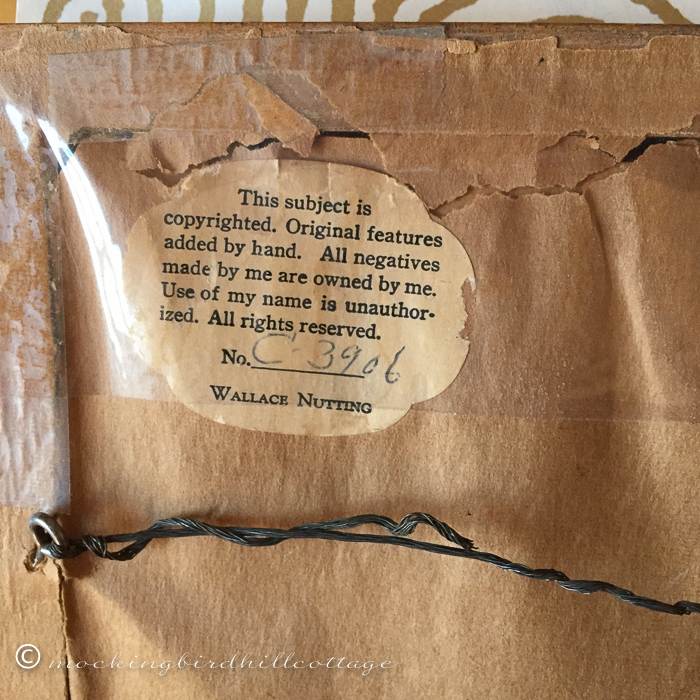 We've decided that as we gather more of these beauties, we'll hang them on the wall in the office/studio. Dad's painting has moved to the upstairs hallway and it looks great there.
A piece of cake – oh lordy! – and a little boy named Z singing Happy Birthday to me on the phone. A perfect day.
Thank you for all the birthday wishes! You are so wonderful, all of you!
More tomorrow.
Happy Tuesday.