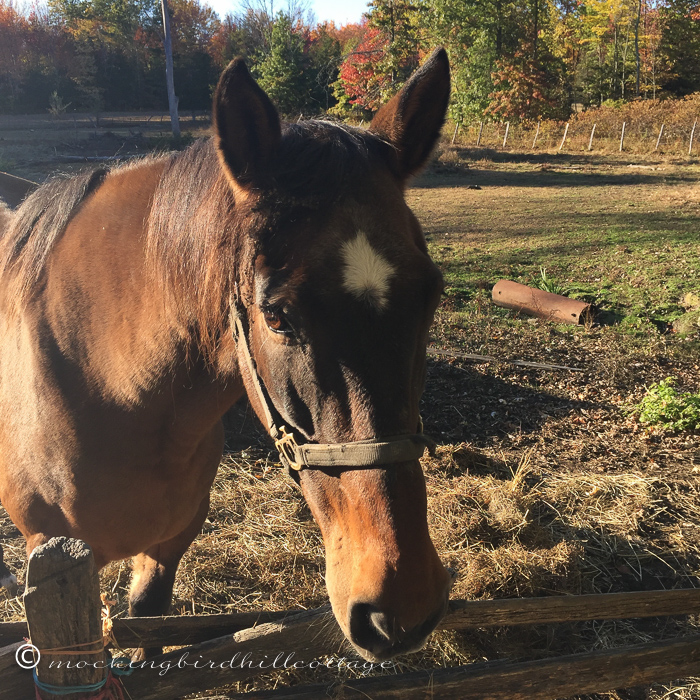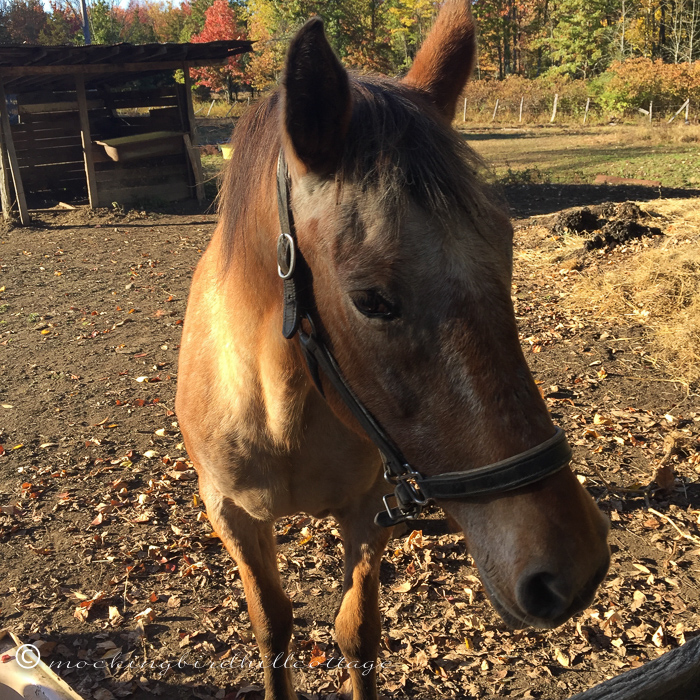 (I'm not going to use the names of the horses in this story.)
Do you remember the two elderly horses we would encounter on our trail walks? We started bringing them carrots and apples, with the owner's permission. The mother is 37 years old and nearly blind. Her son is 34. They are devoted to each other.
You can see from the second photo that their shelter was falling apart. They didn't have adequate cover and we were concerned that they might not make it through another winter at their age. We met the owner one day on the trail and…let's just say he is eccentric. And troubled. He was also friendly, to be fair, but I felt uneasy around him. Maybe because he didn't seem to have appropriate social skills. When I told him how much we liked his horses, his immediate response was, "Do you want them?"
Needless to say, knowing how I am about animals, I found that troubling.
We found out that other locals were also feeding the horses treats when they could. Don't get me wrong, they had hay and food, but caring for horses and providing shelter is an expensive proposition and I don't think the owner had the money to do that.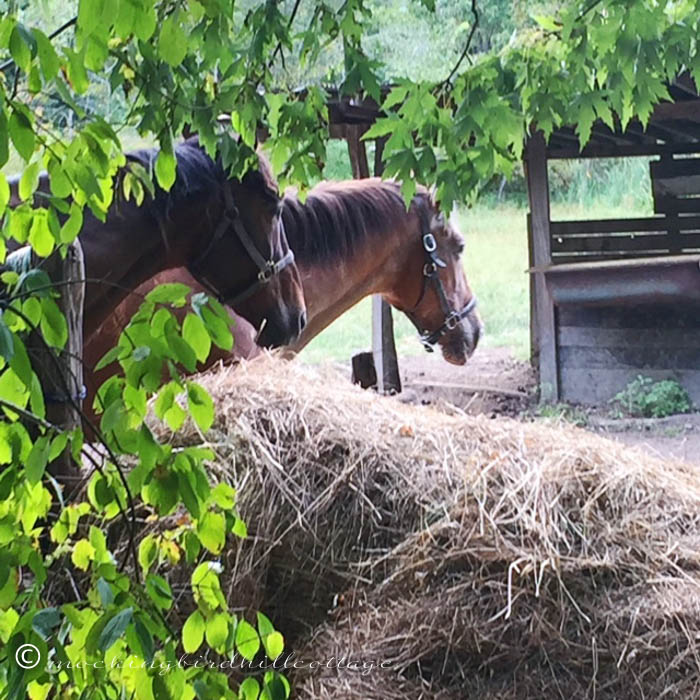 One day, Don went on the trail walk without me. He was gone a long time. Eventually, he called me from the trail and told me this story:
He had some carrots with him and as he came upon the fenced-in area where the horses live, he realized they weren't in sight. He walked down to the fence. They were nowhere to be seen. Instead, there were about 6 or 7 deer in the paddock, including a buck. He knew they wouldn't be there unless the horses were gone.
He felt panicked and profoundly sad, with the loss of Scout very close to the surface. He didn't know what to do, and as he went back on the trail to continue walking, his mind was racing. About a hundred feet down the trail, on the right, there are more paddocks that belong to a local couple who own a horse boarding facility and who also give riding lessons. As Don glanced over there, he did a double take.
There they were.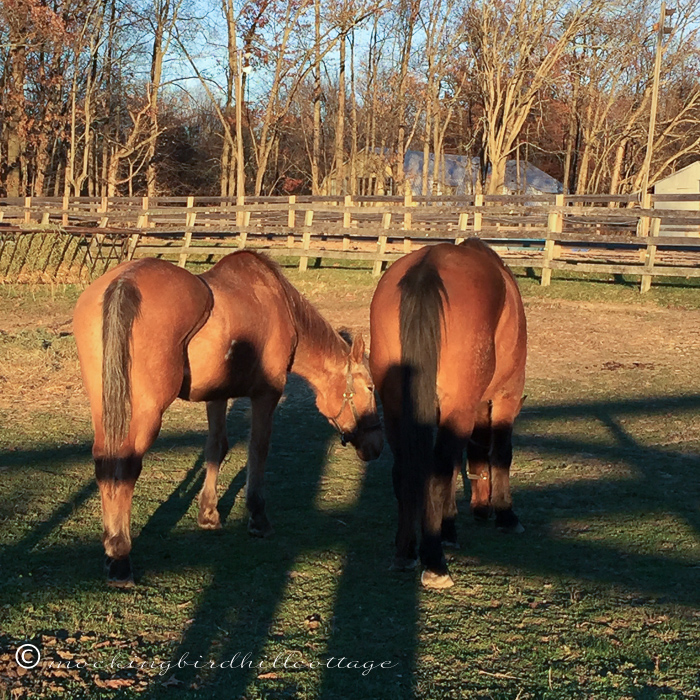 He called the number for the business and talked to the owner who told him that just the day before (a day we didn't walk on the trail) the owner had been visited by the authorities (this had happened a few times in the past.) I'm not sure how that came about, but I suspect another local reported him worried about the well-being of the horses. They came and inspected everything and they finally talked the owner into surrendering the horses, because there was no way they could make it through the winter in their current living conditions. They were also neglected. The field got very muddy and the older horse was unsteady and sometimes fell and couldn't get up.
So the owner of the boarding facility had taken them in temporarily until she could come up with another solution. Don visited them that day, but they wouldn't come over to him. I'm sure they were scared and nervous in a new place.
We went there the next day and were able to feed some carrots to the son. But the mother, who is declining, was too scared. The son stays right by the mother, guiding her around the paddock, making sure she is safe. He is completely devoted to her.
The woman who owns the boarding facility is concerned about how the son will handle things when the mom is gone. I want her to hang in there, but she's not eating a lot and she's slowly failing.
Anyway, about a week went by and we had daily conversations with the woman either by phone or in person. These people are kind and good and compassionate and I am honored to know them. We also got to know some of the other horses there.
Election day came and went. The next day it rained, so we didn't get there. The day after that, we went on the trail and when we arrived at the paddocks, Mom and Son were gone. We weren't surprised, because we knew the woman was trying to find a rescue group that would take them as soon as possible and she had hoped to have it resolved on Wednesday. So Don stopped by the next day and heard the good news.
They've been rescued by the Catskill Animal Sanctuary, a well-known  rescue facility for farmed animals, run by vegans.
"Nonhuman animals have a right to live their lives free of suffering and exploitation by humans."
That's just part of their mission statement, which you can read here. This is a facility I have always admired. They have several blind horses, so they know how to work with the mom. And they are going to work with the son and train him, in hopes that he might get adopted. If not, he will stay with them, as will the mother.
I could not dream of a better, more humane, solution.
I know this has been hard on the owner, who loves them in his way. But taking care of them had become something that was too much for him.
We are so grateful they are safe. We're going to try to go see them this week, even though it's off-season. Hopefully, they'll let us stop by.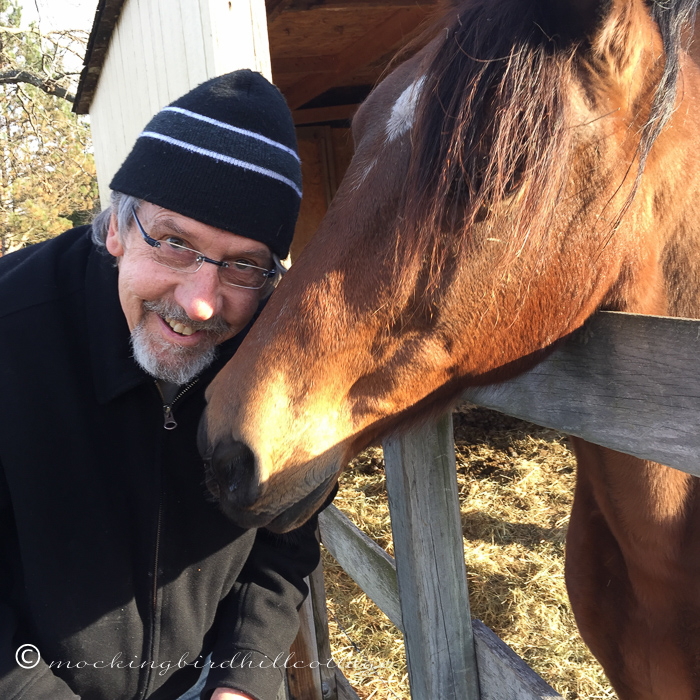 Don with one of his new friends.
I was around horses when I was a young kid – my grandfather was a cowboy, remember? Don has always loved horses. Through meeting our neighbors who own the boarding facility, we now stop there when we're on the trail and give treats to some of the horses. Without Scoutie here, there is a big gap in our lives, and I think, especially for Don, this helps. He feels more at peace when he's around the horses.
Bravo to our friends and neighbors who watched out for these beauties and stepped up when necessary. And compassion for their longtime owner, as well. I imagine it wasn't easy for him to say goodbye to them. He has visited them at their new home and knows they're okay. And a big thank you to the Catskill Animal Sanctuary for their compassion for all animals.
I thought it might be time for a feel-good story here on the blog. I sure need one!
Happy Monday.