Back in the saddle in Hartford.
I drove back here yesterday morning because I had some coaching to do yesterday afternoon. I can't complain! I love my work, so it's nice to be back. And, I was lucky enough to get two and half days back home.
We had a lovely low-key Christmas, which is just how we wanted it. Christmas Eve was full of chores; doing the laundry, cleaning the house (because even though I know Don cleans, he doesn't see what I see…) wrapping presents, and listening to Christmas music. We watched It's a Wonderful Life  in the evening and we cried, as we always do. Side note: Old Man Potter is the movie version of a certain all-too-real man who shall remain nameless, but you know who I'm talking about. I can't tell you how many times we turned to each other and said "It's him!"
We lazed around on Christmas morning, finally getting around to opening gifts around 11 am or so. No, we didn't have coffee cake because it's full of dairy and decidedly non-vegan. At some point, I'll figure out how to adjust the recipe, but I was tired and it was Christmas Eve and we decided to forego the cake for this year. Don did find two vegan turnovers at a local bakery and they were delicious!
Dinner? Don decided to throw caution to the winds and we ordered Chinese take-out. All in all, a perfect day. We ended it by watching Eight Days a Week, Ron Howard's new documentary about the touring years of the Beatles. The DVD was one of my presents to Don. Excellent and full of footage never seen before.
I didn't take many photos, though one of my presents from Don was a camera lens I've been wanting for a long time: a long-range telephoto lens that will be perfect for capturing bird life around the cottage! I'm thrilled with it.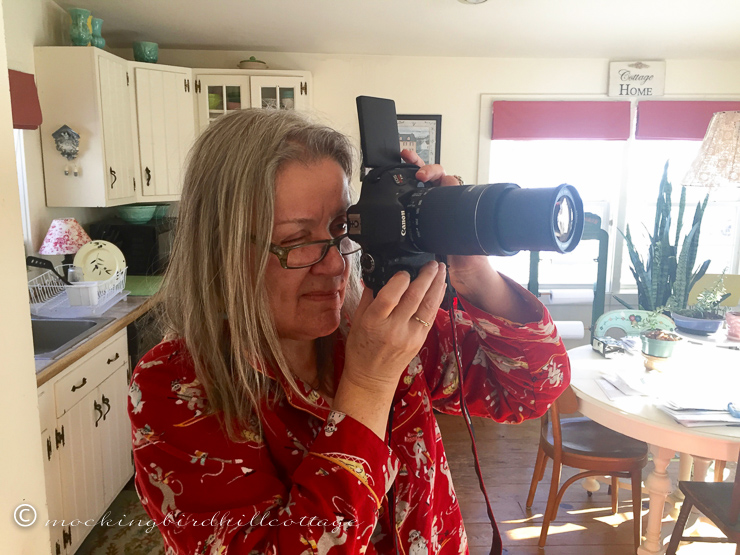 Photo courtesy of Don's iPhone. I played around with it only for a short while, as I quickly discovered my camera battery needed charging and the charger was back in Hartford. I try to avoid posting Christmas morning photos as I'm always still in my flannel pajamas, with messy hair and no make-up. As you can see.
Goodness, I look like my mother!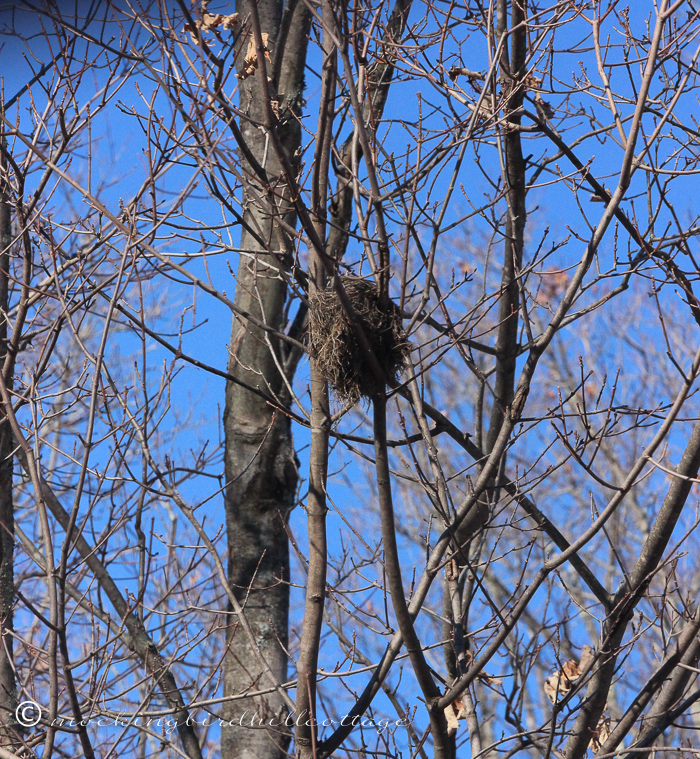 I did manage to get this shot of a nest high up in one of our maple trees.
One day when I have some spare time, I'll visit the park across the street from my apartment building and see what I can capture with the new lens.
Don's big gift was given to him in November – a new guitar. Under the tree for him this year: five vintage editions of the Hardy Boys, a vintage Big Boy ashtray and a book of Bob's Big Boy matches in pristine condition with an ad for Death Valley Days  on the back! We both got a neat little battery charger for our cars that will also charge our phones. And he got the DVD.
For me: the long-awaited lens, earrings and a necklace from Nest Pretty Things, a fabulous Etsy shop, Mary Oliver's newest book of essays, Upstream, two beautiful handmade stone coasters by a local artist that show a view of our local mountain range, and a photo book that Don made for me, full of photos he's taken on his iPhone, many of them at the Protest March we attended in NYC. He included some quotes about strong women/his wife and I, of course, cried.
Priceless and utterly beautiful.
All in all, a beautiful day.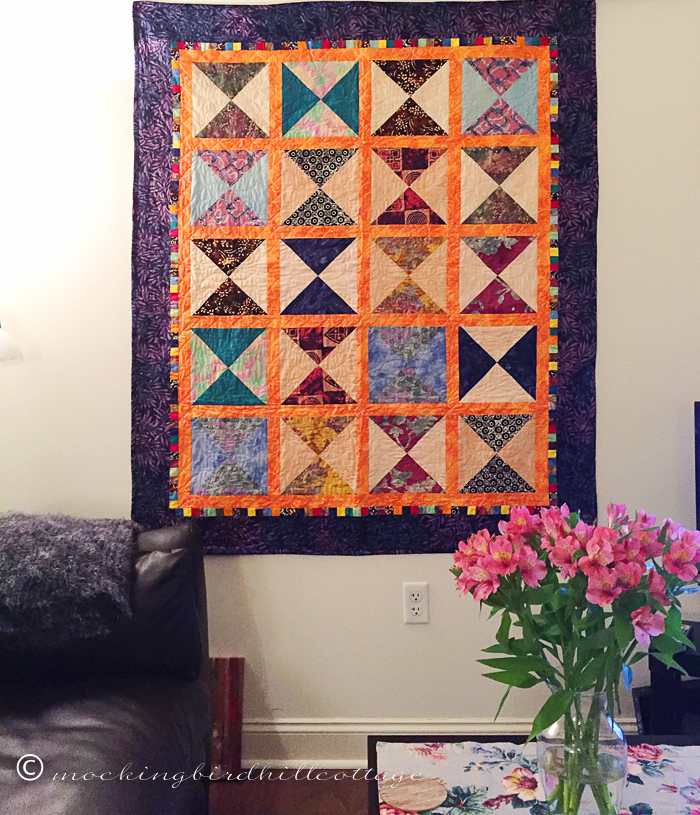 I've told you about the strange way in which little mirrors and canvases are hung on these walls. Much too far apart to make any sort of statement and, in this case, too far apart to adequately cover up with this quilt I brought from home. Nope – neither horizontally or vertically. I tried.
So I hung this right below the canvases. I don't feel I have the right to take them down because doing so would make it impossible to hang them up again. Just know that there is one 12-inch square sort- of-modern-art canvas at the upper left hand corner of the quilt and one at the upper right hand corner. I've cropped them out of this photo. The quilt does draw my eye away from the canvases, which is a good thing.
Okay. We're all caught up. Little Z had a fabulous Christmas and hearing the excitement in his voice as he was gearing up for Christmas Eve was heaven. His new red wagon is "loud!" and he is having a great time with it, as well as the plethora of Paw Patrol toys and accessories that he found under the tree.
Happy Tuesday.