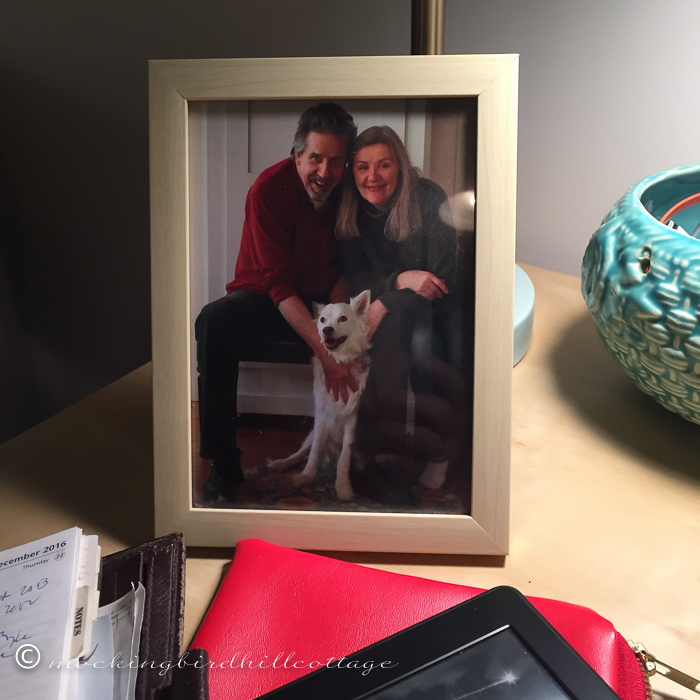 This photo travels with me wherever I go.
We're heading into our first Christmas without our dear girl. The past few years have been full of 'firsts.' First Christmas without Don's dad. First Christmas without Riley. First Christmas without Mom. First Christmas without Dad. First Christmas without Scout.
This loss, this forever change, is something we all wrestle with and I'm certainly not special in that regard. Coming to terms with the absence of loved ones is a daily struggle, but it is made even more poignant during the holiday season.
Which brings me to what we expect or hope or wish was ours on Christmas Day. There can be so much pressure for a picture-perfect Christmas. That's not helped by the media, by Pinterest, by Instagram. I let go of that sort of pressure long ago. I wrote a post five years ago on this blog about Christmas and the expectations surrounding it: There is No Perfect Christmas. I just reread it and it still holds true.
There is no perfect Christmas, but there is  wonder and gratitude and love. Love never dies. As we acknowledge our losses, we also affirm our love for those we've lost which is never-ending. We are grateful for their presence in this physical plane of existence and, when they have left us, for their spiritual presence which is never-ending.
And, if I allow myself to stop and breathe and think about my loved ones, I am filled with wonder. And isn't that what the season is truly about?
That doesn't make the sense of loss any less, but it does make me grateful for the chance I've been given to love and be loved.
Heading home for the holidays tomorrow.
Happy Thursday.