I'm running a bit late today as I didn't get to sleep until very late (noise next door). Ah, the joys of apartment living. The good news? I slept in. And I don't have to be at rehearsal until noon. Otherwise, my friends, you might not be getting a blog post today!
We finished table work yesterday and today I'm coaching the actors one-on-one. These initial sessions are a great way to get to know each other, to go through all of their lines in the text, to talk about the rhythm, the poetry and the iambic pentameter of each line. We discuss the meaning, the challenges and, hopefully, I help the actor gain in understanding.
Back at the apartment: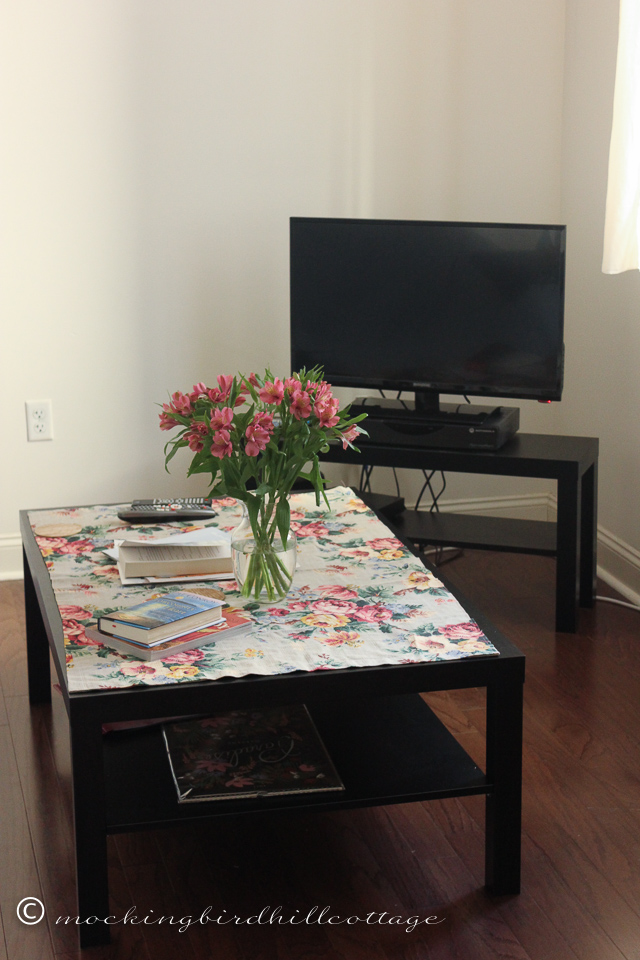 The big black coffee table that replaced the white one that I liked so much. Sob. I do like the shelf underneath, though. Luckily, I always grab some fabric scraps when I'm packing and this piece of bark cloth works rather nicely. That's my new wall calendar from Rifle Paper Co. under the table, just waiting for January 1st.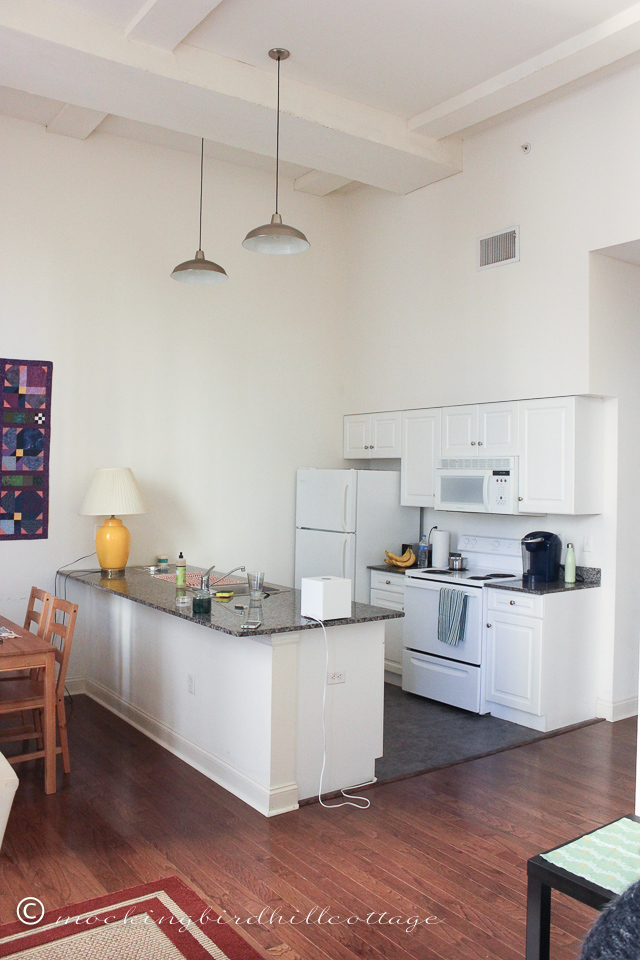 This gives you an idea of how high the ceilings are in these apartments. At one time, this was an office building. I like the high ceilings – such a contrast with the cottage, where our ceilings are much lower. That's my humidifier on the counter.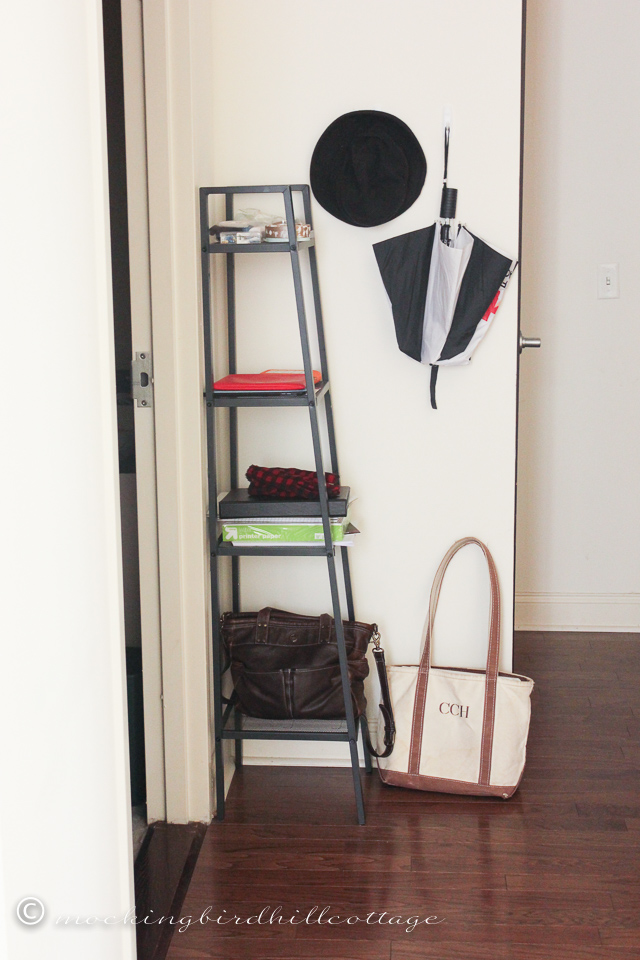 This shelf unit is a new addition since I was last here. Very handy, I must say. The hooks on the wall are new, as well.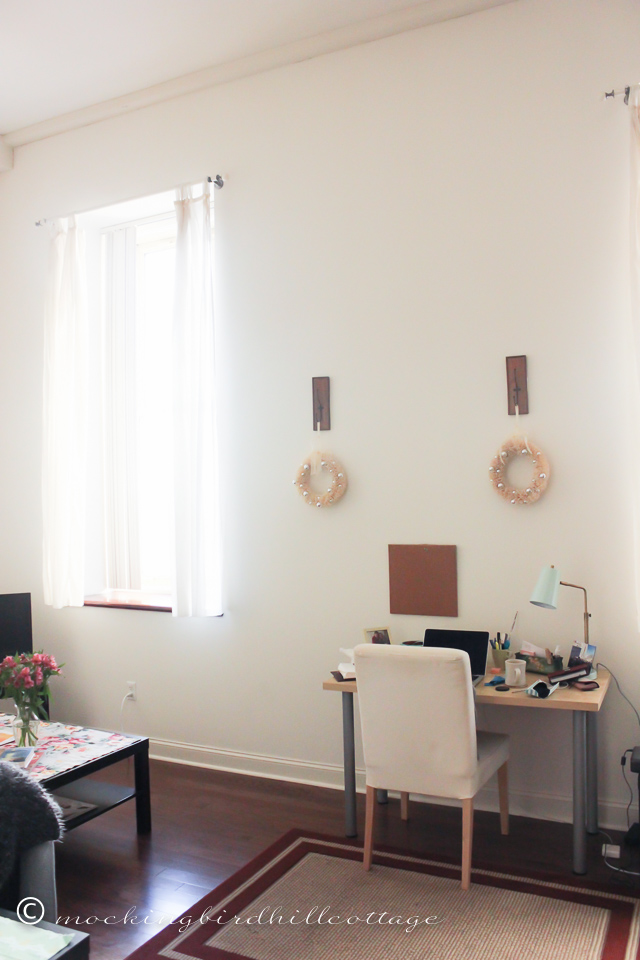 The desk. This has changed since I took this photo. Because the sofa is so hard on my back, the company manager brought in two chairs for me to use until they can change out the sofa. That can't happen until A Christmas Carol  closes and those cast members and crew members move out and that won't be until December 31st. Since I'm going to be back in a couple of months to work on Saint Joan, the company manager thought it might be worthwhile to actually move this sofa out and a firmer one in.
I'm grateful for the chairs because I really had nowhere to sit to watch television except at the desk or the dining room table. New television, by the way. Much better picture quality – that's a very nice change!
Anyway, here they are. It makes things tight right now, but I'm sure she brought two chairs because she knows Don is coming for New Year's Eve.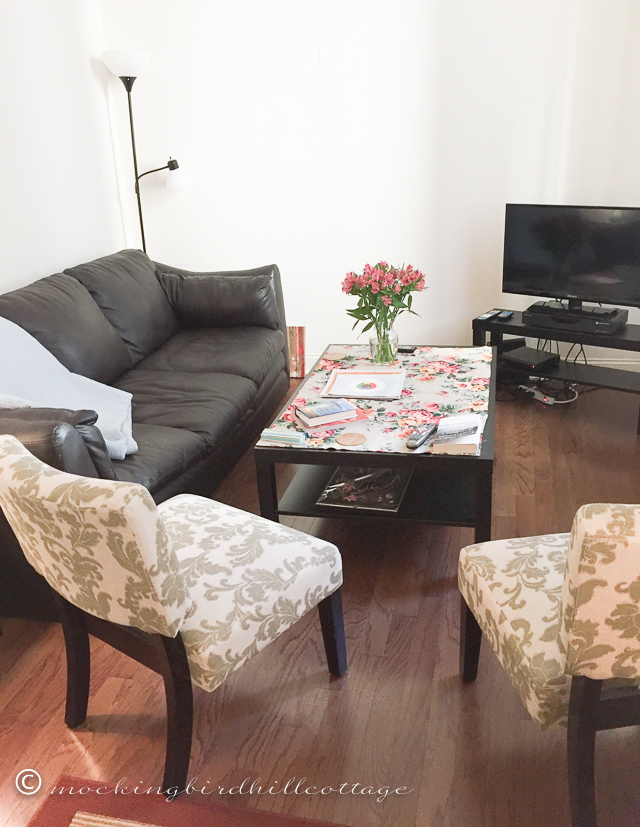 I had covered the sofa with the quilted cover from the bed (I always change that blue quilt out with my quilt from home because it's prettier and more lightweight). But when the chairs were added, it made sense for me to take the cover off.
I am not a fan of a big expanse of brown faux leather. Just my opinion, of course. I have a feeling it all goes back to my mom decorating with beige and brown and lots of dark wood in a small living room. She did eventually go to avocado green. I know you all remember that  color craze. Anyway, my immediate reaction is to cover the brown with some color, as that combined with black tables and a brown floor is a lot of 'dark.' I still plan to do that, but I'll have to wait a bit until I go home and see what I have there. And there will be some sort of quilt on that wall.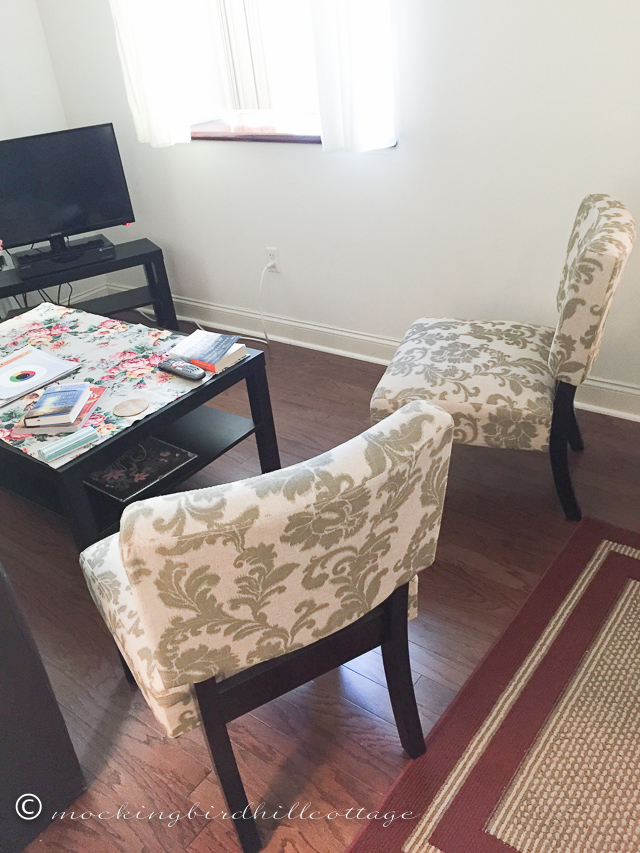 In order to fit these chairs in the living space, the desk moved over to the right.
The nest is taking shape.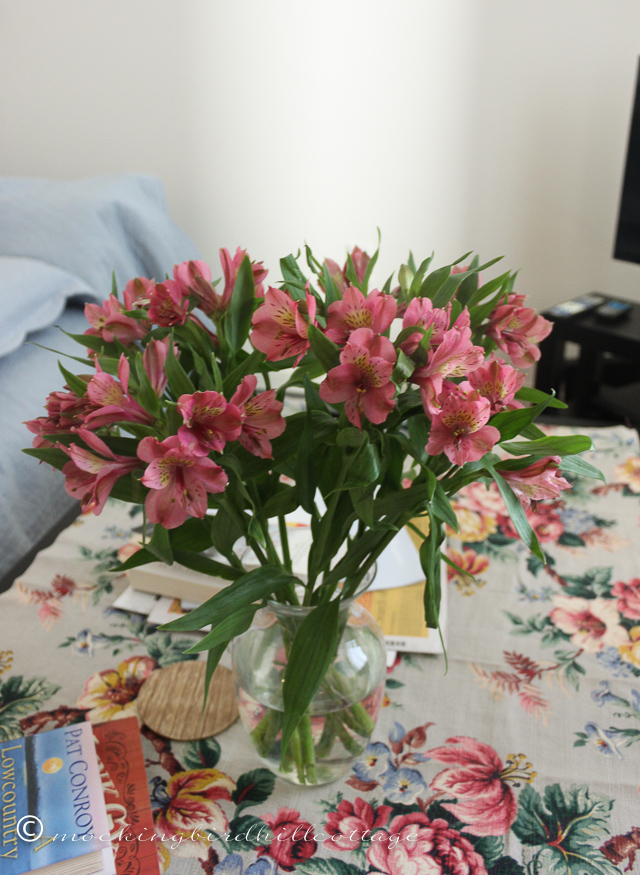 Flowers, of course. I stop at Trader Joe's on the way here and buy flowers. That is a must.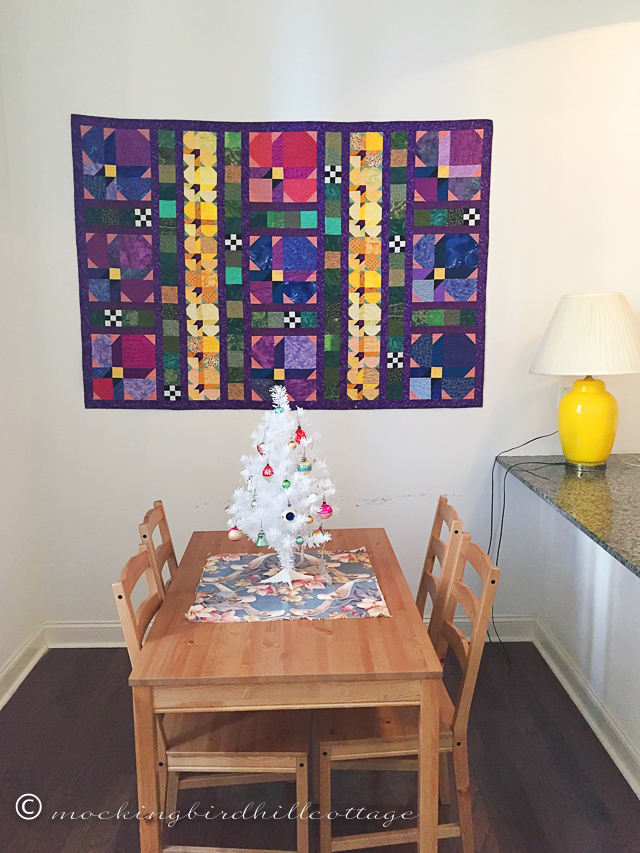 The other end of the room. Mirrored squares successfully covered. I mentioned in the comments that the squares are attached firmly to the wall. They're not hanging on something, so trying to move them and rearrange them would damage the wall. So, I'm covering them up! I always move that yellow lamp to the counter because it picks up the yellow in the quilt.
I'll do the same on the other end by the sofa when I bring another quilt from home.
These are my essentials for life on the road: quilts to hang and to cover the bed; fresh flowers, fabric to cover surfaces that are worn or too dark, extra lamps (the lamp on the desk and the blue lamp next to the sofa are from home) pottery to use as containers, books, my favorite mug, framed photos, my Bose sound link mini speaker, and this year, little Christmas trees.
Have to run!
Happy Wednesday.