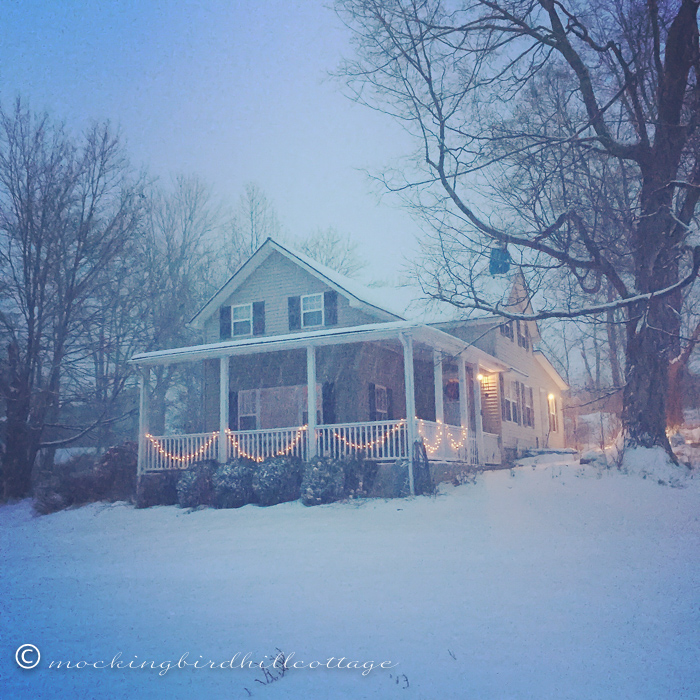 Taken around 7:30 am this morning. It's still coming down.
Well, I have been taken by surprise. Don informed me last night that snow was on the way. For some reason I hadn't checked the weather for Saturday. I was more concerned about Sunday, the day I travel to Hartford. I could kick myself because there is some shopping that needs to be done and I could have done it yesterday.
Yesterday was a day that saw me lose it – finally – over the whole election and a feeling of hopelessness came over me that I couldn't shake. I won't go into it here except to say what I've just said. It hit Don, as well.
Today I have to pack and do some last minute work on some foreign language sections of the text of The Comedy of Errors. I had planned to grocery shop, but depending on when this now-going-on-6-inches of snow ends and on how long it takes us to dig out, I may end up doing that on my way to Hartford.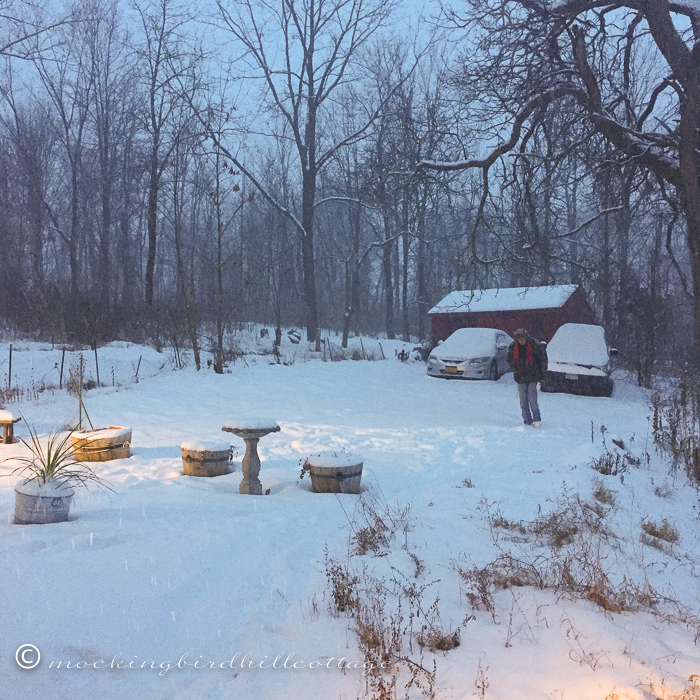 I took these photos when I went out in my flannel pajamas (and a coat and boots, of course) to see if the New York Times had been delivered. I'm not at all surprised that it wasn't there – the roads hadn't been plowed. Don came out to join me and take some pictures of his own.
We're both getting sad that I'm leaving. We really do love being together. We like our life here in the cottage, our routines, the comfort that this place provides. But we also know we need to shake it up a bit and, as always, once I get to Hartford and get settled, I'll adjust. And so will Don.
We'll have to deal with this again in the spring. This time, not only will I be working at the theater again, Don will be journeying out to the LaJolla Playhouse in LaJolla, California (just up the road from San Diego) at the same time to work on a new musical. It features the music of Jimmy Buffett and it's called Escape to Margaritaville. He auditioned last week, had a callback the next day, then another callback on this past Monday so that Jimmy Buffett could see and hear him. He thought he most likely wouldn't be cast as they'd also auditioned actors in Los Angeles, but he got the job! It will be a lot of fun for him. And bonus for me – his run extends well beyond my time in Hartford, so I'll be able to fly out and visit him. Huzzah!
Dear friends, tomorrow will be too crazy for me to post. So I will take the day off from posting and be back again on Monday morning. Okay?
Happy Saturday.