What day is it? With the holidays and rehearsals and rehearsals on  holidays and then Monday holidays, I hardly know which way is which. I'm over it. I'm ready to get back on a regular schedule, please.
Sherlock  is back. I knew it was airing last night on PBS, though I had to remind Don about it yesterday. Shocking, full of twists and turns and incredibly well done. I still have some questions about yesterday's episode and I feel the need to watch it one more time to hear those little underplayed lines that are almost tossed away but are oh-so-important. I can't stop thinking about it this morning which makes it quite successful, doesn't it?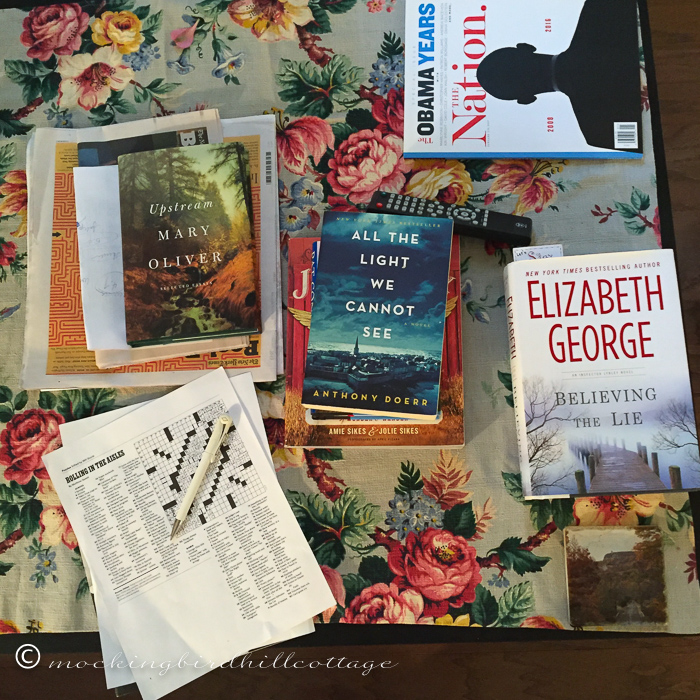 One thing about a large coffee table: you can stash lots of current and future reading matter there. From the upper left: several sections of the Sunday New York Times (not yesterday's, but a week ago) that I have yet to read; Upstream  by Mary Oliver, my favorite poet – though this book consists of essays; a special issue of The Nation  centering on The Obama Years (oh, how I'll miss him!); underneath that is an issue that you can't see of Mother Jones with the cover story, "Rise Up", and you can bet I will; Believing the Lie  by Elizabeth George, which I bought as a remainder a year or so ago and started yesterday, as I have once again realized how gifted George is – it clocks in at 608 pages; All the Light We Cannot See, which I still haven't started, but will, I promise; underneath that book is A Lowcountry Life  by the late, great Pat Conroy, subtitled Reflections on a Writing Life; and underneath that is Junk Gypsy  by the Sikes sisters, which I read bits of at a time. And next to that is the Sunday New York Times  crossword puzzle. There are also two books under the turquoise lamp in order to give it some height, and two more books of a spiritual nature on the bedside table.
Oh, I forgot to add the Kindle to that list. It's also here. In fact, I just finished an eGalley housed within its depths.
I come prepared.
Because heaven forbid I am anywhere, anytime, without reading matter. As long as I can remember, that has been a top priority. Carrying a book with me while I run errands, or sit in a waiting room. Packing enough books for a trip. Always having some sort of book to read because you never know when you might have some unexpected reading time, somewhere, somehow.
Today, after I go to Whole Foods and Trader Joe's and stop in at Target and the bookstore, I'll come back to the apartment, put everything away, and reply to your comments. Then, on this day off, I'll treat myself to some hot chocolate (using soy milk) and read.
Sounds like a good way to start the New Year.
Happy Monday.