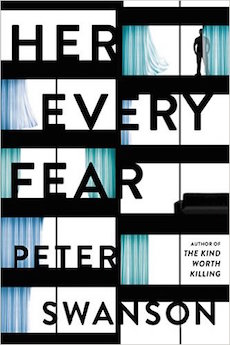 Today I am reviewing Her Every Fear by Peter Swanson for TLC Book Tours. As always, I am provided with a copy of the book in return for my honest review.
About the book (from the publisher): Growing up, Kate Priddy was always a bit neurotic, experiencing momentary bouts of anxiety that exploded into full blown panic attacks after an ex-boyfriend nearly ended her life. When Corbin Bell, a distant cousin from Boston, suggests the two temporarily swap apartments, Kate, an art student in London, agrees, hoping that time away in a new place will help her overcome the recent wreckage of her life.
But soon after her arrival at Corbin's grand apartment on Beacon Hill, Kate makes a shocking discovery: his next-door neighbor, a young woman named Audrey Marshall, has been murdered. When the police question her about Corbin, a shaken Kate has few answers, and many questions of her own – curiosity that intensifies when she meets Alan Cherney, a handsome, quiet tenant who lives across the courtyard in the apartment facing Audrey's. Alan saw Corbin surreptitiously come and go from Audrey's place, yet he's denied knowing her. Then Kate runs into a tearful man claiming to be the dead woman's boyfriend, who insists Corbin did the deed the night before he left for London.
When she reaches out to her cousin, he proclaims his innocence and calms her nerves…until she comes across disturbing objects hidden in his apartment – and suddenly learns that Corbin is not where he says he is. Could Corbin be a killer? And what about Alan? Jet lagged and emotionally unstable, Kate can barely trust herself.
Yet the danger Kate imagines isn't nearly as twisted and deadly as what's about to happen; when her every fear becomes real.
My review: (Side note: Sometimes the publisher's blurb simply gives too much information and I struggle with that when I type the words on the page. I edited it a bit, but it is what it is.)
The premise for this novel/thriller is an interesting one: an apartment and country swap, a young woman recovering from an assault that nearly killed her, a mysterious cousin who she has never met, and big old apartment building on Beacon Hill in Boston.
I lived in Boston for years and I must admit I loved reading the descriptions of the hilly, winding and narrow streets of Beacon Hill. Swanson clearly knows the area well and it shows in his detailed rendering of that landscape.
But, I had a problem with this novel. It suffers, in my humble opinion, from what I have referred to on these pages in the past as the "Gone Girl" syndrome. Yes, I know that novel was wildly popular and I've stopped counting the number of books I see in the bookstore that have a "In the tradition of Gone Girl" blurb on the cover. The problem for me is that I didn't like Gone Girl  because it suffered  from an emotional disconnect with the characters, especially the protagonist, that kept me from ever accepting the plot and, instead, made me angry at the obvious manipulation behind the writing.
This novel has some interesting characters and, indeed, as I have mentioned, an interesting premise. But I never felt the slightest emotional connection to the protagonist, Kate. In this case, it wasn't because she was cold or amoral, not at all. She is the innocent in the novel, trying to find out the truth. Nevertheless, there was something missing. Something that kept me from caring about her. And I felt that about the other characters as well.
I know how difficult it is to write a plot that is chilling and has a lot of twists and turns, with interesting and compelling characters to boot. I don't have to like every character and I'm all for flawed characters. But there has to be something that draws me in, that makes me care about the main character, and I didn't find it here.
All of that being said, there are moments in the book that are quite frightening and there are surprises along the way. The climax is compelling. Just because it's not my cup of tea, doesn't mean it won't be yours.
If you like the work of Gillian Flynn, the author of Gone Girl, or Paula Hawkins/The Girl on the Train, this might be the kind of read that you'll really love.
About the author: Peter Swanson is the author of The Girl With a Clock for a Heart. He has degrees from Trinity College, the University of Massachusetts at Amherst, and Emerson College. He lives with his wife in Somerville, Massachusetts, where he is at work on his next novel.
There is a giveaway connected with this review. You can win your very own copy of Her Every Fear. Leave a comment on this post, and I'll draw the name of the winner on Wednesday evening.
Happy Tuesday.