I just finished Believing the Lie  by Elizabeth George. I was determined to finish it this morning as, at over 600 pages and in hardcover, to boot, I didn't want to lug it back to Hartford. Excellent! The complexities of the characters and the plot are George's strength. The mysteries are always character driven and aren't necessarily tied up neatly at the end of the book. As in real life, things can get messy, remain unresolved. I love that about her writing. I'm officially on an Elizabeth George catch-up binge now, so it's on to another one later today.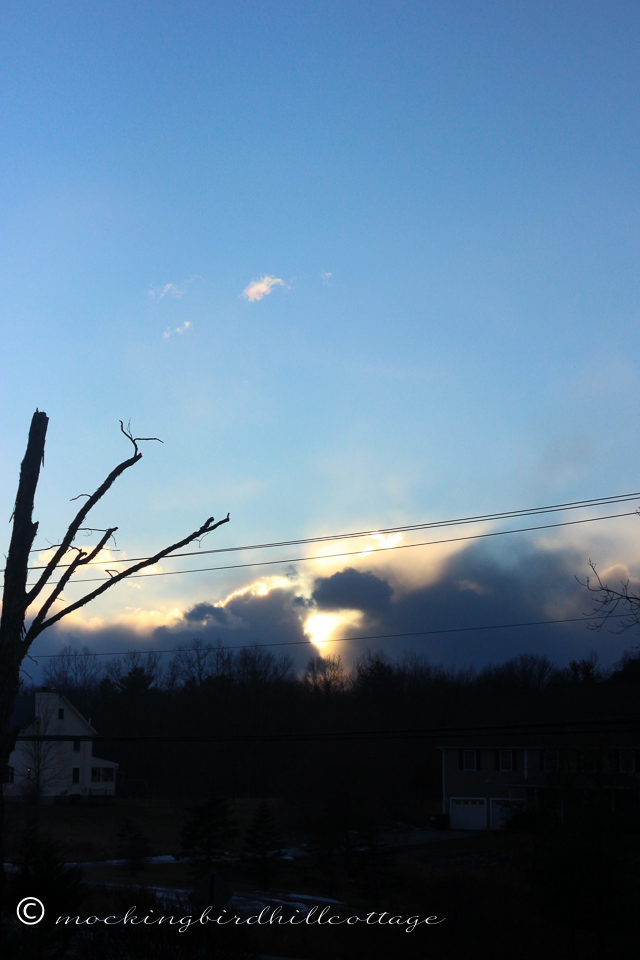 The horizon last night. Pretty dramatic!
I've had a lovely time here at home with the love of my life. Being apart means, for us, a greater appreciation of what we have between us. That we are fortunate and blessed we know. That we don't take it for granted is a daily truth. As I get ready to head off to Hartford for the next 14 days, I am so grateful I got a little time here at the cottage.
We watched Sherlock  last night – how can it get even better? How is that possible? It is simply extraordinary. One more episode next week. I hear rumors this might be the last season. I hope it isn't. But the producers and writers seem very wise, so if they feel it's time to end it, I understand.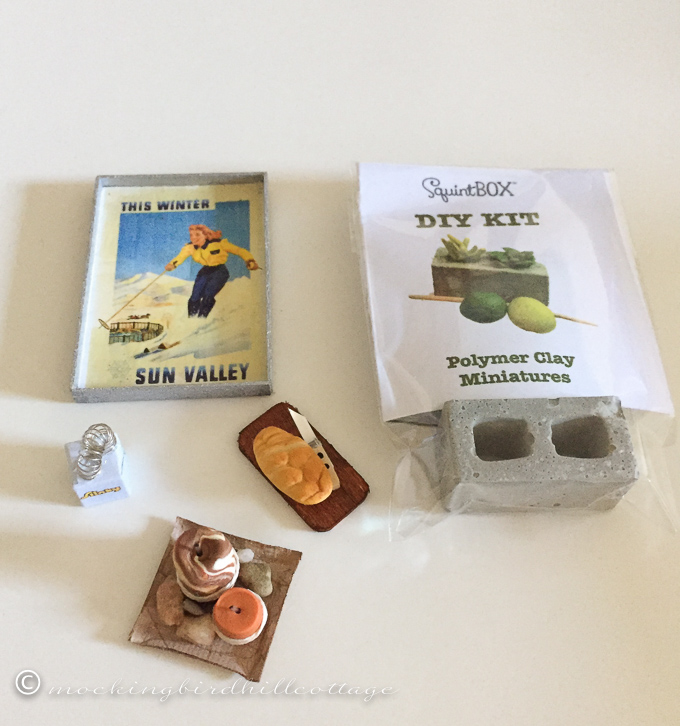 The newest Squint Box full of minis arrived while I was away. This one is all about winter and nesting and comfort. There's a tray with a vintage travel poster (come to think of it, it could also work as art to hang on a wall), a kit to make succulents (isn't that neat?), a tray with candles, a loaf of bread and knife on a cutting board, and…a Slinky! Boy, does that bring back memories! I remember trying to get my Slinky to come down the stairs just as they showed it on the commercials. I was only moderately successful.
Very, very cold here today. Soon, I have to get ready to head back to Hartford. I love my work, as you know, and I can't wait to see what the production looks like onstage.
Don will be back at the ranch, taking care of things. By the way, he has done an excellent job of watering the plants! I'm quite pleased. I'll be back home for at least two months before I head off again to Hartford, but Don will be off to the West Coast even before that – at the beginning of April. Busy times ahead for both of us. We don't take that for granted, either.
Happy Monday.