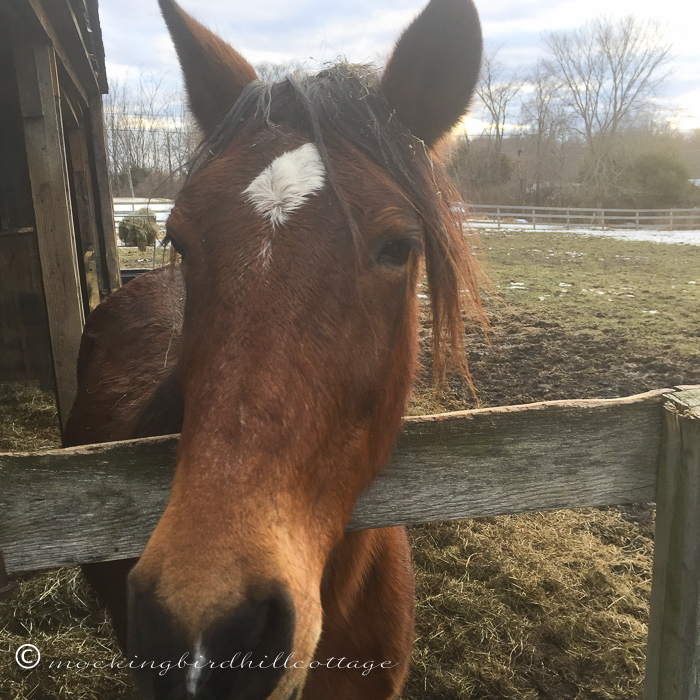 We visited Emby and Sissy yesterday afternoon. It's what I call a Sanity Visit. We needed to get away from the dreadful news from the White House and take a walk in the woods. When Emby saw us coming – he knows we can be counted on for carrots – he positively pranced over to us. He now gives us a kiss on the cheek or the neck. I love that boy.
He is the sweetest horse – he really is. Sissy was eating her hay and clearly preferred that to carrots, so although we called out to her, she was focused on the hay.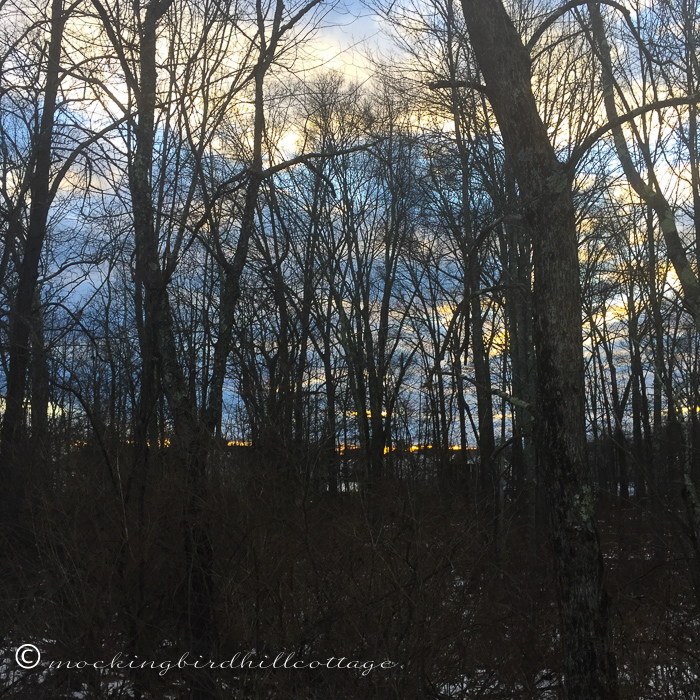 Then we walked back through the woods to our car.
It helped.
I went to the bookstore yesterday – another sanity saver – and prowled around, looking at magazines (nothing that called to me), new fiction, new non-fiction and, of course, mysteries. I was looking for something very specific, which you will see on the top of this pile of books: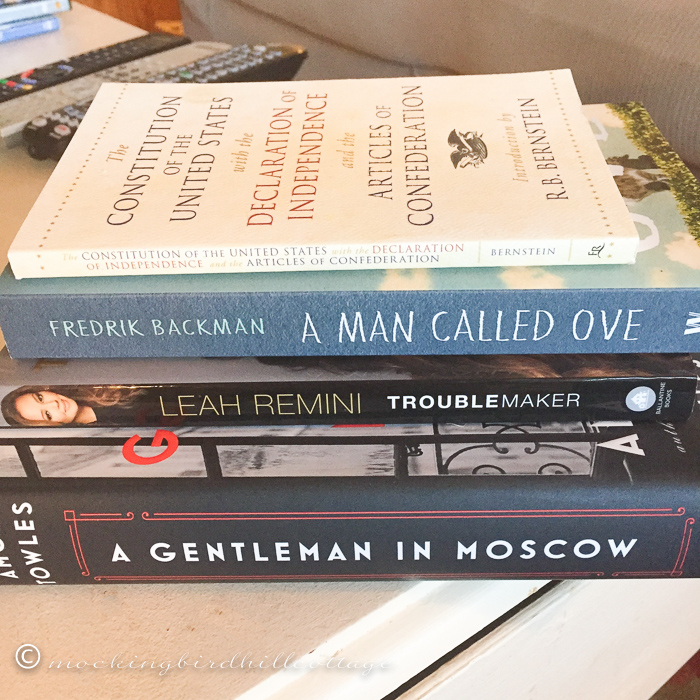 Yes. The Constitution. We didn't have a copy of it here and, in view of the flagrant disregard for the Constitution in evidence during the last week, I thought it would behoove us to have one on hand. You never know. They're trying to clamp down on journalists. What's next? Bloggers? Twitter accounts? Facebook?
Know your rights.
A Man called Ove  has been recommended to me by several people, including my sister, so that went in my pile.
I'm fascinated by the cult of Scientology and I've read a lot about it. The very first book I downloaded to my Kindle was Going Clear. Cults in general fascinate me. What makes someone accept often absurd pronouncements by one person and then vow allegiance to that person, giving everything up for one – let's face it – usually bogus belief system? It's as if they deliberately put blinders on. I know it's a complex issue and I'm not an expert on cults by any means, so I can't speak to the whys and wherefores. I watched Leah Remini's series on Scientology on A & E and really applaud her bravery in exposing this group. Anyway, her book is out in paperback and I grabbed it as well.
And then, A Gentleman in Moscow, which has been highly praised by nearly everyone and looks like a great read.
Book therapy, though I certainly don't need more books on my TBR pile.
Some of the blind devotion and acceptance of anything that comes out of the-man-who-shall-not-be named's mouth reminds me of cult behavior. Don't research. Don't check facts. Just parrot the lies over and over again until something kicks in inside your brain and you actually start to believe them. There's a lot of that going on. Not with everyone who voted for him, of course, but for a lot of fervent devotees? Yes. You can tell by the tenor of conversations on Twitter and Facebook. There are lots of 'he said it, so it must be true' kind of statements. And it doesn't seem to matter to them at all if they get a response that counters that statement with an undeniable fact, cited and proven. They simply refuse to accept it.
Isn't this what happens with any dictator and/or fascist with a rabid following? A sort of brainwashing that allows the follower to suspend disbelief? I'm not saying it is the same thing as a cult, I sure there are differences, but it sure seems like one to me.
1984  is selling out online and at bookstores. There's a reason for that.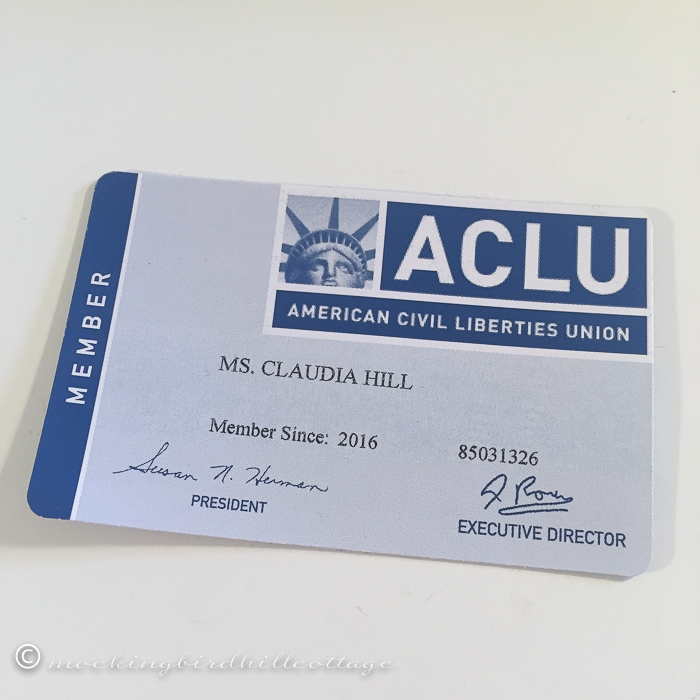 In the meantime, bravo to the ACLU and to lawyers and protestors who dropped everything to help those who were and are being detained, who are fighting for their Constitutional rights. You make us proud.
Happy Monday.