• A curious phenomenon: a day off seems to pass so quickly, yet, at the same time, it seems to take forever. It's Tuesday. I'm back to work with a run-through of the show scheduled for this morning. Yesterday, on that day off, I got in my car and went to Whole Foods, Target, Trader Joe's and the bookstore. Errands accomplished, I came back to the apartment, put everything away, had some lunch, and the rest of the day seemed to drag on. This was due in part to gray, cloudy, cold and damp weather which did nothing to encourage me to take a walk or go exploring. I also missed my husband.
But now it's a new day and I have to work and that's a good thing. I did do a bit of reading yesterday and that was nice. And I started the morning today with more reading. And coffee, of course.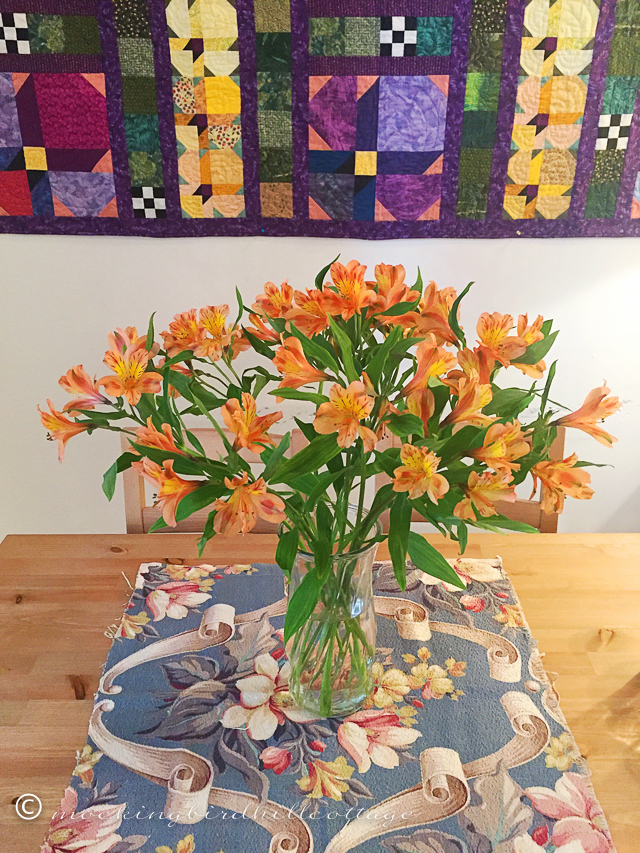 • I posted this on Instagram yesterday because I love all of the color and pattern in this little area of the apartment. After taking the  Christmas tree down on Sunday, I replaced it with this vase of flowers. I don't seem to shy away from pattern. Or color. I bought the new Country Living magazine yesterday and it focuses on neutrals. Sigh. I have nothing against them and I like looking at the way in which people use them in their homes, but I have to say that I flipped through that magazine pretty quickly because a little of that goes a long way for me.
But it would be boring if we all decorated the same way, wouldn't it? So vive la difference!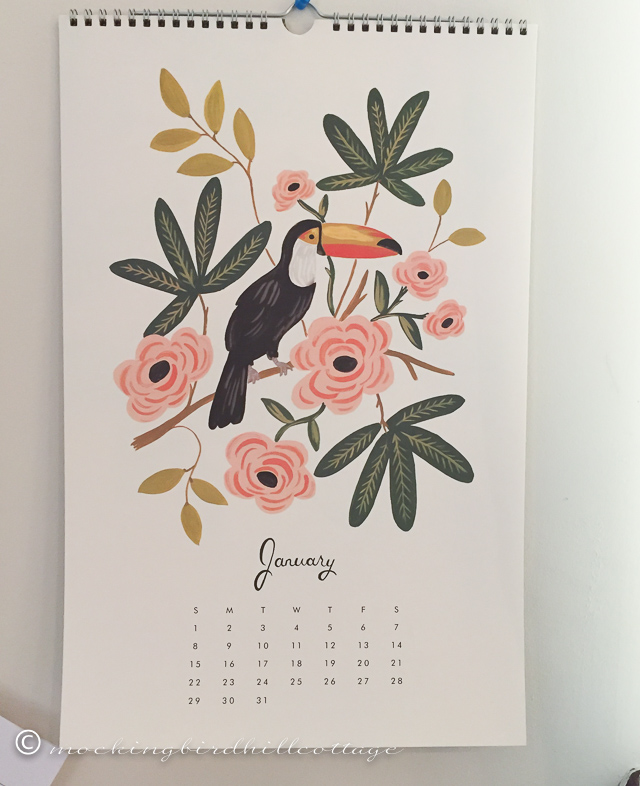 • I'm including a picture of my new wall calendar from Rifle Paper Company. It's actually prettier than it appears here. I really like it. It will hang above my desk back at the cottage, but for now, it's cheerfully hanging above this  desk.
• Changing Font:
Some might deem this next photo/screenshot political, but to me, it is simply further proof that a dangerously petulant child is about to become President. This, my friends, was one of that man's tweets on New Year's Eve:

I have no words for this. Well, I do, of course. But I'll let this speak for itself.
Happy Tuesday.