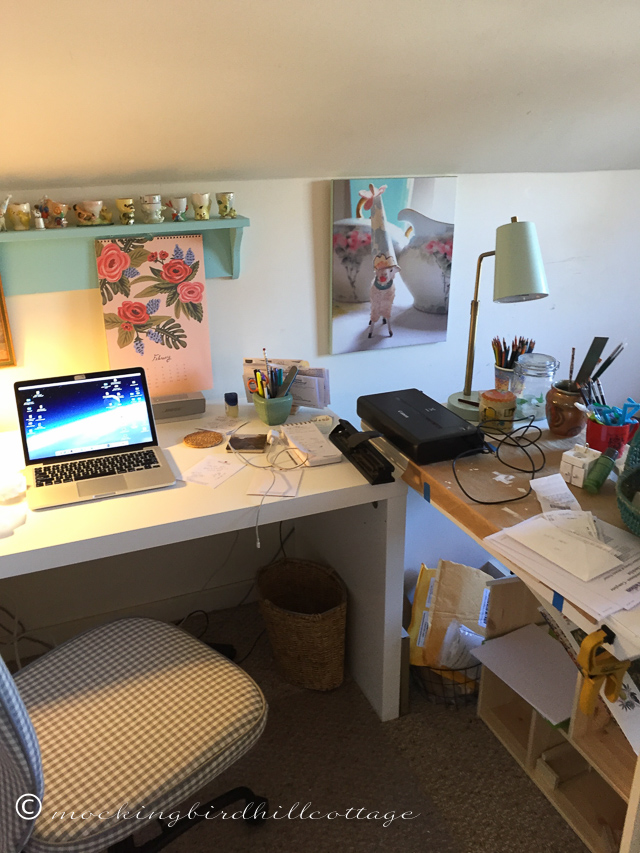 Cluttery office. Charging cords, stacks of receipts from NYC, printer…you know, stuff.
This fits right in with my thoughts about living in a space, a home, that reflects who you are, not what you think you should be. There are too many styled interiors on Pinterest, Instagram and blogs. I know I'm not alone when I look at some of these very pretty pictures and think to myself, "Does anybody live there?"
I've written about this before, so I don't need to belabor the topic. On our excursion yesterday, I found a lovely book that beautifully illustrates that very idea.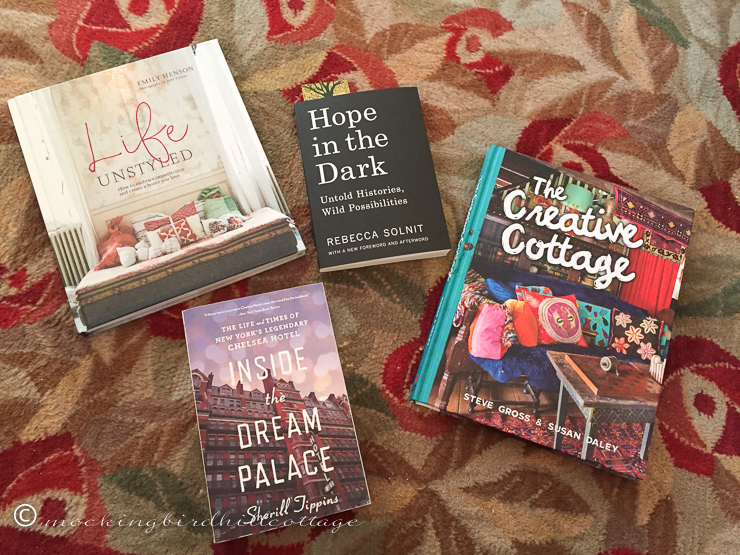 It's the book in the upper left hand corner, Life Unstyled  by Emily Henson. Beautiful photos of interiors that are real, funky, imaginative and not styled within an inch of their lives. I'm a bit more than halfway through it and I'm really enjoying it. And Emily is a stylist! (I've also written in the past about the book Undecorated, which covers this same subject. It's in my personal library.)
Hope in the Dark  by Rebecca Solnit was recommended to me by Sarah, Darko's assistant. Sarah and I have worked together before and we both love books and reading (Sarah's mother is a librarian.) This book has been a beacon for Sarah during this period since the election. Our local independent bookseller had a copy, so I snapped it up.
I picked up The Creative Cottage  when I was staying in NYC a week or so ago. I'd seen it last year and found it absolutely charming, so this time I bought it. I love the cottages that the author has chosen to highlight – all of them artistic and individual. All of them the kind of place where you walk in the door and know that you will not see this anywhere else because the space absolutely reflects the owners' tastes and passion.
I also found Inside the Dream Palace on the shelves at the bookshop. It's about New York's famous and storied Chelsea Hotel, a place that has always fascinated me. So many artists and musicians and writers have lived there over the years.
Don got a book about the history of the railroads in our neck of the woods.
We had lunch at The Commissary, where this message was on the wall next to the cash register: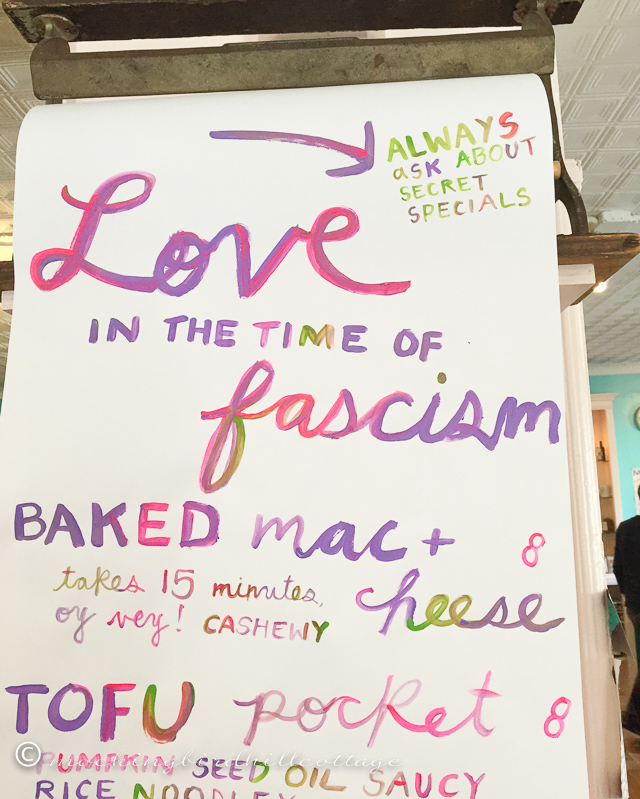 Indeed.
I had the Tofu Pocket – oh, so tasty! And vegan hot chocolate, of course.
It was 60 degrees and sunny here and everyone was out on the streets, lapping it up. College students in t-shirts and shorts, people carrying their coats rather than wearing them, happy, laughing and crowded, as it's a three-day weekend.
I'm feeling a bit under the weather today. Coughing, stuffed up, not at all fun. But I trust it will all go away in the next 24 hours or so. In the meantime, I'm taking it easy.
Thank you so much for your blog birthday wishes yesterday! Here's to ten years.
Happy Monday.