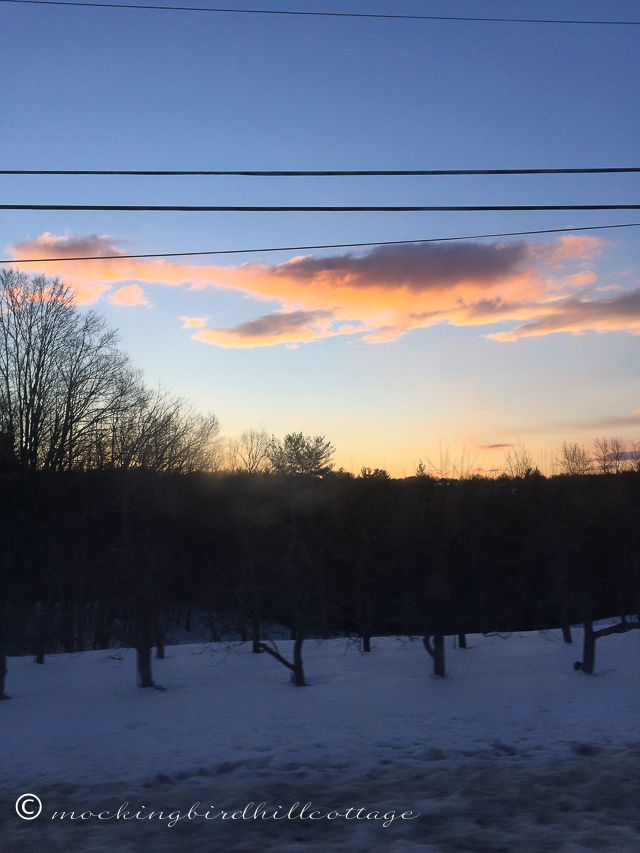 A benefit of getting on the road so early in the morning: the spectacular sunrises, which we clock as we drive east toward the Hudson River.
Speaking of spectacular, I am spectacularly tired. Sleep has been nearly nonexistent and as I head toward the end of a six-day-straight week of commuting back and forth, I am just trying to get through the day today and tomorrow and then I can relax. Maybe it's the stimulation of the senses – so much music and text, long train rides, long bus rides, the crowds in Grand Central Station and Times Square, the insanity in Washington DC…probably a combination of all of the above. Sometimes I can't get to sleep at night. At other times, I get to sleep but wake up in the middle of the night. The night before last, I actually slept through the night and I felt so much better yesterday, only to lose sleep again last night.
Though I often commute to the city, I don't think I've done it for 6 days in a row for a long time and the rehearsals start at 10 am. I now regret that I didn't push to be put up in the city this week, but I didn't…so that's that.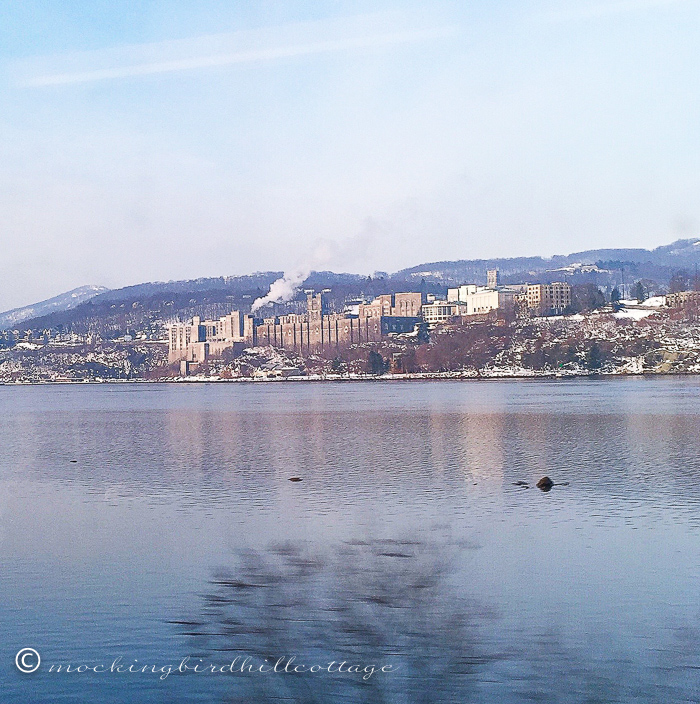 That's West Point in the photo. I get a gorgeous view of it each morning as the train travels south along the Hudson River.
Even though I'm sleep-deprived, let me say that it is absolutely worth it to be a part of this production. Anastasia  won my heart last spring in Hartford. It's simply glorious. When Darko told me he wanted me to be a part of the Broadway production, I was so grateful and happy. I don't know how to explain it, but it's special. It's rare. The cast is special. Wonderful people both onstage and off. Who knows if I'll ever get another chance to work on Broadway? So I am lapping the whole thing up, trying to be present every moment, which also, coincidentally, helps me weather the work day after a sleepless night.
All is well. At least, in my little Hudson Valley – New York City – Anastasia world. I am fully aware of what is going on in our nation's capital. To say I'm appalled is putting it mildly. My sister wrote a great post the other day about needing to speak out. If you're a blogger, one of the avenues for your voice to be heard is through your blog. I applaud her for writing about it. I will again, as well, when I have some time to put my thoughts together in a coherent fashion. I'm pretty sure you know what I'm thinking. Saving our republic, our democracy, is at stake and the need to do so is about as urgent as it can get. Finding out the truth about the FIC's ties to Russia is imperative. Speaking out is of the utmost importance.
More on Sunday. I miss you all. I do not like being away from the blog!
Happy Friday.